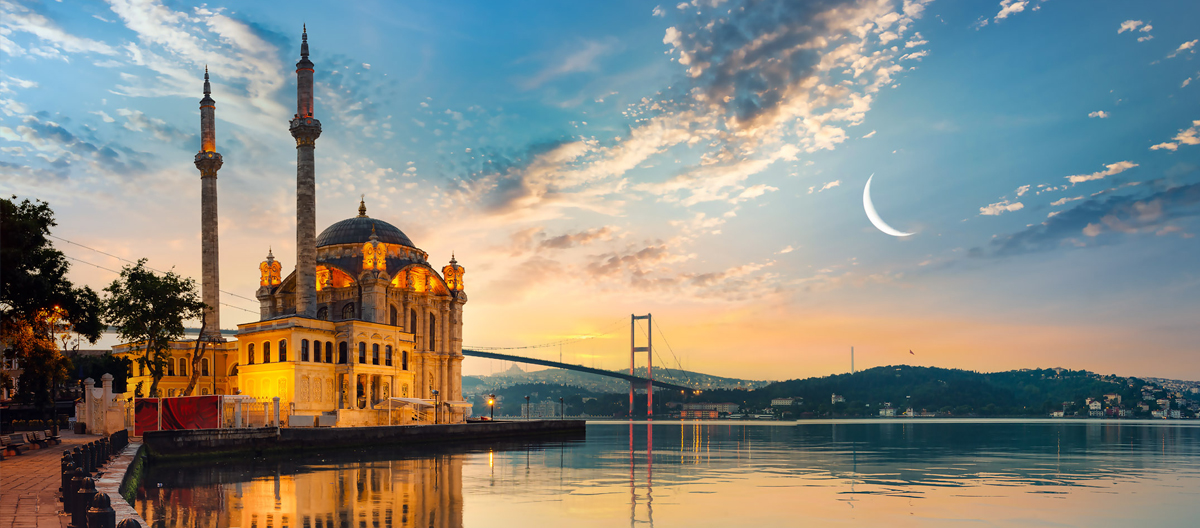 Benefits of life in Turkey
Turkey, straddling both Europe and Asia, offers a rich tapestry of culture, history, and economic opportunity that makes it an excellent choice for travel, residency, or second nationality. It's an alluring blend of ancient traditions and modern life, a place where you can witness the beauty of centuries-old architecture in the morning and partake in dynamic business opportunities by afternoon.
Turkey's location at the crossroads of continents has enriched its cultural heritage. Its cities are infused with the spirit of the Byzantine, Roman, and Ottoman empires, offering endless exploration opportunities. Furthermore, Turkey boasts a vibrant food culture, featuring world-renowned cuisine that's a delectable fusion of Central Asian, Middle Eastern, Mediterranean, and Balkan flavours.
One significant advantage of life in Turkey is its cost of living, which is relatively lower than in many Western countries. This affordability extends to various aspects of life, from everyday groceries to property prices, ensuring a comfortable lifestyle. Turkey's growing economy also presents attractive business and investment opportunities, aided by its strong connections to both European and Asian markets.
The Turkish healthcare system is also noteworthy, with a robust network of modern hospitals and skilled professionals. Meanwhile, the country's educational institutions, from primary to tertiary level, are diverse and dynamic, offering a wide range of opportunities for learning and development.
Moreover, Turkey's unique geography makes it a haven for nature lovers, offering stunning landscapes ranging from pristine beaches to majestic mountain ranges. Its pleasant Mediterranean climate, with warm summers and mild winters, only adds to the country's appeal.
Strategic Location Connecting Europe & Asia
Rich Cultural Heritage & Historical Sites
World-Class, Diverse Cuisine
Lower Cost of Living Compared to Western Countries
Robust Healthcare System with Modern Facilities
High-Quality, Diverse Educational Opportunities
Strong Business & Investment Opportunities
Beautiful Landscapes with a Mediterranean Climate
Access to both European & Asian Markets
Safe, Secure & Stable Political Environment
Study, Work and Live in Turkey
EDUCATIONAL SYSTEM
Studying in Turkey offers a diverse array of benefits, combining high-quality education with a rich cultural experience. With hundreds of universities offering a variety of courses in numerous fields, the country caters to a broad spectrum of academic interests. Its institutions are recognized for their rigorous academic standards, with several Turkish universities ranked among the world's best.
Turkey offers a multitude of English-taught programs, thereby providing an advantage to international students. The country also invests heavily in research, creating opportunities for students to engage in innovative studies and collaborative projects.
The cost of education in Turkey is competitively priced compared to many Western countries, making it an affordable destination for international students. Scholarships are widely available, providing further financial ease. The affordable cost of living complements the low tuition fees, helping students maintain a high-quality lifestyle on a modest budget.
Beyond the academic realm, studying in Turkey immerses students in a fascinating blend of cultures. Living in cities where ancient history and modernity intersect offers invaluable life experiences and broadens perspectives.
Moreover, Turkish universities often have strong ties with industries, providing students with practical exposure and helping them secure internships or jobs. With a growing economy and strategic location, Turkey serves as an excellent springboard for career opportunities both in Europe and Asia.
In essence, the benefits of studying in Turkey extend far beyond acquiring a degree—it is a holistic experience that fuses education, cultural enrichment, and career development.
EMPLOYMENT OPPORTUNITIES
Working in Turkey opens doors to a dynamic and diverse work environment, complemented by numerous lifestyle benefits. The country's strategic location bridging Europe and Asia makes it a hotspot for businesses across various sectors. This diversity results in a wide array of job opportunities, and with Turkey's commitment to economic development, the potential for career growth is substantial.
Turkey's business culture encourages innovation and adaptation, making it an ideal setting for professionals to sharpen their skills. Furthermore, its growing economy, especially in sectors such as IT, tourism, and manufacturing, creates plentiful job opportunities.
For expats, Turkey provides competitive remuneration packages, often inclusive of benefits like housing, transportation, and health insurance. Coupled with the lower cost of living compared to many Western countries, these packages often allow for a comfortable lifestyle.
Working in Turkey also allows individuals to immerse themselves in the country's rich cultural heritage and welcoming society. Turkish hospitality is legendary, and the friendliness of the local populace makes the transition easier for many expats.
Moreover, learning Turkish can provide a unique advantage in the global job market, given Turkey's increasingly significant role in global trade. For those not fluent in Turkish, there's no cause for concern as English is widely spoken in the business sphere.
In addition to its bustling cities, Turkey's natural beauty, from its stunning beaches to scenic mountains, is easily accessible, providing a well-balanced lifestyle.
In essence, working in Turkey means contributing to and benefiting from a vibrant, growing economy while soaking up the country's rich culture and enjoying its beautiful landscapes. It offers not just a job, but a rewarding overall experience.
ECONOMIC ADVANTAGES AND BUSINESS OPPORTUNITIES
One of the most enticing aspects of living in Turkey is its vibrant economy. Strategically located at the intersection of Europe and Asia, Turkey has cultivated strong economic ties with both continents. This unique position has led to a flourishing trade environment and a diverse array of business opportunities. For entrepreneurs and individuals wishing to start a new business, Turkey offers an accommodating climate with investor-friendly policies.
Digital nomads, in particular, find Turkey an attractive destination, with its combination of reliable internet connectivity, co-working spaces, and a lower cost of living than many Western countries. The country's growing technology scene, along with the welcoming attitude towards international workers, creates a thriving community for digital professionals.
BEAUTY OF TURKEY AND ITS CLIMATE
Turkey's geographic diversity presents an abundance of natural beauty that offers something for everyone. From the tranquil Mediterranean beaches to the rugged mountain ranges, there's a landscape to suit every taste. Turkey's cities, such as Istanbul, Ankara, and Antalya, beautifully blend historic architecture with modern infrastructure, reflecting the country's unique cultural amalgamation of East and West.
The country enjoys a pleasant Mediterranean climate, with hot, dry summers and mild, wet winters. This agreeable weather allows for outdoor activities throughout most of the year, contributing to a high quality of life.
QUALITY PUBLIC SERVICES
Turkey provides robust public services that contribute significantly to the quality of life. The public transportation system, which includes metros, trams, buses, and ferries, is efficient and affordable. The Turkish education system is inclusive and diverse, catering to different learning needs. Schools offer high-quality education and there are numerous reputable universities for higher education.
HEALTHCARE IN TURKEY
The Turkish healthcare system is highly developed, with a mix of public and private hospitals offering state-of-the-art facilities. Medical professionals are well-trained, and many doctors and nurses speak English, adding to the convenience for foreigners. The healthcare system is also affordable compared to Western standards, and health insurance is comprehensive, making Turkey an attractive destination for those with healthcare needs.
ACCOMMODATION AND REAL ESTATE INVESTMENT
The real estate market in Turkey is another significant advantage. Housing is diverse, ranging from modern apartments in bustling city centres to serene villas on the country's picturesque coast. Property prices, as well as the general cost of living, are lower than in many Western countries, making Turkey an affordable place to live.
For investors, the Turkish real estate market offers substantial potential. The country's growing economy and increasing foreign interest have led to a steady appreciation in property values. In addition, Turkey offers a residency permit to foreigners who invest in real estate, a unique benefit not provided by many countries.
RETIREMENT IN TURKEY
Turkey is becoming an increasingly popular destination for retirees, thanks to its pleasant climate, affordable living, and high-quality healthcare. The country's warm hospitality and slower pace of life in coastal towns like Fethiye or Bodrum offer a peaceful, relaxed lifestyle that many retirees seek. A retiree living in Turkey can enjoy a high standard of living at a fraction of the cost compared to many Western countries.
THE LUCRATIVE LIFESTYLE IN TURKEY
All these factors combined create a lifestyle in Turkey that is not only comfortable but also potentially lucrative. The economic opportunities, affordable living, high-quality public services, and healthcare, coupled with the potential for real estate investment, allow individuals to have a balanced lifestyle, with ample prospects for wealth generation and preservation.
For retirees, the low cost of living and excellent healthcare can stretch their retirement savings further. For digital nomads and business owners, the thriving economy and business-friendly environment offer a wide canvas for innovation and success.
VISA REQUIREMENTS AND IMMIGRATION LAWS
When it comes to visa requirements and immigration laws, Turkey is known for its welcoming stance towards foreigners. A visa is necessary for entry, but the process is relatively straightforward, and many nationalities are eligible for e-visa applications.
For longer stays, various residency options are available, from short-term residence permits to long-term ones, and even the option of obtaining Turkish citizenship through investment. It's advisable to stay updated with the latest immigration rules as they can change, but as of now, the process remains relatively uncomplicated.
Living in Turkey, therefore, presents an attractive proposition, with its blend of economic opportunities, affordable living, rich culture, and natural beauty. Its easygoing visa requirements and welcoming attitude towards foreigners further add to its allure as an excellent place for relocation.
At VIP Visa, we pride ourselves on our years of experience in helping clients navigate the complex process of obtaining visas, residencies, and second nationalities or passports. If you are considering a visit or moving to Turkey, we are here to guide you through the process. Our team of experts will ensure that you have all the necessary information and support to make your dream come true. Please see below for more information about our visa categories and let us help you embark on your new journey!