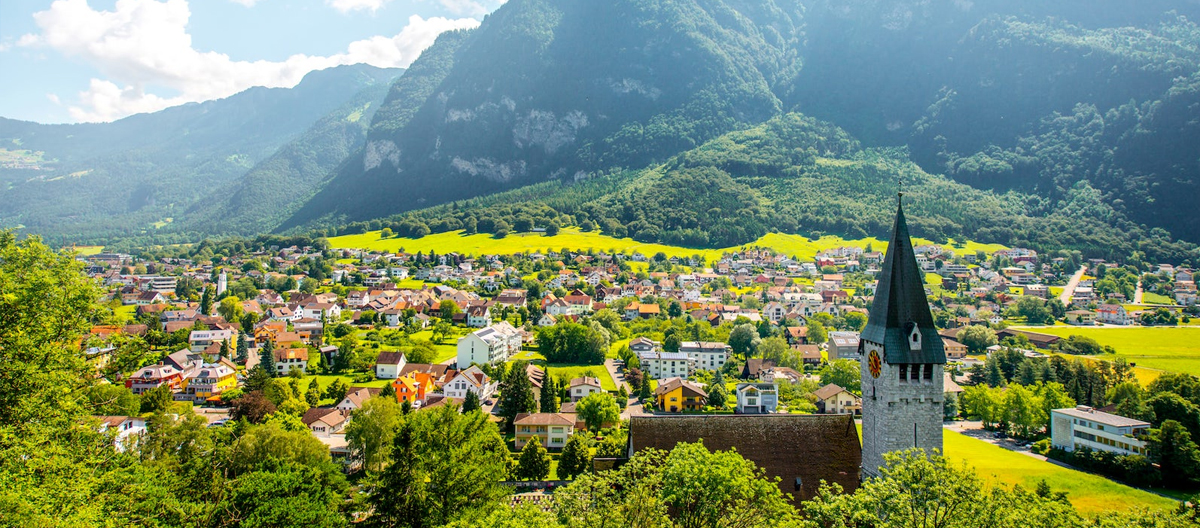 Benefits of life in Liechtenstein
Liechtenstein, a small gem nestled in the heart of Europe, is the epitome of an ideal place to live, work, and explore. Its high standard of living, robust economy, and rich cultural heritage are just the tip of the iceberg when it comes to the benefits of life in this alpine country.
Living in Liechtenstein offers the chance to enjoy an exceptional quality of life. It is known for its high income per capita, ranking among the wealthiest nations worldwide, which translates into a prosperous lifestyle for its residents. It offers world-class healthcare and education systems, ensuring the well-being and intellectual growth of its inhabitants.
Moreover, Liechtenstein is politically stable and boasts a low crime rate, making it a safe and secure environment. It is a country that values privacy and discretion, which makes it a preferred choice for individuals and families alike.
Despite its small size, the nation is rich in culture and heritage. It's a place where traditional values meet modernity, with a vibrant arts scene and numerous cultural events. The pristine natural beauty of Liechtenstein, with its picturesque mountains and valleys, offers a tranquil setting for outdoor enthusiasts.
Living in Liechtenstein also provides strategic geographical advantages. Nestled between Switzerland and Austria, it offers easy access to several major European cities. This connectivity, combined with a thriving business environment, makes it an ideal place for both business and pleasure.
In short, Liechtenstein offers a harmonious blend of economic prosperity, safety, cultural richness, and natural beauty. It is a country that embraces diversity and offers an excellent quality of life, making it a top choice for people seeking to acquire residency in a foreign land.
High Standard of Living
Excellent Healthcare & Education Systems
Politically Stable & Low Crime Rate
Privacy & Discretion are Highly Respected
Rich Cultural Heritage & Vibrant Arts Scene
Pristine Natural Beauty & Outdoor Activities
Strategic Location with Easy Access to Europe
Thriving Business Environment
Embraces Diversity & Promotes Inclusivity
Exceptional Infrastructure & Public Services
Study, Work and Live in Liechtenstein
EDUCATIONAL SYSTEM
Studying in Liechtenstein offers a multitude of benefits that reach far beyond academic excellence. It offers a unique blend of high-quality education, a multicultural environment, and an advantageous geographical location that can greatly enhance your personal and professional development.
One of the biggest draws of studying in Liechtenstein is its world-class education system. Its universities are internationally recognized for their quality and innovation, particularly in fields such as Business Administration, Architecture, and Engineering. The emphasis on research and practical learning ensures that students are well-equipped with the skills and knowledge necessary for their future careers.
Liechtenstein's small size fosters an intimate, supportive academic environment. Classes are typically smaller, leading to personalized attention and more interaction with professors. This setting encourages collaborative learning and promotes a deeper understanding of the coursework.
Beyond the classroom, Liechtenstein is culturally rich and diverse, with students coming from various parts of the world. This multicultural atmosphere offers a chance to broaden your worldview, understand different perspectives, and make lifelong friendships.
Studying in Liechtenstein also means being in the heart of Europe. Its strategic location provides easy access to major European cities, offering students a unique opportunity to travel and explore the continent while studying.
Lastly, Liechtenstein boasts a thriving economy with numerous opportunities for internships and jobs, particularly in finance and technology sectors. This allows students to gain practical experience and establish a strong professional network, setting a solid foundation for their future career.
In conclusion, the benefits of studying in Liechtenstein extend beyond excellent academics. It offers a culturally rich environment, hands-on experience, and global networking opportunities, making it an ideal destination for international students.
EMPLOYMENT OPPORTUNITIES
Working in Liechtenstein offers a multitude of benefits, spanning from an attractive economic climate to a high quality of life, which makes it a compelling destination for professionals across the globe.
Liechtenstein boasts one of the highest GDPs per capita worldwide, underlining the country's robust and thriving economy. Known as an international finance hub, it's home to many leading companies in sectors such as banking, manufacturing, and technology, offering a myriad of job opportunities and career growth prospects.
The country's work culture is characterized by high productivity, innovation, and a strong emphasis on work-life balance. The employment laws in Liechtenstein are employee-friendly, with good working conditions, reasonable working hours, and comprehensive social security benefits.
Additionally, Liechtenstein's small size and close-knit community can lead to a more personalized and rewarding work experience. The chance to work closely with decision-makers and influence company strategy can be a significant advantage for career progression.
One of the unique benefits of working in Liechtenstein is its geographical location. Situated in the heart of Europe, it provides excellent connectivity to major European cities, making international business travel convenient.
Living and working in Liechtenstein also means access to its high standard of living. The country offers excellent healthcare, education, and infrastructure, coupled with a safe, clean, and culturally rich environment.
Moreover, the country's multilingual nature and international business environment offer a chance to improve language skills and work with a diverse range of people.
In essence, working in Liechtenstein provides a rare combination of professional growth opportunities, excellent living standards, and a balanced lifestyle, making it an ideal destination for professionals worldwide.
ECONOMIC ADVANTAGES AND BUSINESS OPPORTUNITIES
One of the most compelling reasons to consider residing in Liechtenstein is its robust economy and the plentiful business opportunities it presents. This tiny nation boasts one of the highest GDP per capita globally, indicative of a flourishing and stable economy. Known as an international finance hub, Liechtenstein houses several multinational corporations, especially in sectors like banking, manufacturing, and technology.
For entrepreneurs and business owners, Liechtenstein offers a favourable business environment. The government's pro-business policies, combined with an efficient legal system and low corporate taxes, make it an ideal location to start or expand a business. Moreover, the country's strategic location in the heart of Europe facilitates easy access to the European market.
Digital nomads will find Liechtenstein equally appealing. Its exceptional infrastructure, including high-speed internet connectivity and co-working spaces, enables a smooth remote working experience. Moreover, the country's safety, quality of life, and proximity to major European cities make it an attractive base for digital nomads.
BEAUTIFUL LOCALES AND PLEASANT CLIMATE
Nestled between Austria and Switzerland, Liechtenstein is a haven for nature lovers. The country's geographical diversity ranges from picturesque alpine landscapes to charming lowland forests. Residents can indulge in various outdoor activities like hiking, skiing, and mountain biking, providing a refreshing contrast to urban life.
The climate in Liechtenstein is moderate continental, with warm summers and snowy winters. This climate, combined with the country's pristine environment, contributes to an overall high quality of life and well-being.
EXCELLENT PUBLIC SERVICES
Liechtenstein's public services are top-notch, contributing significantly to the country's appeal. The education system is known for its high standards and international orientation, and healthcare services are world-class, offering state-of-the-art facilities and highly qualified professionals. The public transportation system is efficient and well-connected, ensuring easy mobility within and outside the country. Additionally, the country's crime rate is notably low, making it one of the safest countries in the world.
HEALTHCARE BENEFITS
Healthcare in Liechtenstein is exemplary. The country's healthcare system is comprehensive and accessible, ensuring that residents receive excellent medical care. It operates on a compulsory health insurance basis, with insurance policies covering a wide range of services, from routine check-ups to specialized treatments.
The healthcare sector's potential is further evidenced by its focus on research and development, particularly in medical technology and pharmaceuticals. This forward-thinking approach not only provides residents with access to cutting-edge medical care but also contributes to job creation and economic growth.
ACCOMMODATION AND REAL ESTATE INVESTMENT
Liechtenstein's real estate market presents lucrative investment opportunities. The demand for property, both for residential and commercial purposes, is high due to the country's economic stability, population growth, and limited land availability. Investing in real estate can yield substantial returns in the form of rental income or capital appreciation.
The accommodation options in Liechtenstein cater to various tastes and budgets. From modern apartments in the urban centres to traditional houses in the countryside, the choices are diverse. Regardless of the option chosen, one can expect high living standards and quality infrastructure.
RETIREMENT AND LIVING FOR FOREIGNERS
Liechtenstein is a highly desirable place for foreigners to retire or live. The country's high standard of living, safety, excellent healthcare, and beautiful environment make it an ideal destination for a peaceful and comfortable retirement. The local community is known for being welcoming and inclusive, making it easier for foreigners to integrate and feel at home.
LUCRATIVE BENEFITS OF LIVING IN LIECHTENSTEIN
All these factors combined make living in Liechtenstein a lucrative proposition. The economic stability and business-friendly environment provide ample opportunities for professional growth and entrepreneurship. The high standard of living, bolstered by excellent public services, healthcare, and infrastructure, ensures a comfortable and fulfilling lifestyle.
The real estate market offers promising investment opportunities, with high demand and potential for significant returns. For retirees and those seeking a change of scenery, the country's safety, beautiful environment, and welcoming community make it an ideal place to call home.
In essence, residing in Liechtenstein offers a unique blend of economic prosperity, personal well-being, and investment potential. Whether you are an entrepreneur, digital nomad, retiree, or someone seeking a better quality of life, Liechtenstein has something to offer.
VISA REQUIREMENTS AND IMMIGRATION LAWS
Navigating the visa requirements and immigration laws is an important aspect of moving to Liechtenstein. The country is part of the European Economic Area (EEA), which allows citizens from EEA countries to live and work in Liechtenstein without a visa. Non-EEA nationals may need to apply for a visa and work permit, depending on the purpose and duration of their stay.
The immigration laws in Liechtenstein are well-structured and transparent. The government supports skilled migration, making it relatively easier for professionals in high-demand sectors to obtain a work permit. For entrepreneurs and investors, there are specific visa categories that facilitate business establishment and investment.
It's also worth noting that Liechtenstein has stringent residency requirements, especially for non-EEA nationals. Acquiring residency typically involves proving financial self-sufficiency, securing health insurance, and demonstrating integration into the local community. It's advisable to consult with a legal expert or immigration service, such as VIP Visa, to understand the specific requirements and process.
In conclusion, while moving to a new country involves significant considerations and processes, the benefits of living in Liechtenstein are certainly worth it. The country's economic strength, high standard of living, beautiful locales, and investment opportunities make it a highly desirable destination for individuals and families alike. With the right guidance and information, making Liechtenstein your new home can be a rewarding and fruitful decision.
At VIP Visa, we pride ourselves on our years of experience in helping clients navigate the complex process of obtaining visas, residencies, and second nationalities or passports. If you are considering a visit or moving to Liechtenstein, we are here to guide you through the process. Our team of experts will ensure that you have all the necessary information and support to make your dream come true. Please see below for more information about our visa categories and let us help you embark on your new journey!