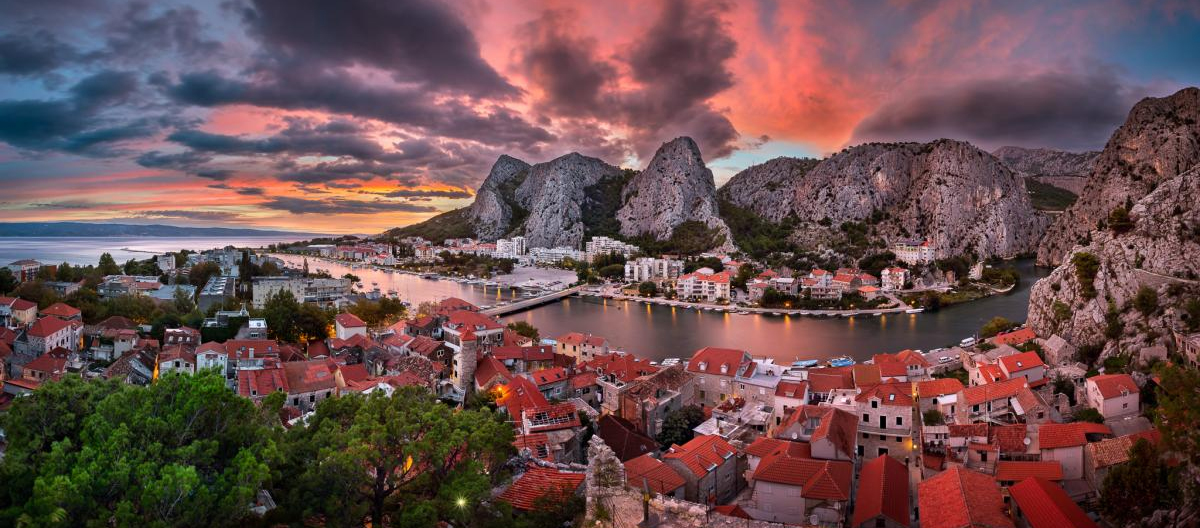 Benefits of life in Croatia
With a rich history, stunning natural beauty, and a high quality of life, Croatia offers an array of benefits for those who choose to live, work, or retire there. This gem of the Adriatic coast, with its diverse landscapes ranging from sun-kissed islands to towering mountains, provides a picturesque setting that is a feast for the eyes.
Croatia boasts a thriving cultural scene that deeply respects its past while also embracing the contemporary. You'll find Roman ruins and medieval fortresses alongside modern art galleries and innovative startups. The country is steeped in tradition, with vibrant festivals and events celebrated throughout the year, providing a chance for newcomers to immerse themselves in Croatian life.
The Croatian lifestyle promotes a balance between work and leisure, which is often reflected in the ample time spent outdoors enjoying the country's natural wonders. The climate is another draw, with warm summers and mild winters allowing for year-round outdoor activities.
In terms of practicality, Croatia offers a high standard of living at a relatively low cost compared to other European countries. The healthcare system is robust, and education is held to a high standard. Furthermore, as a member of the European Union, residents of Croatia can move freely within the EU, opening up vast opportunities for travel, work, and study.
For those seeking to invest, the Croatian economy is steady and growing, with opportunities in various sectors, including tourism, real estate, and technology. The country has a growing expat community, creating a supportive network for those starting a new chapter in Croatia.
Stunning Natural Beauty, from Beaches to Mountains
Rich History & Cultural Heritage
High Standard of Living at a Lower Cost
Favorable Climate, Warm Summers & Mild Winters
Strong Healthcare & Education Systems
Allowing for Free Movement within the EU
Growing Opportunities for Investment
Balanced Lifestyle Promoting Both Work & Leisure
Thriving Expat Community
Study, Work and Live in Croatia
EDUCATIONAL SYSTEM
Choosing Croatia as your study destination provides a unique blend of high-quality education and an enriching cultural experience. Universities in Croatia have a long-standing tradition of excellence in the sciences and humanities, with many offering a growing number of courses in English to accommodate international students. The academic environment is diverse and dynamic, fostering critical thinking, creativity, and innovation.
Croatia's relatively low cost of living compared to other European countries extends to education as well, with tuition fees that are generally lower than those found in Western Europe or North America. The country offers a number of scholarships and financial aid options, making it an affordable choice for many students.
The cultural and geographical richness of Croatia adds a dimension to your education that extends beyond the classroom. You will have the opportunity to learn a new language and immerse yourself in a vibrant and welcoming culture. Moreover, Croatia's strategic location at the crossroads of Central Europe, the Balkans, and the Mediterranean offers students a unique historical and cultural perspective.
Studying in Croatia also offers a lifestyle that balances academics with leisure. The country's stunning landscapes, from its pristine beaches to its scenic mountains, provide ample opportunities for outdoor activities. The cuisine, music, arts, and festivals are part of the daily life, offering students the chance to truly become part of the Croatian community.
In sum, studying in Croatia offers a unique combination of academic rigor, cultural immersion, and an enviable lifestyle, all at an affordable cost.
ECONOMIC ADVANTAGES AND BUSINESS OPPORTUNITIES
Croatia, a member of the European Union, offers a thriving and dynamic economic environment that is particularly attractive to entrepreneurs and digital nomads. The country has been proactive in fostering a favourable business climate, with various incentives for foreign investment and a transparent regulatory framework. The steady growth in sectors such as tourism, technology, maritime industries, and agriculture presents numerous opportunities for starting a new business.
Digital nomads will find Croatia particularly appealing due to its robust digital infrastructure, affordable living costs, and the government's active promotion of remote work opportunities. A specific visa for digital nomads introduced in 2021 underscores Croatia's commitment to attracting this cohort of professionals.
THE BEAUTY OF CROATIA: LANDSCAPES AND CLIMATE
Croatia's breathtaking natural beauty is one of its most enticing aspects. From the crystal-clear waters of the Adriatic Sea, dotted with over a thousand islands, to the lush forests and mountains of the interior, Croatia offers a diverse range of landscapes that cater to every taste. These natural features contribute to a lifestyle that promotes outdoor activities, from sailing and swimming to hiking and skiing.
The country's climate complements its natural beauty perfectly. It boasts a Mediterranean climate along the coast with warm, dry summers and mild winters, while the interior enjoys a temperate continental climate. This diversity in weather conditions allows for year-round enjoyment of the country's stunning landscapes.
PUBLIC SERVICES AND HEALTHCARE
Croatia's public services are well-developed and efficient. The country's transport network is extensive, with good coverage of buses, trams, and ferries, making getting around straightforward and affordable. Public utilities are reliable, and digital services are widely available.
The healthcare system in Croatia is robust, with a high standard of care that ranks well within Europe. It operates on a mandatory insurance scheme, providing comprehensive coverage for a range of medical services. Numerous hospitals and clinics are spread across the country, many of which offer services in English. The potential of Croatia's healthcare system lies in its continuous improvement and investment in modern medical technologies.
ACCOMMODATION AND REAL ESTATE INVESTMENT
The real estate market in Croatia offers excellent potential for investment. Whether you're looking for a coastal property, a city apartment, or a rural retreat, there's a wide range of options to suit different needs and budgets. Prices are generally lower than in many Western European countries, and the market has been showing consistent growth, offering attractive returns.
For those looking to rent, the cost of accommodation in Croatia is relatively low, and there's a good supply of quality properties in both urban and rural areas. This affordability, combined with the high standard of living, makes Croatia an attractive place to live.
RETIREMENT AND LIVING IN CROATIA FOR FOREIGNERS
Croatia is increasingly becoming a popular choice for foreigners looking for a retirement destination. The relaxed pace of life, the warm and welcoming locals, and the country's natural beauty make it an ideal place for a peaceful and enjoyable retirement. The relatively low cost of living allows for a comfortable lifestyle even on a modest pension.
The country also boasts a thriving expat community. This, combined with the locals' hospitality, makes settling in Croatia a smooth process. English is widely spoken, particularly among the younger generation, reducing language barriers for newcomers.
THE LUCRATIVE POTENTIAL OF LIVING IN CROATIA
All these factors combine to make living in Croatia a potentially lucrative prospect. The economic advantages present opportunities for business growth and wealth creation. The affordable real estate market offers excellent investment potential. The high standard of public services, coupled with the quality healthcare system, ensures a comfortable and worry-free lifestyle.
The natural beauty and climate contribute to a high quality of life, which is a key factor in personal well-being. The affordability of the country means that your money goes further, allowing for a comfortable lifestyle and the potential for savings. For retirees, the ability to enjoy a high standard of living on a modest income is a significant draw. And for digital nomads or remote workers, the combination of a favorable work environment, a diverse and vibrant culture, and a beautiful setting can lead to increased productivity and job satisfaction.
VISA REQUIREMENTS AND IMMIGRATION LAWS
Navigating Croatia's visa requirements and immigration laws is an essential step for those considering moving to the country. As an EU member, Croatia allows citizens of EU countries to enter, reside, and work in the country without a visa. For non-EU citizens, the type of visa required will depend on the purpose and duration of stay.
For short stays of up to 90 days, a Schengen visa is typically required for tourists, business visitors, or those visiting family or friends. For longer stays, a temporary or permanent residence permit is needed, which usually requires proof of income or employment, health insurance, and accommodation.
As mentioned earlier, Croatia also offers a special visa for digital nomads, allowing them to reside in the country while continuing to work for a foreign employer. This visa reflects Croatia's forward-thinking approach to attracting international talent and contributing to its vibrant and diverse expat community.
Regardless of your situation, it's advisable to seek professional advice or assistance when dealing with visa applications and immigration procedures to ensure a smooth transition to life in Croatia.
In conclusion, Croatia presents a compelling blend of opportunities for a wide range of individuals, whether they're entrepreneurs looking to capitalize on the country's growing economy, digital nomads seeking a beautiful and affordable base, or retirees in search of a comfortable and fulfilling lifestyle. Its economic advantages, coupled with its natural beauty, favourable climate, quality public services, and excellent healthcare system, offer a rewarding and enjoyable living experience. The potential for real estate investment and the general affordability of life in Croatia add a financial advantage to the many benefits of living in this beautiful country. With its welcoming attitude towards foreigners and its straightforward immigration procedures, Croatia truly stands out as an exceptional destination for living and working.
At VIP Visa, we pride ourselves on our years of experience in helping clients navigate the complex process of obtaining visas, residencies, and second nationalities or passports. If you are considering a visit or moving to Croatia, we are here to guide you through the process. Our team of experts will ensure that you have all the necessary information and support to make your dream come true. Please see below for more information about our visa categories and let us help you embark on your new journey!