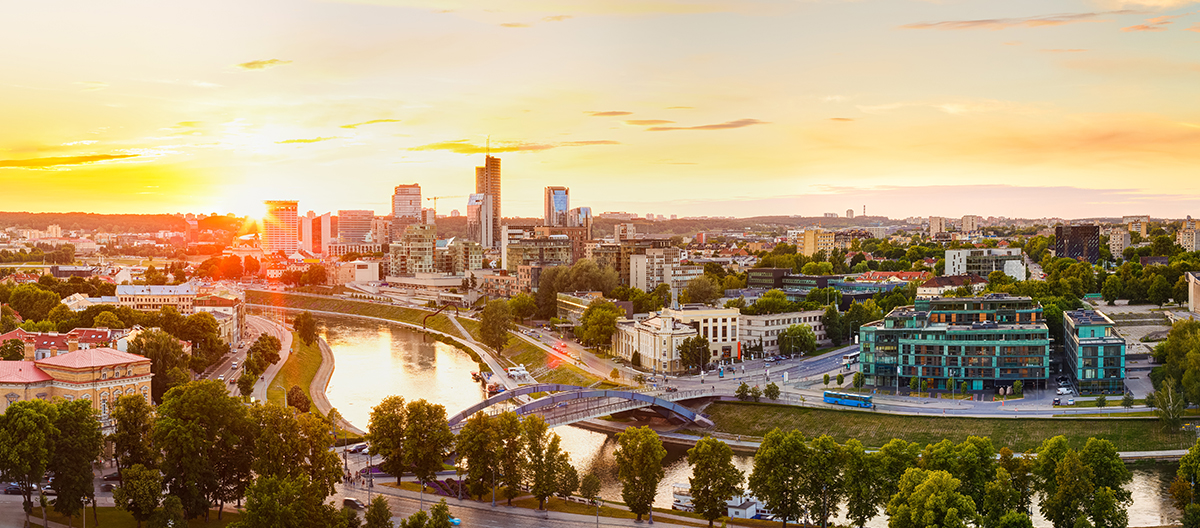 Benefits of life in Lithuania
Lithuania, a gem nestled in Northern Europe, offers an extraordinary blend of rich history, vibrant culture, and remarkable economic potential. Life in Lithuania is a blend of the past and the future, with a tranquil rhythm of life that seamlessly fuses with modern advancements. It's a country where quality of life is a standard, not a luxury.
Lithuania boasts a high standard of living, offering an excellent healthcare system and a robust education system that ranks as one of the best in Europe. The country takes pride in its high literacy rate and multilingual population, with English widely spoken, especially among the younger generation.
One of the most compelling aspects of living in Lithuania is its affordability. Despite being part of the Eurozone, the cost of living remains considerably low compared to other European countries. This affordability extends to housing, transportation, and even gourmet dining, making Lithuania a haven for those seeking a high-quality, cost-effective lifestyle.
The Lithuanian people are warm, friendly, and welcoming to foreigners. They uphold their traditions and cultural heritage, and there are always festivals and events to enjoy. Lithuania's rich history can be explored through its well-preserved medieval architecture, historic landmarks, and captivating museums.
Additionally, Lithuania has a thriving job market. It is a hub for Information Technology and biotech industries, drawing talent from around the globe. The government provides numerous incentives for businesses and investors, fostering a conducive environment for growth and innovation.
In a nutshell, Lithuania offers a high-quality, affordable lifestyle, rich cultural experiences, a strong education system, excellent healthcare, a thriving job market, and a warm, welcoming community. It's a country that offers both the tranquility of nature and the dynamism of modern city life.
Affordable Cost of Living
High Standard of Education & Healthcare
Thriving Job Market, Particularly in IT & Biotech
Rich Cultural Heritage & Historical Landmarks
Warm, Welcoming & Multilingual Population
Great Opportunities for Nature Lovers
Vibrant Nightlife & Gastronomic Scene
Excellent Transport Connections to Europe
Government Incentives for Businesses & Investors
Safe & Secure Living Environment
Study, Work and Live in Lithuania
EDUCATIONAL SYSTEM
Studying in Lithuania presents a host of advantages for students seeking a comprehensive and globally recognized educational experience. Lithuania boasts a robust and diverse education system that has been praised for its quality and innovative teaching methods.
First and foremost, Lithuanian universities offer a wide range of study programs in English, making it accessible for international students. The degrees are internationally recognized, which can significantly enhance employability and prospects on a global stage.
Moreover, Lithuania is renowned for its strong emphasis on sciences and technology. The country is a regional leader in these fields, hosting numerous high-tech companies and start-ups, thus providing students with excellent opportunities for internships and practical work experience.
Affordability is another appealing aspect. Not only are the tuition fees relatively low compared to many other European countries, but the cost of living in Lithuania is also quite reasonable. This allows students to enjoy a high standard of living without the financial strain.
Beyond academia, Lithuania offers an enriching cultural experience. From its vibrant cities to its tranquil countryside, students can immerse themselves in the country's rich history and traditions, explore its stunning natural beauty, and partake in various festivals and events.
Finally, the country has a welcoming and inclusive atmosphere, and international students are actively encouraged to participate in campus life. Student organizations often host events and activities, facilitating a sense of community and fostering lifelong friendships.
In summary, studying in Lithuania offers a high-quality, affordable education, practical work experience opportunities, an enriching cultural immersion, and a welcoming international community. It's a choice that not only enhances academic credentials but also personal growth and global awareness.
EMPLOYMENT OPPORTUNITIES
Working in Lithuania offers a wealth of opportunities and benefits, making it an attractive destination for global professionals. The country boasts a strong economy with a particular emphasis on high-tech industries such as IT, biotechnology, and laser technology, offering ample opportunities for career growth and skill development.
One of the significant benefits of working in Lithuania is the high quality of life at an affordable cost. Despite being part of the Eurozone, Lithuania's cost of living remains considerably lower than most Western European countries, meaning that professionals can enjoy a comfortable lifestyle without a high expense.
The work-life balance in Lithuania is commendable. Lithuanians place great importance on personal time and family, and most companies promote a healthy work-life balance. The country also has an efficient and affordable public transportation system, which reduces commute times and contributes to an improved quality of life.
Lithuania is an innovation-driven country. Its government provides various incentives for start-ups and businesses, making it a great place for entrepreneurs and those wishing to advance their careers in a dynamic, forward-thinking environment.
In terms of social security, Lithuania has a comprehensive system that provides healthcare, pension, and unemployment benefits. The healthcare system is of high standard, accessible, and affordable.
Additionally, Lithuania's strategic location in Europe offers excellent opportunities for travel and exploration. With its rich history, vibrant culture, and stunning natural landscapes, there's plenty to see and do during downtime.
In summary, the benefits of working in Lithuania include a thriving job market, affordable cost of living, healthy work-life balance, innovative work environment, strong social security, and an opportunity to explore the richness of European history and culture.
ECONOMIC ADVANTAGES AND OPPORTUNITIES FOR BUSINESS
Lithuania is a vibrant, innovation-driven country that presents significant economic advantages for entrepreneurs, start-ups, and digital nomads alike. The country has witnessed rapid economic growth over the past few years, propelled by its open-market policies, strategic location, and skilled workforce. Lithuania's government is highly supportive of new businesses, offering various incentives such as tax breaks, grants, and access to EU funding to foster entrepreneurship and stimulate economic growth. For digital nomads, Lithuania provides a technologically advanced infrastructure, with one of the fastest internet speeds in the world, making it an ideal base for remote work.
BEAUTY AND CLIMATE OF LITHUANIA
The natural beauty of Lithuania is breathtaking and diverse. From the serene beaches of the Curonian Spit to the verdant forests of Aukštaitija National Park and the picturesque landscapes of the Zemaitija region, Lithuania is a haven for nature lovers. The country also boasts charming historic towns and vibrant cities, each with its unique charm and character. The climate in Lithuania is temperate, with four distinct seasons. Summers are pleasant and warm, perfect for exploring the outdoors, while winters transform the country into a snowy wonderland, ideal for winter sports.
PUBLIC SERVICES IN LITHUANIA
Lithuania offers an array of high-quality public services. The country has a comprehensive public transportation system that is efficient, affordable, and well-connected, covering both urban and rural areas. Public libraries, parks, and recreational facilities are abundant and well-maintained. Moreover, Lithuania invests significantly in public safety, resulting in one of the lowest crime rates in Europe.
HEALTHCARE IN LITHUANIA
Healthcare in Lithuania is of a high standard and is easily accessible to residents. The country has a well-structured healthcare system, consisting of both public and private sectors. The public healthcare system is funded through the national social insurance scheme, ensuring that all residents have access to essential health services. Lithuania's healthcare sector is also known for its medical research and innovation, particularly in the field of biotechnology.
ACCOMMODATION AND REAL ESTATE INVESTMENT OPPORTUNITIES
The real estate market in Lithuania offers enticing opportunities for investment. Property prices are considerably lower compared to Western European countries, yet the demand for housing, particularly in urban areas, is on the rise. This scenario presents potential for high return on investments. In terms of accommodation, there are options to suit every preference and budget, from modern city apartments to traditional homes in the countryside. The process of buying property in Lithuania is straightforward, with no restrictions for foreign investors.
RETIREMENT AND LIVING IN LITHUANIA FOR FOREIGNERS
For foreigners, Lithuania offers a welcoming and inclusive environment. The country is renowned for its hospitality, and foreigners often find it easy to integrate into Lithuanian society. Retirement in Lithuania comes with several perks. The cost of living is affordable, which allows for a comfortable and worry-free lifestyle. The pace of life is relaxed, and there is a strong emphasis on enjoying life and spending time in nature. Moreover, Lithuania's strategic location allows for easy travel within Europe, making it a great base for retirees wishing to explore different countries.
LUCRATIVE ASPECTS OF LIVING IN LITHUANIA
Living in Lithuania can be a lucrative decision from various perspectives. Economically, the thriving job market, supportive business environment, and affordable cost of living make it an attractive destination for professionals, entrepreneurs, and investors. The high standard of public services, including healthcare and transportation, ensures a comfortable lifestyle. The real estate market offers promising investment opportunities. Moreover, the enriching cultural experiences, natural beauty, and warm community contribute to an excellent quality of life.
For digital nomads and remote workers, the advanced technological infrastructure, coupled with the freedom to explore Europe, makes Lithuania an ideal base. Retirees can enjoy a relaxed, comfortable lifestyle and a wealth of cultural and recreational activities, all within a budget-friendly framework. Overall, Lithuania presents a blend of economic and lifestyle benefits that can lead to personal enrichment and financial growth.
VISA REQUIREMENTS AND IMMIGRATION LAWS
Moving to Lithuania is a straightforward process, thanks to its clear and efficient immigration laws. Non-EU nationals who wish to live in Lithuania typically require a National Visa (D), which allows them to stay in the country for a year and can be extended.
For those looking to work or start a business, a Work Permit or a Business Visa is required. Lithuania has a Blue Card program, aimed at highly skilled non-EU workers, which offers a streamlined immigration process and various benefits.
Retirees can apply for a temporary residence permit, which is initially valid for a year and can be extended. The requirements include having sufficient financial resources and health insurance coverage.
It's also worth noting that Lithuania is part of the Schengen Area, which allows free movement across many European countries. This makes Lithuania not only a great place to live but also an excellent base for exploring Europe.
In conclusion, Lithuania is a country that offers a unique blend of economic opportunities, quality public services, rich cultural experiences, and a welcoming community. Whether you're a professional seeking career growth, an entrepreneur starting a new venture, a digital nomad looking for a new base, or a retiree in search of a relaxed lifestyle, Lithuania has something to offer. The combination of these benefits can lead to a lucrative and enriching experience of living in Lithuania.
At VIP Visa, we pride ourselves on our years of experience in helping clients navigate the complex process of obtaining visas, residencies, and second nationalities or passports. If you are considering a visit or moving to Lithuania, we are here to guide you through the process. Our team of experts will ensure that you have all the necessary information and support to make your dream come true. Please see below for more information about our visa categories and let us help you embark on your new journey!