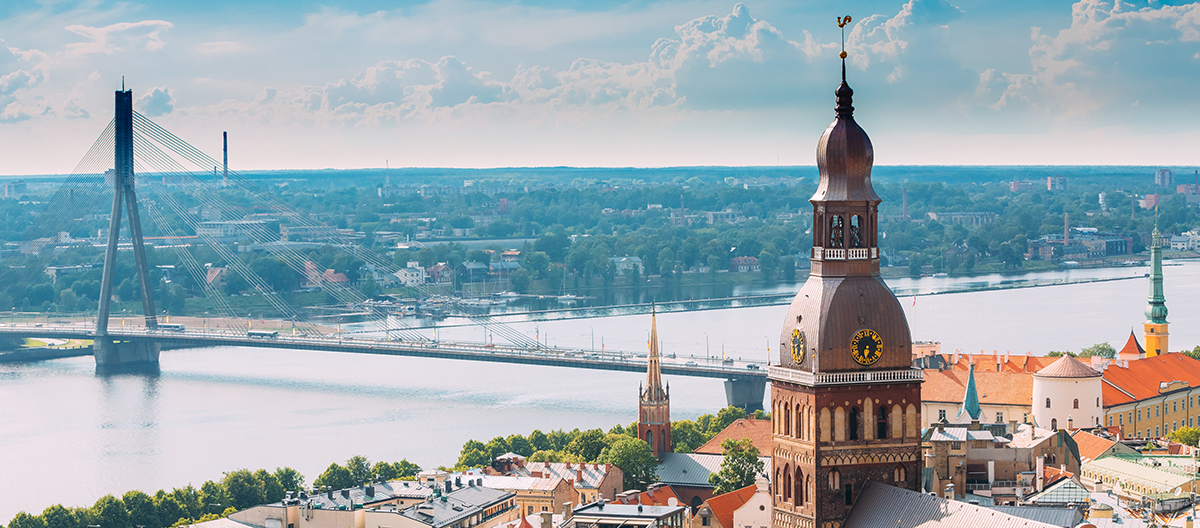 Benefits of life in Latvia
Latvia, the charming Baltic nation, offers an exceptional blend of cultural richness, natural beauty, and economic stability, making it an attractive destination for those seeking visa, residency, or a second nationality.
Latvia is a member of the European Union, ensuring the benefits of European lifestyle and economic prosperity. Living in Latvia means you'll enjoy high living standards, social security, and access to the entire Schengen zone, enabling free movement across many countries in Europe.
The country boasts a rich cultural and historical heritage. Its capital, Riga, is a UNESCO World Heritage Site known for its art nouveau architecture and vibrant arts scene. Latvians are proud of their traditions, festivals, music, and dance, and these cultural events provide a warm and welcoming community atmosphere.
In terms of education and healthcare, Latvia offers world-class facilities. Its universities are recognized for their high academic standards and research opportunities. The healthcare system is efficient and reliable, ensuring the well-being of residents and visitors alike.
Latvia's economic stability and growth potential are other compelling reasons for considering residency. The country has a robust economy with a strong focus on information technology, logistics, and green technologies, offering numerous business and employment opportunities.
With its lush forests, pristine beaches, and serene lakes, Latvia is an outdoor lover's paradise. The government's commitment to environmental sustainability ensures the preservation of these natural treasures for future generations.
In summary, life in Latvia presents a harmonious blend of economic prosperity, cultural richness, and natural beauty. It's an attractive destination for anyone looking to broaden their horizons and embrace new opportunities.
Allowing Access to the Schengen Zone
Rich Cultural & Historical Heritage
High-Quality Healthcare & Education System
Economic Stability & Opportunities in IT & Tech
Natural Landscapes, Perfect for Outdoor Activities
Commitment to Environmental Sustainability
Vibrant Arts Scene ft. Music, Dance & Festivals
Study, Work and Live in Latvia
EDUCATIONAL SYSTEM
Studying in Latvia offers an enriching and rewarding experience that combines high-quality education with unique cultural and personal growth opportunities.
Latvian higher education institutions are recognized for their academic excellence and innovative research. They offer a wide range of study programs in English, spanning from undergraduate to doctoral levels. The curriculum is designed to foster critical thinking, creativity, and problem-solving skills, preparing students for a competitive global market.
Moreover, being a member of the European Union, degrees obtained in Latvia are recognized across Europe, broadening employment opportunities post-graduation. Many Latvian universities also have strong ties with industries and offer internship opportunities, providing students with practical experience and potential job prospects.
The cost of education and living expenses in Latvia are relatively lower compared to many Western European countries, making it an affordable choice for international students. Despite this, the quality of life is high, with excellent public services, including healthcare and transportation.
Finally, students in Latvia benefit from living in a multicultural environment. Latvia's diverse student population fosters international friendships and cultural exchange. The country itself, with its rich history, vibrant arts scene, and stunning natural landscapes, provides countless opportunities for exploration and leisure.
In summary, studying in Latvia is not just about academic growth, but also about cultural immersion, personal development, and affordable quality living. It truly is an experience that can shape your future in significant ways.
EMPLOYMENT OPPORTUNITIES
Working in Latvia presents numerous benefits that cater to a variety of professional and personal aspirations.
As a thriving Baltic nation, Latvia has a robust and stable economy. It's recognized for its strong sectors like IT, logistics, and green technologies, offering a myriad of job opportunities. The country is also known for its startup-friendly environment, making it an ideal place for entrepreneurs and innovators.
The workforce in Latvia is well-educated, with a high proficiency in English, fostering a conducive environment for international professionals. The country has a forward-thinking approach to work-life balance, understanding the importance of employee well-being for productivity.
Latvia's strategic location in the Baltic region provides easy access to other European markets. As part of the EU, working in Latvia means you are within the single market, opening doors for networking and business expansion across the continent.
The cost of living in Latvia is relatively low compared to many Western European countries, yet the quality of life remains high. From a well-structured healthcare system to an efficient public transportation network, Latvia ensures comfortable living for its working population.
Moreover, working in Latvia offers the opportunity to immerse in its rich culture and explore its breathtaking landscapes. From the historical streets of Riga to the serene beaches and forests, there's always something to discover.
In summary, working in Latvia offers a balanced blend of professional growth, economic stability, and quality living, making it an attractive destination for global professionals seeking new opportunities.
ECONOMIC ADVANTAGES AND BUSINESS OPPORTUNITIES
Latvia, as an EU member, presents a thriving economic environment with numerous advantages for business owners and digital nomads. Its robust economy is recognized for sectors such as IT, logistics, and green technologies. For entrepreneurs, the country offers a startup-friendly environment, with easy business registration processes, access to venture capital, and a favourable tax system. For digital nomads, Latvia's high-speed internet connectivity, co-working spaces, and the possibility of a balanced lifestyle make it an attractive base.
The strategic location of Latvia at the crossroads of Northern and Eastern Europe provides easy access to other significant markets. Its well-developed infrastructure, efficient transportation, and logistics network ensure smooth business operations. Furthermore, the workforce is well-educated, multilingual, with a high proficiency in English, fostering an ideal environment for international business collaborations.
NATURAL BEAUTY, WEATHER, AND CLIMATE
Latvia's natural landscapes are a testament to the country's breathtaking beauty. Over 50% of the territory is covered in forest, presenting opportunities for outdoor activities like hiking, camping, and bird-watching. The pristine beaches, serene lakes, and national parks provide a tranquil escape from urban life. Latvia experiences a temperate seasonal climate, with warm summers and cold winters, offering a variety of activities throughout the year.
PUBLIC SERVICES
Latvia prides itself on its efficient public services. Its public transportation network, both within cities and connecting regions, is reliable and affordable. Moreover, Latvia's commitment to environmental sustainability is evident in its public policies, with significant investments in green technologies and recycling programs.
HEALTHCARE BENEFITS AND POTENTIAL
Latvia's healthcare system is efficient, well-structured, and affordable, ensuring the well-being of its residents. Public healthcare is funded through taxes, and private healthcare is also widely available. The country boasts a high doctor-to-patient ratio, ensuring personalized care. Furthermore, Latvia is becoming a popular destination for medical tourism due to the high quality of services at competitive prices.
ACCOMMODATION AND REAL ESTATE INVESTMENT
The real estate market in Latvia offers attractive opportunities for investment. The cost of property, whether for residential or commercial use, is relatively lower than in many Western European countries. This, coupled with the potential for property value appreciation, presents a lucrative venture. The process of buying property is straightforward, with no restrictions for foreigners.
Accommodation options in Latvia range from modern city apartments to quaint country homes, catering to diverse preferences. The cost of living is relatively low, yet the standard of living remains high, making Latvia an affordable yet comfortable place to live.
RETIREMENT IN LATVIA
For retirees, Latvia offers a peaceful and affordable lifestyle, rich in cultural experiences and natural beauty. The cost of living, including healthcare, housing, and daily expenses, is considerably lower than in many other European countries. Yet, retirees can enjoy a high quality of life, with access to modern amenities, recreational activities, and social opportunities. The welcoming attitude towards foreigners further enhances the appeal of Latvia as a retirement destination.
LUCRATIVE POTENTIAL OF LIVING IN LATVIA
The blend of economic stability, affordable living, cultural richness, and natural beauty makes Latvia a lucrative choice for anyone considering a move. For entrepreneurs and digital nomads, the business-friendly environment and strategic location offer immense growth potential. For retirees, the affordable yet high-quality lifestyle presents a peaceful and fulfilling retirement.
VISA REQUIREMENTS AND IMMIGRATION LAWS
As an EU member, Latvia follows the common visa policy for the Schengen Area. For short stays of up to 90 days, visitors from many countries can enter visa-free. For longer stays or for relocation, a residence permit is required. Latvia offers different types of residence permits based on the purpose of stay, including employment, study, business, and family reunion.
For those looking to invest in Latvia, the country offers a Golden Visa program. This program allows individuals who make a substantial investment in the country, such as in real estate, to receive a residence permit.
The immigration process in Latvia is transparent and streamlined. The country encourages skilled migration and foreign investment, as reflected in its immigration policies. However, it's important to consult with immigration experts or legal professionals to understand the specific requirements and procedures.
In conclusion, Latvia presents a unique blend of opportunities for various individuals - whether you're a business owner, a retiree, a digital nomad, or someone looking for a change of scenery. Its economic stability, business opportunities, high living standards, and stunning natural beauty make it a truly lucrative choice for relocation. With its welcoming attitude and progressive policies, Latvia is not just a place to live, but a place to thrive.
At VIP Visa, we pride ourselves on our years of experience in helping clients navigate the complex process of obtaining visas, residencies, and second nationalities or passports. If you are considering a visit or moving to Latvia, we are here to guide you through the process. Our team of experts will ensure that you have all the necessary information and support to make your dream come true. Please see below for more information about our visa categories and let us help you embark on your new journey!