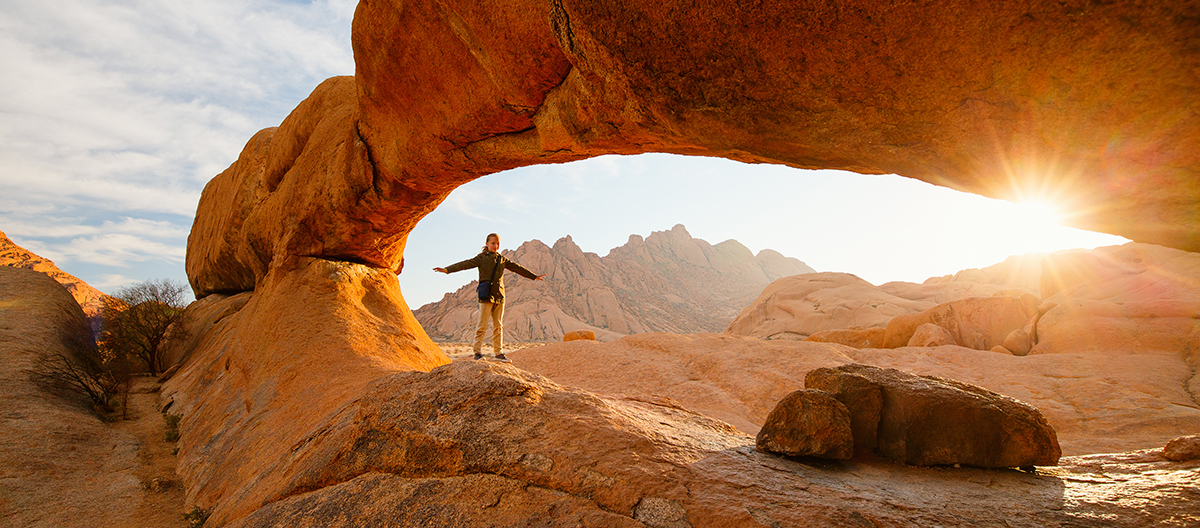 Benefits of life in Namibia
Namibia, with its rich cultural heritage and natural beauty, offers a lifestyle unlike any other. A land of stunning contrasts, it boasts the oldest desert on Earth, the breathtaking Fish River Canyon, and the wildlife-rich Etosha National Park, making it an enchanting haven for nature and adventure enthusiasts. With more than 300 days of sunshine annually, Namibia presents an ideal climate for outdoor exploration and leisure activities.
Namibia's economy is stable and growing, offering various opportunities for investors and entrepreneurs. Its government is committed to attracting foreign investment and has implemented policies that foster business growth. The cost of living in Namibia is relatively low compared to other countries, making it an attractive destination for individuals seeking to maximize their income.
Namibia's diverse culture is another one of its strengths. With people from different ethnic backgrounds cohabiting peacefully, it is a country that embraces diversity and fosters unity. English is the official language, making it easier for expatriates to communicate and integrate into society.
Namibia also boasts a robust healthcare system with excellent facilities. Public healthcare services are complemented by a growing private sector that caters to a range of medical needs. The country is also focusing on improving its education sector, with an increasing number of well-respected institutions.
In conclusion, Namibia offers a unique blend of natural beauty, cultural diversity, and economic stability, making it an excellent choice for those seeking a new lifestyle or a second home.
Abundant Natural Beauty from Deserts to Canyons
Stable Economy with Oopportunities for Investment
Lower Cost of Living
Rich Cultural Heritage as a Unique Experience
English for Communicating with Foreigners
Healthcare System with Public/Private Options
Enjoyable Climate with Over 300 Sunny Days
Safe & Peaceful Coexistence with Diverse Cultures
Growing Education Sector
Home to a Variety of Wildlife
Study, Work and Live in Namibia
EDUCATIONAL SYSTEM
Studying in Namibia offers a host of unique benefits that go beyond conventional learning experiences. The country's education system, while continually evolving, has been making significant strides in recent years, and now boasts a plethora of reputable institutions, providing quality education in diverse fields.
Namibia provides an exceptional opportunity for students to experience a unique blend of cultures. This cultural diversity broadens perspectives and contributes significantly to personal growth and development. The official language being English makes it convenient for international students, easing their transition into the new environment.
Namibia's universities and colleges are committed to research and innovation, providing students with hands-on experience and skills that are highly valued in today's global job market. They offer a wide range of programs with a particular focus on fields such as Environmental Studies, Wildlife Management, and Tourism, leveraging the country's rich biodiversity.
The cost of education and living in Namibia is relatively lower compared to many other countries, making it an attractive destination for international students. Additionally, the country's safety and peaceful environment make it an ideal place for students to focus on their studies.
Namibia's natural beauty offers an unrivalled backdrop for learning. From the oldest desert in the world to unique wildlife, students have the opportunity to incorporate these elements into their studies, providing a holistic learning experience that extends beyond the classroom.
In conclusion, studying in Namibia provides students with quality education, intercultural experiences, and a unique living environment, equipping them with the necessary skills and experiences to thrive in a global setting.
EMPLOYMENT OPPORTUNITIES
Working in Namibia comes with a host of benefits, largely drawn from its stable economy, diverse culture, and spectacular natural environment. The country has a growing economy with numerous sectors such as mining, agriculture, tourism, and finance offering a wealth of job opportunities. Namibia's government is also keen on attracting foreign talent and investment, making it an attractive destination for international professionals.
Namibia has a favourable business environment, with English as the official language, making communication easier for expatriates. The cost of living is relatively low compared to many other countries, allowing a higher quality of life and the ability to save a substantial part of your income.
The country is known for its safety and peacefulness, providing a conducive environment for work and personal life. Moreover, Namibia's multicultural society offers a unique cultural experience, enhancing both personal and professional growth. Working in Namibia can provide you with a global perspective and help you gain a deep understanding of different cultures, an asset in today's globalized world.
Namibia's labour laws are fair and protective of workers' rights. The country has made significant strides in promoting gender equality in the workplace, ensuring equal opportunities for all.
The natural beauty of Namibia also provides the perfect backdrop for work-life balance. After work, employees can immerse themselves in activities such as wildlife safaris, hiking, or simply enjoying the stunning landscapes.
In conclusion, working in Namibia offers a blend of professional growth, financial benefits, cultural enrichment, and a unique work-life balance, making it an appealing choice for individuals seeking opportunities abroad.
ECONOMIC ADVANTAGES AND OPPORTUNITIES
Namibia's growing economy and stable political climate make it an attractive destination for individuals looking to start a new business or for digital nomads. The government has implemented several measures to encourage foreign investment, including tax incentives and streamlined bureaucratic processes. English as the official language further eases business communication and transactions. Namibia's burgeoning sectors such as tourism, mining, agriculture, and finance present numerous opportunities for entrepreneurs. For digital nomads, the country's improving internet infrastructure and the availability of coworking spaces in major cities are significant advantages.
THE BEAUTY OF NATURE AND A PLEASANT CLIMATE
Living in Namibia offers an unparallel experience of natural beauty. From the vast, stunning landscapes of the Namib Desert, the oldest desert in the world, to the rich biodiversity of the Etosha National Park, Namibia is a paradise for nature lovers. The climate is predominantly dry and sunny, with more than 300 days of sunshine annually. This pleasant weather allows for year-round outdoor activities, be it hiking, wildlife safaris, or exploring the local culture and heritage.
PUBLIC SERVICES
Namibia's public services are continually improving to meet the needs of its population. The public transportation system is efficient, and there's an ongoing effort to upgrade road infrastructure, which is essential for business logistics and personal commuting. The country also takes pride in its commitment to providing clean water and electricity to its residents. Public safety is another priority, with Namibia being one of the safest countries in Africa.
HEALTHCARE POTENTIAL AND BENEFITS
Namibia's healthcare system is robust and continually evolving. The government has invested significantly in improving healthcare facilities and services. Public healthcare services are complemented by a growing private sector catering to a range of medical needs. Efforts are underway to increase accessibility, quality, and affordability of healthcare for everyone in the country. For foreigners, numerous health insurance options are available that cover a wide range of services.
ACCOMMODATION AND REAL ESTATE INVESTMENT OPPORTUNITIES
The real estate market in Namibia offers a plethora of opportunities for investors. Whether it's purchasing property for personal use or for rental income, the relatively lower property prices compared to many other countries make it an attractive option. The demand for housing, particularly in urban areas, continues to grow, ensuring potential for high returns on property investment. Accommodation ranges from apartments in modern, urbanized areas to houses in quieter suburbs, catering to various lifestyle preferences.
RETIREMENT IN NAMIBIA
Namibia is increasingly becoming a popular choice for retirement among foreigners. The country's lower cost of living allows retirees to enjoy a comfortable lifestyle. The peaceful environment, friendly locals, and the ease of communication given English is the official language, all contribute to making retirement in Namibia a pleasant experience. Additionally, the availability of high-quality healthcare services provides peace of mind for older residents.
LUCRATIVE LIVING
Considering all the above factors, living in Namibia can be a lucrative decision. The economic advantages present opportunities for financial growth, whether through business, digital nomadism, or real estate investment. The country's natural beauty and pleasant climate offer a quality of life that's priceless. Reliable public services, a robust healthcare system, and potential for comfortable retirement all contribute to making life in Namibia not only enjoyable but also financially rewarding.
VISA REQUIREMENTS AND IMMIGRATION LAWS
For foreigners looking to reap the benefits of living in Namibia, understanding the country's visa requirements and immigration laws is essential. The exact requirements may vary depending on your country of origin and the purpose of your stay. Generally, tourists from many countries can enter Namibia without a visa for up to 90 days. For longer stays, different types of visas are available, such as work, student, or business visas.
For those planning to start a business, Namibia offers an investor permit. This permit requires evidence of sufficient financial resources and a comprehensive business plan. Those looking to retire in Namibia can apply for a retiree visa, which requires proof of a guaranteed income.
Namibia's immigration laws are structured to attract foreign investment and skills into the country while protecting the interests of its citizens. The government is continuously working on streamlining the immigration process to make it more efficient and less time-consuming.
Moreover, Namibia has a Permanent Residency program for those who wish to make Namibia their home. This program offers numerous benefits, including the ability to work, study, or start a business without needing a separate visa. However, it does require a commitment to live in Namibia for a certain period each year.
It is always advisable to consult with an immigration expert or the local Namibian embassy or consulate to understand the current regulations and requirements.
In conclusion, Namibia, with its economic stability, cultural richness, natural beauty, and favourable policies, is an attractive destination for anyone looking to start a new chapter of their life. Whether you're an entrepreneur, a digital nomad, an investor, or someone seeking a peaceful retirement, Namibia offers a unique blend of opportunities that can make your stay both rewarding and enjoyable.
At VIP Visa, we pride ourselves on our years of experience in helping clients navigate the complex process of obtaining visas, residencies, and second nationalities or passports. If you are considering a visit or moving to Namibia, we are here to guide you through the process. Our team of experts will ensure that you have all the necessary information and support to make your dream come true. Please see below for more information about our visa categories and let us help you embark on your new journey!