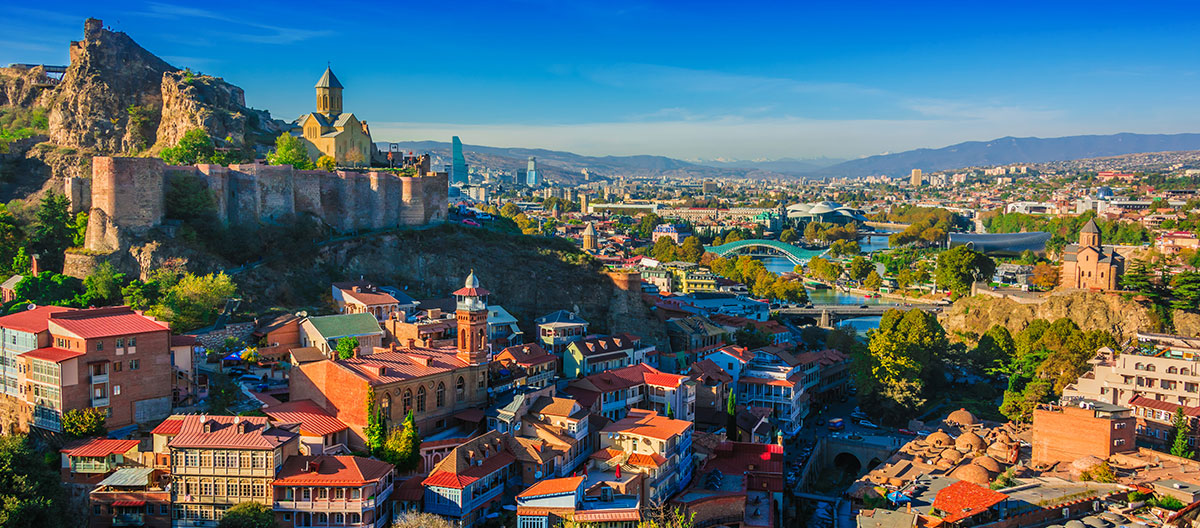 Benefits of life in Georgia
Nestled between Europe and Asia, Georgia offers a unique combination of rich history, diverse landscapes, and a vibrant culture that makes it a compelling destination for travelers and those seeking to establish residency.
Living in Georgia is like stepping into a world where tradition and modernity merge seamlessly. The cities, like the capital Tbilisi, are brimming with contemporary architecture, hip cafes, bustling markets, and innovative tech spaces, all set against the backdrop of centuries-old churches and cobblestone streets. The Georgian countryside, with its lush vineyards, rugged mountains, and picturesque beaches, offers an abundance of outdoor activities that nature enthusiasts can savor.
Georgia is also known for its warm hospitality. Locals welcome foreigners with open arms, often treating guests as friends. This attribute, combined with the low cost of living and a high standard of safety, make Georgia a desirable place to live. The country's commitment to economic reform and business-friendly policies have also attracted many entrepreneurs and businesses globally.
Moreover, Georgia's strategic location at the crossroads of Europe and Asia provides not just geographical advantages but also cultural richness, ensuring that life here is never monotonous. The country's diverse gastronomy, infused with influences from both continents, is a testament to this.
To sum up, the benefits of life in Georgia extend far beyond its beautiful landscapes and affordable living. The country provides a safe, welcoming, and culturally rich environment that can be appealing for both travelers and those looking for a new place to call home.
Affordable Costs of Living
Consistently Ranks as one of the Safest Countries
Offers a Favourable Business Climate
Diverse Landscapes from the Mountains to the Sea
Rich History with Unique Cultural Heritage
Exceptional Food & Wine with Diverse Influences
Known for Friendliness & Warmth Towards Visitors
Quality Healthcare, Modern & Easily Accessible
Study, Work and Live in Georgia
EDUCATIONAL SYSTEM
Studying in Georgia offers a plethora of benefits, making it an excellent choice for international students. The country's commitment to education is evident in its multitude of high-quality universities and educational institutions. Many of these institutions offer a wide range of courses in English, ensuring that language barriers are minimized.
One of the significant advantages of studying in Georgia is the affordability. Compared to many Western countries, tuition fees and living expenses are considerably lower, making quality education accessible to a broader range of students. Furthermore, the relatively low cost of living allows students to enjoy a comfortable lifestyle without straining their budget.
Georgia is renowned for its rich history, diverse culture, and hospitable people. Studying here offers a unique opportunity to immerse oneself in this environment, leading to a culturally enriching experience that extends beyond academic learning. The country's unique blend of European and Asian influences results in a vibrant cultural scene and a broad worldview, which can be beneficial for personal development.
Additionally, Georgia's strategic location at the crossroads of Europe and Asia offers students excellent opportunities for travel and exploration. Many students use their time in Georgia to explore neighbouring countries, broadening their horizons and gaining unique experiences.
Finally, the safety and security in Georgia make it an ideal place for international students. The welcoming nature of its people, combined with a low crime rate, means students can focus on their studies and enjoy their time in the country without undue concern for their safety.
In summary, studying in Georgia provides not just high-quality, affordable education, but also a unique cultural experience, a safe environment, and opportunities for personal growth and exploration.
EMPLOYMENT OPPORTUNITIES
Working in Georgia comes with a host of benefits, starting with its business-friendly environment. The country ranks highly for ease of doing business, with its government continuously implementing reforms to attract foreign investment and promote entrepreneurship. This translates into numerous job opportunities and a promising environment for professionals looking to start or expand their business.
The cost of living in Georgia is notably lower compared to many Western countries, enabling individuals to maintain a higher standard of living. Affordable housing, food, and transportation means that your salary stretches further, allowing for a comfortable lifestyle.
Moreover, Georgia's strategic location at the intersection of Europe and Asia has fostered a multicultural work environment. Working here offers the opportunity to gain international experience and develop a global mindset, valuable assets in today's interconnected world.
Also worth mentioning is Georgia's work-life balance. The country places great value on personal time and relaxation, with an emphasis on enjoying life outside of work. This is reflected in the rich culture, friendly locals, and stunning landscapes that offer a myriad of recreational activities.
Furthermore, the country is known for its safety and stability. This sense of security allows workers to focus on their professional growth without worrying about their personal safety.
Lastly, the education and healthcare systems in Georgia are well-developed, which is an important consideration for those with families.
In essence, working in Georgia provides not just economic advantages, but also a high quality of life, cultural richness, safety, and a balanced lifestyle. Whether you're an entrepreneur or a professional, Georgia's dynamic and welcoming environment can be the ideal place to advance your career.
ECONOMIC ADVANTAGES AND BUSINESS OPPORTUNITIES
Georgia stands as an economic powerhouse, thanks to its strategic location at the crossroads of Europe and Asia, as well as its robust policy reforms that foster a business-friendly environment. The country consistently ranks highly in ease of doing business indexes, with streamlined procedures for starting a business, low corporate taxes, and strong protection for investors. For entrepreneurs and start-ups, Georgia offers an incubator for innovation and growth, with numerous opportunities across various sectors.
Digital nomads, in particular, find Georgia highly attractive due to its growing tech industry, high-speed internet, and coworking spaces. The country's affordability, coupled with its modern infrastructure, provides an ideal base for remote workers seeking a blend of productivity and quality of life.
BEAUTIFUL LANDSCAPES AND CLIMATE
The country's geographic diversity is one of its most compelling features. From the snow-capped peaks of the Caucasus Mountains to the warm Black Sea coast, and from the lush vineyards of Kakheti to the ancient cave cities like Uplistsikhe, Georgia is a country of contrasts that will never fail to astonish.
Its climate is as varied as its landscapes. Georgia experiences warm summers and mild winters in the lowlands, while the mountains offer cooler summers and snowy winters. This diverse climate makes Georgia an all-year-round destination, whether you're seeking the sun-soaked beaches or the ski resorts in the mountains.
PUBLIC SERVICES
Georgia's public services are reliable and accessible. The public transportation system is efficient, comprising buses, minibuses, and a metro system in the capital city of Tbilisi. The country has also made significant strides in digitalizing public services, making it easier for residents to access various facilities online.
HEALTHCARE IN GEORGIA
The healthcare sector in Georgia has seen continuous improvements over the years. The country boasts modern medical facilities, with a good number of hospitals and clinics in urban areas. Both private and public healthcare services are available, and many doctors are multilingual, easing communication for foreigners.
The country has also implemented a Universal Healthcare Program, providing coverage for numerous medical services. Expats living in Georgia may also opt for private health insurance for a wider range of services and quicker access to specialists.
REAL ESTATE AND ACCOMMODATION
Accommodation in Georgia is considerably affordable, which is a major draw for expats and retirees. Whether you're looking for a modern apartment in the heart of Tbilisi or a charming house in the countryside, Georgia offers a wide range of options to suit different preferences and budgets.
Investing in Georgian real estate can be a lucrative venture. The country's growing economy, tourism sector, and increasing demand for rental properties create a favourable environment for property investment. The government also encourages foreign investment in real estate, with no restrictions on property ownership for non-residents.
RETIREMENT IN GEORGIA
Georgia has been gaining popularity as a retirement destination for foreigners, thanks to its affordable cost of living, safety, friendly locals, and beautiful landscapes. The country's relaxed pace of life and emphasis on social connections make it an ideal place for those seeking a fulfilling and enjoyable retirement. Additionally, Georgia's pension income is not taxed, further enhancing its appeal to retirees.
LUCRATIVE BENEFITS OF LIVING IN GEORGIA
Living in Georgia presents a diverse array of benefits that can lead to a prosperous and fulfilling lifestyle. The economic landscape of Georgia is marked by its rapid development, business-friendly policies, and growing sectors like technology, tourism, and real estate. These factors create a fertile ground for investment and career growth, making Georgia an attractive destination for entrepreneurs, digital nomads, and investors.
The low cost of living and high quality of life are other significant advantages of residing in Georgia. The affordability extends to various aspects of everyday life, from food and entertainment to housing and healthcare. This enables residents to enjoy a comfortable lifestyle, save money, and invest in opportunities that yield high returns, such as the promising real estate market.
Georgia's real estate sector offers potential for lucrative investments. With the tourism sector on the rise and an increasing demand for rental properties, investors can expect good returns. The lack of restrictions on property ownership for foreigners further enhances Georgia's appeal as a real estate investment destination.
For retirees, Georgia offers a relaxed pace of life, beautiful landscapes, and a warm, welcoming community. The absence of tax on pension income in Georgia further increases the disposable income of retirees, enhancing their standard of living.
Lastly, the streamlined immigration process and the possibility of obtaining permanent residency or even citizenship through investment or prolonged stay add to the country's allure.
In essence, the benefits of living in Georgia extend beyond the tangible aspects of economic prosperity and affordable living. The country offers a safe, culturally rich, and welcoming environment that contributes to a high quality of life, making it not just a place to live, but a place to thrive.
VISA REQUIREMENTS AND IMMIGRATION LAWS
Navigating Georgia's visa requirements and immigration laws is relatively straightforward compared to many countries. Georgia has a liberal visa policy, offering visa-free entry for up to a year to citizens of several countries, including the US, EU countries, Canada, Australia, and New Zealand, among others.
For those needing a visa, the country provides electronic visas, easing the application process. Long-term stay options are also available, such as the work residence permit for those seeking employment, the study residence permit for students, and the special residence permit for retirees or property owners.
Foreigners looking to establish permanent residency in Georgia can do so after living in the country for six years. Another route to permanent residency is through significant investment in the country, which falls under the Investment Residence Permit.
Moreover, the government has introduced a program specifically for digital nomads, allowing them to live and work in Georgia for up to a year. This demonstrates the country's forward-thinking approach and its commitment to attracting global talent.
In summary, Georgia offers an attractive blend of economic opportunities, quality of life, and welcoming environment for foreigners, whether they are business owners, digital nomads, retirees, or simply looking for a new place to call home. The country's strategic location, coupled with its economic policies, make it an ideal hub for business and investment. The beautiful landscapes, pleasant climate, and vibrant culture provide a fulfilling lifestyle, while the efficient public services and modern healthcare system ensure comfort and peace of mind.
The affordability of living and real estate in Georgia allows for a higher standard of living and potential high returns on property investment. Furthermore, the favourable retirement benefits and the friendly, safe environment make Georgia a compelling choice for those seeking a peaceful and enjoyable retirement.
With its straightforward visa and immigration policies, moving to Georgia is a hassle-free process. Indeed, all these aspects combined make Georgia not just a country to visit, but a place to live, work, and thrive.
At VIP Visa, we pride ourselves on our years of experience in helping clients navigate the complex process of obtaining visas, residencies, and second nationalities or passports. If you are considering a visit or moving to Georgia, we are here to guide you through the process. Our team of experts will ensure that you have all the necessary information and support to make your dream come true. Please see below for more information about our visa categories and let us help you embark on your new journey!