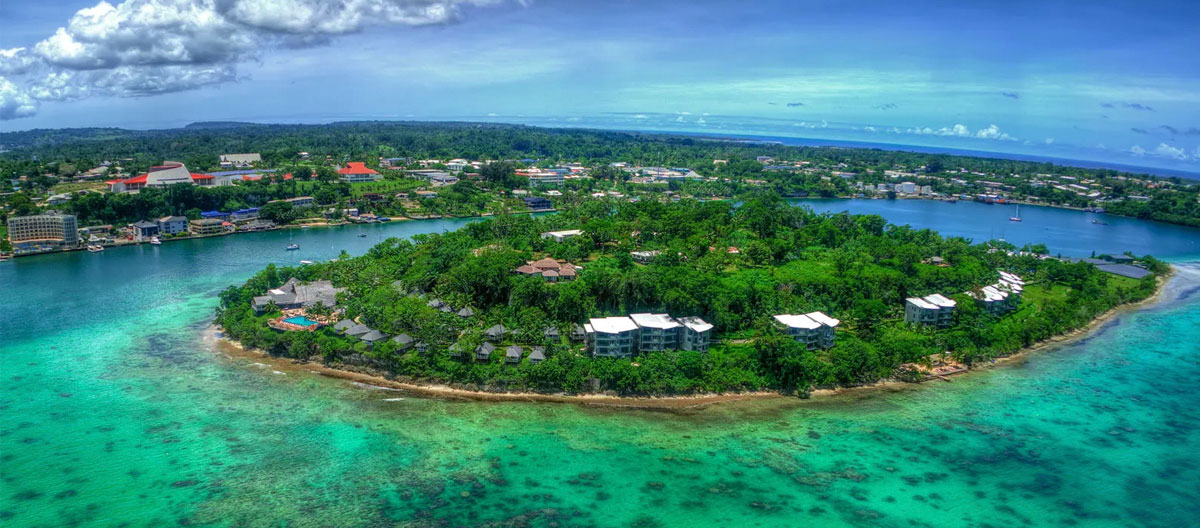 Benefits of life in Vanuatu
Vanuatu, a South Pacific Ocean paradise, is a treasure trove of life-altering experiences and opportunities. This archipelago, adorned with pristine beaches, lush rainforests, and volcanic landscapes, offers a unique blend of tranquility, adventure, and cultural richness that stands unmatched.
Living in Vanuatu is akin to waking up to a postcard-perfect view every day. The archipelago's sublime natural beauty, bolstered by its serene beaches and vibrant marine life, provides an idyllic backdrop for a fulfilling life. But the allure of Vanuatu goes beyond its picturesque landscapes. The country's simple, laid-back lifestyle is a soothing balm for the soul, offering a break from the hectic pace of modern life.
Vanuatu's unique Melanesian culture, which is deeply rooted in community and kinship, adds a deeper dimension to life on the islands. The warmth and hospitality of the local Ni-Vanuatu people make settling in a breeze, fostering a sense of belonging and community that is often hard to find elsewhere.
Economically, Vanuatu has a lot to offer. The country's favorable tax regime, with no personal or corporate income tax, is a significant incentive for business and investments. The cost of living is also relatively low, allowing for a high-quality lifestyle without the exorbitant price tag. Moreover, Vanuatu's citizenship by investment program provides an excellent opportunity to gain a second passport, offering visa-free or visa-on-arrival access to over 130 countries.
In short, life in Vanuatu is a harmonious blend of natural beauty, cultural richness, community warmth, and economic opportunities, making it an enticing destination for those seeking a fulfilling, stress-free life.
Breathtaking Natural Beauty
Rich Cultural Heritage
Warm & Welcoming Community
Relax! Escape the Stress of Modern Life
No Personal or Corporate Income Tax
Eenjoy a High Standard of Living
Citizenship by Investment, Travel to 130 Countries
Study, Work and Live in Vanuatu
EDUCATIONAL SYSTEM
Studying in Vanuatu opens up a world of opportunities, both academically and personally, making it an excellent choice for students seeking a unique educational experience.
One of the most significant benefits of studying in Vanuatu is the exposure to a diverse and vibrant culture. The Ni-Vanuatu people are known for their warm hospitality, and the immersive cultural experience fosters global awareness and cultural sensitivity in students. Learning in such an environment helps develop a global perspective, a trait highly valued in today's interconnected world.
Vanuatu's education system places a strong emphasis on holistic learning, fostering an environment that encourages students to explore and think critically. The country's universities and educational institutions offer a wide range of programs with a focus on sustainability and environmental sciences, reflecting Vanuatu's commitment to preserving its natural resources.
The experience of living in Vanuatu during your studies is also unparalleled. The country's stunning natural beauty, combined with its relaxed lifestyle, provides the perfect setting for a balanced student life. Whether it's studying on the beach, hiking through rainforests, or participating in local traditions and festivals, Vanuatu offers a student experience that goes well beyond the classroom.
Moreover, studying in Vanuatu is cost-effective. The cost of living is relatively low, and tuition fees are affordable compared to many Western countries.
In conclusion, studying in Vanuatu provides an enriching blend of academic rigor, cultural immersion, adventure, and affordability, making it an ideal destination for students seeking a holistic and unique educational journey.
EMPLOYMENT OPPORTUNITIES
Working in Vanuatu offers a unique blend of professional growth, personal development, and life-enriching experiences, making it a compelling choice for those seeking a rewarding work-life balance.
The Vanuatu job market is diverse and dynamic, with sectors such as tourism, agriculture, finance, and technology offering a range of opportunities. The country's focus on sustainable development and environmental preservation has also opened avenues in green and conservation-related jobs. Moreover, the favorable tax environment, with no personal income tax, means a larger take-home pay, enhancing your financial well-being.
Culturally, working in Vanuatu is a richly rewarding experience. The opportunity to work with and learn from the Ni-Vanuatu people provides invaluable insights into their unique Melanesian culture. This cultural exchange fosters personal growth, broadens perspectives, and enhances cross-cultural communication skills - all highly desirable traits in today's globalized world.
The work-life balance in Vanuatu is arguably its most attractive feature. The slower pace of life, coupled with the country's stunning natural beauty, allows for a lifestyle that is both productive and relaxed. After work, you can unwind on a pristine beach, explore lush rainforests, or engage in water sports - a far cry from the typical urban grind.
Finally, working in Vanuatu also provides an opportunity to contribute positively to the local community. Whether it's through direct involvement in community projects or by supporting local businesses, working here means you can make a difference.
In essence, working in Vanuatu offers a fulfilling professional journey enriched by cultural immersion, a fantastic work-life balance, and the opportunity to contribute to a vibrant, welcoming community.
ECONOMIC ADVANTAGES
Vanuatu's economy presents an enticing array of benefits for those looking to start a business or work as digital nomads. Its business-friendly environment, characterized by minimal bureaucracy and a favorable tax regime, is an entrepreneur's delight. The country imposes no personal or corporate income tax, no capital gains tax, and no inheritance tax. This tax structure allows businesses to thrive, while also making it an attractive location for digital nomads seeking to maximize their earnings.
The government is also actively encouraging foreign investment, providing numerous incentives to both start-ups and established businesses. Furthermore, the burgeoning sectors of tourism, agriculture, and real estate offer a wealth of opportunities for those with entrepreneurial spirit.
BEAUTIFUL PLACES AND CLIMATE
The natural beauty of Vanuatu is a feast for the senses. The archipelago is home to pristine beaches, lush rainforests, and awe-inspiring volcanic landscapes. The vibrant marine life, coupled with world-class diving and snorkeling locations, make it a paradise for nature enthusiasts and adventure seekers alike.
The climate in Vanuatu is tropical, with warm temperatures year-round. This means endless opportunities for outdoor activities, from swimming and sailing to hiking and bird-watching. The pleasant weather also contributes to a laid-back, relaxed lifestyle, creating a perfect balance between work and leisure.
PUBLIC SERVICES AND HEALTHCARE
The public services in Vanuatu are continually improving, with the government investing significantly in infrastructure development. The country has a reliable transportation network, dependable utilities, and increasing internet connectivity, making everyday life convenient and comfortable.
Vanuatu's healthcare system, while not as sophisticated as in some Western countries, is capable and improving. The country has several hospitals and clinics, staffed by dedicated health professionals. The government is investing in healthcare infrastructure and training, while many expats opt for health insurance that covers medical evacuation for more complex treatments.
ACCOMMODATION AND REAL ESTATE INVESTMENT
The real estate market in Vanuatu offers lucrative opportunities for investors. From luxury beachfront properties to more modest homes, there is a wide range of options to suit different budgets. The cost of living and property prices are relatively lower compared to many Western countries, making it an attractive option for foreigners seeking affordable quality of life.
Investing in Vanuatu's real estate not only offers the potential for capital appreciation but can also provide rental income. Moreover, property ownership is a requirement for the country's citizenship by investment program, further enhancing the appeal of real estate investment in Vanuatu.
RETIREMENT IN VANUATU
Retiring in Vanuatu is like living a permanent vacation. The country's tranquil lifestyle, friendly community, and stunning natural beauty make it a highly sought-after retirement destination. The lower cost of living allows retirees to enjoy a comfortable lifestyle without straining their savings.
The relaxed pace of life, coupled with a myriad of recreational activities, ensures an enriching and satisfying retirement. Many expats find community involvement, whether through local events or volunteering, adds a sense of purpose to their retirement years.
LUCRATIVE POTENTIAL OF LIVING IN VANUATU
All these benefits combine to make living in Vanuatu a highly attractive proposition. The economic advantages allow businesses to thrive and individuals to maximize their earnings. The natural beauty and pleasant climate enhance the quality of life, while the improving public services and healthcare provide peace of mind. The potential of real estate investment, coupled with the appeal of retirement, further enhances the lucrative potential of living in Vanuatu.
VISA REQUIREMENTS AND IMMIGRATION LAWS
Navigating Vanuatu's visa requirements and immigration laws is straightforward. The country offers a range of visa options, from tourist and business visas to residency and citizenship by investment programs.
Tourist visas are generally granted on arrival for citizens of many countries, allowing stays of up to 30 days. For those planning to work or start a business in Vanuatu, there are specific work and business visas. Long-term residency can be achieved through the residency visa, which requires a local sponsor and proof of financial self-sufficiency.
For those seeking a second passport, Vanuatu's citizenship by investment program is one of the most attractive in the world. This program offers full citizenship in return for a significant financial contribution or investment in designated real estate. The Vanuatu passport provides visa-free or visa-on-arrival access to over 130 countries, including the UK, EU Schengen area, and Russia.
However, it's important to note that while Vanuatu is welcoming to foreigners, it also values its cultural integrity and environmental sustainability. Therefore, all residents, both local and foreign, are expected to respect the country's customs, traditions, and natural environment.
In conclusion, the benefits of living, working, and investing in Vanuatu are manifold. Whether you're seeking a place to start a business, a relaxing retirement destination, or a second passport, Vanuatu offers a host of opportunities. Its beautiful landscapes, favorable economic conditions, improving public services, and welcoming community make it an attractive and lucrative choice for individuals from all walks of life.
At VIP Visa, we pride ourselves on our years of experience in helping clients navigate the complex process of obtaining visas, residencies, and second nationalities or passports. If you are considering a visit or moving to Vanuatu, we are here to guide you through the process. Our team of experts will ensure that you have all the necessary information and support to make your dream come true. Please see below for more information about our visa categories and let us help you embark on your new journey!