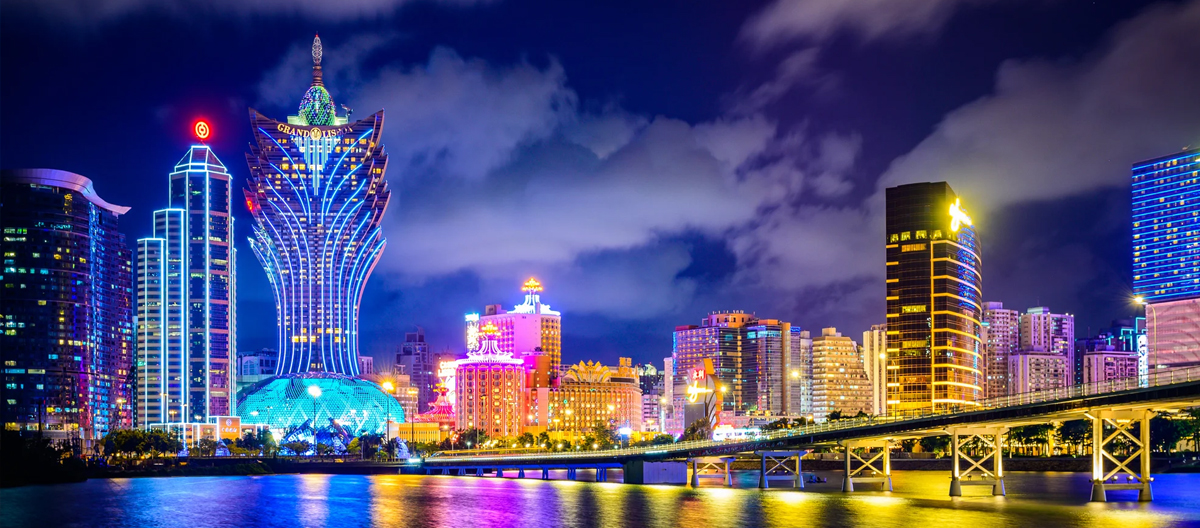 Benefits of life in Macao
Macao, a unique blend of Portuguese and Chinese cultures, has much to offer. Known for its vibrant cityscape, Macao provides an unparalleled quality of life for its residents. Its low tax regime is a notable advantage, attracting businesses and individuals seeking financial optimization. Macao's safety, one of the highest in the world, ensures peace of mind for its inhabitants.
Living in Macao, you're never far from breathtaking UNESCO World Heritage sites, beautifully contrasting with the modern architectural wonders. Its blend of cultures also extends to the culinary scene, offering a delicious fusion of flavours that make Macao a food lover's paradise.
The educational system, which provides bilingual education in Cantonese and Portuguese, is another key attraction. Additionally, the healthcare system is commendable, offering quality services that are affordable and easily accessible.
Macao's strategic location is ideal for those wanting to explore Asia. Hong Kong is just a ferry ride away and mainland China can be reached within hours. This makes it a perfect hub for travel enthusiasts and businesses eyeing the Asian markets.
Moreover, obtaining residency in Macao is relatively straightforward, with a clear and efficient immigration process.
In summary, life in Macao provides an enticing blend of cultural diversity, economic opportunities, world-class amenities, and easy access to the broader Asian region.
Vibrant Blend of Chinese & Portuguese Cultures
World-Renowned for its Culinary Scene
Low Tax Rates, Ideal for Businesses & Individuals
High Safety Standards with Peaceful Environment
Top-Notch Healthcare Services that are Affordable
Strategic Location, Perfect for Exploring Asia
Bilingual Education System
Clear & Efficient Residency Application Process
Proximity to UNESCO World Heritage Sites
Modern & Traditional Architecture
Study, Work and Live in Macao
EDUCATIONAL SYSTEM
Studying in Macao offers a wealth of benefits. One key advantage is the opportunity to immerse oneself in a vibrant, multicultural environment. With its unique blend of Chinese and Portuguese influences, Macao is a living classroom for students interested in cultural studies, history, linguistics, and more.
Macao's education system is highly respected, providing a rich, diverse curriculum. The bilingual education system, offering instruction in both Cantonese and Portuguese, provides an excellent chance to become truly multilingual. English is also widely spoken, ensuring international students can navigate easily.
Several of Macao's universities are recognized globally, such as the University of Macau, which consistently ranks among the top institutions in Asia. They offer a wide range of programs, from business and economics to sciences, arts, and humanities.
Additionally, studying in Macao provides students with a strategic advantage. Its location allows easy access to mainland China, Hong Kong, and other Asian countries. This proximity can open doors to internships, job opportunities, and networking in these burgeoning markets.
Finally, the relatively low cost of living in Macao compared to other major cities, coupled with the availability of scholarships for international students, makes studying in Macao an economically viable choice.
In short, studying in Macao provides a unique cultural immersion, quality education, language learning opportunities, and strategic benefits that could be instrumental in shaping a successful future.
EMPLOYMENT OPPORTUNITIES
Working in Macao offers a range of unique benefits, making it an appealing option for professionals worldwide. Macao's economy, one of the fastest-growing in the world, provides myriad opportunities across various sectors, with the hospitality and gaming industry being the most prominent. However, sectors like finance, retail, and technology are also rapidly expanding, providing a diverse job market.
Macao boasts a low tax regime. Both personal income tax and corporate tax rates are significantly lower compared to many other countries, meaning you could potentially take home a larger portion of your earnings. This economic advantage is a significant draw for both businesses and individuals.
In Macao, you'll find a multinational workforce, which can help broaden your cultural understanding and interpersonal skills. The working language is primarily Cantonese, but English and Portuguese are widely spoken, providing a multicultural working environment.
Macao's strategic location is also a significant advantage. Its proximity to major Asian economies like mainland China and Hong Kong provides excellent opportunities for networking and business expansion.
The work-life balance in Macao is also noteworthy. With its rich cultural heritage, world-class gastronomy, and vibrant nightlife, Macao offers a lifestyle that caters to a variety of tastes and preferences.
Finally, the process for obtaining a work permit is straightforward, and the local government provides support to businesses and individuals throughout the process.
In summary, working in Macao offers an attractive mix of economic benefits, diverse job opportunities, cultural experiences, and a balanced lifestyle.
ECONOMIC ADVANTAGES AND BUSINESS OPPORTUNITIES
Living in Macao offers a wealth of economic advantages, particularly for entrepreneurs and digital nomads. The economy in Macao is one of the most dynamic in the world, with sectors such as tourism, gaming, entertainment, and hospitality driving its rapid growth. The technology and finance sectors are also expanding, offering diverse opportunities for businesses of all types. The low tax regime is particularly attractive, with corporate tax and personal income tax rates significantly lower than many other countries. This means businesses have a higher potential for profitability, and individuals can take home a larger portion of their earnings.
For digital nomads, Macao offers an excellent infrastructure, with reliable and fast internet, and a multitude of co-working spaces and cafes. Its strategic location provides easy access to major Asian economies, making it an ideal base for those who need to travel regularly for business.
NATURAL BEAUTY AND CLIMATE
Macao is a city of contrasts, where towering skyscrapers sit side by side with historical architecture and lush green spaces. The UNESCO World Heritage-listed Historic Centre of Macao is a must-visit, showcasing the city's unique blend of Portuguese and Chinese cultures. For nature lovers, the Coloane Island provides hiking trails and beaches, offering a respite from the bustling city.
Macao's climate is subtropical, with mild winters and hot, rainy summers. This means you can enjoy outdoor activities for most of the year. The pleasant weather contributes to the overall quality of life in Macao.
PUBLIC SERVICES
Macao residents benefit from an array of well-organized public services. The transportation system is efficient, with an extensive network of buses and taxis, and the upcoming light rail transit system. The city is compact, making it easy to navigate even for newcomers.
The education system in Macao is commendable, with a bilingual curriculum in Cantonese and Portuguese. There are also several international schools for expatriate families. Public safety is another highlight, with Macao consistently ranking as one of the safest cities in the world.
HEALTHCARE POTENTIAL
The healthcare system in Macao is robust and easily accessible. Public hospitals and clinics offer affordable services, and private healthcare is also available for those seeking a wider range of options. The quality of healthcare is high, with well-trained medical professionals and modern facilities.
Moreover, Macao's healthcare system is being continuously improved and expanded, providing potential investment opportunities in healthcare technology, medical research, and private healthcare services.
ACCOMMODATION AND REAL ESTATE INVESTMENT
The real estate market in Macao offers a range of options, from modern apartments in the city centre to houses in quieter neighbourhoods. While the cost of housing can be high compared to other cities in the region, the potential for real estate investment is significant. Property prices have been steadily increasing, and the demand for housing, particularly in the luxury segment, remains strong.
For those looking to invest in property, Macao offers a clear and efficient process for buying and selling real estate. The government also provides support to first-time homebuyers, making it easier for residents to own property.
RETIREMENT FOR FOREIGNERS
Macao is an attractive destination for retirees, thanks to its high standard of living, safety, and pleasant climate. The cost of living, while higher than some other Asian cities, is still more affordable than many Western countries. The city offers a range of activities for retirees, from cultural events to outdoor pursuits.
Foreigners can apply for a retirement visa, which allows them to reside in Macao without working. The process is straightforward, and the government provides support to applicants.
LUCRATIVE POTENTIAL OF LIVING IN MACAO
All these factors make living in Macao a potentially lucrative choice. The robust economy, low taxes, and strategic location create a fertile ground for businesses to thrive and individuals to earn a significant income. The growing sectors like technology and finance provide opportunities for high-paying jobs and successful entrepreneurial ventures.
The robust real estate market offers potential for profitable investments. The steady increase in property prices, coupled with the high demand for housing, means that real estate investments could yield substantial returns over time.
The high standard of living, combined with the rich cultural experiences and pleasant climate, makes Macao an attractive place for foreigners to retire. This creates opportunities for businesses catering to retirees, such as healthcare, real estate, and leisure services.
VISA REQUIREMENTS AND IMMIGRATION LAWS
The process for obtaining a visa to live, work, or retire in Macao is straightforward and efficient. The government of Macao provides several types of visas, including work visas, investment visas, and retirement visas, catering to different needs.
Work visas are granted to individuals who have a confirmed job offer from a company in Macao. The company typically handles the application process. Investment visas are available for those who plan to establish a business in Macao or make a significant investment in an existing business.
Retirement visas are available for those who can demonstrate they have sufficient funds to support themselves without working. They also need to have a clean criminal record and proof of health insurance.
The immigration laws in Macao are designed to support and encourage foreign investment and skilled immigration. The government provides support throughout the visa application process, ensuring that it is as smooth as possible.
In conclusion, Macao offers a compelling blend of economic opportunities, high-quality public services, and a vibrant lifestyle. Its low tax regime, strategic location, and robust economy make it a lucrative place for businesses, digital nomads, and retirees alike. The pleasant climate, cultural heritage, and public safety contribute to a high standard of living. Whether you're looking to start a business, invest in real estate, or retire in a dynamic and diverse city, Macao could be the perfect choice.
At VIP Visa, we pride ourselves on our years of experience in helping clients navigate the complex process of obtaining visas, residencies, and second nationalities or passports. If you are considering a visit or moving to Macao, we are here to guide you through the process. Our team of experts will ensure that you have all the necessary information and support to make your dream come true. Please see below for more information about our visa categories and let us help you embark on your new journey!
Apply Now