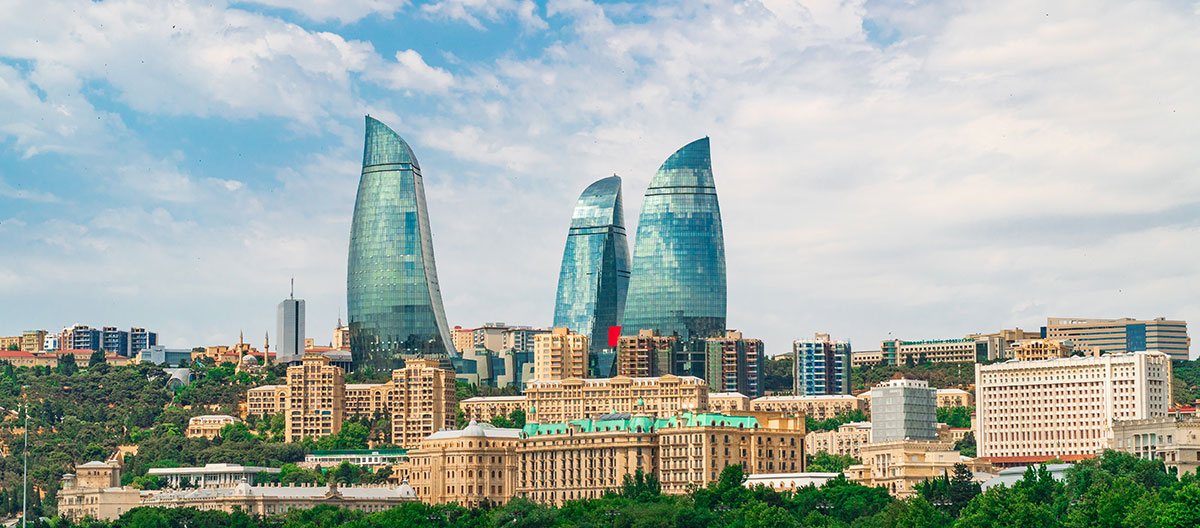 Benefits of life in Azerbaijan
Azerbaijan, often referred to as the Land of Fire, boasts a unique blend of the old and the new, offering an enviable quality of life to its inhabitants. With more than 20 years of experience in providing guidance for visa and residency acquisition, VIP Visa proudly highlights Azerbaijan as an excellent choice for those seeking to expand their horizons.
One of the significant advantages of residing in Azerbaijan is its rich cultural heritage. The country's history is steeped in tradition, which is beautifully reflected in its architecture, food, music, and festivals. Living here allows you to immerse yourself in this unique and vibrant culture.
The cost of living in Azerbaijan is another attractive factor. Compared to many Western countries, the cost of housing, groceries, and general expenses is relatively low. This affordability, coupled with a steady economic growth, presents an attractive prospect for potential residents.
Azerbaijan's geographical location is also a boon. It is at the crossroads of Europe and Asia, which opens up a wealth of travel opportunities. From the bustling city life in Baku to the tranquil beauty of the Guba region, the country's landscapes are diverse and breathtaking.
Moreover, Azerbaijan is a country that values education. It offers a robust educational system with numerous international schools, making it an excellent choice for families. The Azerbaijani people are known for their warm hospitality. The welcoming nature of the locals makes it easier for newcomers to adapt and feel at home in this vibrant country.
Rich Heritage, Mix of Eastern & Western Cultures
Affordable Cost of Living with Less Financial Stress
Diverse Landscapes
Access to Excellent Educational Institutions
Strategic Location
Safe Environment & Low Crime Rates
Welcoming Locals
Study, Work and Live in Azerbaijan
EDUCATIONAL SYSTEM
Studying in Azerbaijan comes with a wealth of benefits, making it an increasingly attractive destination for international students. One of the key advantages is the country's strong emphasis on education. Azerbaijani universities offer a wide array of programs in various fields of study, allowing students to pursue their interests and career goals in a supportive and conducive environment.
The quality of education in Azerbaijan is commendable, with universities adopting innovative teaching methods and incorporating cutting-edge research into their curriculum. Many institutions have partnerships with universities around the globe, facilitating student exchanges and international collaborations that enrich the learning experience.
Studying in Azerbaijan also presents a unique opportunity to immerse oneself in a fascinating blend of Eastern and Western cultures. This cultural richness is reflected not only in the arts and traditions but also in the diverse perspectives that stimulate intellectual growth.
The cost of education and living in Azerbaijan is relatively low compared to many Western countries, making it financially feasible for many students. Scholarships are also available to international students, further easing the financial burden.
Moreover, the country's strategic location at the crossroads of Europe and Asia offers an array of travel and exploration opportunities during holidays and breaks.
Lastly, Azerbaijani people are known for their warm hospitality, making international students feel welcome and included. The friendly and diverse student community also allows for building a global network of friends and professional connections. In short, studying in Azerbaijan can be a rewarding, enriching, and affordable experience.
EMPLOYMENT OPPORTUNITIES
Working in Azerbaijan provides a multitude of advantages, making it an appealing destination for professionals worldwide. One of the most compelling benefits is the dynamic and diverse economy of the country. With sectors such as energy, agriculture, tourism, and information technology experiencing significant growth, Azerbaijan offers a broad range of job opportunities.
The country has a favourable business climate with progressive laws and regulations that facilitate entrepreneurship and foreign investment. This progressive environment, coupled with the country's strategic location between Europe and Asia, makes Azerbaijan an excellent place for career growth and business development.
The cost of living in Azerbaijan is relatively low compared to many Western countries, meaning that employees can enjoy a higher standard of living. This, along with competitive salaries and benefits in many sectors, contributes to a comfortable lifestyle for workers.
Working in Azerbaijan also provides a unique cultural experience. With its rich history and a blend of Eastern and Western influences, Azerbaijan offers an intriguing cultural immersion that can enhance your personal growth.
The country's strong emphasis on education and training also means there are many opportunities for skill development and professional advancement. Many companies invest in their employees' growth, offering training programs and encouraging continuous learning.
Finally, the Azerbaijani people are known for their hospitality, and this extends to the workplace as well. The friendly and inclusive work environment helps expats to integrate easily and feel at home.
In essence, working in Azerbaijan offers a unique blend of professional growth, cultural experiences, and a high quality of life.
ECONOMIC ADVANTAGES
Azerbaijan, often termed the 'Tiger of the Caucasus,' offers a multitude of economic advantages for those considering a move. Its robust economy, underpinned by sectors such as energy, agriculture, tourism, and information technology, paves the way for boundless opportunities. For entrepreneurs and business owners, Azerbaijan's pro-business climate is a significant draw. Progressive laws and regulations, coupled with government initiatives to encourage foreign investment, simplify business set-up processes and operations. The country's strategic location at the crossroads of Europe and Asia enhances its appeal, providing excellent connectivity to diverse markets.
For digital nomads, Azerbaijan is a haven. The country offers a perfect blend of affordability, high-speed internet, and a variety of co-working spaces, making it an attractive place to live and work. The rise of the digital economy in Azerbaijan, accompanied by the government's supportive stance towards tech innovation, makes it a lucrative ground for remote workers and freelancers.
BEAUTY, WEATHER AND CLIMATE
Azerbaijan's natural beauty and favourable climate add to its allure. The country is home to nine of the world's eleven climatic zones, providing an array of experiences. From the snow-capped peaks of the Greater Caucasus to the warm beaches of the Caspian Sea, and from the lush vineyards of Goygol (Göygöl Şərab Zavod) to the semi-desert landscapes of Gobustan, Azerbaijan's diverse geography is a delight for nature lovers.
The climate is generally pleasant, with warm, dry summers and mild winters. The beautiful weather not only enhances the quality of life but also supports a variety of outdoor activities, ensuring there is always something to do, see, or explore.
PUBLIC SERVICES
The quality of public services in Azerbaijan is commendable. The country has made significant strides in infrastructure development, with well-maintained roads, reliable public transport, and efficient municipal services. The public transport system, comprising buses, metros, and taxis, is efficient and affordable, ensuring easy connectivity within and between cities. This efficient public service network supports a comfortable and convenient lifestyle for residents.
HEALTHCARE BENEFITS AND POTENTIAL
Azerbaijan's healthcare sector has seen substantial improvements over the past few years. Both public and private healthcare facilities offer a wide range of medical services. The government has been heavily investing in healthcare infrastructure and technology, translating into better care for residents and a potential sector for investment and growth.
ACCOMMODATION AND REAL ESTATE INVESTMENT ADVANTAGES
When it comes to accommodation, Azerbaijan offers a variety of options to suit different needs and budgets. From modern apartments in bustling cities like Baku to peaceful homes in the countryside, the choices are many. The cost of living, including housing, is relatively low compared to many Western countries, making it an appealing option for expats and retirees.
The real estate market in Azerbaijan is ripe with investment opportunities. Steady economic growth, increasing foreign interest, and government incentives for foreign investment in real estate combine to make it a promising avenue for substantial returns on investment.
POSITIVITY OF RETIREMENT AND LIVING FOR FOREIGNERS
Retirement in Azerbaijan is an attractive proposition. The country's affordable cost of living, high quality of life, and welcoming culture make it an ideal place for retirees seeking a peaceful and comfortable life. Furthermore, the country offers a variety of leisure activities, from exploring historical sites and enjoying local cuisine to participating in cultural festivals, ensuring a fulfilling retirement life.
LUCRATIVE ASPECTS OF LIVING IN AZERBAIJAN
Living in Azerbaijan is lucrative in several respects. The confluence of economic opportunities, affordability, high-quality public services, and the potential of the healthcare sector all contribute to making life in this country an excellent investment.
The quality of life in Azerbaijan is undeniably attractive. The country's natural beauty, warm climate, rich culture, and friendly locals combine to offer a lifestyle that's both enjoyable and rewarding. This high quality of life, in turn, makes the prospect of long-term residency or retirement in Azerbaijan all the more appealing.
Moreover, Azerbaijan offers a unique blend of opportunities and benefits that make it a lucrative choice for living. Whether one is an entrepreneur, a professional, a digital nomad, or a retiree, Azerbaijan promises a rewarding and fulfilling life.
VISA REQUIREMENTS AND IMMIGRATION LAWS
Azerbaijan has been simplifying its visa requirements and immigration laws over the years to attract more foreign visitors, business people, and investors. The country introduced the electronic visa (e-Visa) system, which allows eligible individuals to apply for a visa online without visiting an embassy or consulate. This system has significantly streamlined the visa application process, making it easier for foreigners to visit or move to Azerbaijan.
For most foreigners, a standard visitor visa allows a stay of up to 30 days. However, those looking to work, study, or reside in the country longer will need to apply for the appropriate visa type and may require a sponsor in Azerbaijan.
Work visas, for instance, necessitate an invitation from an Azerbaijani employer and are usually valid for up to one year. Similarly, student visas require an invitation from an educational institution in Azerbaijan. For those considering long-term residency or business setup, it's advisable to consult with an immigration expert or legal professional to understand the specific requirements and processes.
Foreign investors who contribute significantly to the Azerbaijani economy may be eligible for a simplified citizenship process, demonstrating the country's commitment to attracting foreign investment.
While Azerbaijan's immigration laws are relatively straightforward, it's crucial to ensure that all visa requirements are met to maintain legal status in the country. The Azerbaijani government is stringent about visa overstay and illegal employment, and violations can result in fines or deportation.
At VIP Visa, we pride ourselves on our years of experience in helping clients navigate the complex process of obtaining visas, residencies, and second nationalities or passports. If you are considering a visit or moving to Azerbaijan, we are here to guide you through the process. Our team of experts will ensure that you have all the necessary information and support to make your dream come true. Please see below for more information about our visa categories and let us help you embark on your new journey!