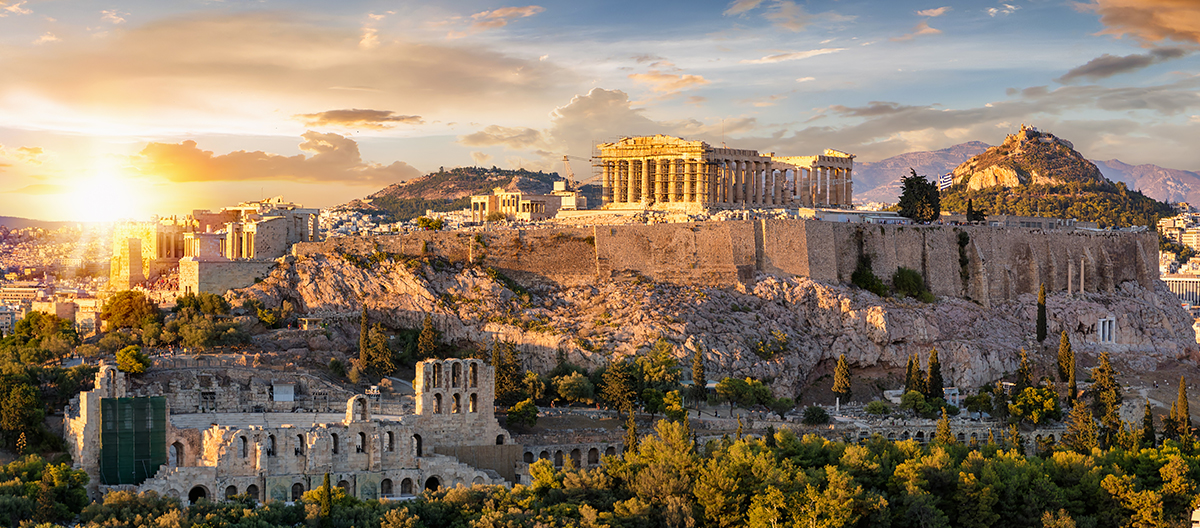 Benefits of life in Greece
Greece, a Mediterranean gem in the heart of Europe, offers a unique blend of rich history, vibrant culture, picturesque landscapes, and warm hospitality, making it a highly sought-after destination for travel, residency, and even dual nationality.
Greece's lifestyle is renowned for its strong emphasis on family, socializing, and outdoor activities. This is complemented by an excellent quality of life provided by the country's robust healthcare system, highly-regarded education institutions, and a cost of living that is significantly lower than many European countries.
The country's diverse geography, ranging from idyllic islands to breathtaking mountain ranges, caters to all sorts of interests, from beach-lovers and hikers to history enthusiasts. Residents enjoy a pleasant Mediterranean climate, characterized by hot, dry summers and mild, wet winters, providing ideal conditions for outdoor pursuits year-round.
Living in Greece also provides easy access to numerous European destinations, making it an attractive location for those seeking to explore the continent. Moreover, the Greek business environment is increasingly becoming attractive to foreign investors thanks to government initiatives aimed at encouraging foreign investment.
The culture of Greece, steeped in history and refined over millennia, offers a depth of experience that few other countries can match. From the remnants of the ancient Greek civilization to the influence of the Byzantine Empire and modern European trends, the culture is a melting pot that promises an enriching experience.
A Unique Blend of Rich History & modern Lifestyle
Affordable Cost of Living Compared to Europe
High-Quality Healthcare & Education Systems
Mediterranean Climate Ideal for Outdoor Activities
Easy Access to Numerous European Destinations
An Increasingly Attractive Business Environment
A Vibrant Culture Steeped in History & Tradition
Beautiful landscapes from Beaches to Mountains
Study, Work and Live in Greece
EDUCATIONAL SYSTEM
Studying in Greece presents an array of advantages, both academically and personally. Known as the birthplace of democracy, philosophy, and the Olympics, Greece provides a rich historical and cultural context that can significantly enhance the educational experience.
The Greek higher education system is well-regarded internationally, offering a wide array of programs in various fields of study. Many Greek universities offer courses taught in English, particularly at the postgraduate level, making it an accessible destination for international students.
Beyond the classroom, Greece offers an unparalleled learning environment. Its museums, archaeological sites, and historical landmarks serve as open-air classrooms, providing students with a tangible connection to subjects like history, philosophy, and archaeology. This immersion into a living history can offer a unique perspective and depth to your studies that few other countries can match.
Moreover, Greece is renowned for its warm hospitality and vibrant lifestyle, offering students an opportunity to embrace a unique social culture. The cost of living is also generally lower than in many other European countries, making it a more affordable choice for students.
Lastly, Greece's geographical location at the crossroads of Europe, Asia, and Africa, coupled with its modern transport infrastructure, makes it an excellent base for students wishing to travel and explore different cultures and landscapes across these continents during their study breaks.
In conclusion, studying in Greece is more than just an academic pursuit; it's a culturally enriching, historically immersive, and personally rewarding experience.
EMPLOYMENT OPPORTUNITIES
Working in Greece offers a unique blend of professional and personal benefits. With its robust economy and strategic location, Greece provides a dynamic environment for career growth, particularly in sectors such as tourism, shipping, agriculture, and information technology.
The Greek business culture values interpersonal relationships, which can lead to a supportive and collaborative work environment. Moreover, Greece has a strong emphasis on work-life balance, with regulations ensuring ample vacation time, public holidays, and reasonable working hours. This approach to work allows individuals to maintain a healthy balance between their professional responsibilities and personal interests.
Greece's attractive Mediterranean climate, coupled with its rich history and vibrant culture, provides an appealing backdrop for working life. The country's diverse geography and wealth of recreational activities mean that downtime can be spent enjoying everything from beautiful beaches to historic landmarks.
For professionals interested in expanding their international business acumen, Greece's position as a gateway to Europe, Asia, and Africa offers significant opportunities. The country's participation in international trade agreements and the European Union provides a multicultural business environment that can enhance a professional's global perspective.
Cost of living in Greece is relatively low compared to many other European nations, which can make your earnings go further. Affordable housing, food, and transportation can contribute to a comfortable standard of living.
In terms of social security, Greece offers a comprehensive system that includes health insurance, pensions, and unemployment benefits. Additionally, the healthcare system in Greece is of a high standard, ensuring that workers have access to good medical care.
In summary, working in Greece can offer not only a fulfilling career but also a rewarding lifestyle, blending professional opportunities with cultural enrichment, recreational activities, and a high standard of living.
ECONOMIC ADVANTAGES AND BUSINESS OPPORTUNITIES
Greece offers several economic advantages that make it a promising destination for entrepreneurs, investors, and digital nomads. Over the past few years, the Greek government has made concerted efforts to foster a favourable business environment by implementing various business-friendly policies and encouraging foreign investment. For digital nomads, the robust ICT infrastructure, affordable cost of living, and the availability of co-working spaces in major cities like Athens and Thessaloniki make Greece an attractive base.
Start-ups, especially in sectors such as tourism, agriculture, and technology, can benefit from a range of investment incentives and a relatively straightforward process for setting up businesses. The strategic geographic location of Greece, acting as a bridge between Europe, Asia, and Africa, is another major draw for businesses looking to expand their reach across continents.
NATURAL BEAUTY AND CLIMATE
Greece's natural beauty is renowned worldwide. With over 200 inhabited islands, stunning coastlines, pristine beaches, and mountainous interiors, Greece offers a myriad of breathtaking landscapes. Whether it's the stunning sunsets of Santorini, the white sandy beaches of Crete, or the rugged mountains of Epirus, Greece's diverse landscapes cater to all tastes and lifestyles.
The climate in Greece is typically Mediterranean, with hot, dry summers and mild, wet winters. This favourable weather allows for year-round outdoor activities, making Greece a paradise for lovers of nature, adventure, and sports. The country's geographical diversity also makes it a fascinating destination for those interested in flora and fauna, with numerous national parks and protected areas.
PUBLIC SERVICES
Greece's public services are well-structured and foreigner-friendly. The education system is reputable, offering a high standard of education in both public and private institutions. Many schools offer International Baccalaureate programs and there are several universities that provide courses in English.
The public transportation system in Greece, particularly in urban areas, is quite efficient. Services include buses, trams, and metro systems, and there are numerous domestic airports and ferry services for inter-island travel.
HEALTHCARE
The Greek healthcare system is comprehensive and modern, with a mix of public and private providers. The public healthcare system is accessible to all residents and is funded through social security contributions. Greece boasts a high doctor-to-patient ratio, and many doctors and medical staff speak English, which can be a significant advantage for foreigners.
ACCOMMODATION AND REAL ESTATE INVESTMENT
The real estate market in Greece presents a lucrative opportunity for investment. Property prices are generally lower than in many other European countries, and the potential for returns, particularly from rental income in tourist hotspots, is significant. Foreigners are allowed to buy property in Greece, and there is a 'Golden Visa' program that offers residency permits to non-EU citizens who invest a certain amount in real estate.
RETIREMENT IN GREECE
Retiring in Greece can be a dream come true for many. The country's laid-back lifestyle, warm climate, stunning landscapes, affordable cost of living, and quality healthcare system make it an ideal retirement destination. The sense of community and the emphasis on family and social life can contribute to a satisfying and fulfilling retirement. English is widely spoken, particularly in the cities and tourist areas, which can make the transition easier for foreign retirees.
THE LUCRATIVE BENEFITS OF LIVING IN GREECE
Living in Greece offers an array of tangible and intangible benefits. The country's economic advantages, coupled with its natural beauty, favourable climate, and quality public services, create an environment conducive to both personal and professional growth.
The healthcare system is reliable and comprehensive, ensuring residents have access to quality medical care. The real estate market offers attractive investment opportunities, with the potential for significant returns. For retirees, Greece offers a lifestyle that balances leisure and social activities, all set against the backdrop of the country's stunning landscapes.
Moreover, Greece's visa requirements and immigration laws provide various pathways for foreigners to enter, reside, and even establish businesses in the country. The benefits of living in Greece are indeed lucrative, offering not just an enriching lifestyle but also numerous opportunities for growth and investment.
By choosing to live in Greece, whether temporarily or permanently, individuals and families can benefit from the country's economic advantages, while enjoying a high standard of living, rich cultural experiences, and the unmatched beauty of its landscapes. Indeed, Greece offers a rewarding experience that extends well beyond the traditional concepts of residence and citizenship.
VISA REQUIREMENTS AND IMMIGRATION LAWS
Greece is part of the Schengen Area, which allows free movement of people among many European countries. Non-EU nationals may need a visa to enter Greece, depending on their nationality and the length and purpose of their stay. For stays longer than 90 days, a residence permit is typically required.
Greece offers several types of visas and residence permits, including work visas, student visas, and a 'Golden Visa' for real estate investors. The application process and requirements vary depending on the type of visa or permit. It is essential to check the latest requirements with a Greek consulate or embassy in your home country before making any plans.
For those seeking to start a business, Greece offers a "Business Investment Visa," which provides residence permits to foreign entrepreneurs who plan to make a significant investment in the Greek economy. This offers an attractive pathway for business owners and entrepreneurs considering Greece as their base.
At VIP Visa, we pride ourselves on our years of experience in helping clients navigate the complex process of obtaining visas, residencies, and second nationalities or passports. If you are considering a visit or moving to Greece, we are here to guide you through the process. Our team of experts will ensure that you have all the necessary information and support to make your dream come true. Please see below for more information about our visa categories and let us help you embark on your new journey!