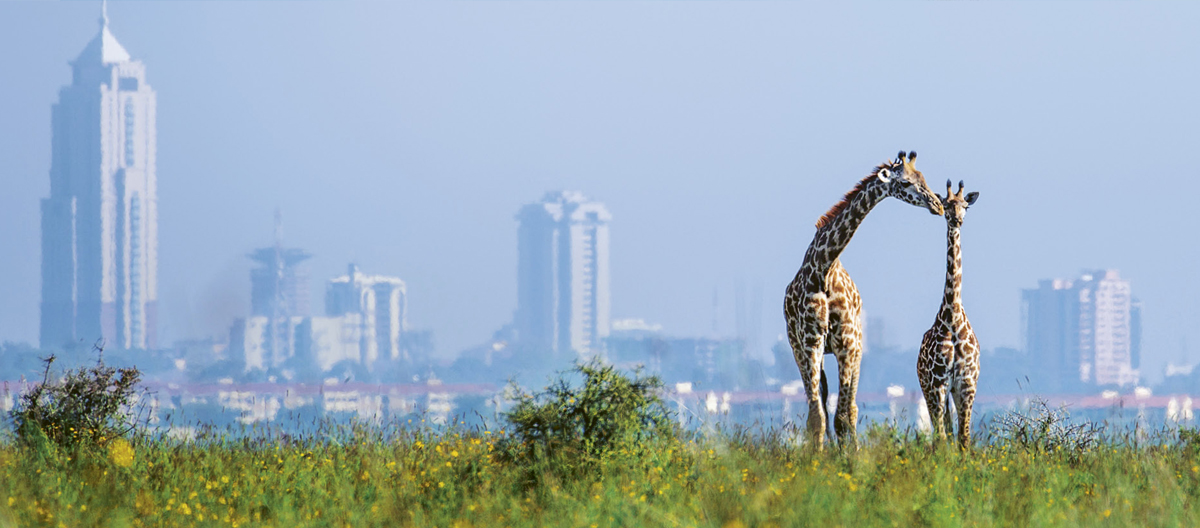 Benefits of life in Kenya
Kenya, a beautiful East African nation, is an appealing destination for those seeking a new life abroad. With its diverse cultural tapestry, breathtaking landscapes, and vibrant economy, Kenya offers numerous benefits that cater to a wide array of lifestyles.
For nature enthusiasts, Kenya is a paradise. Its rich biodiversity includes sprawling savannahs, scenic highlands, stunning beaches, and abundant wildlife. A residency in Kenya offers the opportunity to explore these natural treasures, including the world-renowned Maasai Mara Reserve and the pristine beaches of Mombasa.
Kenya's economy is one of the fastest-growing in Africa, with sectors such as technology, tourism, and agriculture leading the way. Its capital, Nairobi, is a booming tech hub, often referred to as "Silicon Savannah," offering exciting opportunities for tech professionals. For entrepreneurs, the Kenyan government provides a conducive environment, encouraging start-ups and SMEs with favourable policies.
The cultural diversity in Kenya is astounding, with over 40 different ethnic groups. This rich cultural blend influences every aspect of life, from food to music, creating a vibrant and exciting social landscape. Kenyans are known for their hospitality and friendliness, making it easy for newcomers to feel welcomed and integrated.
Furthermore, Kenya offers a good standard of living, including affordable housing, a robust healthcare system, and quality education. International schools in major cities provide excellent education options for expatriates.
In conclusion, a life in Kenya offers an enriching blend of vibrant culture, economic opportunities, and unparalleled natural beauty, making it a compelling choice for individuals seeking new experiences abroad.
Rich Cultural Diversity with a Vibrant Experience
Growing Economy with Numerous Opportunities
Natural Beauty from Wildlife to Stunning Beaches
Friendly People, Make Newcomers Feel Welcomed
Affordable Living, with a Range of Housing Options
Excellent Education for Children of Expats
Robust & Accessible Healthcare System
Nairobi is a Booming Tech Hub
The Government Supports Start-ups & SMEs
Exquisite Cuisine, Influenced by Diverse Cultures
Study, Work and Live in Kenya
EDUCATIONAL SYSTEM
Studying in Kenya offers a unique opportunity for students to immerse themselves in a culturally rich and diverse environment while pursuing quality education. Kenya's educational system is noted for its robust curriculum and high academic standards, making it a compelling choice for international students.
Kenya's universities and colleges are recognized for their strengths in areas such as business, technology, environmental science, and social studies. The University of Nairobi, for instance, is highly regarded and offers a variety of programs that cater to the evolving needs of the global job market.
Moreover, studying in Kenya provides a first-hand understanding of the African continent's history, societies, and issues. This experience can be especially valuable for students interested in areas such as African studies, development studies, or international relations.
Kenyan society is characterized by its friendliness and inclusivity, enabling international students to easily integrate and experience the local culture. This cultural immersion is a holistic education in itself, fostering global awareness and cross-cultural understanding.
Additionally, the affordable cost of living and tuition fees in Kenya make it an attractive educational destination. Student accommodations and daily expenses are generally lower than in many Western countries.
Lastly, studying in Kenya is not just about academics; it's also about exploring the nation's stunning natural beauty, from the wildlife reserves to the beautiful coastal regions. Such experiences outside the classroom contribute to a well-rounded and enriching study experience.
In summary, the benefits of studying in Kenya span quality education, cultural immersion, affordability, and the chance to live in a country of breathtaking natural beauty.
EMPLOYMENT OPPORTUNITIES
Kenya is an exciting and rewarding destination for professionals seeking international work experience. Known as the "Silicon Savannah," Kenya's capital Nairobi has emerged as a vibrant hub for technology and innovation, attracting talent from around the world. But the opportunities are not confined to tech alone. With a rapidly growing economy, sectors such as tourism, agriculture, real estate, and finance also present ample prospects for professionals and entrepreneurs alike.
Working in Kenya offers the chance to operate in a diverse and dynamic cultural environment, fostering a global perspective and enhancing cross-cultural communication skills. Kenya's workforce is known for its strong work ethic, resilience, and innovative mindset, which can be inspiring for those looking to grow in their careers.
Kenya's business-friendly policies and strategic location make it a gateway to East Africa. For professionals interested in international business or development, this exposure can provide invaluable experience and networking opportunities.
The cost of living in Kenya is relatively affordable compared to many Western countries. This, coupled with competitive salaries in many sectors, allows for a comfortable lifestyle. The country offers quality housing options, a good healthcare system, and international schools, making it convenient for those relocating with families.
Moreover, working in Kenya presents the opportunity to explore the country's extraordinary natural beauty and rich cultural heritage during your downtime. Be it a weekend safari or visiting the historical sites, living in Kenya ensures a balanced and fulfilling work-life experience.
In conclusion, working in Kenya offers the advantages of a growing economy, diverse work environment, affordable living, and a quality lifestyle, making it an attractive destination for global professionals.
Kenya, often referred to as the "Cradle of Humanity," is a gem that offers a blend of vibrant culture, natural beauty, economic opportunities, and a welcoming community. For individuals seeking to start a new life, retire, or establish a business, Kenya presents an array of benefits and opportunities. Here's an exploration of the various advantages that make living in Kenya an attractive proposition.
ECONOMIC OPPORTUNITIES AND BUSINESS PROSPECTS
Kenya, as one of the fastest-growing economies in Sub-Saharan Africa, offers a conducive environment for business and entrepreneurship. Nairobi, the capital, is known as the "Silicon Savannah" due to its blossoming tech start-up scene and is a hub for digital nomads. Moreover, the government's favourable policies for start-ups and small and medium enterprises (SMEs) make it an ideal location for individuals looking to start new ventures.
Kenya's strategic location, coupled with its membership in the East African Community, provides businesses with easy access to a large market, facilitating regional trade and investment. It's not just big businesses that can thrive here, but smaller, creative ventures too. From eco-tourism projects to organic farming, the country's diversity and natural beauty offer unique entrepreneurial opportunities.
BEAUTIFUL PLACES AND PLEASANT CLIMATE
One of the major attractions of Kenya is its varied landscape and favourable climate. From the spectacular Great Rift Valley, the wildlife-rich Maasai Mara, the snow-capped Mount Kenya to the pristine beaches of Mombasa and Diani, Kenya is a land of remarkable beauty and biodiversity. Living here offers the chance to explore these natural wonders and embark on adventures right at your doorstep.
The weather in Kenya is tropical, generally warm and pleasant year-round. The highlands experience a cooler climate, while the coastal regions are warm and humid, providing a range of options depending on your preference.
PUBLIC SERVICES AND INFRASTRUCTURE
Kenya's infrastructure is relatively well-developed compared to many African countries. The public transport system, primarily matatus (minibuses) and boda-bodas (motorbike taxis), is efficient and affordable. Major cities like Nairobi and Mombasa are connected by well-maintained highways, and there are regular domestic flights connecting various parts of the country.
The country also has a strong telecommunications infrastructure, with widespread internet and mobile connectivity. This digital infrastructure makes it easy for digital nomads and remote workers to stay connected.
HEALTHCARE IN KENYA
The healthcare system in Kenya is a mix of public and private providers. The public healthcare system is affordable and accessible, while private hospitals offer high-quality care, often to international standards. Nairobi is home to several top-tier private hospitals that cater to a variety of medical needs.
Moreover, Kenya is known for its advancements in telemedicine and mobile health solutions, enhancing healthcare accessibility. Health insurance is also widely available, with several companies offering comprehensive packages for individuals and families.
ACCOMMODATION AND REAL ESTATE INVESTMENT
The real estate market in Kenya is booming, driven by a growing middle class, urbanization, and foreign investment. From modern apartments in urban centres to beautiful villas along the coast or in the highlands, there's a wide variety of housing options available to suit different budgets and lifestyle preferences.
Investing in Kenyan real estate can be a profitable venture due to the high demand for housing and commercial spaces. The government's initiatives to encourage affordable housing have also opened up new opportunities in the real estate sector.
RETIREMENT IN KENYA
For retirees, Kenya offers a tranquil and affordable lifestyle, combined with a warm climate and an abundance of natural beauty. The low cost of living allows retirees to enjoy a comfortable lifestyle, with the option to hire affordable domestic help. Furthermore, the close-knit expatriate communities in places like Nairobi, Mombasa, and Naivasha provide a sense of belonging and ease of settling in.
The opportunity for recreational activities is vast. From golfing at world-class courses, wildlife safaris, bird watching, to joining local clubs and societies – there's plenty to keep one engaged. Moreover, retirees can enjoy the local cuisine, arts, music, and cultural festivals that make life in Kenya vibrant and enjoyable.
THE LUCRATIVE POTENTIAL OF LIVING IN KENYA
Living in Kenya can indeed be a lucrative prospect. The dynamic economic environment and business-friendly policies make it an attractive destination for entrepreneurs and investors. The growing real estate market presents profitable investment opportunities.
For digital nomads, the strong digital infrastructure, coupled with the affordable cost of living, makes Kenya an ideal base. Healthcare professionals and educators can also find rewarding opportunities due to the country's focus on improving these sectors.
Moreover, the enriching cultural experiences, the chance to live amid nature's bounty, and the pleasant climate contribute to enhancing the quality of life, making the experience not just financially rewarding, but also personally fulfilling.
VISA REQUIREMENTS AND IMMIGRATION LAWS
Kenya has a fairly straightforward and welcoming immigration policy. For short stays, most nationalities can obtain a visa on arrival or an e-visa online. For those wishing to work, study, or reside long-term in Kenya, specific permits and visas are required.
Work permits are issued based on the nature of work or business to be conducted and need to be sponsored by a Kenyan entity. Similarly, a student pass is required for those wishing to study in Kenya.
For retirees or those wishing to invest in Kenya, a Class F permit is issued, which allows a foreign national to reside in Kenya and guarantees them the same rights as a Kenyan citizen, excluding political rights. It's advisable to consult with a legal expert or a reliable visa consultancy to understand the requirements and processes in detail.
In conclusion, the benefits of living in Kenya are multifaceted, encompassing economic opportunities, a vibrant lifestyle, natural beauty, and a welcoming environment. Whether you're an entrepreneur, a digital nomad, a retiree, or someone seeking new life experiences, Kenya opens up a world of possibilities and promises an enriching journey.
At VIP Visa, we pride ourselves on our years of experience in helping clients navigate the complex process of obtaining visas, residencies, and second nationalities or passports. If you are considering a visit or moving to Kenya, we are here to guide you through the process. Our team of experts will ensure that you have all the necessary information and support to make your dream come true. Please see below for more information about our visa categories and let us help you embark on your new journey!