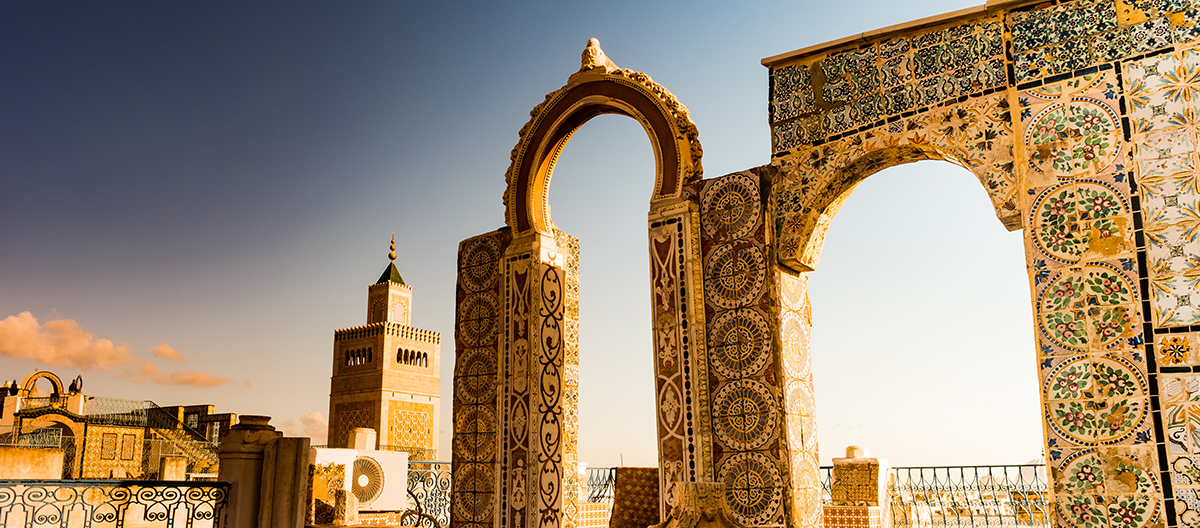 Benefits of life in Tunisia
For over two millennia, Tunisia, a mesmerizing North African nation, has been captivating travellers with its rich history, diverse culture, and spectacular Mediterranean coastline. Living in Tunisia, often described as a crossroads of civilizations, offers a multitude of benefits.
Tunisia offers an affordable yet high-quality lifestyle. The cost of living is significantly lower than in many western countries, which allows residents to enjoy a comfortable lifestyle on a modest income. The quality of healthcare services in Tunisia is commendable, with modern facilities and well-trained medical professionals widely available. The public healthcare system is comprehensive, and private healthcare is affordable, ensuring that everyone has access to the healthcare they need.
For food lovers, Tunisia is a gastronomical paradise. The local cuisine is an eclectic mix of Mediterranean, Berber, and Arab influences. Fresh local produce, flavourful spices, and exceptional seafood are staples, making every meal an adventure for your palate.
With its mild Mediterranean climate, Tunisia offers year-round sunshine and outdoor activities. Its pristine beaches, historic ruins, and Sahara desert treks offer diverse experiences for adventurers and history buffs alike. Moreover, Tunisians are known for their warmth and hospitality, making expatriates feel at home quickly.
The country's geographic location is another advantage, offering easy access to both Europe and Africa. Tunisia is also keen on fostering innovation, offering several incentives for businesses and start-ups, which can be attractive for entrepreneurs.
Low Cost of Living with a High-Quality Lifestyle
Excellent & Affordable Healthcare System
Blending Mediterranean, Berber & Arab Cuisines
Mild Climate Perfect for Outdoor Activities
Diverse Attractions from Beaches to Desert
Warm & Welcoming Local Community
Providing Easy Access to Europe & Africa
Opportunities for Business & Entrepreneurship
Quality Education with many French-Arabic Schools
Stable Political Climate & Safe Environment
Study, Work and Live in Tunisia
EDUCATIONAL SYSTEM
Studying in Tunisia comes with an array of benefits, enriching not only one's academic portfolio but also providing a profound personal growth experience.
The Tunisian education system, often recognized for its high standards, offers a broad range of courses in multiple languages, including Arabic, French, and English. Tunisian universities, like the University of Tunis, are renowned for their excellent faculties in areas such as Engineering, Medicine, Humanities, and Business. This enables students to gain a comprehensive and globally recognized education.
A significant advantage of studying in Tunisia is the opportunity to learn Arabic and French, widely spoken in the country. This linguistic immersion helps students become multilingual, a highly valued skill in today's globalized world.
Tunisia also provides an exceptional cultural learning experience. The country's rich history and diverse blend of cultures offer students a unique context for learning about the world. This extends beyond the classroom to historical sites, festivals, and everyday interactions, deepening their understanding of global cultures and histories.
Furthermore, studying in Tunisia is financially advantageous. The cost of tuition and living expenses is relatively low compared to many Western countries, making it a cost-effective choice for international education.
In conclusion, studying in Tunisia not only offers a rigorous academic experience but also presents a unique cultural immersion, language learning opportunities, and affordable living, contributing to an enriching and comprehensive international study experience.
EMPLOYMENT OPPORTUNITIES
Working in Tunisia provides a number of unique advantages that can greatly enhance your professional experience.
Firstly, Tunisia's thriving economy offers diverse job opportunities across multiple sectors including information technology, tourism, and manufacturing. Its strategic location between Europe and Africa also makes it a prime hub for international business, facilitating robust professional networks and potential for career advancement.
Language skills can be significantly honed when working in Tunisia. The country is predominantly bilingual in Arabic and French, providing an excellent opportunity to develop multilingual competence, a valuable asset in today's globalized marketplace.
The cost of living in Tunisia is comparatively low, allowing for a comfortable lifestyle that is often more affordable than in many Western countries. This can enable you to save more of your income or use it to enjoy the country's vibrant culture, beautiful landscapes, and delectable cuisine.
The Tunisian work culture is often noted for its warm and hospitable environment. Tunisians are known for their friendliness and respect for others, which can lead to a fulfilling and enjoyable work experience.
Tunisia is also dedicated to innovation and entrepreneurship. The government offers various incentives to start-ups and small businesses, making it an ideal place for those aspiring to start their own venture.
In short, working in Tunisia can provide a dynamic professional experience, cultural and linguistic enrichment, affordable living, and a supportive environment for career growth or entrepreneurial ambitions.
ECONOMIC ADVANTAGES
Living in Tunisia offers a myriad of economic benefits, making it an attractive destination for entrepreneurs and digital nomads alike. The country's thriving economy, characterized by sectors such as tourism, manufacturing, and IT, presents diverse business opportunities. Tunisia's strategic location as a gateway between Europe and Africa is another key advantage, making it a hub for international trade and business development.
For digital nomads, the country's robust telecommunications infrastructure and the growing tech industry make it an ideal base. Affordable living costs coupled with high-speed internet connectivity ensure an environment conducive to remote work. Moreover, the Tunisian government actively promotes entrepreneurship, providing incentives like tax breaks and funding opportunities for start-ups and small businesses.
BEAUTY AND CLIMATE
Tunisia's natural beauty is simply captivating. With its Mediterranean coastline, pristine beaches, scenic mountains, and the vast expanse of the Sahara desert, the country offers a unique blend of landscapes that cater to all tastes. Historical cities like Carthage and El Jem house ancient ruins, while the blue-and-white charm of Sidi Bou Said offers an artistic retreat.
The climate in Tunisia is Mediterranean, characterized by mild, rainy winters and hot, dry summers. It's mostly sunny year-round, which is ideal for outdoor activities and exploration. The coastal regions enjoy cool sea breezes, while the southern parts offer the unique experience of desert living.
PUBLIC SERVICES
Tunisia's public services are well-structured and efficient. The country has a good network of public transportation, including buses, light rail, and a national railway system, which makes commuting easy and affordable. Education in Tunisia is given high priority, with numerous quality public and private schools and universities offering courses in multiple languages.
HEALTHCARE POTENTIAL
The healthcare system in Tunisia is highly reputable. The country offers a comprehensive public healthcare system alongside a growing private sector. Hospitals and clinics are equipped with modern facilities, and medical professionals are well-trained, with many speaking English and French in addition to Arabic. Healthcare in Tunisia is generally more affordable than in many western countries, providing access to high-quality medical services without the hefty price tag.
ACCOMMODATION AND REAL ESTATE INVESTMENT
Whether you prefer a modern apartment in the bustling city of Tunis, a beachfront villa, or a quiet home in a smaller town, Tunisia's diverse housing options cater to various preferences and budgets. The cost of living, including rent, is significantly lower than in many other countries, making it an attractive place to live.
Investing in Tunisian real estate is potentially lucrative, given the country's growing economy and increasing foreign interest. Whether for personal use or rental purposes, properties, especially in popular tourist areas or business districts, can yield significant returns.
RETIREMENT IN TUNISIA
For retirees, Tunisia offers a comfortable and relaxing lifestyle. Its pleasant climate, affordable living, excellent healthcare, and the warm hospitality of its people make it an ideal retirement destination. Foreign retirees can enjoy their golden years exploring the country's rich history, vibrant culture, and beautiful landscapes.
Furthermore, Tunisia's close proximity to Europe allows for easy travel, making it possible for expats to visit their home countries or explore neighbouring countries conveniently.
THE LUCRATIVE APPEAL OF TUNISIA
In sum, Tunisia's combination of economic advantages, natural beauty, and high-quality public services make it a highly lucrative option for living, working, and investing. Its strategic location, favourable business environment, and lower cost of living make it ideal for entrepreneurs, digital nomads, and investors. Simultaneously, the country's rich history, cultural diversity, climate, and hospitality offer an enriching lifestyle for residents and retirees.
VISA REQUIREMENTS AND IMMIGRATION LAWS
Tunisia has a straightforward immigration process. Visitors from many countries can enter Tunisia without a visa for up to 90 days. For longer stays, a residency permit, known as a Carte de Séjour, is required.
To work or start a business in Tunisia, a work visa and permit are necessary. The application process is streamlined, with the Tunisian government encouraging foreign investment.
It's always recommended to check the latest visa and immigration requirements with the Tunisian Embassy or Consulate in your home country before planning your move to ensure you have the most accurate and up-to-date information.
At VIP Visa, we pride ourselves on our years of experience in helping clients navigate the complex process of obtaining visas, residencies, and second nationalities or passports. If you are considering a visit or moving to Tunisia, we are here to guide you through the process. Our team of experts will ensure that you have all the necessary information and support to make your dream come true. Please see below for more information about our visa categories and let us help you embark on your new journey!