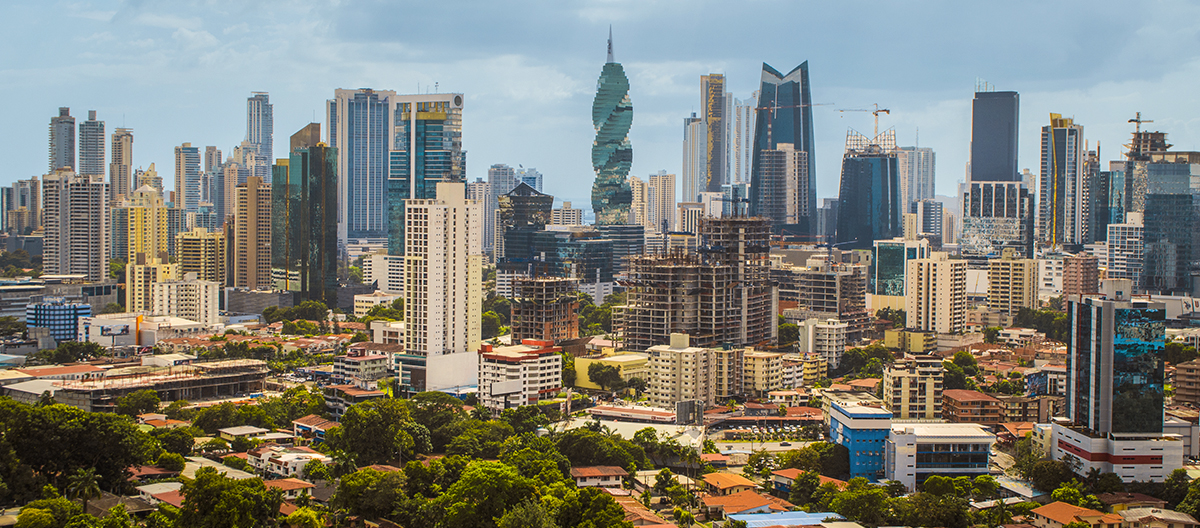 Benefits of life in Panama
Living in Panama is a unique experience that blends the charms of a vibrant Latin American culture with the convenience of a modern, developed country. From its bustling urban centres to its tranquil countryside, Panama has something for everyone.
One of the key benefits of living in Panama is its excellent quality of life, which is often superior to that of other Latin American countries. With its robust economy, Panama offers a wide range of opportunities for employment and business. The country is known for its stable political climate, which further contributes to its appeal as a place to live and work.
In terms of amenities, Panama offers top-notch healthcare and educational facilities. The country's healthcare system is highly regarded in the region and its schools offer quality education, with several bilingual (English-Spanish) options available.
The cost of living in Panama is another attraction. While it's not the cheapest country in the region, it offers great value for money, especially when compared to the quality of life it provides. From affordable housing to reasonably priced goods and services, your money can go a long way in Panama.
Finally, life in Panama is never dull, thanks to its rich cultural heritage and diverse natural beauty. From the vibrant nightlife in Panama City, to the stunning beaches along both its Pacific and Caribbean coasts, and the lush rainforests in between, there's always something to see or do.
One of the Safest Countries in Latin America
A Robust Economy with a Stable Political Climate
A Cultural Melting Pot with a Rich History
Famous for its Beaches, Mountains & Rainforests
Favourable & Tropical Climate
Strategic Location as a Hub for Intl' Travel
Known for Their Hospitality & Friendliness
Quite Affordable Compared to Other Countries
Top-Notch Healthcare System with Many Facilities
Panama Offers Easy & Flexible Residency Program
Study, Work and Live in Panama
EDUCATIONAL SYSTEM
Studying in Panama offers students a wealth of benefits that extend far beyond academics. The country's unique blend of cultural, historical, and natural assets make it an enriching and enjoyable place to pursue higher education.
One of the primary advantages of studying in Panama is the opportunity to learn Spanish in an immersive environment. As a Spanish-speaking nation, Panama offers students the chance to hone their language skills both inside and outside the classroom. This linguistic advantage can be invaluable for personal and professional growth, as Spanish is the second most spoken language in the world.
Panama's educational institutions are also increasingly gaining recognition for their quality and innovation. The country has several reputable universities and colleges offering a wide range of degree programs. Students will find many options for both undergraduate and graduate studies in fields such as business, engineering, tourism, and environmental sciences. Additionally, many educational institutions in Panama collaborate with international universities, providing access to a global network of resources and expertise.
The cost of studying in Panama is another significant benefit. Tuition fees and living expenses tend to be more affordable than in many other countries, particularly in North America and Europe. This cost advantage allows students to focus on their studies without the burden of excessive financial strain.
Furthermore, the opportunity to experience life in a diverse and vibrant Latin American country is a significant draw for students considering Panama. With its rich cultural heritage, friendly locals, and stunning natural beauty, Panama offers an unforgettable experience that extends well beyond the classroom. Students can participate in various cultural and recreational activities, explore the country's breathtaking landscapes, and immerse themselves in local customs and traditions.
In summary, studying in Panama provides students with a unique and rewarding educational experience. The combination of quality education, affordable costs, linguistic immersion, and the chance to experience life in a beautiful and diverse country make Panama an attractive study destination for students from all over the world.
EMPLOYMENT OPPORTUNITIES
Working in Panama offers numerous advantages, making it an attractive destination for professionals worldwide. With its robust economy, strategic location, and high quality of life, Panama can provide a rewarding and enriching work experience.
One of the key benefits of working in Panama is the country's strong and stable economy. As one of the fastest-growing economies in Latin America, Panama offers a wealth of job opportunities, particularly in sectors such as finance, logistics, tourism, and technology. The country's economic stability and growth potential make it an attractive place for career development.
Panama is also renowned for its strategic geographical location, which has made it a hub for international trade and business. The Panama Canal and the country's well-developed logistics infrastructure have attracted numerous multinational companies, providing ample opportunities for professionals to work in a dynamic and international environment. This global exposure can be highly beneficial for career progression and networking.
Another significant advantage of working in Panama is the high standard of living. While the cost of living can be higher compared to other Latin American countries, it is often offset by competitive salaries and comprehensive benefits. Additionally, Panama's vibrant culture, friendly locals, and breathtaking natural beauty add to the overall quality of life.
Finally, Panama offers a favourable working environment with progressive labour laws. The country has implemented policies that promote a healthy work-life balance, ensuring that employees have adequate time for rest and leisure. This commitment to worker wellbeing is another reason why Panama is an excellent place to work.
In conclusion, working in Panama can offer a blend of professional growth, economic stability, and a high quality of life. Whether you're looking to advance your career, gain international experience, or simply enjoy a new cultural experience, Panama presents a unique and rewarding opportunity.
ECONOMIC ADVANTAGES AND BUSINESS OPPORTUNITIES
Panama's thriving economy offers a multitude of advantages for those seeking to start a new business or work remotely as digital nomads. The country has one of the fastest-growing economies in Latin America, driven largely by its logistics sector, tourism, real estate development, and financial services. Its strategic location connecting North and South America, as well as the Atlantic and Pacific Oceans via the Panama Canal, makes it a hub for international trade and commerce.
For digital nomads, Panama's robust internet infrastructure and the availability of coworking spaces in urban areas make it an ideal destination. The country offers a high standard of living, paired with an affordable cost of living, providing a comfortable environment for remote work. The opportunity to network with professionals from various global industries also adds to the appeal for entrepreneurs and digital nomads.
BEAUTIFUL PLACES AND FAVORABLE CLIMATE
One of Panama's most captivating aspects is its diverse natural beauty. From the vibrant, cosmopolitan life in Panama City, with its impressive skyline and historic old town, to the unspoiled beaches of Bocas Del Toro and the lush mountainous landscapes of Boquete, Panama has something for everyone. Nature enthusiasts will enjoy the abundant wildlife in areas like the Darien National Park, while surfers and sun-seekers will find paradise along both the Pacific and Caribbean coasts.
Panama's tropical climate, with temperatures averaging between 75 to 85 degrees Fahrenheit year-round, is another major draw. While the country does have a rainy season, showers are usually brief, leaving plenty of time to enjoy the sunshine.
PUBLIC SERVICES AND HEALTHCARE
Panama's public services are well-developed, with reliable utilities, transportation, and communication systems. The country's healthcare system is particularly notable. Both public and private hospitals in Panama offer high-quality care, often at a fraction of the cost compared to the United States and Europe. Many doctors are US-trained, and it's common to find English-speaking medical professionals.
Panama is also making significant advancements in telemedicine, which can be a great advantage for those living in more remote areas. The potential of Panama's healthcare system makes it a compelling destination for those considering relocation.
ACCOMMODATION AND REAL ESTATE INVESTMENT
When it comes to accommodation, Panama offers a wide range of options to suit various lifestyles and budgets. From modern apartments in Panama City to beachfront properties and mountain villas, there's something for everyone.
For those looking to invest in real estate, Panama presents considerable potential. The country's steady economic growth, combined with a growing demand for housing, has created a buoyant real estate market. Panama's government also offers various incentives for foreign real estate investors, making it an attractive option for those looking to diversify their investment portfolio.
RETIREMENT BENEFITS FOR FOREIGNERS
Panama is consistently ranked as one of the best places to retire globally, and it's easy to see why. The country's Pensionado program is one of the most appealing retirement visa programs worldwide, offering significant discounts on everything from healthcare to entertainment. The cost of living is relatively low, and the standard of living is high, providing retirees with a comfortable lifestyle.
Moreover, Panama's friendly locals, diverse expatriate community, and the widespread use of English make it easy for foreigners to settle in and feel at home. The country's safety, political stability, and the use of the US dollar also add to its appeal for retirees.
THE LUCRATIVE ASPECTS OF LIVING IN PANAMA
Living in Panama can be an exceptionally lucrative experience. The economic advantages provide immense opportunities for business growth and investment. The vibrant economy, combined with a favourable business environment and incentives, creates a thriving entrepreneurial landscape and an attractive real estate market.
The low cost of healthcare without compromising on quality is another financially beneficial aspect. The affordability extends to the general cost of living, which, when combined with the high standard of living, gives you excellent value for money.
The country's natural beauty and favourable climate make it a lucrative destination from a lifestyle perspective. The opportunity to enjoy a rich cultural experience, stunning natural landscapes, and a pleasant climate year-round makes life in Panama highly desirable.
VISA REQUIREMENTS AND IMMIGRATION LAWS
Panama's immigration laws are foreigner-friendly, offering various visas that cater to different needs, such as the Pensionado visa for retirees and the Friendly Nations Visa for citizens of selected countries.
The Pensionado visa, for instance, is particularly appealing for retirees, offering numerous discounts and benefits to those who can prove a steady income from a pension or social security. The Friendly Nations Visa, on the other hand, provides a straightforward path to permanent residency for citizens of over 50 countries with professional or economic ties to Panama.
In general, Panama's immigration process is straightforward. However, it's always advisable to seek advice from a reliable immigration lawyer to navigate the process smoothly.
In conclusion, the benefits of living in Panama are abundant, ranging from economic and business opportunities to a high quality of life, all set against a backdrop of natural beauty and a pleasant climate. With its foreigner-friendly immigration laws, Panama welcomes individuals from all walks of life to explore, live, work, invest, and retire in this vibrant country. Whether you are an entrepreneur, a retiree, a digital nomad, or someone looking for a new cultural experience, Panama presents a unique and rewarding opportunity.
At VIP Visa, we pride ourselves on our years of experience in helping clients navigate the complex process of obtaining visas, residencies, and second nationalities or passports. If you are considering a visit or moving to Panama, we are here to guide you through the process. Our team of experts will ensure that you have all the necessary information and support to make your dream come true. Please see below for more information about our visa categories and let us help you embark on your new journey!