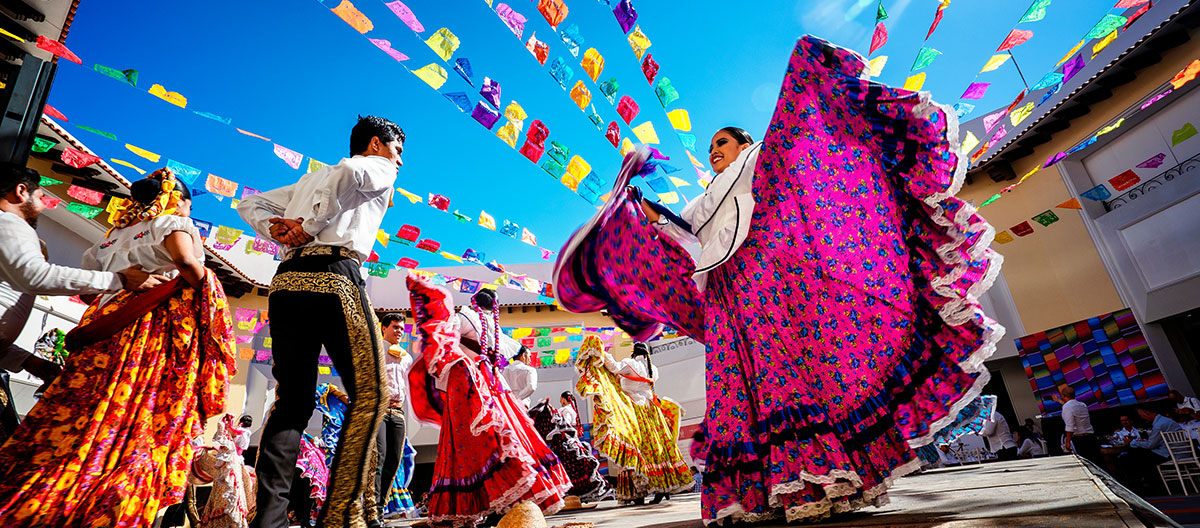 Benefits of life in Mexico
Mexico, with its vibrant culture, rich history, and warm climate, offers an exceptional quality of life that is hard to match. A move to Mexico brings with it an array of benefits that significantly enhance personal and professional life.
One of the key advantages of living in Mexico is the low cost of living. Whether it's housing, groceries, or healthcare, expenses are considerably lower than in many western countries, allowing for a comfortable lifestyle without draining your resources. Moreover, Mexico's healthcare system is renowned for its high-quality, affordable care, ensuring that you're well looked after in times of need.
The country is also known for its incredible biodiversity, breathtaking landscapes, and numerous outdoor activities. From the beaches of Cancun to the forests of Chiapas, the diverse ecosystems provide a playground for nature lovers and adventure seekers alike. Furthermore, Mexico's cultural richness and historical legacy, reflected in its numerous UNESCO World Heritage Sites, offers endless opportunities for exploration and learning.
Mexico's warm, welcoming culture is another significant draw. Mexicans are known for their hospitality and friendliness, making it easy to form genuine relationships and feel at home. Additionally, the country's gastronomy, recognized as an Intangible Cultural Heritage of Humanity by UNESCO, offers a culinary journey that's bound to captivate your taste buds.
In Mexico, you will also find an ideal environment for business and entrepreneurship. The country's robust economy, coupled with its strategic geographic location and strong trade agreements, provides a conducive setting for various business ventures.
Affordable Cost of Living & High Quality of Life
Excellent Healthcare System at Lower Costs
Stunning Natural Landscapes & Outdoor Activities
Rich History & Cultural Heritage
Warm, Welcoming & Friendly Community
Vibrant & Diverse Gastronomy
Strong Economy with Ample Business Opportunities
Easy Access to North & South America
Mild, Pleasant Climate Throughout the Year
High Safety Standards in Popular Expat Areas
Study, Work and Live in Mexico
EDUCATIONAL SYSTEM
Studying in Mexico offers a multitude of benefits that can significantly enrich your academic journey and personal growth. The country's rich cultural heritage and vibrant academic environment make it a unique and rewarding destination for international students.
Mexico's higher education system is respected globally, with many universities ranking among the top in Latin America. The country offers a wide variety of courses across different fields, catering to diverse academic interests. From art and history to science and technology, the quality education offered is designed to foster critical thinking and inspire creativity.
Mexican universities are also recognized for their strong emphasis on research and innovation, providing ample opportunities for students to engage in ground-breaking work. This is particularly beneficial for postgraduate students and those looking to specialize in their field of study.
Learning Spanish, the second most spoken language in the world, is another significant benefit of studying in Mexico. Fluency in Spanish can open up a wealth of opportunities in your future career and broaden your global perspective.
Living and studying in Mexico also enables you to immerse yourself in the country's rich culture and history. This exposure enhances your cultural understanding, promotes personal growth, and fosters global citizenship.
Lastly, the cost of education in Mexico is considerably more affordable compared to many Western countries. Coupled with a lower cost of living, this allows students to pursue quality education without incurring significant financial burden.
In short, studying in Mexico offers a blend of quality education, cultural immersion, language acquisition, and affordability, making it an excellent choice for international students.
EMPLOYMENT OPPORTUNITIES
Working in Mexico presents a multitude of advantages that can considerably enhance your professional growth and personal life. Mexico's dynamic and diverse economy, coupled with its vibrant culture and welcoming atmosphere, make it a compelling destination for career advancement.
Mexico boasts a robust economy with a strong presence in industries like manufacturing, IT, and tourism, among others. This provides a wealth of opportunities for professionals across various fields. The country is also recognized for its entrepreneurial spirit, making it an exciting place for start-ups and small business owners.
The Mexican labour law is designed to protect workers' rights, with provisions for severance pay, paid vacation, and public holidays. Moreover, many multinational companies in Mexico offer competitive salaries and benefits, ensuring a comfortable lifestyle.
Working in Mexico also provides an excellent opportunity to learn Spanish, the world's second-most spoken language. This linguistic skill can significantly enhance your global employability and business communication.
Living and working in Mexico also offer a rich cultural experience. From the country's delectable cuisine to its vibrant festivals, you will have the chance to immerse yourself in a unique and engaging culture.
Additionally, Mexico's strategic geographic location, with proximity to both North and South America, provides access to significant business markets. This can be especially beneficial for individuals in trade and commerce sectors.
The work-life balance in Mexico is another noteworthy aspect. The importance of family and leisure is deeply rooted in Mexican culture, ensuring you have ample time to relax and enjoy life outside of work.
In summary, working in Mexico offers a mix of professional growth, cultural enrichment, and quality of life. It's an excellent choice for those looking to diversify their career experience and enjoy a vibrant lifestyle.
ECONOMIC ADVANTAGES AND BUSINESS OPPORTUNITIES
Mexico presents a robust economy with a myriad of opportunities for both entrepreneurs and digital nomads. The country's strong presence in industries like manufacturing, information technology, and tourism provide a fertile ground for starting a new business. Mexico's strategic location, as a bridge between North and South America, offers access to significant business markets. Plus, the country's free trade agreements with over 50 countries make it a global hub for commerce. For digital nomads, the availability of high-speed internet in most cities, coupled with the low cost of living, makes Mexico an attractive destination.
NATURAL BEAUTY AND CLIMATE
Mexico's natural beauty is unparalleled, with diverse landscapes spanning from stunning beaches to majestic mountains and lush rainforests. The country is home to numerous UNESCO World Heritage Sites, vibrant cities, and quaint colonial towns, each offering a unique cultural and visual feast. The weather and climate are equally appealing, with most regions enjoying a subtropical climate - warm and sunny most of the year, which is perfect for outdoor activities.
PUBLIC SERVICES
Public services in Mexico are continually improving, with the government investing significantly in infrastructure. The transportation system, including buses, trams, and the metro, is extensive and affordable. Utilities such as water, electricity, and internet are generally reliable and inexpensive compared to Western standards. The country also provides public education, with many public universities offering high-quality courses in various fields.
HEALTHCARE IN MEXICO
Mexico's healthcare system offers both private and public options, all known for providing high-quality care at a fraction of the cost compared to the U.S. and many European countries. Many doctors and medical staff are English-speaking and often trained in the U.S or Europe. Mexico is also a popular destination for medical tourism due to its cost-effective and advanced healthcare services.
ACCOMMODATION AND REAL ESTATE INVESTMENT
Housing in Mexico is significantly more affordable than in many Western countries. Whether you're looking to rent or buy, there are options to suit various budgets. From modern city apartments to beachfront homes, the choices are extensive. Investing in real estate can be particularly lucrative due to the growing economy and the increasing demand in the tourism sector. It's worth noting that Mexico has laws to protect foreign investors, making it a secure option for real estate investment.
RETIREMENT IN MEXICO
Mexico has consistently been ranked as one of the best places to retire, owing to its low cost of living, high quality of life, and warm climate. Additionally, retirees enjoy benefits like discounts on public services and entertainment. The established expat communities provide a sense of familiarity and ease of integration. Living in Mexico also offers retirees a chance to enjoy a laid-back lifestyle with an abundance of leisure activities.
LUCRATIVE LIVING
The combination of economic opportunities, affordable living, quality healthcare, and the potential for real estate investment make living in Mexico highly lucrative. Whether you're a digital nomad, business owner, retiree, or simply someone seeking a better quality of life, Mexico has something to offer. The opportunity to immerse yourself in a rich culture, learn a new language, and enjoy the beautiful landscapes are added bonuses.
VISA REQUIREMENTS AND IMMIGRATION LAWS
When it comes to visa requirements and immigration laws, Mexico is quite welcoming and straightforward. There are various visa options available to suit different needs, ranging from short-term tourist visas to long-term resident visas.
Tourists from many countries, including the U.S., Canada, and the European Union, can visit Mexico visa-free for up to 180 days. This is typically sufficient for vacationers or digital nomads planning a shorter stay.
For those looking to stay longer, the Temporary Resident Visa is an excellent option. This visa is valid for one year and can be renewed for up to four years. It's suitable for those with regular income from outside Mexico, such as retirees, or those who will be employed in Mexico.
The Permanent Resident Visa is for those planning to settle in Mexico indefinitely. You can apply for this visa if you have close family ties in Mexico, if you've held a Temporary Resident Visa for four years, or if you meet certain other criteria such as retirement or economic solvency.
Foreigners looking to work in Mexico will need a work permit, which usually needs to be applied for in conjunction with an employer in Mexico.
It's important to note that the visa application process will usually need to be initiated from your home country, through a Mexican consulate or embassy. As visa requirements can change, it's recommended to check the most current information from the official Mexican immigration website or the Mexican embassy or consulate in your home country. Be sure to understand the conditions and requirements of your visa to ensure a smooth transition to your new life in Mexico.
At VIP Visa, we pride ourselves on our years of experience in helping clients navigate the complex process of obtaining visas, residencies, and second nationalities or passports. If you are considering a visit or moving to Mexico, we are here to guide you through the process. Our team of experts will ensure that you have all the necessary information and support to make your dream come true. Please see below for more information about our visa categories and let us help you embark on your new journey!