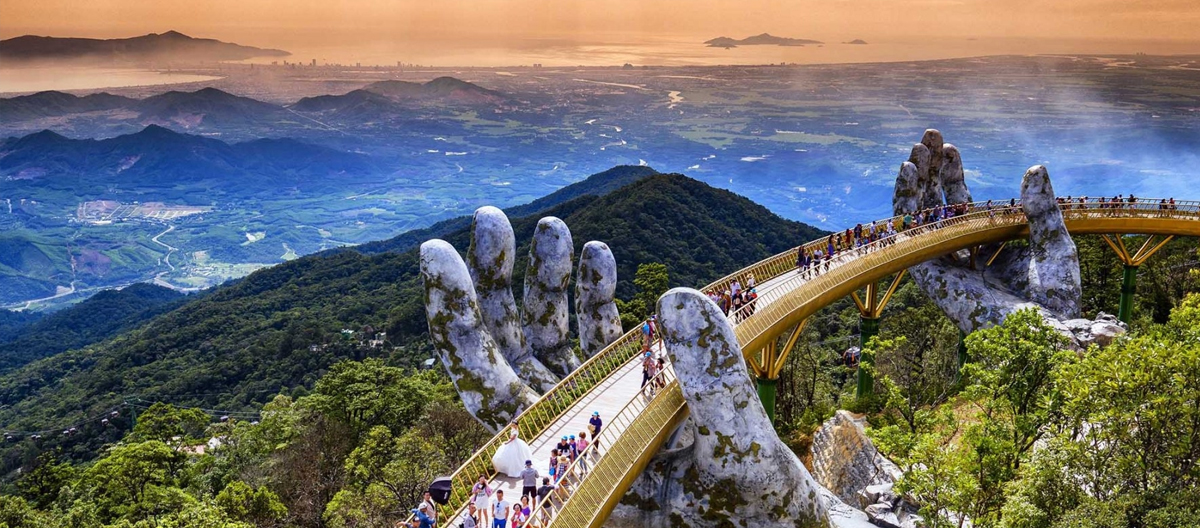 Benefits of life in Vietnam
Vietnam, a country rich in culture, history, and stunning natural landscapes, offers a myriad of benefits for those seeking a new life abroad. Living in Vietnam, one quickly appreciates the high quality of life coupled with a low cost of living. The country's economy is steadily growing, making it a promising location for investments and business opportunities.
The Vietnamese people are known for their warmth and hospitality, fostering a sense of community that's welcoming to newcomers. The country's cultural heritage, from ancient temples to traditional folk music, offers a deep well of experiences to explore, promising a rich and fulfilling life.
One of the greatest attractions of Vietnam is its natural beauty. From the idyllic rice terraces in the north to the tranquil beaches along the central coast and the vibrant Mekong Delta in the south, there's a diverse array of landscapes to enjoy. This contributes to a balanced lifestyle, where moments of relaxation and adventure are always at hand.
Vietnamese cuisine is another highlight. Known worldwide for its balance of flavors and healthy ingredients, food lovers will find themselves in a gastronomic paradise. Fresh seafood, fragrant herbs, and local fruits and vegetables are staples in the everyday diet.
Finally, the country's central location in Southeast Asia makes it a perfect hub for traveling to other parts of the region. With numerous international airports and good infrastructure, traveling within and outside the country is convenient and affordable.
Low Cost of Living with High Quality of Life
Robust Economy with Ample Business Opportunities
Warm & Welcoming Community
Rich Cultural Heritage to Explore & Learn
Stunning & Diverse Natural Landscapes
Delicious, Healthy Cuisine & Vibrant Street Food
Convenient Location for Regional Travel
Good Infrastructure & Public Transportation
Safe & Secure Environment for Expats & Families
Access to Affordable Healthcare & Education
Study, Work and Live in Vietnam
EDUCATIONAL SYSTEM
Studying in Vietnam offers a unique combination of high-quality education and enriching cultural experiences. The Vietnamese education system has been rapidly improving over the last few decades, with many universities now offering a variety of programs in English, both for undergraduate and postgraduate studies. These institutions are recognized globally, ensuring that your degree will be well-respected no matter where your future endeavors take you.
One of the biggest advantages of studying in Vietnam is the affordability. Tuition fees and living expenses are significantly lower compared to many Western countries, which can relieve financial stress and allow for a more comprehensive study-abroad experience.
Vietnam provides an excellent environment for learning the Vietnamese language and understanding Southeast Asian cultures firsthand. The Vietnamese people are known for their hospitality and friendliness, creating a welcoming environment for international students.
Finally, studying in Vietnam provides students with the opportunity to live in a dynamic and rapidly developing country. This affords a unique perspective on global economic development, particularly for students interested in business, economics, and development studies.
In essence, studying in Vietnam is not just about earning a degree. It's about immersing yourself in a new culture, gaining a unique educational perspective, and developing as a global citizen. This experience can provide invaluable skills and understanding, beneficial for your future career and personal development.
EMPLOYMENT OPPORTUNITIES
Working in Vietnam offers a myriad of benefits that span professional growth, cultural enrichment, and a rewarding lifestyle. The country's rapidly developing economy presents numerous opportunities in sectors such as technology, finance, manufacturing, and tourism. This continuous growth creates a dynamic work environment that's both challenging and rewarding, with plenty of room for career advancement.
Vietnam's cost of living is significantly lower than many Western countries, which means your salary can go much further here. Affordable housing, food, and transportation contribute to a comfortable lifestyle that leaves room for savings or discretionary spending.
Culturally, working in Vietnam offers the chance to immerse yourself in a rich heritage and vibrant community. Learning to navigate this new cultural landscape can enhance your adaptability and cross-cultural communication skills, valuable assets in today's globalized world.
For those seeking work-life balance, Vietnam shines. The country's natural beauty, from tranquil beaches to lush mountains, offers countless opportunities for relaxation and adventure during off-work hours. Additionally, the country's central location in Southeast Asia makes it a perfect hub for exploring neighboring countries.
Furthermore, Vietnam has a young and dynamic workforce, which creates an energetic and innovative working environment. The ability to collaborate with these young professionals could provide fresh insights and open doors to exciting new ventures.
In summary, working in Vietnam offers a unique blend of professional growth opportunities, cultural immersion, and a high quality of life, making it an appealing choice for individuals looking to expand their career horizons.
ECONOMIC ADVANTAGES AND OPPORTUNITIES
Vietnam presents a diverse range of economic advantages, making it an appealing destination for business-minded individuals and digital nomads. Its economy, one of the fastest-growing in Asia, has been achieving impressive growth rates due to progressive reforms, foreign investment, and a focus on technological innovation. This creates a dynamic business environment, ripe with opportunities for entrepreneurs and investors.
The government provides considerable support for startups, facilitating an environment that encourages innovation and growth. Digital nomads, too, find Vietnam accommodating due to its robust digital infrastructure, affordable living costs, and an abundance of co-working spaces.
NATURAL BEAUTY AND CLIMATE
Vietnam's natural beauty is truly breathtaking. From the tranquil, crystal-blue waters of Ha Long Bay to the terraced rice fields of Sapa, the country is a feast for the eyes. The diversity of its landscapes — mountains, beaches, deltas, and forests — offers a wide range of experiences for both adventure seekers and those seeking relaxation.
The climate varies from north to south, making it possible to find a region that suits your preference. The northern regions experience all four seasons, whereas the southern regions have a tropical climate, perfect for those who prefer warmth all year round.
PUBLIC SERVICES AND INFRASTRUCTURE
Vietnam has made significant strides in improving public services and infrastructure. The transportation system is comprehensive, with an extensive road network, bustling airports, and an efficient urban public transit system in major cities. Public utilities such as water and electricity are reliable, and internet connectivity is excellent across urban areas, a crucial factor for digital nomads.
HEALTHCARE IN VIETNAM
The healthcare system in Vietnam has been progressively improving, offering both public and private medical services. The private healthcare sector, catering primarily to foreigners and affluent locals, provides high-standard medical care with English-speaking staff. Additionally, the cost of healthcare services in Vietnam is significantly lower than in many Western countries, making it an attractive option for long-term residents.
ACCOMMODATION AND REAL ESTATE INVESTMENT
The real estate market in Vietnam is on an upward trajectory, offering lucrative opportunities for investment. Whether it's residential or commercial properties, the potential for returns is substantial due to the country's burgeoning middle class and increasing foreign interest.
Accommodation options are diverse and plentiful, ranging from affordable apartments in bustling city centers to tranquil villas in the countryside. The cost of living in Vietnam is low compared to Western standards, making it possible to live comfortably without breaking the bank.
RETIREMENT IN VIETNAM
Vietnam is an increasingly popular choice for retirees due to its affordable cost of living, high quality of life, and welcoming community. Retirees can enjoy a laid-back lifestyle, immersed in rich culture and surrounded by stunning landscapes. The expatriate community is thriving and supportive, making the transition to life in Vietnam smoother for many retirees.
LUCRATIVE POTENTIAL OF LIVING IN VIETNAM
The combination of economic opportunity, high quality of life, and affordable living costs make Vietnam a highly lucrative option for living and working. Business owners can leverage the country's economic growth and supportive startup environment, while digital nomads can take advantage of the excellent digital infrastructure and low living costs.
Investors can find promising prospects in the real estate market, and retirees can enjoy a comfortable lifestyle without excessive financial strain. The continuous improvements in public services, healthcare, and infrastructure further enhance the appeal of living in Vietnam.
VISA REQUIREMENTS AND IMMIGRATION LAWS
Vietnam has a straightforward and accommodating visa and immigration system. Various visa types are available, depending on the purpose of your stay, including tourist visas, business visas, and long-term visas for those planning to work or retire in the country. For digital nomads or business-oriented individuals, a business visa would be the most appropriate, while retirees may opt for a long-term visa.
Visa application processes are generally smooth, with options to apply online for 'visa on arrival' approval. However, it's always recommended to consult with an immigration expert or agency to ensure all requirements are correctly met.
Foreigners intending to work in Vietnam will need a work permit, issued by the Vietnamese Ministry of Labor, Invalids and Social Affairs. The requirements for this permit include relevant qualifications and a health check, among others.
Additionally, Vietnam has been progressively easing its property ownership laws. As of now, foreigners who are in the country with a visa valid for three months or longer are allowed to own apartments and houses, though with certain restrictions. This is a significant advantage for expatriates planning to settle in Vietnam for the long term or considering property investment.
In conclusion, Vietnam offers a unique blend of economic opportunities, cultural richness, and quality of life, making it a compelling choice for diverse individuals — be it business owners, digital nomads, retirees, or investors. The country's visa and immigration laws are accommodating, further enhancing its appeal as a destination to live, work, and thrive. With the help of an experienced agency like VIP Visa, the process of moving to Vietnam can be straightforward and stress-free, opening the doors to a rewarding and exciting new chapter of life.
At VIP Visa, we pride ourselves on our years of experience in helping clients navigate the complex process of obtaining visas, residencies, and second nationalities or passports. If you are considering a visit or moving to Vietnam, we are here to guide you through the process. Our team of experts will ensure that you have all the necessary information and support to make your dream come true. Please see below for more information about our visa categories and let us help you embark on your new journey!