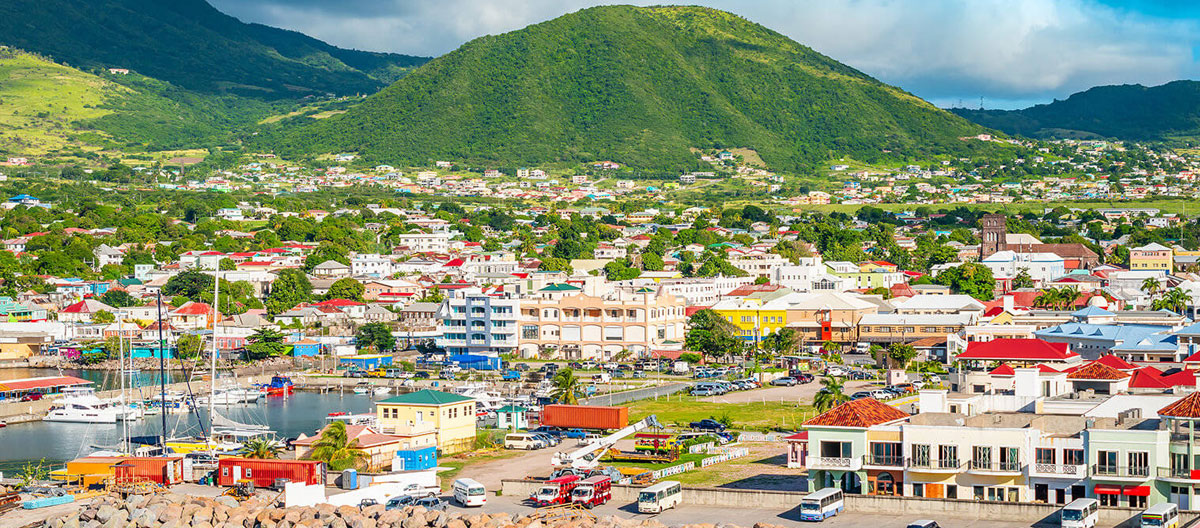 Benefits of life in Saint Kitts and Nevis
Saint Kitts and Nevis, a spectacular two-island nation in the Caribbean Sea, presents a unique blend of natural beauty, rich culture, and economic stability, making it a highly desirable place for travel, residency, and second citizenship. This captivating archipelago is not just an idyllic getaway, but also a land of promising opportunities.
Life in Saint Kitts and Nevis is characterized by tranquility and high-quality living. The islands' balmy climate, pristine beaches, and lush rainforests offer an unbeatable setting for those who appreciate the beauty of nature. A step into the heart of the islands reveals a vibrant culture steeped in history and tradition, providing residents with a sense of belonging and community.
The country's economy is robust and diverse, with thriving tourism, real estate, and financial services sectors. This provides excellent investment opportunities, facilitating economic growth and job creation. The government's proactive initiatives have ensured strong infrastructure, healthcare, and education systems, providing an excellent environment for families.
One of the key attractions of Saint Kitts and Nevis is its Citizenship-by-Investment program. This program is renowned for its thorough due diligence, efficiency, and the range of benefits it offers. By investing in the country, individuals can gain a second passport, allowing visa-free travel to over 150 countries, tax advantages, and a secure future for their families.
Natural Beauty with Beaches & Landscapes
Stable & Growing Economy Offering Opportunities
Excellent Healthcare & Education Systems
Rich Cultural Heritage & Welcoming Communities
Strategic Geographic Location
Favourable Tax Regime with no Capital Gains Tax
Safe & Secure Environment with a Low Crime Rate
Plenty of Leisure Activities & Historical Sites
Passport with Visa-Free Travel to 150 Countries
Attractive Citizenship-by-Investment program
Study, Work and Live in Saint Kitts and Nevis
EDUCATIONAL SYSTEM
Studying in Saint Kitts and Nevis offers a transformative experience that extends beyond the confines of a traditional classroom. This twin-island nation presents a unique learning environment that intertwines academics with a cultural immersion and a natural exploration.
One of the prime benefits of studying in Saint Kitts and Nevis is the access to high-quality education. The country's institutions, such as the renowned Ross University School of Veterinary Medicine in St. Kitts, are recognized for their rigorous academic programs and internationally accredited degrees. This provides students with globally recognized qualifications and a competitive edge in the global job market.
The country's intimate learning environment promotes personalized attention and fosters close-knit academic communities. Small class sizes allow students to engage closely with faculty, enhancing their learning experience.
Being a part of the island's vibrant and diverse culture presents an invaluable opportunity for cultural exchange. Students can learn from locals, share their experiences, and gain a broader perspective on life. This cultural immersion contributes significantly to personal growth and the development of soft skills like adaptability and cross-cultural communication.
Moreover, Saint Kitts and Nevis' stunning natural beauty provides the perfect backdrop for a balanced lifestyle. The opportunity to explore the pristine beaches, lush rainforests, and historical sites offers a unique way to unwind and de-stress.
In summary, studying in Saint Kitts and Nevis is not merely about acquiring a degree; it's about holistic growth, cultural exchange, and the opportunity to learn in an environment that's as enriching as it is beautiful.
EMPLOYMENT OPPORTUNITIES
Working in Saint Kitts and Nevis offers an appealing mix of professional growth, personal fulfilment, and a balanced lifestyle that is hard to find elsewhere. This beautiful Caribbean nation presents a myriad of opportunities for both local and foreign professionals.
The economy of Saint Kitts and Nevis is robust and diversified, with growing sectors such as tourism, real estate, financial services, and agriculture. This economic stability provides a range of job opportunities across various sectors, promising steady career progression. Moreover, the government's commitment to business development and foreign investment fosters a conducive environment for entrepreneurship.
Working in this twin-island nation allows professionals to enjoy a work-life balance that is unparalleled. The serene environment, laid-back island lifestyle, and welcoming community make it a stress-free and enjoyable place to live and work. The nation's compact size allows for minimal commuting times, leaving more hours in the day for relaxation and leisure activities.
The country also provides a beneficial tax regime. There are no personal income taxes, which means workers can retain a larger portion of their earnings. This, coupled with a relatively low cost of living, enables a higher standard of living.
Additionally, working in Saint Kitts and Nevis provides an opportunity for cultural immersion. Being part of a diverse and multicultural workforce allows for personal growth and global networking opportunities.
In essence, working in Saint Kitts and Nevis offers more than just employment; it offers an enhanced quality of life, rich cultural experiences, and an opportunity to grow professionally while enjoying the unique perks of island living.
ECONOMIC ADVANTAGES
Saint Kitts and Nevis presents a dynamic and thriving economy that is highly appealing for business start-ups and digital nomads. As one of the most prosperous countries in the Eastern Caribbean, its economy is diverse with growing sectors such as tourism, real estate, financial services, and agriculture. The government actively encourages foreign investment and offers a myriad of incentives such as tax holidays, duty-free importing of equipment, and full repatriation of profits. For digital nomads, the stable economy paired with the nation's high-speed internet connectivity and a growing tech sector make it an ideal place to work remotely.
BEAUTY AND CLIMATE
The unparalleled beauty of Saint Kitts and Nevis enhances the appeal of living here. From sun-kissed beaches and crystal-clear waters to lush rainforests and majestic mountains, the islands are a paradise for nature lovers. The country boasts a tropical climate with warm temperatures year-round, making outdoor activities a constant possibility. Whether it's a leisurely walk on the beach, a challenging hike up Mount Liamuiga, or exploring the historical Brimstone Hill Fortress, there is something for everyone.
PUBLIC SERVICES
Saint Kitts and Nevis offers excellent public services to its residents. Education is a priority, with a high literacy rate and access to quality schools and colleges. The country also boasts a well-organized public transport system, reliable utility services, and a modern telecommunications network. The government's commitment to infrastructural development ensures a comfortable and convenient living environment.
HEALTHCARE POTENTIAL
The healthcare system in Saint Kitts and Nevis is continuously evolving. Both islands have modern hospitals and healthcare facilities that provide a range of services from primary care to specialized treatments. The country has a strong focus on preventive healthcare, with several programs aimed at promoting healthy lifestyles. For those considering a career in healthcare, the burgeoning healthcare sector offers numerous opportunities.
REAL ESTATE INVESTMENT
Investing in real estate in Saint Kitts and Nevis is a lucrative option. The real estate market is robust, driven by both local demand and international interest, particularly through the Citizenship-by-Investment program. The government encourages investment in real estate by offering significant incentives such as citizenship or residency status. Whether it's a luxury beachfront villa or an apartment in a bustling city centre, the potential for high returns on investment is significant.
RETIREMENT FOR FOREIGNERS
For foreigners considering retirement, Saint Kitts and Nevis offers a peaceful, friendly, and welcoming environment. The country's low crime rate, relaxed lifestyle, and warm climate make it an attractive destination for those seeking a serene retirement. The cost of living is relatively low, allowing retirees to enjoy a high standard of living. The government also offers attractive retirement packages, including tax advantages and the possibility of acquiring citizenship.
LUCRATIVE LIVING
Living in Saint Kitts and Nevis is not just about enjoying the island's beauty; it's also a financially rewarding experience. The economic stability, coupled with a favourable tax regime and investment opportunities, provides a lucrative environment for individuals and businesses. The quality of life, cultural experiences, and the potential for professional growth add to the appeal, making it a preferred destination for many.
VISA REQUIREMENTS AND IMMIGRATION LAWS
Saint Kitts and Nevis has a friendly and straightforward immigration policy. The country offers several visa options, depending on the purpose and duration of the stay. Tourists from many countries are granted visa-free entry for up to 90 days. For longer stays, work, or residence, a permit is required.
One of the most notable programs is the Citizenship-by-Investment program, which grants citizenship to individuals who make a significant investment in the country. This program, one of the oldest and most respected of its kind, allows visa-free travel to over 150 countries, a secure future for families, and numerous financial benefits, including no wealth, gift, inheritance, foreign income, or capital gains tax.
In summary, Saint Kitts and Nevis offers a unique blend of natural beauty, economic opportunities, and a high quality of life, making it a highly desirable place to live, work, study, invest, and retire.
At VIP Visa, we pride ourselves on our years of experience in helping clients navigate the complex process of obtaining visas, residencies, and second nationalities or passports. If you are considering a visit or moving to Saint Kitts and Nevis, we are here to guide you through the process. Our team of experts will ensure that you have all the necessary information and support to make your dream come true. Please see below for more information about our visa categories and let us help you embark on your new journey!