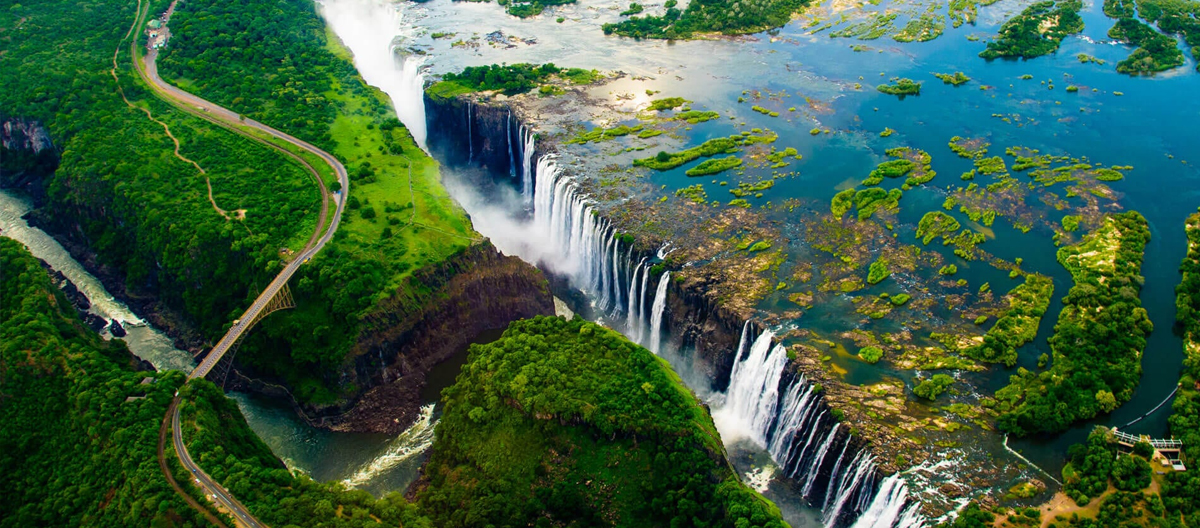 Benefits of life in Zimbabwe
Zimbabwe, affectionately known as the Jewel of Africa, offers an array of unique benefits that make it an enticing option for those seeking to travel, live, or even establish secondary residency. The country is steeped in rich history, diverse culture, and breathtaking natural beauty, presenting a truly distinctive experience.
Life in Zimbabwe offers a symbiotic relationship with nature. From the majestic Victoria Falls, one of the Seven Natural Wonders of the World, to the expansive Hwange National Park, residents can enjoy immersive wildlife experiences and adventures unlike anywhere else. Zimbabwean culture is a beautiful blend of various ethnic groups, each with its own unique traditions, music, and art, providing a rich and diverse cultural scene.
Moreover, Zimbabweans are known for their warm hospitality and friendliness, making the integration process for newcomers relatively smoother. English is widely spoken, which is an added advantage for English-speaking expats. The cost of living is significantly lower compared to many Western countries, which is attractive for individuals seeking a more affordable lifestyle without compromising on quality.
The country's improving economic landscape, with increasing investment opportunities, is another reason to consider Zimbabwe. Opportunities are especially growing in sectors like mining, agriculture, and tourism. The government is taking encouraging steps to attract foreign investment, providing a conducive environment for budding entrepreneurs and business people.
Zimbabwe indeed offers a unique blend of nature, culture, and opportunities, making it a place worth considering for travel or residency.
Spectacular Natural Beauty, including Victoria Falls
Rich Cultural Heritage with a Mix of Traditions & Art
Friendly & Welcoming Local People
Easy Communication, English is Widely Spoken
Lower Cost of Living Compared to Many Countries
Investment Climate with Growing Opportunitie
Stable Political Environment, Attracting Investment
High-Quality & Affordable Healthcare & Education
Vibrant Cities where offer African Charm
Favourable Weather, Mild Winters & Sunny Summers
Study, Work and Live in Zimbabwe
EDUCATIONAL SYSTEM
Studying in Zimbabwe offers a myriad of unique benefits, often making it an attractive destination for international students. The country has a robust and respected education system, largely attributed to a high literacy rate, one of the highest in Africa. The teaching methodology promotes critical thinking, innovation, and practical application of knowledge, which is beneficial in today's competitive world.
Zimbabwe is home to several internationally recognized universities, such as the University of Zimbabwe and Midlands State University, offering a wide range of courses in various fields. These universities boast experienced and highly-qualified faculties, modern facilities, and research opportunities.
The student life in Zimbabwe is vibrant, inclusive, and culturally rich, offering the chance to experience and engage in diverse cultural traditions, arts, music, and sports. Students often get the opportunity to engage in community-based projects, giving them first-hand experience of working in real-world scenarios.
Furthermore, Zimbabwe is an English-speaking country, and while studying there, international students wouldn't face major language barriers. This is particularly beneficial for students from English-speaking countries or those who have studied English as a second language.
Lastly, the cost of education and living expenses in Zimbabwe is relatively more affordable than in many Western and Asian countries. This affordability does not compromise the quality of education but indeed provides students with high-standard education at a lower cost.
In summary, studying in Zimbabwe offers a unique blend of quality education, cultural richness, practical experience, and affordability, which collectively make for a rewarding and enriching learning experience.
EMPLOYMENT OPPORTUNITIES
Working in Zimbabwe offers an array of opportunities and benefits that make it an attractive destination for professionals across the globe. Zimbabwe's economy is rapidly evolving and diversifying, with expanding sectors such as tourism, mining, agriculture, and information technology. This evolving economic landscape offers opportunities for professionals to grow, learn, and contribute in various capacities.
The country's workforce is known for its high literacy rate, one of the highest in Africa, creating a dynamic, competent, and innovative environment. Collaboration with local professionals allows for the exchange of ideas and a deeper understanding of the global marketplace.
Zimbabwe's attractive cost of living compared to many western countries is another major draw. Housing, food, and transportation are reasonably priced, allowing workers to enjoy a good standard of living at a lower cost.
English, being the official language, eliminates potential language barriers, enabling smooth communication in professional settings. This is an important consideration for international professionals considering working in Zimbabwe.
The country also has a comprehensive labor law that protects the rights of workers, ensuring fair wages and safe working conditions. The government is continuously working to improve the business environment, including promoting equal opportunities and providing support to industries contributing significantly to the economy.
Moreover, the chance to live in a country known for its stunning landscapes, rich history, and diverse cultures is a unique experience. This, combined with a friendly and welcoming local population, makes Zimbabwe a gratifying place to live and work.
In essence, working in Zimbabwe presents a unique blend of professional growth opportunities, an affordable lifestyle, a supportive work environment, and a rich cultural experience.
ECONOMIC ADVANTAGES
Zimbabwe's economic landscape is evolving at a significant pace, making it an ideal place for entrepreneurs, business owners, and digital nomads. The government is making continuous efforts to stimulate economic growth by encouraging foreign investment and streamlining business setup procedures. Sectors like mining, agriculture, tourism, and information technology are seeing rapid expansion, presenting varied opportunities for businesses and start-ups.
For digital nomads, the growing tech infrastructure, coupled with the relatively lower cost of living, makes Zimbabwe an attractive destination. Cities like Harare and Bulawayo have a burgeoning tech scene with co-working spaces and tech hubs where digital professionals can collaborate and innovate. The majority of the population speaks English, making communication straightforward, which is particularly beneficial for international entrepreneurs and digital nomads.
BEAUTY AND CLIMATE OF ZIMBABWE
Zimbabwe is often referred to as the Jewel of Africa due to its stunning landscapes and natural wonders. From the thundering majesty of Victoria Falls to the diverse wildlife in Hwange National Park, and from the archaeological marvels of Great Zimbabwe to the scenic mountains in Nyanga, Zimbabwe offers a wealth of beauty to explore.
The country boasts a pleasant climate, with mild winters and sunny summers, which is conducive to outdoor activities and travel throughout the year. The favourable weather, combined with the diverse geographical features of Zimbabwe, offers an excellent quality of life for those who appreciate nature and outdoor pursuits.
PUBLIC SERVICES
Zimbabwe provides a range of public services that contribute to a good standard of living. The country's education system is among the best in Africa, with high literacy rates and a focus on critical thinking and practical application of knowledge. Its universities are recognized internationally for their comprehensive curriculum and quality of education.
Public transportation is accessible and affordable, with a network of buses, minibuses, and taxis. There are also train services for long-distance travel within the country. For healthcare, the government is investing in improving services, increasing accessibility, and providing affordable care.
HEALTHCARE POTENTIAL
Zimbabwe's healthcare system is continuously improving, with an increased focus on making quality healthcare accessible to all. The government is taking steps to upgrade facilities, invest in medical technology, and provide training to healthcare professionals. Additionally, there are private healthcare facilities that provide high-standard care, often preferred by expatriates and well-off locals.
Given the ongoing improvements in the healthcare sector, there is potential for investment and development in areas like medical technology, pharmaceuticals, and healthcare infrastructure.
ACCOMMODATION AND REAL ESTATE INVESTMENT
The real estate market in Zimbabwe is varied and offers opportunities for both living and investment. There are options to suit different budgets, from luxury homes in affluent suburbs to more affordable housing in emerging neighbourhoods. For renters, the costs are relatively lower compared to many Western and Asian countries.
From an investment perspective, the real estate market is showing positive signs of growth. The government's focus on economic development and infrastructure improvement bodes well for real estate investors. Property in major cities, as well as in popular tourist destinations, can provide significant returns in the form of rental income and capital appreciation.
RETIREMENT IN ZIMBABWE
Zimbabwe is increasingly becoming a popular choice for retirees from around the world. The lower cost of living allows for a comfortable lifestyle that many find attractive. Its pleasant climate, natural beauty, friendly locals, and slow-paced life make it an ideal place to relax and enjoy one's golden years.
English is widely spoken, which is an advantage for retirees from English-speaking countries. Furthermore, the existence of expat communities provides a sense of familiarity and support for those making Zimbabwe their new home.
LUCRATIVE LIFESTYLE IN ZIMBABWE
Living in Zimbabwe presents a unique blend of opportunities and experiences that can be both personally and financially rewarding. The lower cost of living allows for a comfortable lifestyle while leaving room for saving and investing. The expanding economy presents opportunities for entrepreneurship, job growth, and investment, particularly in sectors like mining, tourism, agriculture, real estate, and IT.
Furthermore, the richness of culture, warmth of the people, and abundance of natural beauty add a priceless value to the experience of living in Zimbabwe. The combination of these factors makes Zimbabwe a lucrative option for anyone seeking to live, work, study, retire, or invest abroad.
VISA REQUIREMENTS AND IMMIGRATION LAWS
Zimbabwe has a clear and straightforward process for visa and immigration. Most foreign nationals can obtain a visa upon arrival or apply online before travel. For those looking to work, study, or live long-term in Zimbabwe, specific permits are required, and the requirements vary based on the purpose of stay.
For entrepreneurs and investors, the government offers incentives and supportive policies to facilitate their ventures. It is always recommended to consult with a legal advisor or an agency specializing in immigration to ensure all the requirements are met and the process is handled efficiently.
In summary, Zimbabwe, with its diverse opportunities, rich culture, beautiful landscapes, and welcoming people, is a place that's more than just worth considering – it's a place worth making home.
At VIP Visa, we pride ourselves on our years of experience in helping clients navigate the complex process of obtaining visas, residencies, and second nationalities or passports. If you are considering a visit or moving to Zimbabwe, we are here to guide you through the process. Our team of experts will ensure that you have all the necessary information and support to make your dream come true. See below to find more about visa categories and let us help you embark on your new journey!