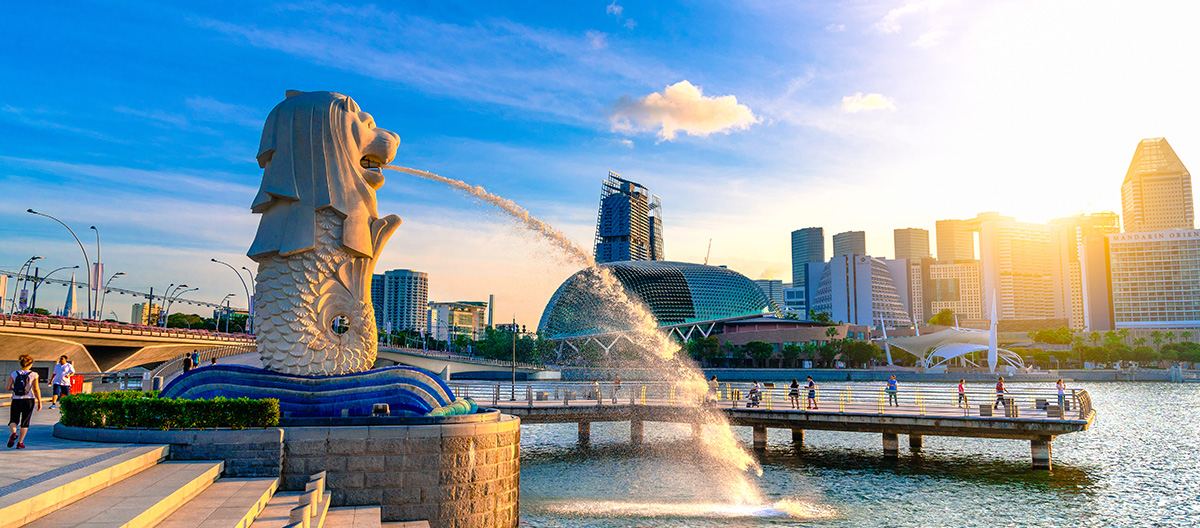 Benefits of life in Singapore
Singapore, often hailed as Asia's Lion City, offers an enviable blend of modernity, cultural diversity, and high-quality living, making it an ideal destination for travel, residency, and even acquiring a second nationality.
Nestled at the heart of Southeast Asia, Singapore brims with a vibrant lifestyle, facilitated by its safe environment, top-notch healthcare, and a robust education system. Its strategic location serves as a gateway to Asia, making it a global hub for business and commerce.
Living in Singapore means enjoying a cosmopolitan lifestyle that is harmoniously fused with a rich tapestry of cultures, traditions, and cuisines. Food is a celebrated facet of life in Singapore, with its hawker centres offering a plethora of gastronomical delights from various ethnic communities.
The city-state is also renowned for its cleanliness and green spaces. Despite its urbanized landscape, Singapore is often referred to as a 'City in a Garden,' thanks to its numerous parks, gardens, and nature reserves that provide residents with ample opportunities for outdoor activities.
In addition, Singapore's strong rule of law and low crime rates make it one of the safest countries in the world, offering peace of mind for residents and their families. Its world-class healthcare system, ranked among the best globally, ensures residents have access to excellent medical facilities and services.
Singapore's education system is globally recognized for its high standards, making it an ideal place for families. The city-state is home to numerous high-ranking local and international schools, along with world-class universities.
Moreover, English, being one of the official languages, makes it easier for foreigners to communicate, work, and integrate into Singaporean society.
Strategic Location as a Hub for Business & Travel
Safe Environment with Low Crime Rates
High-Quality Healthcare System
Excellent Education Opportunities 
English is Widely Spoken
Offering a Wide Array of Food, Traditions & Festivals
Highly Efficient Public Transport System
Stable Political Environment & Robust Economy
Easy Access to Visa & Residency Programs
Study, Work and Live in Singapore
EDUCATIONAL SYSTEM
Studying in Singapore offers a multitude of benefits to international students. Known for its high educational standards, Singapore is home to a number of globally recognized institutions, providing students with an opportunity to earn a degree that is respected worldwide.
The city-state's education system is known for its rigorous curriculum and focus on innovation, ensuring students are equipped with critical thinking skills and a global perspective. There are a wide array of courses available, including business, engineering, life sciences, computer science, and art and design, among others.
Singapore is a cosmopolitan city, allowing students to experience a diverse culture and lifestyle. This multicultural environment not only enriches the student experience but also promotes global understanding and cross-cultural skills, crucial in today's interconnected world.
In addition to its academic prowess, Singapore is a global business hub with numerous multinational companies. This provides students with excellent opportunities for internships and employment. The strong presence of these multinational corporations means students can gain practical experience and industry connections even before they graduate.
Moreover, Singapore is safe and clean, with a high standard of living. Its efficient public transportation system, modern infrastructure, and English-speaking environment make it a comfortable place for students from around the world.
In essence, the blend of high-quality education, multicultural exposure, and extensive career opportunities make studying in Singapore an excellent choice for any student aspiring to succeed in the global marketplace.
EMPLOYMENT OPPORTUNITIES
Working in Singapore comes with a host of advantages, making it an attractive destination for global professionals. The city-state is recognized as a global economic powerhouse and one of the world's leading financial centres, hosting numerous multinational corporations across diverse industries such as finance, tech, logistics, and more.
Singapore's robust economy offers excellent job opportunities with competitive salaries. Its strategic location in the heart of Asia makes it a gateway to the region's burgeoning markets, offering professionals a chance to gain valuable international work experience.
The work culture in Singapore is dynamic and encourages innovation and entrepreneurship. Its business-friendly policies, transparency, and strong rule of law provide a stable environment that fosters business growth and career advancement.
Singapore's cosmopolitan lifestyle and multicultural society offer a unique cultural experience, enhancing the professional and personal growth of its workforce. English, as the primary business language, makes it easier for international professionals to integrate into the work environment.
Moreover, Singapore's high quality of life is another appealing factor. It's a safe city with a low crime rate, excellent healthcare, a reliable public transportation system, and a plethora of recreational and leisure options. Despite being a bustling city, Singapore's abundant green spaces provide a balanced, relaxed lifestyle.
In addition, Singapore's progressive tax system is generally favourable for workers, especially when compared to many western countries. The government's proactive approach in facilitating employment passes for foreign professionals further eases the process of moving to Singapore for work.
In summary, working in Singapore offers a vibrant work culture, attractive remuneration, international exposure, and a high standard of living, making it a sought-after destination for professionals worldwide.
ECONOMIC ADVANTAGES AND BUSINESS OPPORTUNITIES
One of the key benefits of living in Singapore lies in its robust and dynamic economy. Its strategic location in the heart of Asia, along with its highly developed infrastructure, makes it a global hub for business and commerce. This is particularly beneficial for entrepreneurs and digital nomads looking to start a new business. The city-state is renowned for its business-friendly environment, transparency, and efficient bureaucracy, all of which make setting up and running a business a straightforward process.
For digital nomads, Singapore offers a thriving tech scene, high-speed internet, and a network of co-working spaces. The city-state's cosmopolitan lifestyle, coupled with its status as a global financial hub, provides a stimulating environment for creativity and innovation.
BEAUTIFUL PLACES AND FAVORABLE CLIMATE
Singapore is a city of contrasts, blending skyscrapers and high-tech infrastructure with lush green spaces. Known as the 'City in a Garden,' Singapore is home to numerous parks, gardens, and nature reserves, like the famous Gardens by the Bay and the UNESCO World Heritage Site, Singapore Botanic Gardens. These green spaces provide residents with ample opportunities for outdoor activities and a respite from the bustling city life.
In terms of climate, Singapore enjoys a tropical rainforest climate with no distinctive seasons, characterized by consistent temperature and pressure, high humidity, and abundant rainfall. This means that it's summer all year round, perfect for those who enjoy warm weather.
PUBLIC SERVICES AND INFRASTRUCTURE
Living in Singapore means benefiting from excellent public services. The city-state has a highly efficient public transportation system, including the Mass Rapid Transit (MRT) system, buses, and taxis, making commuting easy and convenient. Furthermore, Singapore is known for its cleanliness, well-maintained roads, and state-of-the-art infrastructure.
HEALTHCARE BENEFITS
Singapore's healthcare system is world-class, ranking among the best globally. The city-state offers a mix of public and private healthcare services, ensuring residents have access to top-notch medical facilities and healthcare professionals. The healthcare system is supported by a comprehensive framework of regulations to ensure high standards of medical services, patient safety, and ethical conduct.
ACCOMMODATION AND REAL ESTATE INVESTMENT
In terms of accommodation, Singapore offers a wide range of options, from high-rise condos and luxury apartments in the city to landed houses in residential areas. The real estate market in Singapore is stable and mature, offering lucrative investment opportunities. Real estate investment can yield high returns due to the limited land availability and the ever-increasing demand for properties, both for residential and commercial purposes.
RETIREMENT IN SINGAPORE
Singapore is also a popular choice among foreigners looking for a place to retire. The city-state's safety, high standard of living, excellent healthcare, and the ease of getting around make it an ideal place for retirees. There are numerous recreational and social activities for seniors, and the multicultural society ensures that foreigners can easily integrate and feel at home.
LUCRATIVE BENEFITS OF LIVING IN SINGAPORE
All these factors combine to make Singapore a highly attractive and lucrative place to live, work, and invest. Its vibrant economy offers a wealth of job opportunities and business prospects. The high standard of living, excellent public services, and the multicultural environment enhance the quality of life. The potential for real estate investment and the benefits of retiring in a safe and comfortable environment further add to the appeal of living in Singapore.
VISA REQUIREMENTS AND IMMIGRATION LAWS
Singapore has a clear and efficient immigration process. Various types of visas and passes are available depending on the purpose of your stay, such as Employment Pass for professionals, EntrePass for entrepreneurs, and Long-Term Visit Pass for family members. For permanent residency, individuals can apply through schemes like the Professionals/Technical Personnel & Skilled Workers scheme or the Global Investor Programme.
In conclusion, Singapore presents a compelling case for anyone considering living, working, or retiring abroad. Its economic strengths, quality of life, investment opportunities, and friendly immigration policies make it a truly global city, ripe with opportunities.
At VIP Visa, we pride ourselves on our years of experience in helping clients navigate the complex process of obtaining visas, residencies, and second nationalities or passports. If you are considering a visit or moving to Singapore, we are here to guide you through the process. Our team of experts will ensure that you have all the necessary information and support to make your dream come true. Please see below for more information about our visa categories and let us help you embark on your new journey!