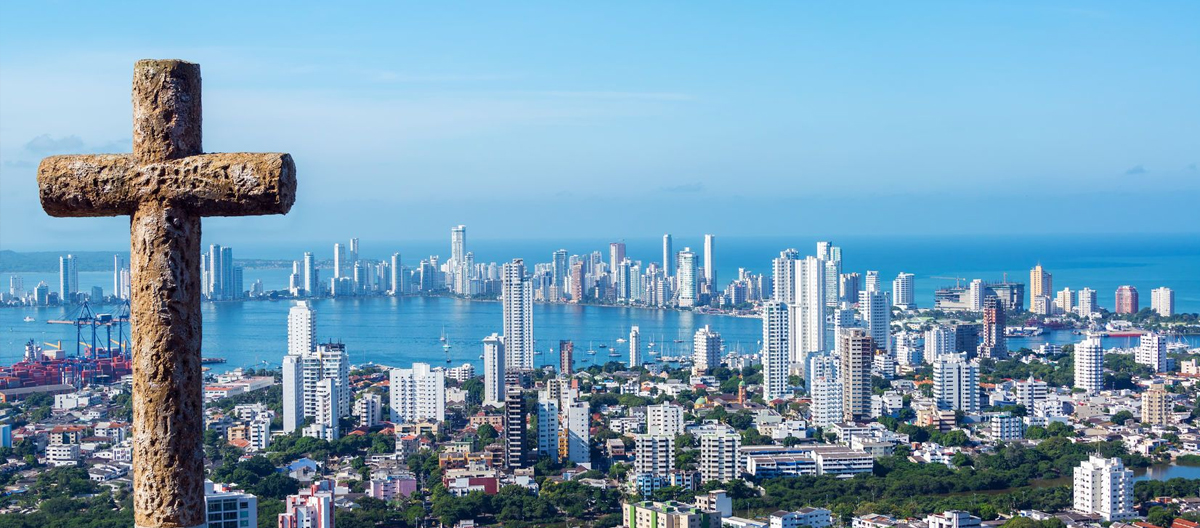 Benefits of life in Colombia
Colombia, South America's gem, offers a unique blend of warm culture, stunning landscapes, and promising opportunities, making it an increasingly attractive destination for those seeking to travel or establish residency. With over two decades of experience at VIP Visa, we recognize the allure that this vibrant nation offers.
Rich in biodiversity, Colombia boasts a wide range of ecosystems, from its Caribbean and Pacific coastlines to the majestic Andes and Amazon rainforest. As a resident, you'll have the privilege to explore these natural wonders at your leisure. Colombia's cities, like Bogotá and Medellín, are a blend of historic charm and modernity. They offer a high standard of living, with excellent healthcare, education, and infrastructure.
What sets Colombia apart is its people. Known for their hospitality, Colombians embrace diversity and are welcoming to newcomers, making it easier for expats to feel at home. The country's culture is as diverse as its landscapes, with indigenous, Spanish, and African influences reflected in its music, cuisine, and festivals.
Economic opportunities are burgeoning in Colombia, with a growing economy, competitive business environment, and an increasing number of multinational companies setting up operations. This progress, coupled with a lower cost of living compared to many Western countries, makes Colombia an ideal choice for professionals and entrepreneurs.
In Colombia, you can enjoy a fulfilling lifestyle full of adventure, warmth, and opportunity. Trust VIP Visa's expertise to help you realize your dream of experiencing life in this beautiful country.
Diverse Landscapes from Beaches to Mountains
Warm & Welcoming Culture
Rich History & Heritage
Excellent Healthcare, Education & Infrastructure
A Growing Economy with Business Prospects
Lower Cost of Living
Colombia's Diverse Cuisine is a Culinary Delight
A Paradise for Nature Lovers
Study, Work and Live in Colombia
EDUCATIONAL SYSTEM
Studying in Colombia presents a wealth of opportunities for international students. The country offers a robust education system with numerous reputable universities, some of which are recognized among the best in Latin America. These institutions offer a wide range of academic programs, from humanities and social sciences to engineering and business, and many provide bilingual education opportunities, which can enhance your Spanish language skills and global employability.
One major benefit of studying in Colombia is the immersive cultural experience. Engaging with the rich Colombian culture, known for its music, festivals, and gastronomy, offers an enriching personal experience beyond the classroom. The warm and welcoming nature of Colombians makes it easy for international students to integrate and form meaningful connections.
The cost of living and tuition fees in Colombia are significantly lower compared to many Western countries, making it an affordable destination for higher education. Despite this, the quality of education remains high, ensuring value for money.
Studying in Colombia also offers the chance to explore the country's diverse and stunning landscapes, from lush rainforests and towering mountains to beautiful beaches, providing a perfect balance between academics and adventure.
Colombia's growing economy and business environment provide ample internship and job opportunities for students, making it a fantastic destination for those looking to combine education with practical experience. By choosing Colombia, you open doors to a truly global and enriching educational journey.
EMPLOYMENT OPPORTUNITIES
Working in Colombia offers a myriad of opportunities that go beyond just professional growth. As one of the most dynamic economies in Latin America, Colombia has been attracting multinational corporations and start-ups, creating a broad spectrum of job opportunities in sectors such as IT, energy, agriculture, and manufacturing, among others.
One of the key advantages of working in Colombia is the opportunity to experience its rich culture and warm hospitality firsthand. Colombian workplaces are known for their friendly environment and team-oriented approach, which can contribute to a fulfilling professional life.
The cost of living in Colombia is relatively low compared to many Western countries, meaning your earnings can stretch further. Housing, transportation, and food are generally affordable, allowing for a comfortable lifestyle.
Learning Spanish, which is the official language, can be another significant benefit of working in Colombia. Immersing yourself in the language daily at work will speed up your learning process, enhancing your global communication skills.
Moreover, Colombia's strategic geographic location gives easy access to other South American countries, making it an ideal base for those who love to travel. Colombia's progressive work-life balance policies, such as flexible working hours and a strong focus on family time, also make it an attractive place to work.
Working in Colombia can be an enriching experience, both personally and professionally. It offers a unique blend of cultural immersion, economic opportunity, and work-life balance that can truly enhance your career trajectory.
ECONOMIC ADVANTAGES AND BUSINESS OPPORTUNITIES
Colombia, with its rapidly growing economy, is a fertile ground for entrepreneurs and digital nomads. The country has made significant strides in economic development and stability, reflecting a business-friendly environment. For start-ups, the government provides various incentives, and there is an increasing focus on innovation and technology. Colombia's strategic geographical location, coupled with its diverse and skilled workforce, provides a competitive edge for businesses. For digital nomads, the robust digital infrastructure, affordable cost of living, and availability of co-working spaces make Colombia an attractive base.
BEAUTY AND CLIMATE
Colombia is blessed with an abundance of natural beauty. From the sandy beaches of the Caribbean coastline and the vibrant, colourful streets of Cartagena's old town, to the lush coffee plantations in the Andes and the biodiversity of the Amazon rainforest, the country is truly a feast for the eyes. The climate in Colombia is equally appealing. Being close to the equator, it enjoys a tropical climate with little seasonal variation, making it pleasant year-round. Each region, depending on its altitude, has its own microclimate, allowing residents to choose their preferred weather - from the warm coastal regions to the cooler highlands.
PUBLIC SERVICES
Colombia has made substantial investments in its public services over the years. The public transportation system, especially in the major cities, is efficient and affordable, with a network of buses, trams, and cable cars. Colombia also has a strong focus on education, with numerous public and private schools and universities offering high-quality education. The country's libraries and cultural centres offer a wealth of resources and activities, contributing to a vibrant public life.
HEALTHCARE POTENTIAL
The healthcare system in Colombia is one of the best in Latin America. The World Health Organization ranks it highly in terms of quality and accessibility. Both public and private healthcare facilities offer advanced medical services at a fraction of the cost compared to many Western countries. Furthermore, Colombia is becoming a popular destination for medical tourism due to its high-quality healthcare services and state-of-the-art facilities.
ACCOMMODATION AND REAL ESTATE INVESTMENT
The real estate market in Colombia offers an excellent opportunity for investment. From modern apartments in bustling cities to beautiful villas in the countryside, the country offers a variety of options to suit different budgets. The cost of property and rent is generally lower than in many Western countries, offering good value for money. The government also provides incentives for foreign investment in real estate, making it an attractive proposition.
RETIREMENT BENEFITS FOR FOREIGNERS
Colombia is increasingly being recognized as a top retirement destination. The lower cost of living allows retirees to enjoy a high standard of life. The country's natural beauty, climate, and warm, friendly people add to the appeal. Furthermore, retirees have access to high-quality, affordable healthcare, which is a critical consideration for older adults. For those seeking an active lifestyle, Colombia offers a myriad of recreational activities - from hiking in the Andes to salsa dancing in Cali.
LUCRATIVE POTENTIAL OF LIVING IN COLOMBIA
All these factors combined make living in Colombia a lucrative proposition. The economic opportunities, natural beauty, pleasant climate, efficient public services, high-quality healthcare, affordable accommodation, and retirement benefits offer a high quality of life. For those seeking to start a business, invest in real estate, or work remotely, Colombia offers a supportive and affordable environment. For retirees, the country promises a comfortable and fulfilling life.
VISA REQUIREMENTS AND IMMIGRATION LAWS
Colombia has a relatively straightforward and welcoming immigration policy. Various types of visas are available depending on the purpose of stay - such as work, study, investment, or retirement. The process for obtaining a visa is relatively straightforward, and the Colombian government has taken steps to make it even more accessible for foreigners by providing detailed information and services online.
For example, the Migrant Visa (type M) is aimed at foreigners who wish to stay in the country long-term, whether for work or retirement, while the Visitor Visa (type V) is ideal for digital nomads, business visitors, or those wanting to explore the country before settling down. The Resident Visa (type R) is for those who plan to make Colombia their permanent home.
Investors and business owners are encouraged with the Business Owner's Visa, provided they meet certain investment thresholds. Additionally, Colombia offers a Retirement Visa for those who can prove a steady income from a pension or social security.
It's important to note that immigration laws can change, and specific requirements can vary depending on the individual's country of origin. Therefore, it's advisable to consult with an expert immigration consultant, like VIP Visa, to ensure you meet all the necessary requirements and have the most current information.
In conclusion, Colombia not only offers a rich cultural experience and natural beauty but also provides robust economic opportunities and a high standard of living. Whether you're an entrepreneur, digital nomad, retiree, or someone simply seeking a change of scenery, Colombia has much to offer. As a country, it continues to grow and develop, making it an exciting and promising place to call home. With VIP Visa's guidance and expertise, you can navigate the visa and immigration process with ease, bringing you one step closer to your Colombian dream.
At VIP Visa, we pride ourselves on our years of experience in helping clients navigate the complex process of obtaining visas, residencies, and second nationalities or passports. If you are considering a visit or moving to Colombia, we are here to guide you through the process. Our team of experts will ensure that you have all the necessary information and support to make your dream come true. Please see below for more information about our visa categories and let us help you embark on your new journey!