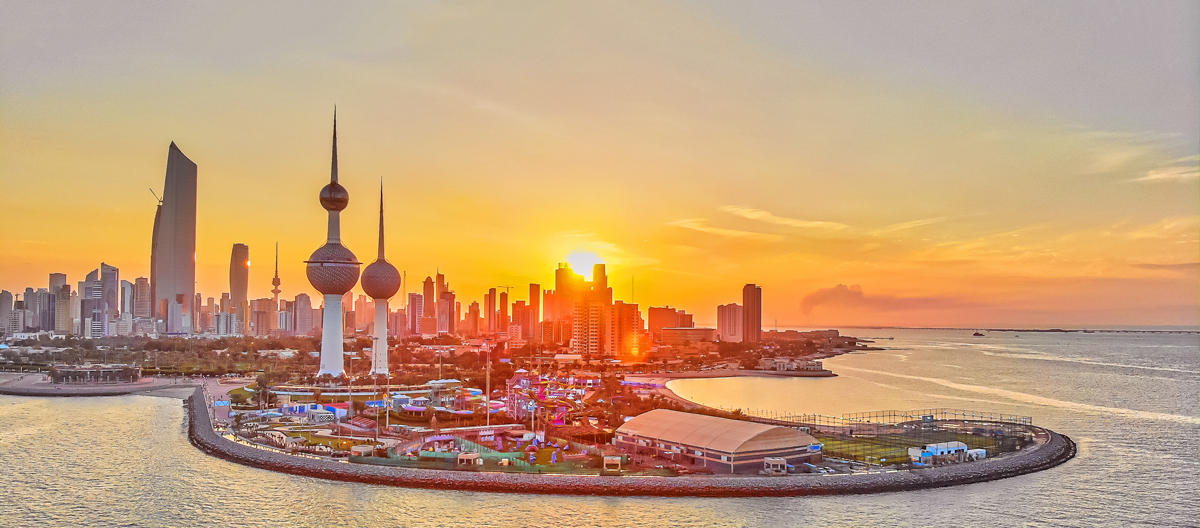 Benefits of life in Kuwait
Kuwait, a gem nestled on the Persian Gulf's coast, offers a unique blend of rich cultural heritage and modern amenities, making it an attractive destination for travel and residency. As you consider making Kuwait your home or your next travel destination, here are several benefits this dynamic country offers.
Kuwait's robust economy is one of its key draws. As one of the world's leading oil producers, it has a stable and prosperous economic environment. This solid financial standing translates into high living standards for residents, providing access to top-tier healthcare and education services. The country has a robust infrastructure that accommodates a comfortable and convenient lifestyle.
Kuwait's cultural diversity is another major attraction. It's a melting pot of cultures with a welcoming and tolerant society. The deep-rooted Bedouin traditions coexist harmoniously with the modern cosmopolitan lifestyle, adding richness to daily life. Food lovers will be pleased with the wide array of international cuisines, while history buffs can immerse themselves in the country's rich history and heritage.
One of the distinctive advantages of Kuwait is its strategic location. It serves as a gateway to the Middle East and Asia, making travel to neighboring countries easy and convenient. This aspect is particularly beneficial for business owners seeking to expand their reach.
Lastly, Kuwait's commitment to safety and security is commendable. The country has one of the lowest crime rates in the region, making it a safe place to live and visit.
In a nutshell, Kuwait is a country that values tradition while embracing modernity, making it an ideal destination for travel or residency.
Stable & Prosperous Economy
Excellent Healthcare & Education services
Cultural diversity and tolerance
Rich Food Culture Offering a Variety of Cuisines
Gateway to the Middle East & Asia
Low Crime Rate Ensuring a Safe Environment
A Harmonious Blend of Tradition & Modernity
Robust Infrastructure for a Comfortable Lifestyle
Rich History & Heritage
Warm & Welcoming Society
Study, Work and Live in Kuwait
EDUCATIONAL SYSTEM
Choosing Kuwait as your study destination opens the door to a myriad of unique opportunities. Known for its rich culture and tradition, Kuwait also offers a modern education system that is globally recognized.
Firstly, studying in Kuwait means being part of an education system that is a blend of traditional and modern teaching methods. It offers high-quality education with universities like Kuwait University and the American University of Kuwait providing internationally recognized degrees in various disciplines. The curriculum is regularly updated to reflect global trends, ensuring students are equipped with the latest knowledge and skills.
Secondly, Kuwait's cultural diversity offers an enriching experience outside the classroom. The country is a melting pot of different cultures, providing students with a broader worldview and helping them develop a global perspective.
Moreover, the cost of education and living in Kuwait is relatively affordable compared to many Western countries, making it an attractive option for international students. The country also provides numerous scholarship opportunities for outstanding students, further reducing the financial burden.
Lastly, Kuwait's strategic location serves as a gateway to the Middle East, providing students with the opportunity to explore neighbouring countries and cultures. The country's safe and stable environment further adds to its appeal as a study destination.
In essence, studying in Kuwait not only offers a high-quality education but also an invaluable cultural experience, financial advantages, and a safe and welcoming environment, making it an ideal place for pursuing higher education.
EMPLOYMENT OPPORTUNITIES
Kuwait is a thriving country offering a wealth of opportunities for those seeking to advance their careers. Working in Kuwait comes with a multitude of advantages, making it a sought-after destination for professionals worldwide.
Firstly, Kuwait's prosperous economy, buoyed by its robust oil sector, creates a dynamic and thriving job market. The country offers competitive salaries and benefits packages, often tax-free for foreign workers, which significantly enhances the earning potential.
Secondly, the professional environment in Kuwait is highly diverse. With a large expatriate community, you'll find yourself working with people from various cultural backgrounds, facilitating a global perspective and enhancing your cultural intelligence – a valuable asset in today's interconnected world.
Thirdly, Kuwait values a good work-life balance. Despite the professional commitment, the country's culture emphasizes the importance of family time and relaxation. Moreover, the country offers a high standard of living with top-notch healthcare, modern infrastructure, and a myriad of recreational activities.
In addition, learning opportunities abound in Kuwait. The country's strategic location in the Middle East and its evolving economic landscape provide unique learning experiences that can significantly enhance your professional skills and knowledge.
Finally, Kuwait's safe and stable environment provides peace of mind for those working and living there. The country has a low crime rate and robust security measures in place, ensuring a safe atmosphere for its residents.
In summary, working in Kuwait offers competitive remuneration, cultural diversity, work-life balance, continuous learning opportunities, and a safe living environment - making it an attractive destination for career growth and development.
ECONOMIC ADVANTAGES AND BUSINESS OPPORTUNITIES
Kuwait's economy, buoyed by its significant oil reserves, is one of the richest and most stable in the Middle East. The country's robust financial sector, strong currency, and strategic location as a gateway to Asia make it an attractive destination for entrepreneurs and digital nomads. For those looking to start a new business, Kuwait offers a range of opportunities, particularly in its thriving service sectors. The government has also been increasingly encouraging foreign investment and entrepreneurial initiatives, offering incentives to those who wish to establish businesses in the country. For digital nomads, Kuwait's well-developed ICT infrastructure ensures reliable and high-speed internet, a crucial requirement for digital work.
BEAUTIFUL DESTINATIONS AND CLIMATE
Kuwait is home to a variety of beautiful landscapes and attractions. From the bustling city life in Kuwait City to the serene beaches along the Persian Gulf and the expansive desert landscapes, there's a place for everyone. The country's unique blend of modernity and tradition can be witnessed in its architectural marvels, from the grand Kuwait Towers to the intricate Grand Mosque. The weather in Kuwait is typically hot and dry, with long summers and short, mild winters, making it perfect for those who love the sunshine. The pleasant winter season is ideal for outdoor activities and exploring the country's natural beauty.
PUBLIC SERVICES
Kuwait's public services are well-developed and efficient, providing a comfortable living environment for residents. The country's infrastructure is modern and robust, with excellent roads, public transport, and amenities. The utilities, including electricity and water, are heavily subsidized by the government, reducing the cost of living. The country's strong emphasis on education ensures numerous high-quality public and private schools, as well as internationally recognized universities.
HEALTHCARE
The healthcare system in Kuwait is one of the best in the Middle East. The government provides free or heavily subsidized healthcare services to all residents, including expatriates. The country has numerous state-of-the-art hospitals and clinics, with a high standard of medical care. Kuwait's focus on public health and preventative care, along with its strong healthcare infrastructure, ensures a healthy living environment for its residents.
ACCOMMODATION AND REAL ESTATE INVESTMENT
Kuwait offers a wide range of accommodation options, from luxury villas to modern apartments, catering to different lifestyle needs and budgets. The real estate market in Kuwait is dynamic and offers significant potential for investment. The country's strong economy, stable political environment, and high demand for housing, particularly in urban areas, contribute to the attractiveness of real estate investment in Kuwait.
RETIREMENT AND LIVING FOR FOREIGNERS
Kuwait is an appealing destination for foreigners, including retirees. The country's high living standards, combined with its economic stability and safety, make it an attractive place to settle down. The warm and welcoming Kuwaiti society, the rich cultural and recreational offerings, and the relatively low cost of living compared to many Western countries further enhance its appeal for retirees. For those looking to spend their retirement years in a dynamic yet relaxed environment, Kuwait is a viable option.
LUCRATIVE POTENTIAL
Living in Kuwait presents numerous lucrative opportunities. The country's robust economy offers high-paying job opportunities and a thriving environment for businesses. The cost of living, while offering high standards, is relatively low, particularly with the government subsidies on utilities and public services. The potential for real estate investment adds another avenue for financial growth. Furthermore, the rich cultural experiences, the high quality of life, and the safety and stability of the country add to the non-monetary benefits, making life in Kuwait not just financially rewarding, but also personally fulfilling.
VISA REQUIREMENTS AND IMMIGRATION LAWS
Kuwait's visa and immigration laws are comprehensive and structured, ensuring a smooth process for those wishing to visit, work, or live in the country. There are various types of visas available, depending on the purpose of the visit - tourist visas, business visas, work visas, and dependent visas for family members, among others. It's important to note that the requirements and procedures can vary based on the applicant's nationality, so it's recommended to check with the local Kuwaiti embassy or consulate for the most accurate information.
For those planning to work in Kuwait, a work permit is usually required, which is typically obtained through the sponsoring employer. The process involves the validation of academic and professional qualifications and a thorough medical examination.
Those who wish to reside permanently in Kuwait can apply for a residence visa, which is usually tied to the work permit. Family members of those working in Kuwait can also obtain residence visas through sponsorship.
Foreigners interested in starting a business in Kuwait can do so through the Direct Investment Law, which allows 100% foreign ownership in certain sectors. This law simplifies the process of setting up a business and provides several incentives to foreign investors.
In conclusion, whether you are a digital nomad, an entrepreneur, a retiree, or someone just seeking a high quality of life, Kuwait offers an array of lucrative opportunities. With its robust economy, high living standards, rich cultural experiences, and welcoming society, the benefits of living in Kuwait are manifold. Its visa and immigration laws are designed to facilitate a smooth transition for those wishing to make Kuwait their new home, further enhancing the country's appeal as a top destination for living and working.
At VIP Visa, we pride ourselves on our years of experience in helping clients navigate the complex process of obtaining visas, residencies, and second nationalities or passports. If you are considering a visit or moving to Kuwait, we are here to guide you through the process. Our team of experts will ensure that you have all the necessary information and support to make your dream come true. Please see below for more information about our visa categories and let us help you embark on your new journey!