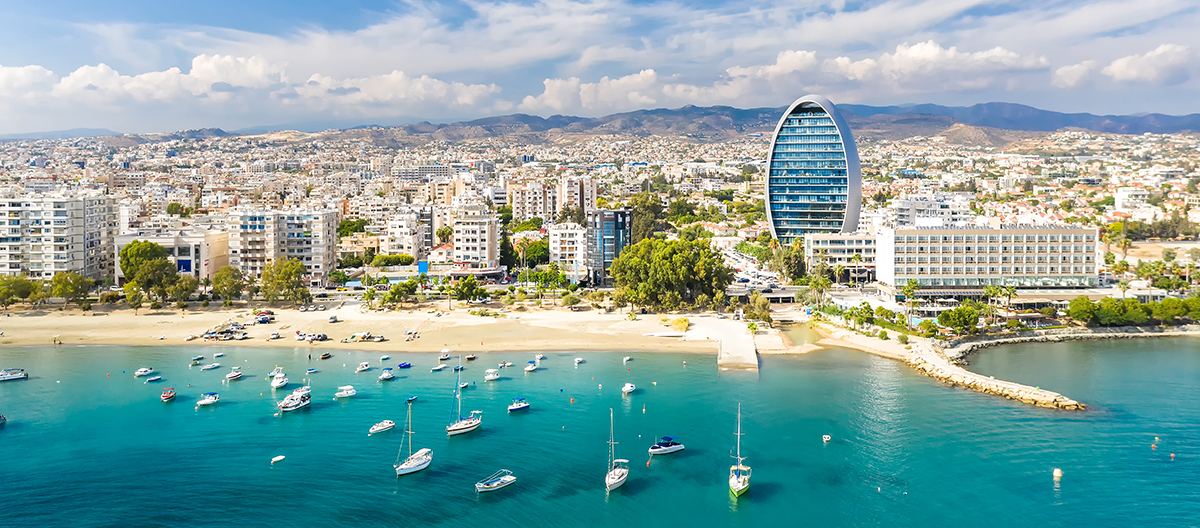 Benefits of life in Cyprus
Cyprus, an island jewel in the Mediterranean, offers an irresistible blend of modern comforts, rich history, and an enviable lifestyle. Living in Cyprus is akin to being on vacation every day, with its golden sandy beaches, crystal clear waters, and year-round sunshine. Yet, Cyprus is much more than just a beautiful holiday destination; it's a thriving hub of business, education, and culture.
The Cypriot economy is robust and diverse, buoyed by sectors such as tourism, shipping, and real estate. In recent years, the island has also emerged as a significant player in the global technology and innovation sectors. The government offers various incentives to attract foreign investment, making it a lucrative place for entrepreneurs and business owners.
Cyprus is recognized for its high standard of living. The healthcare system is excellent, with a mix of public and private healthcare options that ensure high-quality medical care for all residents. The island is also home to prestigious international schools and universities, making it a suitable choice for families.
One of the most appealing aspects of life in Cyprus is the warmth and hospitality of its people. The local culture is a unique blend of European, Asian, and African influences, creating a vibrant, multicultural society that welcomes newcomers with open arms.
Finally, with its strategic geographical location at the crossroads of Europe, Asia, and Africa, Cyprus offers unparalleled opportunities for travel and exploration.
Warm Mediterranean Climate
High Quality of Life, Healthcare & Education
Safe & Secure Environment with a Low Crime Rate
Strategically Located for Easy Travel
Diverse & Robust Economy
Rich Historical & Cultural Heritage
Attractive Tax Incentives for Investors & Retirees
Multilingual, with English Widely Spoken
Vibrant Nightlife & a Diverse Culinary Scene
Stunning Natural Beauty Inc. Beaches & Mountains
Study, Work and Live in Cyprus
EDUCATIONAL SYSTEM
Studying in Cyprus offers a unique blend of high-quality education, multicultural exposure, and an enriching lifestyle that few other locations can match. With its diverse range of prestigious institutions, Cyprus offers academic programs in a variety of disciplines, attracting students from around the world.
One of the significant advantages of studying in Cyprus is the quality of education. Cypriot universities are known for their rigorous academic standards and are often recognized internationally for their research and innovation. Moreover, many universities offer courses in English, making it a convenient choice for international students.
The cost of education and living in Cyprus is relatively lower compared to many other European countries, making it a financially sensible choice for many students. There are also numerous scholarships and financial aid options available to international students, further reducing the financial burden.
The student life in Cyprus is vibrant and enriching. With a diverse student population, studying in Cyprus provides an opportunity to interact with people from different cultures, enhancing the overall learning experience. The island's safe and friendly environment further adds to its appeal, providing a comfortable setting for students to focus on their studies.
The natural beauty and historical richness of Cyprus make it an exciting place for exploration and relaxation outside of academic pursuits. The country's strategic location also offers students easy access to travel and experience the diverse cultures of Europe, Asia, and Africa.
In conclusion, studying in Cyprus presents a unique blend of academic excellence, cultural diversity, and a high quality of life, making it an attractive destination for international students.
EMPLOYMENT OPPORTUNITIES
Working in Cyprus presents a unique combination of professional growth and an enviable lifestyle. The country's robust and diverse economy offers a wide range of opportunities across various sectors, such as tourism, shipping, real estate, and the burgeoning technology industry.
Cyprus is globally recognized as a business-friendly country, with a corporate tax rate that is one of the lowest in the European Union. This favourable tax environment, coupled with a well-established legal system and a highly skilled workforce, makes Cyprus a sought-after location for international businesses.
The quality of life in Cyprus is high, with excellent healthcare, education, and a safe, secure environment. The work-life balance is commendable, with a good number of holidays and a culture that promotes leisure and relaxation alongside work. With its year-round sunshine, stunning beaches, and vibrant culture, Cyprus provides an ideal setting to unwind after work.
For professionals seeking international exposure, Cyprus offers a multicultural working environment. The country's strategic location at the crossroads of Europe, Asia, and Africa facilitates international business relations. Moreover, English is widely spoken in Cyprus, easing communication and integration into the professional environment for expatriates.
In addition to the professional benefits, working in Cyprus also provides access to the country's rich historical and cultural heritage, diverse culinary scene, and opportunities for outdoor activities.
In summary, the benefits of working in Cyprus extend beyond professional growth to a rewarding lifestyle, making it an attractive destination for global professionals.
THE ECONOMIC ADVANTAGES OF LIVING IN CYPRUS
Living in Cyprus comes with an array of economic advantages, making it an attractive location for starting a new business, or for digital nomads seeking a vibrant and supportive environment. The Cypriot economy is diverse and robust, with key sectors including tourism, shipping, real estate, and a growing technology and innovation industry. For entrepreneurs, the government provides numerous incentives to foster business growth. Cyprus is known for its low corporate tax rate, one of the most competitive in the European Union, which is particularly beneficial for start-ups and small businesses looking to maximize their profits.
For digital nomads, the island's advanced digital infrastructure, coupled with the widespread use of English, makes it an ideal base. The flexible working culture and the ability to balance work with leisure activities, thanks to the country's stunning natural beauty, further enhance its appeal for this group of professionals.
THE CLIMATE AND NATURAL BEAUTY OF CYPRUS
Cyprus is a paradise for those who love nature and outdoor activities. The island enjoys a pleasant Mediterranean climate with year-round sunshine, perfect for exploring its breathtaking landscapes. From the golden sandy beaches and crystal clear waters of Ayia Napa and Paphos to the picturesque vineyards and mountains of Troodos, the natural beauty of Cyprus is unrivalled.
The island is dotted with charming villages where tradition lives on, and vibrant cities that offer a diverse range of cultural and recreational activities. Cyprus's rich historical heritage, evident in its numerous archaeological sites and well-preserved ancient ruins, adds another dimension to its allure.
PUBLIC SERVICES IN CYPRUS
The public services in Cyprus are well-developed and efficient. The island has a reliable transportation network, including buses, taxis, and air services connecting it with major cities around the world. The education system is commendable, with a high standard of schooling offered both in public and private institutions. Many universities in Cyprus are internationally recognized, offering a wide range of courses in English.
HEALTHCARE IN CYPRUS
The healthcare system in Cyprus is known for its high standards. The country offers both public and private healthcare services, ensuring accessible and quality medical care for everyone. Cyprus is home to several state-of-the-art hospitals and clinics, staffed by highly skilled medical professionals. Moreover, the cost of healthcare in Cyprus is relatively lower compared to many other European countries, adding to the appeal for expats.
REAL ESTATE AND ACCOMMODATION IN CYPRUS
The real estate market in Cyprus presents lucrative investment opportunities. The country's strategic location, coupled with its robust economy and favourable tax regime, makes property investment a promising venture. Whether it's residential properties for rental income or commercial properties for business operations, the potential for a good return on investment is high.
Accommodation in Cyprus varies from modern apartments in the city to traditional houses in the villages, catering to different tastes and budgets. The cost of living is also relatively lower compared to other European countries, making it an affordable option for expats.
RETIREMENT IN CYPRUS
Retiring in Cyprus is a dream for many foreigners, and for good reason. The country's warm climate, relaxed lifestyle, and high standard of living make it an ideal destination for retirement. The government also offers attractive tax incentives for retirees, enhancing its appeal. The safety and security of the island, along with its friendly and welcoming community, further contribute to making Cyprus a favorite among retirees.
WHY LIVING IN CYPRUS IS LUCRATIVE
All these benefits make living in Cyprus a lucrative proposition. The island's robust economy offers numerous business and employment opportunities, while the favourable tax regime enhances earning potential. The high standard of living, combined with the affordable cost of living, enhances the overall quality of life. Investment in real estate can yield substantial returns, and the potential for a comfortable and financially beneficial retirement is significant.
The rich cultural experiences, beautiful landscapes, and pleasant climate all contribute to a satisfying lifestyle. Access to high-quality healthcare and education further adds to the allure of Cyprus. For digital nomads, the advanced digital infrastructure and flexible working culture present a conducive environment for achieving a perfect work-life balance. Thus, whether it's for work, investment, or retirement, Cyprus offers an attractive and rewarding proposition.
VISA REQUIREMENTS AND IMMIGRATION LAWS IN CYPRUS
The last piece of the puzzle is understanding the visa requirements and immigration laws in Cyprus. As a member of the European Union, Cyprus allows citizens of other EU countries to live and work there without a visa. For non-EU nationals, different types of visas and permits are available depending on the purpose of stay, such as work, study, or retirement.
Obtaining residency in Cyprus can be a streamlined process, especially for those investing in the Cypriot economy. The Cyprus Investment Programme offers residency permits to non-EU citizens who meet certain investment criteria. This is particularly beneficial for retirees or investors looking to benefit from the island's favourable tax regime.
It's important to note that Cyprus immigration laws are subject to change and it's advisable to consult with an immigration expert or the relevant Cypriot embassy or consulate to get the most accurate and up-to-date information.
In conclusion, Cyprus offers a unique blend of economic opportunities, high quality of life, and enchanting landscapes, making it a compelling choice for anyone considering living abroad. Whether you're a digital nomad, an entrepreneur, an investor, or someone looking for a peaceful retirement, Cyprus could be the destination you've been searching for.
At VIP Visa, we pride ourselves on our years of experience in helping clients navigate the complex process of obtaining visas, residencies, and second nationalities or passports. If you are considering a visit or moving to Cyprus, we are here to guide you through the process. Our team of experts will ensure that you have all the necessary information and support to make your dream come true. Please see below for more information about our visa categories and let us help you embark on your new journey!