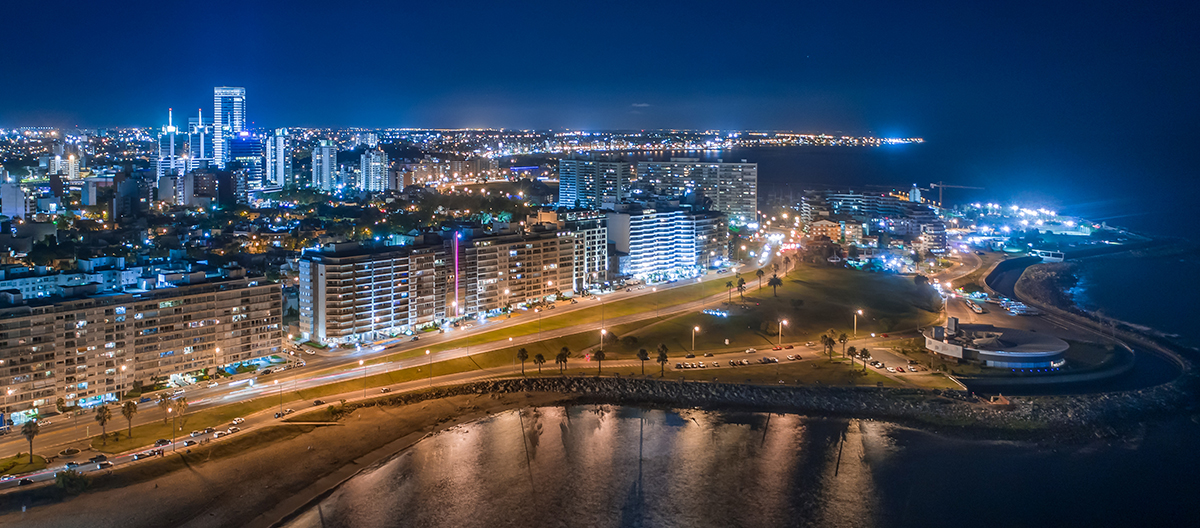 Benefits of life in Uruguay
Uruguay, a small yet culturally rich country nestled between the powerhouses of Argentina and Brazil, offers a myriad of benefits for those looking to explore, reside or even gain a second nationality. As a country, Uruguay boasts a high standard of living, underpinned by a robust economy, a comprehensive welfare system, and high-quality healthcare and education facilities.
The nation is recognized for its strong democratic principles, providing a safe, stable and predictable environment. It's relatively easy for foreigners to acquire residency here, encouraging an increasingly diverse population. This blend of cultures results in a welcoming, tolerant, and vibrant society where everyone feels at home.
One of Uruguay's standout features is its remarkable natural beauty. From the stunning beaches of Punta del Este to the rustic charm of its countryside, Uruguay offers an array of scenic landscapes that would captivate any nature lover. Coupled with a mild climate, it makes outdoor living and exploration a year-round possibility.
Uruguay is also known for its high-quality food and wine, particularly its world-renowned beef and Tannat wine. The nation takes pride in its farm-to-table approach, ensuring fresh, local, and sustainable produce. This gastronomical excellence, combined with a lively arts scene and a passion for football, offers a lifestyle that is both enjoyable and fulfilling.
Stable Economy & High Standard of Living
Safe & Secure with Low Levels of Crime
Easy Process for Foreigners to Gain Residency
High-Quality Healthcare & Education Systems
A welcoming & Tolerant Society
Beautiful Beaches & Countryside
Mild Climate Perfect for Outdoor Activities
Excellent Food & Wine
Vibrant Arts & Cultural Scene
Study, Work and Live in Uruguay
EDUCATIONAL SYSTEM
Uruguay, with its high-quality education system, is an excellent destination for international students. It is one of the few countries in Latin America that offers free education, from primary school to university, even for international students. This is reflective of the country's commitment to education as a fundamental right.
The Universidad de la República, the largest and most prestigious university in the country, is recognized globally for its academic standards and research output. The country's education system has a strong focus on innovation and research, providing students with practical skills and knowledge that are in demand in today's global market.
In addition, studying in Uruguay offers the opportunity to learn Spanish, one of the world's most widely spoken languages. Immersion in the local culture and language can enhance your linguistic skills, making you more competitive in the global job market.
Moreover, Uruguay's diverse culture and welcoming nature make it a comfortable place for international students. The country is known for its inclusivity and tolerance, ensuring a positive and conducive environment for learning.
Finally, living and studying in Uruguay provides an opportunity to experience its rich history, natural beauty, and vibrant culture. From enjoying local gastronomy, exploring stunning landscapes, to participating in cultural events, your student life in Uruguay would extend beyond the confines of the classroom.
Therefore, studying in Uruguay is not just an opportunity for academic advancement but also a chance to grow personally, broaden your horizons, and gain a global perspective.
EMPLOYMENT OPPORTUNITIES
Uruguay offers a multitude of benefits for those seeking employment opportunities, making it an attractive destination for professionals and entrepreneurs alike. As a nation with a stable economy, low inflation, and a consistently growing GDP, Uruguay presents a reliable environment for career growth and financial stability.
One of the key advantages of working in Uruguay is the nation's focus on workers' rights and well-being. The country has strong labor laws that safeguard employee rights, ensuring a healthy work-life balance. In addition, Uruguay provides comprehensive social security benefits, including pensions, healthcare, and family allowances, resulting in a supportive and secure work environment.
The Uruguayan job market is diverse, with opportunities across various sectors such as agriculture, renewable energy, technology, and tourism. The government actively encourages foreign investment and entrepreneurship, fostering an innovative and collaborative business climate. This makes it an ideal location for both experienced professionals and those looking to start their own ventures.
Working in Uruguay also offers the opportunity to immerse yourself in the local culture, allowing you to develop language skills and expand your professional network. Gaining fluency in Spanish, a widely spoken global language, can enhance your career prospects and provide a competitive edge in the international job market.
Moreover, Uruguay's high quality of life, including its safety, healthcare, education, and natural beauty, contributes to a fulfilling and enjoyable experience while living and working in the country. With its mild climate, stunning landscapes, and vibrant culture, Uruguay ensures that your work-life experience extends beyond professional development, offering personal growth and enrichment.
In summary, the benefits of working in Uruguay include a stable economy, strong labor laws, diverse job opportunities, language skill development, and a high quality of life, making it an ideal destination for professionals seeking both career advancement and personal fulfillment.
ECONOMIC ADVANTAGES AND BUSINESS OPPORTUNITIES
Uruguay boasts a stable and thriving economy, making it an attractive destination for individuals seeking to start a new business or work as digital nomads. The country is one of the top performers in Latin America in terms of economic freedom, income equality, per capita income, and absence of extreme poverty. These economic indicators reflect a business-friendly climate conducive to entrepreneurship and investment. Additionally, Uruguay's robust IT infrastructure, with one of the highest rates of internet penetration and speed in Latin America, makes it an ideal location for digital nomads, providing them with the flexibility to work from anywhere.
NATURAL BEAUTY AND CLIMATE
The charm of living in Uruguay is further enhanced by its beautiful landscapes and mild climate. From the golden beaches of Punta del Este to the verdant countryside of the interior, Uruguay offers a variety of stunning vistas for nature lovers. Its climate is characterized by warm summers and mild winters, making it suitable for outdoor activities throughout the year. Whether you're a fan of beachside relaxation, countryside walks, or city exploration, Uruguay has something to offer everyone.
PUBLIC SERVICES
Uruguay is recognized for its well-developed public services, including quality education and healthcare. The country has a high literacy rate and a strong emphasis on education, with free access to schooling from primary level to university. This commitment to education contributes to a skilled and competitive workforce, adding value to the business environment.
HEALTHCARE
The healthcare system in Uruguay is another key advantage. The country offers high-quality medical services, with both public and private healthcare options. Uruguay spends a significant portion of its GDP on healthcare, resulting in a well-resourced and efficient system. The public health system provides comprehensive coverage, while private health insurance schemes offer a wider choice of providers and shorter waiting times.
ACCOMMODATION AND REAL ESTATE INVESTMENT
When it comes to accommodation, Uruguay offers diverse options to suit different preferences and budgets, from modern apartments in Montevideo to beachfront homes in Punta del Este. The real estate market in Uruguay has seen steady growth, making it an attractive option for investment. The process of buying property in Uruguay is straightforward, with no restrictions on foreign ownership of land. This transparent and secure real estate environment provides a lucrative opportunity for those looking to invest in property.
RETIREMENT AND LIVING FOR FOREIGNERS
Uruguay is increasingly popular among foreigners looking to retire abroad. Its high standard of living, coupled with its tranquility, safety, and relaxed lifestyle, makes it an ideal retirement destination. The country offers a retiree residency program, which allows foreign retirees to become residents if they have a steady income from a reliable source. This program, combined with the country's welcoming attitude towards foreigners, facilitates an easy transition for those looking to spend their golden years in Uruguay.
LUCRATIVE POTENTIAL
The combination of all these factors – economic stability, business-friendly environment, beautiful landscapes, quality public services, excellent healthcare, diverse accommodation options, and a welcoming attitude towards foreigners – makes Uruguay a lucrative destination. Whether you're an entrepreneur seeking new business opportunities, a digital nomad looking for a new base, a retiree wanting a peaceful lifestyle, or an investor interested in real estate, Uruguay offers an environment that can help you achieve your goals while enjoying a high quality of life.
VISA REQUIREMENTS AND IMMIGRATION LAWS
Uruguay has a straightforward and transparent immigration process. The country offers several types of visas, including tourist, business, student, and retirement visas, catering to a wide range of needs. For those looking to become residents, the process is relatively simple, requiring proof of steady income and a commitment to spend a certain amount of time in the country each year. Furthermore, Uruguay doesn't place restrictions on dual citizenship, making it an attractive option for those considering a second nationality.
Uruguay also offers a range of investment and business visas aimed at entrepreneurs and investors, reflecting its commitment to attracting foreign direct investment. These options make it easier for business owners and investors to establish and run their ventures in Uruguay.
The country's welcoming attitude towards foreigners, combined with its straightforward visa and immigration processes, make it an inviting place for people from all walks of life to set up home. Uruguay's government provides ample support to newcomers, ensuring they can smoothly integrate into the society and contribute to the country's development.
In conclusion, with its blend of economic stability, business-friendly environment, high standard of living, and welcoming attitude towards foreigners, Uruguay offers a lucrative opportunity for those seeking to live, work, study, invest, or retire abroad. The country's natural beauty, quality public services, excellent healthcare, and diverse accommodation options add to its appeal, making it a truly compelling destination. The straightforward visa and immigration processes ensure a hassle-free transition for those looking to make Uruguay their new home.
At VIP Visa, we pride ourselves on our years of experience in helping clients navigate the complex process of obtaining visas, residencies, and second nationalities or passports. If you are considering a visit or moving to Uruguay, we are here to guide you through the process. Our team of experts will ensure that you have all the necessary information and support to make your dream come true. Please see below for more information about our visa categories and let us help you embark on your new journey!