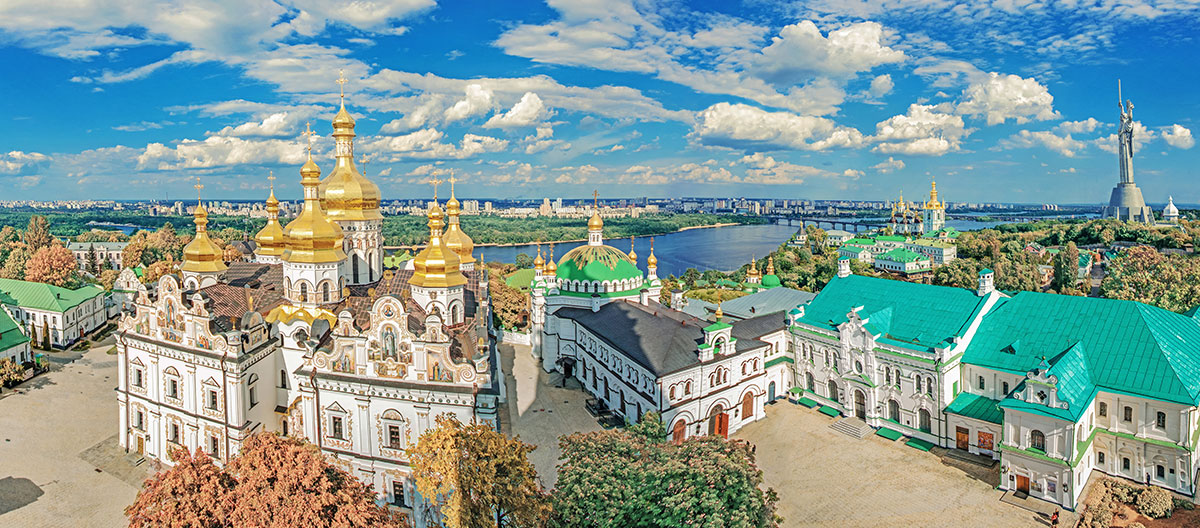 Benefits of life in Ukraine
Ukraine is a hidden gem in Eastern Europe, offering a unique blend of history, culture, and natural beauty that make it an attractive destination for travel and residency. With a rich past and vibrant modern life, Ukraine has much to offer those looking to make it their home or visit for a short while.
One of the significant advantages of life in Ukraine is the low cost of living. From housing to transportation, goods, and services, Ukraine offers an affordable lifestyle that allows both locals and expats to maintain a high quality of life without breaking the bank. The low cost of living doesn't mean a compromise on quality either, as the country offers modern infrastructure, excellent healthcare, and a well-developed education system.
Ukraine's geographical location also makes it an attractive option, with easy access to Europe, Asia, and the Middle East. This connectivity has led to a diverse culture that offers a unique blend of Eastern and Western influences. The country is home to a wide range of historical and architectural landmarks, such as Kyiv's St. Sophia Cathedral, Lviv's Old Town, and the stunning Carpathian Mountains.
Furthermore, Ukraine boasts a thriving art and music scene, with numerous galleries, theaters, and festivals providing endless entertainment opportunities. The country's culinary offerings are a delectable mix of traditional dishes and international cuisine, ensuring a satisfying experience for every palate.
Ukraine is a vibrant and diverse country that offers an affordable and high-quality lifestyle, making it an ideal destination for travel and residency.
Affordable Housing, Transportation & Essentials
Rich History with Diverse Cultural Influences
Well-Developed Healthcare
High-Quality Education at an Affordable Cost
Easy access to Europe, Asia & the Middle East
Natural Beauty from the Carpathian to Black Sea
Thriving Arts & Music Scene
Delicious Traditional Cuisines & Intl' Culinary Delights
Study, Work and Live in Ukraine
EDUCATIONAL SYSTEM
Studying in Ukraine offers a plethora of benefits for international students seeking a high-quality education at an affordable cost. As one of the largest countries in Europe, Ukraine has a well-established and diverse educational system that caters to students from around the world.
One of the primary advantages of studying in Ukraine is the affordability of its education. Tuition fees and living expenses are considerably lower compared to many other European countries, making it an attractive option for students who wish to pursue higher education without incurring excessive debt. Despite the lower costs, the quality of education is not compromised, as Ukrainian universities and institutions are known for their rigorous academic standards and excellent teaching methods.
The medium of instruction in many Ukrainian universities is English, which makes it easier for international students to adapt to the academic environment. Students can choose from a wide range of programs, including medicine, engineering, business, and humanities, ensuring a diverse and well-rounded educational experience.
Ukraine's rich cultural heritage and unique blend of Eastern and Western influences offer students a truly immersive experience. This exposure to different customs, traditions, and languages can be invaluable in fostering personal growth and broadening one's perspective.
Moreover, studying in Ukraine provides students with the opportunity to develop valuable connections and networks, both locally and internationally. The country's strategic location, bordering several European nations, means that students have the chance to interact with people from different backgrounds, expanding their global network and enriching their understanding of various cultures.
Upon completing their studies, graduates from Ukrainian universities are highly sought after by employers around the world, as they are recognized for their strong academic foundation, adaptability, and ability to thrive in multicultural environments.
In conclusion, studying in Ukraine offers a unique and rewarding experience for international students. The combination of affordable and high-quality education, diverse cultural exposure, and the opportunity to build a robust global network makes Ukraine an attractive destination for pursuing higher education.
EMPLOYMENT OPPORTUNITIES
Working in Ukraine presents numerous benefits for both locals and expats seeking a fulfilling and rewarding career. As the country continues to modernize and develop its economy, a growing number of job opportunities are becoming available across various sectors, including IT, agriculture, and manufacturing.
One of the main attractions of working in Ukraine is the lower cost of living, which allows employees to maintain a comfortable lifestyle without spending exorbitantly. In comparison to many Western countries, rent, utilities, and daily expenses are considerably more affordable, making it possible for workers to save money while enjoying a high standard of living.
Ukraine's growing economy and business-friendly environment have led to a surge in investment, creating a vibrant job market with numerous opportunities for career growth and development. The country is particularly renowned for its thriving IT sector, which has garnered international attention and attracted top talent from around the world. This flourishing industry has fostered a culture of innovation and collaboration, providing professionals with the chance to work on cutting-edge projects and gain invaluable experience.
Working in Ukraine also offers the opportunity to immerse oneself in the country's rich cultural heritage and diverse history. The unique blend of Eastern and Western influences creates a dynamic and stimulating environment, which can lead to personal growth and an expanded worldview.
Furthermore, the country's strategic location at the crossroads of Europe, Asia, and the Middle East provides employees with ample opportunities for networking and establishing valuable business connections. As Ukraine continues to strengthen its ties with the global community, professionals working in the country can benefit from access to international markets and the potential for cross-border collaboration.
In summary, working in Ukraine presents a range of benefits, from the affordable cost of living to the diverse job opportunities and vibrant cultural experience. The country's growing economy and strategic location also provide ample room for career growth and networking, making Ukraine an attractive destination for professionals seeking a fulfilling work experience.
ECONOMIC ADVANTAGES
Ukraine offers an array of economic advantages that make it a desirable location for entrepreneurs, digital nomads, and investors. A primary attraction is the country's low cost of living, which includes affordable housing, transportation, and everyday essentials. This affordability extends to the realm of business, where the costs associated with starting and maintaining a venture are often considerably lower than in other European countries.
For digital nomads, the growing IT sector in Ukraine offers numerous opportunities. The country is rapidly becoming a tech hub, attracting talent from across the globe. Coupled with the affordable lifestyle and high-speed internet connectivity in major cities, digital professionals can enjoy a conducive work environment while maintaining a high standard of living.
For entrepreneurs and investors, Ukraine's business-friendly climate and strategic geographical location are key assets. The country is at the crossroads of Europe and Asia, providing easy access to numerous markets. Additionally, the government has made significant efforts to encourage foreign investment, such as streamlining business registration processes and implementing tax incentives.
BEAUTY AND CLIMATE
Ukraine is a country of stunning natural beauty, offering diverse landscapes that range from the lush Carpathian Mountains to the tranquil beaches along the Black Sea coast. This natural beauty provides endless opportunities for outdoor activities and exploration, contributing to a high quality of life.
The country's climate is distinctly temperate, with warm summers and cold winters that allow for a variety of seasonal activities. From sunbathing on the beaches during the summer to skiing in the Carpathian Mountains in winter, Ukraine offers a year-round array of outdoor experiences.
PUBLIC SERVICES
Public services in Ukraine have seen significant improvements in recent years. The country has a well-developed transportation network, including an extensive railway system, reliable bus routes, and efficient city metros in larger urban areas such as Kyiv and Kharkiv.
In terms of education, Ukraine offers a wide range of options for families, including reputable local schools and internationally recognized universities. There are also several international schools that provide instruction in English and other languages, making it an appealing destination for expatriate families.
HEALTHCARE
Healthcare in Ukraine is a blend of public and private services. The public healthcare system provides free essential services to all residents, while the private sector offers a higher level of service with shorter waiting times. Many healthcare professionals in Ukraine have trained to international standards, ensuring high-quality care. Furthermore, the cost of private healthcare is relatively low compared to Western countries, providing an additional layer of attractiveness for expats and retirees.
ACCOMMODATION AND REAL ESTATE INVESTMENT
Ukraine's real estate market presents attractive opportunities for investors. The market has shown steady growth over the years, and with the country's developing economy and increasing international interest, this trend is expected to continue. Whether it's city apartments or rural homes, there's a wide variety of properties to invest in. For those looking to live in Ukraine, the accommodation options are diverse and affordable. From modern apartments in bustling city centers to charming houses in tranquil rural areas, there's something to suit everyone's preferences and budget.
RETIREMENT AND LIVING FOR FOREIGNERS
Ukraine has much to offer retirees and foreigners seeking a comfortable, affordable lifestyle. The low cost of living allows pensions and savings to go further, and the country's rich cultural heritage provides numerous opportunities for leisure and enrichment. Ukraine is home to several expatriate communities, making it easier for newcomers to integrate and build social networks.
LUCRATIVE OPPORTUNITIES
The economic landscape of Ukraine provides a wealth of lucrative opportunities for both residents and foreign investors. The country's rapidly growing IT sector, for instance, offers a fertile ground for startups and tech-based enterprises. The low operating costs, combined with a highly skilled workforce, create an environment conducive to innovation and growth. With the tech industry expanding globally, businesses based in Ukraine can tap into this growth trajectory, serving clients not just locally but also in international markets.
The real estate sector in Ukraine also presents promising investment opportunities. The steady increase in property values over the years indicates a robust market with potential for substantial returns. Whether it's residential properties for rental income or commercial properties for business use, the real estate market in Ukraine can be a profitable venture. Additionally, the burgeoning tourism industry creates further demand for short-term rental properties, adding another dimension to the real estate investment landscape.
For retirees and individuals seeking to relocate, Ukraine's low cost of living and high quality of life can translate into financial benefits. Savings and pensions can stretch further in Ukraine than in many Western countries, allowing for a comfortable lifestyle without the financial stress. Furthermore, Ukraine's affordable yet high-quality healthcare system can lead to significant savings in medical and health-related costs.
For digital nomads and remote workers, Ukraine offers a unique combination of affordable living, reliable infrastructure, and a vibrant cultural scene. This balance can enhance personal satisfaction and productivity, leading to improved work outcomes and, consequently, potential financial gains.
Finally, entrepreneurs and businesses can leverage Ukraine's strategic geographical location and business-friendly environment for trade and expansion. The country's proximity to both European and Asian markets can facilitate cross-border operations and collaborations, potentially leading to increased revenues and business growth.
VISA REQUIREMENTS AND IMMIGRATION LAWS
The final aspect to consider when planning to live in Ukraine are the visa requirements and immigration laws. As of my knowledge cutoff in September 2021, foreign nationals wishing to stay in Ukraine for more than 90 days within a 180-day period need to apply for a long-term visa (Type D), which can then lead to a temporary or permanent residence permit depending on the circumstances.
The Type D visa can be granted for various purposes such as employment, education, family reunification, or investment. The requirements for each type of visa vary, so it's important to consult the latest information from official Ukrainian authorities or a reliable visa assistance service like VIP Visa.
Foreigners who legally reside in Ukraine for five years, can speak Ukrainian and are financially independent, can apply for permanent residency. It's also important to note that Ukraine does not recognize dual citizenship as of my last update, which may influence the decision-making process for some individuals.
In conclusion, living in Ukraine offers a wide range of benefits and lucrative opportunities, whether it's in business, investment, or lifestyle. Its economic advantages, natural beauty, high-quality public services, and welcoming environment for foreigners make it an attractive destination. As always, it's important to understand and comply with the country's visa requirements and immigration laws to ensure a smooth and successful transition to life in Ukraine.
In light of the current situation in Ukraine, we regret to inform you that VIP Visa is temporarily suspending our visa services for travel to this country. We are closely monitoring the situation and will resume our comprehensive visa services for Ukraine as soon as circumstances permit. We understand that this decision may cause inconvenience and we sincerely apologize. Our team remains at your disposal to assist with visa services for other countries and to answer any questions you may have. We appreciate your understanding and cooperation during these challenging times. We look forward to assisting you with your future travel plans to Ukraine when conditions improve.