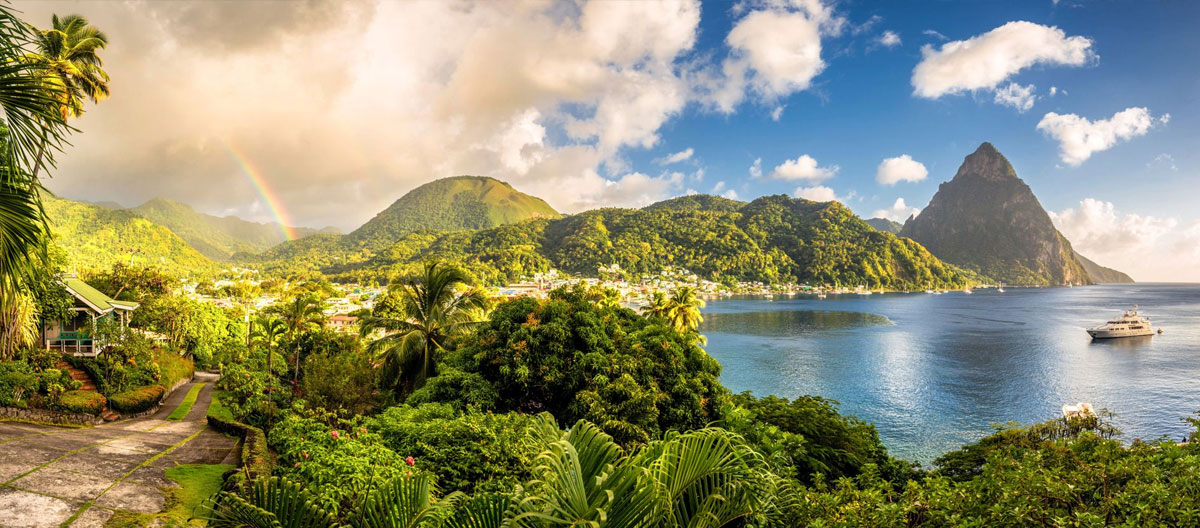 Benefits of life in Saint Lucia
Saint Lucia, a gem nestled in the heart of the Caribbean, is a paradise that offers an array of benefits that can contribute immensely to an enriched life. Lush with tropical landscapes and brimming with cultural richness, Saint Lucia is an island that not only captivates with its aesthetic appeal but also provides pragmatic advantages for those seeking a new home or a second nationality.
One of the primary benefits of life in Saint Lucia is the economic stability it offers. The island has a robust and growing economy, with tourism, agriculture, and offshore banking serving as major economic drivers. Becoming a resident here means access to a well-regulated financial system and potential for fruitful investments.
Saint Lucia also offers a high standard of living. The healthcare and educational systems are top-notch, with modern facilities and highly qualified professionals. The crime rate is low, and the island is recognized as one of the safest places in the Caribbean.
The island's lifestyle is another significant advantage. Residents enjoy a laid-back lifestyle, complemented by a warm tropical climate and an array of recreational activities. The friendly local community, vibrant festivals, and delicious cuisine all contribute to a culturally rich and fulfilling life.
Finally, holding a Saint Lucian passport has many benefits. It grants visa-free travel to over 140 countries, including Schengen countries, the United Kingdom, and most British Commonwealth nations, making international travel significantly easier and more convenient.
Economic Stability & Investment Opportunities
Excellent Standard of Living, Healthcare & Education
One of the Safest Places in the Caribbean
Warm with Tropical Climate Year-Round
Vibrant Festivals & Friendly Local Community
Delicious Local & International Cuisine
Abundant Recreational Activities
Convenient Location with Direct Flights
English is the Official Language
Pasport with Visa-Free Travel to 140 countries
Study, Work and Live in Saint Lucia
EDUCATIONAL SYSTEM
Studying in Saint Lucia presents students with a unique and enriching educational journey. The island's education system is based on the British model, which is known for its high standards and emphasis on critical thinking. Saint Lucia's schools and colleges offer a wide range of academic and vocational programs, ensuring that every student can find a course that matches their career goals and interests.
One of the most significant advantages of studying in Saint Lucia is the opportunity to be immersed in a multicultural environment. Students get to interact with people from diverse cultural backgrounds, fostering global awareness and respect for cultural diversity. English is the official language, so international students can easily communicate and integrate, while also having the chance to learn local Creole dialects.
Saint Lucia also offers a safe and nurturing environment for students. The low crime rate and friendly local community ensure that students can focus on their studies without worrying about their safety.
Lastly, studying in Saint Lucia is not just about academics; it's also about personal growth and adventure. Students can explore the island's stunning landscapes, engage in a variety of water sports, and participate in local festivals, enhancing their overall experience and making lifelong memories.
In essence, studying in Saint Lucia is an opportunity to receive a high-quality education while experiencing an extraordinary lifestyle. It is an experience that molds students not just academically, but also personally, preparing them to succeed in a globalized world.
EMPLOYMENT OPPORTUNITIES
Working in Saint Lucia offers a wealth of opportunities and advantages, making it an attractive option for those seeking international work experience. The island boasts a robust economy with diverse sectors, including tourism, agriculture, and offshore banking, presenting numerous job opportunities to suit various skills and qualifications.
One significant benefit of working in Saint Lucia is the chance to strike an optimal work-life balance. The island's laid-back lifestyle, coupled with its stunning natural beauty, provides a serene backdrop to a potentially stressful workday. After a day's work, you can unwind by exploring the beautiful beaches, hiking trails, or engaging in the vibrant local culture.
Professionally, working in Saint Lucia also provides valuable international experience, which is highly regarded in today's globalized job market. The chance to navigate a different business culture, language, and practices can significantly enhance your professional skills and broaden your career prospects.
Saint Lucia's business environment is also noteworthy. The government has implemented business-friendly policies, including tax incentives for certain sectors and initiatives to encourage foreign investment. This has resulted in a dynamic and thriving business sector where innovation and entrepreneurship are nurtured.
Moreover, the cost of living in Saint Lucia is relatively lower compared to many Western countries, which can be a financial benefit. At the same time, wages for skilled positions are competitive, making it possible to enjoy a comfortable lifestyle.
In summary, working in Saint Lucia offers a unique blend of professional growth, exciting lifestyle, and financial advantages. It's an experience that can enrich your career and personal life, offering a perspective that's beyond the ordinary.
ECONOMIC ADVANTAGES AND OPPORTUNITIES FOR ENTREPRENEURS
Saint Lucia, with its strong and diverse economy, is a haven for entrepreneurs and digital nomads alike. The major economic sectors include tourism, agriculture, and offshore banking, offering ample business opportunities for those with an entrepreneurial spirit. The government's business-friendly policies, including tax incentives for certain sectors and initiatives to encourage foreign investment, create a conducive environment for start-ups and small businesses. For digital nomads, the island's reliable internet infrastructure and the availability of co-working spaces make it an ideal location to work remotely while enjoying the island's scenic beauty.
NATURAL BEAUTY AND CLIMATE
Saint Lucia's natural beauty is nothing short of a tropical paradise. From the iconic Pitons, a UNESCO World Heritage Site, to the golden sandy beaches and lush rainforests, the island offers a visual feast that never ceases to amaze. The warm tropical climate is consistent year-round, with refreshing sea breezes, making it an ideal location for those who enjoy outdoor activities and sunshine.
PUBLIC SERVICES
The public services in Saint Lucia are commendable. The island's education system, based on the British model, offers high-quality education from primary through to tertiary level. The public transportation system is also efficient, with a network of minibuses that cover the island. Moreover, the government is continually investing in infrastructure development, ensuring that services are always improving to meet the needs of residents.
HEALTHCARE BENEFITS
When it comes to healthcare, Saint Lucia offers modern facilities and highly qualified medical professionals. Both public and private hospitals provide comprehensive healthcare services, ensuring that all residents have access to quality healthcare. Additionally, the cost of healthcare is considerably lower than in many Western countries, making it a viable choice for those seeking long-term healthcare solutions.
ACCOMMODATION AND REAL ESTATE INVESTMENT OPPORTUNITIES
The real estate market in Saint Lucia is vibrant and offers a wide range of options, from luxury villas to modest apartments. The cost of living is relatively low compared to many Western countries, which is an advantage for those looking for affordable accommodation. For investors, the real estate market offers potential for significant returns. The government encourages foreign investment in property, and property owners can also benefit from the island's robust tourism industry through vacation rentals.
RETIREMENT BENEFITS FOR FOREIGNERS
Saint Lucia is increasingly becoming a popular destination for retirees. The laid-back lifestyle, warm climate, and friendly local community make it an ideal location for a peaceful retirement. Additionally, the cost of living is reasonable, allowing retirees to enjoy a comfortable lifestyle. Foreign retirees also have the opportunity to invest in the local economy and contribute to the community, making retirement in Saint Lucia not just relaxing, but also fulfilling.
LUCRATIVE POTENTIAL OF LIVING IN SAINT LUCIA
All these factors combined make Saint Lucia a lucrative option for those looking for a new home or a second nationality. The economic opportunities, coupled with the island's natural beauty and high standard of living, offer a unique blend of professional and personal enrichment. Whether you're an entrepreneur looking to start a new business, a digital nomad seeking a scenic location, or a retiree searching for a peaceful haven, Saint Lucia has something for everyone.
VISA REQUIREMENTS AND IMMIGRATION LAWS
When it comes to visa requirements and immigration laws, Saint Lucia has a straightforward and welcoming approach. Visitors from many countries, including the United States, Canada, and the European Union, do not need a visa for stays of up to 90 days. For those looking to stay longer, whether for work, study, or retirement, various visas and permits are available. Additionally, Saint Lucia offers a Citizenship by Investment Program, providing an opportunity for individuals to obtain citizenship through a qualifying investment in the country. The Saint Lucian government provides clear guidelines and assistance through the process, making the transition to life in Saint Lucia as smooth as possible.
In conclusion, Saint Lucia offers a multitude of benefits for those seeking to travel, work, study, invest, or retire on the island. Its economic advantages, natural beauty, quality public services, and welcoming immigration policies make it an attractive and lucrative option. Living in Saint Lucia is not just about enjoying the island's tropical paradise; it's about embracing a lifestyle of stability, comfort, and opportunity.
At VIP Visa, we pride ourselves on our years of experience in helping clients navigate the complex process of obtaining visas, residencies, and second nationalities or passports. If you are considering a visit or moving to Saint Lucia, we are here to guide you through the process. Our team of experts will ensure that you have all the necessary information and support to make your dream come true. Please see below for more information about our visa categories and let us help you embark on your new journey!