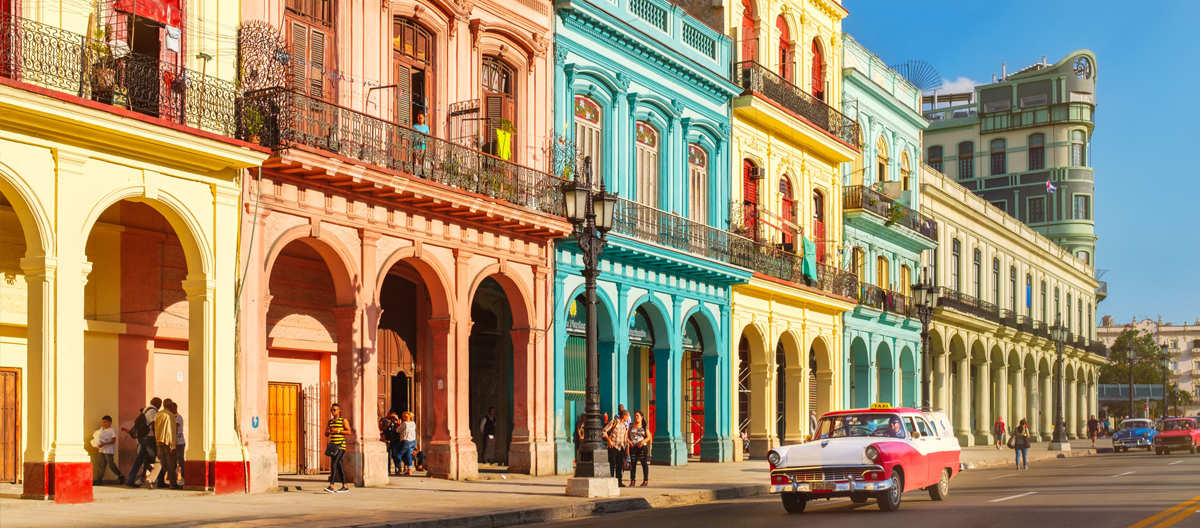 Benefits of life in Cuba
Cuba is a melting pot of different cultures, resulting in a unique blend of Spanish, African, and Caribbean influences that can be seen in its music, dance, art, and cuisine. The island's dynamic atmosphere will captivate your senses, while its friendly people will make you feel right at home.
One of the significant benefits of living in Cuba is the low cost of living, allowing you to experience a high quality of life without breaking the bank. Furthermore, the country has an excellent healthcare system that is accessible to all residents, ensuring that you have access to the best medical care when needed.
Cuba's tropical climate, with warm temperatures and lush landscapes, is perfect for those who love the outdoors. The island is home to numerous pristine beaches, crystal-clear waters, and abundant marine life, providing endless opportunities for relaxation, water sports, and exploration. Additionally, Cuba is rich in biodiversity, boasting several national parks and nature reserves that will leave you in awe of the island's natural splendour.
In conclusion, Cuba offers a unique and vibrant lifestyle that is hard to resist. Its rich culture, warm and welcoming locals, low cost of living, and excellent healthcare system make it a fantastic option for those looking to travel or settle in a new country. Let VIP Visa help you unlock the door to this Caribbean gem and start your Cuban adventure today!
Experience the blend of Spanish, African & Caribbean
Warm-Hearted People who make you feel at home
Enjoy a High-Quality Lifestyle
Access to Top-Notch Medical Care for Residents
Warm Temperatures & Lush Landscapes year-round
Relax on Stunning Shores with Crystal-Clear Waters
Outdoor Adventures & Historical Sites
Diverse Music & Dance
Savor the Delicious Fusion of Flavors in Cuban Dishes
Study, Work and Live in Cuba
EDUCATIONAL SYSTEM
Studying in Cuba presents a remarkable opportunity to immerse yourself in a unique cultural environment while pursuing academic excellence. Renowned for its strong emphasis on education, Cuba boasts an impressive literacy rate and provides high-quality education at all levels. With VIP Visa, you can effortlessly navigate the process of securing a student visa, enabling you to unlock this rich academic experience.
One of Cuba's significant strengths lies in its healthcare education. The island nation's medical schools are globally recognized for their comprehensive curriculum and hands-on training, producing world-class healthcare professionals. Students in other disciplines also benefit from Cuba's focus on arts, humanities, and social sciences, fostering a well-rounded educational experience.
In addition to academic benefits, studying in Cuba offers the advantage of language immersion. By living and studying in a Spanish-speaking country, you will have the chance to improve your language skills dramatically, making you more versatile and competitive in the global job market.
The cultural exchange in Cuba is unparalleled. By living in this vibrant society, students gain a deep understanding of the island's rich history, traditions, and social dynamics. This cultural competency not only enriches personal growth but also equips students with a broader worldview, a highly valued trait in today's interconnected world.
In conclusion, studying in Cuba provides a unique academic journey characterized by quality education, language immersion, and profound cultural exchange. VIP Visa is dedicated to helping you unlock this incredible opportunity and enrich your academic and personal growth.
EMPLOYMENT OPPORTUNITIES
Working in Cuba offers a unique professional journey, presenting myriad opportunities for personal and career growth. With VIP Visa by your side, you can seamlessly navigate the process of securing work permits and visas, setting the stage for an enriching work experience in this dynamic Caribbean nation.
One of the key advantages of working in Cuba is the opportunity to immerse yourself in a diverse cultural environment. This enriching experience can broaden your perspective, enhance your interpersonal skills, and improve your adaptability - traits that are highly valued in today's globalized workforce.
Cuba is renowned for its high-quality healthcare and biotechnology industries, making it an ideal destination for professionals in these fields. However, opportunities are not limited to these sectors. The tourism, education, and arts industries are also thriving, providing a wide range of job prospects.
Professionals working in Cuba will also have the chance to learn Spanish or improve their existing language skills. Fluency in Spanish can open doors to new opportunities and make you more competitive in the global job market.
Living and working in Cuba also means experiencing a slower pace of life, a stark contrast to the often hectic lifestyle in many Western countries. This slower pace fosters a healthier work-life balance, allowing you to enjoy the country's natural beauty, vibrant culture, and warm community.
In conclusion, working in Cuba offers a rewarding mix of professional development, language acquisition, cultural immersion, and an improved work-life balance. With VIP Visa, you can embark on this exciting career adventure with ease and confidence.
ECONOMIC ADVANTAGES: A HUB FOR ENTREPRENEURSHIP AND DIGITAL NOMADISM
Cuba presents a fascinating blend of old-world charm and emerging opportunities, making it an enticing prospect for those looking to start a new business or adopt a digital nomad lifestyle. Despite its reputation as a socialist country, Cuba is gradually opening its doors to private enterprise, creating a budding environment for entrepreneurship. From cafes and restaurants to artisan boutiques and tech start-ups, the scope for business ventures is as diverse as it is promising.
For digital nomads, Cuba offers an appealing combination of affordability and lifestyle. The low cost of living allows for a comfortable lifestyle without draining resources, crucial for freelancers and remote workers. While internet connectivity was a challenge in the past, the situation has improved significantly, with numerous Wi-Fi hotspots and a growing home internet sector.
THE BEAUTY OF CUBA: NATURE, WEATHER AND CLIMATE
Living in Cuba is a feast for the senses, thanks to its stunning natural beauty. The country is renowned for its white sandy beaches, clear turquoise waters, lush greenery, and vibrant biodiversity. From the tranquillity of Varadero Beach to the historic charm of Old Havana, the stunning landscapes of Viñales Valley to the bustling city life in Santiago de Cuba, there's something for everyone.
Cuba's tropical climate is another enticing factor. With warm temperatures year-round, it's an ideal location for those who enjoy outdoor activities or simply basking in the sunshine. The coastal breezes make the heat bearable, ensuring a pleasant living environment.
PUBLIC SERVICES AND HEALTHCARE
The Cuban government has made significant investments in public services, particularly in healthcare and education. Cuba's healthcare system is one of the best in the region, offering high-quality medical services to all residents. The country is known for its well-trained doctors, extensive preventive care, and a focus on community health. This commitment to healthcare extends to foreigners living in Cuba, providing peace of mind about medical care.
ACCOMMODATION AND REAL ESTATE
The Cuban real estate market has witnessed a transformation in recent years, with changes in regulations allowing for more significant involvement by foreign investors. From beautifully restored colonial homes in the heart of Havana to modern apartments with sea views, there are diverse property options to choose from. For those seeking to invest, the growing tourism sector offers opportunities in vacation rentals and boutique guesthouses.
RETIREMENT IN CUBA: A DREAM COME TRUE
Cuba has become increasingly popular as a retirement destination for foreigners, thanks to its laid-back lifestyle, warm climate, and affordable cost of living. The Cuban people are known for their warmth and hospitality, making newcomers feel welcome. Retirees can enjoy a range of activities, from cultural events and music festivals to outdoor adventures and beach activities. The slower pace of life in Cuba allows for a relaxing and fulfilling retirement.
LUCRATIVE POTENTIAL OF LIVING IN CUBA
The benefits of living in Cuba extend beyond its natural beauty and cultural charm. The evolving economic landscape provides ample opportunities for investment and business growth, with the potential for significant returns. The low cost of living, combined with the high quality of life, makes Cuba an appealing destination for individuals from all walks of life, from entrepreneurs and digital nomads to retirees. This combination of lifestyle and economic factors makes living in Cuba not just a dream but a lucrative reality.
VISA REQUIREMENTS AND IMMIGRATION LAWS
Navigating the visa requirements and immigration laws of a new country can be challenging. Cuba has a range of visa options depending on your circumstances, from tourist and business visas to student and work visas. The standard tourist visa, or tourist card, allows a stay of 30 days, which can be extended for another 30 days. If you wish to work or study in Cuba, you will need to apply for a specific visa.
For those planning to live in Cuba permanently, the process is more complex. Permanent residency can be obtained through various routes, such as marriage to a Cuban citizen or having a child in Cuba. Alternatively, one can apply for a temporary residence permit, which can be renewed annually and eventually lead to permanent residency.
Foreigners who wish to start a business in Cuba will need to navigate the laws around foreign investment. While these laws have been relaxed in recent years, it's still crucial to understand the legal framework and potential challenges. Professional legal advice is recommended to ensure you comply with all regulations and requirements.
In all cases, VIP Visa is here to guide you through the process. With over 20 years of experience in visa and immigration services, we have the expertise to make your transition to Cuban life as smooth as possible. Whether you're planning to work, study, start a business, or retire in Cuba, we are dedicated to helping you realize your dream.
In conclusion, Cuba offers a vibrant blend of culture, natural beauty, economic opportunity, and high-quality public services. Whether you're looking for a tropical paradise to retire, a new frontier for your business venture, or an exciting environment to study and work, Cuba presents a unique and rewarding choice. With VIP Visa, navigating the visa and immigration process will be a breeze, allowing you to focus on starting your new life adventure in this Caribbean gem.
At VIP Visa, we pride ourselves on our years of experience in helping clients navigate the complex process of obtaining visas, residencies, and second nationalities or passports. If you are considering a visit or moving to Cuba, we are here to guide you through the process. Our team of experts will ensure that you have all the necessary information and support to make your dream come true. Please see below for more information about our visa categories and let us help you embark on your new journey!