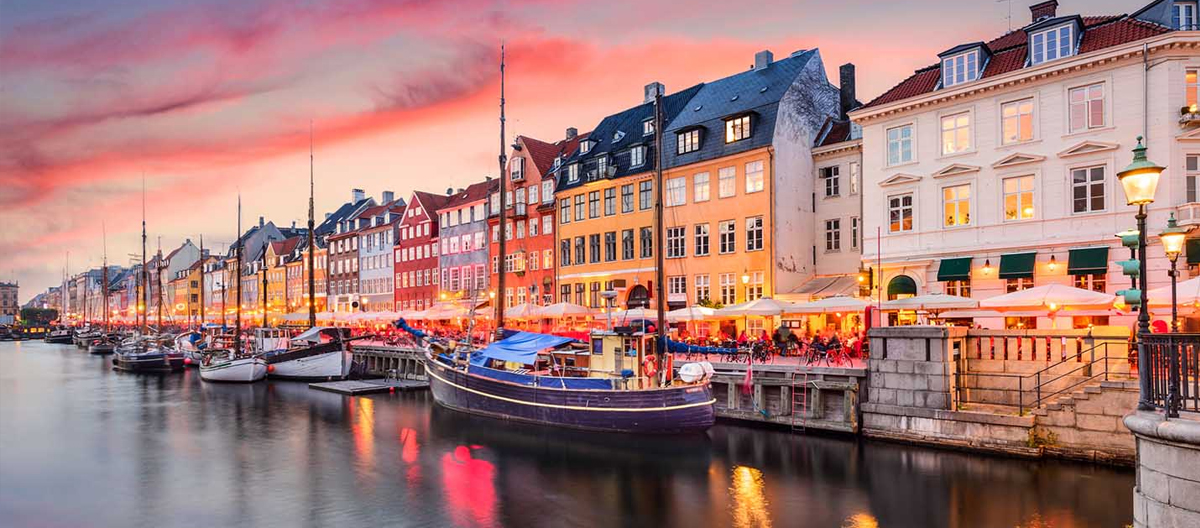 Benefits of life in Denmark
Denmark, a Scandinavian jewel, is famed for its high quality of life and vibrant culture. Living in Denmark opens doors to a society that values balance, freedom, and the environment. It's a country where people's well-being takes precedence, with its health care system and social security scheme ranked among the best in the world. This, coupled with low crime rates and high safety standards, creates a secure atmosphere for residents and expatriates alike.
The Danish education system is one of the top-performing globally, making it a perfect place for families seeking excellent schooling for their children. Moreover, the country boasts of an impressive literacy rate and offers free education to its residents.
Denmark's robust economy provides ample job opportunities in various sectors, notably in technology and green energy, with an emphasis on work-life balance. The Danish workplace culture fosters mutual respect, encouraging innovation and productivity.
Environmental sustainability is a key Danish value, reflected in the country's commitment to renewable energy and green living. Copenhagen, the capital city, is on track to become carbon-neutral by 2025, showcasing the country's dedication to combating climate change.
Furthermore, Denmark's rich cultural heritage, from historic landmarks to modern arts and design, offers a fulfilling lifestyle. The Danes are renowned for their 'hygge' concept, promoting comfort, togetherness, and well-being, creating a warm, welcoming environment for newcomers.
Outstanding Healthcare & Social Security Systems
High-Quality, Free Education System
Low Crime Rates & High Safety Standards
A Robust Economy with a Range of Opportunities
Committed to Environmental Sustainability
Rich Cultural Heritage & Vibrant Lifestyle
The Welcoming Danish Concept of 'Hygge'
Strategic Location to Travel Easily
Excellent Work-Life Balance
English is Widely Spoken, Easing for Expatriates
Study, Work and Live in Denmark
EDUCATIONAL SYSTEM
Studying in Denmark offers a wealth of benefits that go beyond just acquiring quality education. The Danish education system is internationally acclaimed, renowned for its innovative teaching methods and high academic standards. Students are encouraged to think critically, creatively, and independently. This develops a comprehensive skill set, preparing students for a globalized and highly competitive job market.
Denmark is home to several world-class universities offering a vast array of courses, many of which are taught in English. The country has a strong focus on research and innovation, making it an ideal choice for students interested in these areas. Moreover, Denmark is a pioneer in sectors like biotechnology, environmental science, and information technology, offering unique study and research opportunities.
The benefits of studying in Denmark also extend beyond academics. International students are welcomed with open arms in this diverse society. The inclusive environment, coupled with the ability to travel easily across Europe, offers a culturally enriching experience.
Furthermore, students in Denmark enjoy a balanced lifestyle. Danish universities promote a vibrant campus life with various clubs, sports, and social events. 'Hygge', the Danish concept of coziness and comfort, also permeates student life, creating a warm, friendly atmosphere.
Lastly, the Danish government provides various scholarships and grants to international students, making studying in Denmark an affordable option. All these factors combine to make Denmark a top choice for students seeking an excellent education and a fulfilling study abroad experience.
EMPLOYMENT OPPORTUNITIES
Working in Denmark offers numerous advantages, beginning with a robust and diverse economy that provides a wide range of job opportunities. From green technology to pharmaceuticals, information technology to design, Denmark is at the forefront of several industries, making it an ideal place for career growth.
The Danish workplace is known for its flat hierarchy, where everyone's opinion matters. This egalitarian approach fosters an environment of mutual respect, creativity, and innovation. Denmark's labor market is also characterized by a high degree of flexibility, known as 'flexicurity', which balances the rights of the employee and the needs of the business, ensuring job security while enabling adaptability.
Work-life balance is not just a concept in Denmark; it's a way of life. Danish companies prioritize their employees' well-being, often offering flexible working hours, parental leave, and opportunities for continuous learning and professional development.
Denmark's high living standards, coupled with competitive salaries and benefits, make it an attractive destination for professionals. The country has a comprehensive social security system, including healthcare and unemployment insurance, ensuring a safety net for workers.
Working in Denmark also offers the opportunity to experience the unique Danish lifestyle. From the 'hygge' concept of comfort and togetherness to the commitment to sustainability and green living, Denmark provides a fulfilling and balanced life.
Lastly, Denmark's strategic location at the heart of Europe makes it easy to explore other European countries, adding a rich cultural experience to your professional journey. Working in Denmark thus offers a comprehensive package of professional growth, personal well-being, and cultural enrichment.
ECONOMIC ADVANTAGES AND OPPORTUNITIES FOR BUSINESS
Denmark boasts a robust and diverse economy that has consistently ranked among the best for ease of doing business. It's an ideal destination for entrepreneurs and digital nomads alike. The country is characterized by a high degree of economic freedom, excellent infrastructure, and a transparent government, all of which create a conducive environment for businesses to flourish.
The digital infrastructure in Denmark is world-class, with widespread high-speed internet access, making it an excellent location for digital nomads. Additionally, coworking spaces are plentiful, fostering a culture of innovation and collaboration.
For those looking to start a new business, Denmark offers a streamlined process for business registration, and its strong commitment to research and development provides ample opportunities for innovation. Moreover, Denmark's strategic location makes it a gateway to both the European and Scandinavian markets.
BEAUTIFUL ENVIRONMENT AND CLIMATE
Denmark is renowned for its natural beauty, from the sandy beaches and chalky cliffs of Bornholm to the rolling hills and lush forests of Zealand. The country's flat landscape makes it perfect for cycling, and the extensive coastline offers numerous opportunities for water sports.
The Danish climate is temperate, characterized by mild winters and cool summers, making it comfortable for residents throughout the year. The changing seasons each offer their unique charm, from the vibrant green landscapes of spring to the snow-covered fields in winter.
EFFICIENT PUBLIC SERVICES
Denmark's public services are efficient and well-managed. The country's public transportation system, including trains, buses, and ferries, is reliable and extensive, connecting all parts of the country and making commuting hassle-free.
The Danish education system is among the best in the world, offering free education from primary school to university. The system is characterized by a high level of student engagement and promotes creativity, critical thinking, and problem-solving skills.
WORLD-CLASS HEALTHCARE
Denmark's healthcare system is renowned globally for its quality and accessibility. Funded through taxes, it offers free healthcare services to all residents, ensuring that everyone has access to high-quality medical care regardless of their economic status. The system is well-organized, with a focus on prevention and early diagnosis.
ACCOMMODATION AND REAL ESTATE INVESTMENT
The real estate market in Denmark is stable and offers good potential for investors. The process of buying property is transparent and straightforward. Property values have been on a steady rise, making real estate investment a lucrative option.
Accommodation in Denmark ranges from modern urban apartments to charming countryside houses, catering to diverse preferences. Rental properties are also abundant, and laws are in place to protect the rights of tenants.
RETIREMENT AND LIVING FOR FOREIGNERS
Denmark is a popular choice among foreigners looking to retire or relocate. The high standard of living, excellent healthcare, and safe environment make it an attractive destination. The Danes' warm hospitality and the inclusive society make integration into the Danish lifestyle easy for foreigners.
The country also offers a variety of activities and community groups catering to the older population, ensuring an active and engaged lifestyle for retirees. Moreover, Denmark's central location makes it convenient for travel around Europe, adding to the appeal for expatriates.
THE LUCRATIVE POTENTIAL OF DENMARK
Denmark presents numerous lucrative opportunities, whether it's in the realm of business, employment, education, or investment. Its thriving and diverse economy is rich with potential, offering a fertile ground for both start-ups and established businesses. With sectors like green energy, pharmaceuticals, and information technology leading the way, Denmark provides a dynamic environment for professionals seeking career growth.
For digital nomads, the country's advanced digital infrastructure, coupled with a culture of innovation and collaboration, makes Denmark an ideal base. The country's strategic location at the heart of Europe further enhances its appeal, offering easy access to other European markets.
The real estate market in Denmark is stable and growing, offering attractive investment opportunities. The transparent process of buying property and the steady appreciation in property values make real estate investment a profitable venture.
The Danish education system, one of the best globally, offers a wealth of opportunities for students. The focus on creativity, critical thinking, and problem-solving prepares students for a competitive global job market, making studying in Denmark a lucrative decision for long-term career prospects.
For retirees and expatriates, the high quality of life, excellent public services, and world-class healthcare make Denmark a rewarding choice. The safety, inclusiveness, and warmth of Danish society ensure a comfortable and fulfilling lifestyle.
In summary, the advantageous combination of a vibrant economy, advanced infrastructure, high-quality public services, and a beautiful environment make Denmark a highly lucrative destination for living, working, studying, and investing. Regardless of your goals, Denmark offers the potential for a rewarding and prosperous journey.
VISA REQUIREMENTS AND IMMIGRATION LAWS
Navigating Denmark's visa requirements and immigration laws is a straightforward process, reflecting the country's welcoming attitude towards foreigners. For EU citizens, freedom of movement applies, which simplifies the process significantly. Non-EU citizens may require a visa for short stays or a residence permit for longer durations, depending on their purpose of stay, such as work, study, or family reunification.
Denmark offers various types of visas and residence permits based on the individual's requirements. For instance, the 'Pay Limit Scheme' is for professionals who have a job offer with an annual salary above a certain limit. The 'Fast-track Scheme' is for certified companies to bring in highly skilled employees quickly. The 'Start-up Denmark' scheme is for entrepreneurs looking to establish a start-up in Denmark.
For digital nomads, while specific visas may not exist, options are available under self-employment or business schemes. Retirees, too, can apply for residence under specific conditions. Detailed information can be obtained from the official Danish immigration website or from professional immigration services like VIP Visa.
In conclusion, the benefits of living in Denmark are plentiful and diverse, making it an attractive destination for a broad range of individuals. Whether you're seeking to start a new business, work in a vibrant economy, enjoy a high standard of living, invest in real estate, or retire in a peaceful and welcoming environment, Denmark offers all this and more. Its efficient public services, excellent healthcare, beautiful environment, and welcoming society ensure a comfortable, fulfilling, and lucrative life for those who choose to make Denmark their home. The clear and efficient immigration process is the first step towards this rewarding journey.
At VIP Visa, we pride ourselves on our years of experience in helping clients navigate the complex process of obtaining visas, residencies, and second nationalities or passports. If you are considering a visit or moving to Denmark, we are here to guide you through the process. Our team of experts will ensure that you have all the necessary information and support to make your dream come true. Please see below for more information about our visa categories and let us help you embark on your new journey!