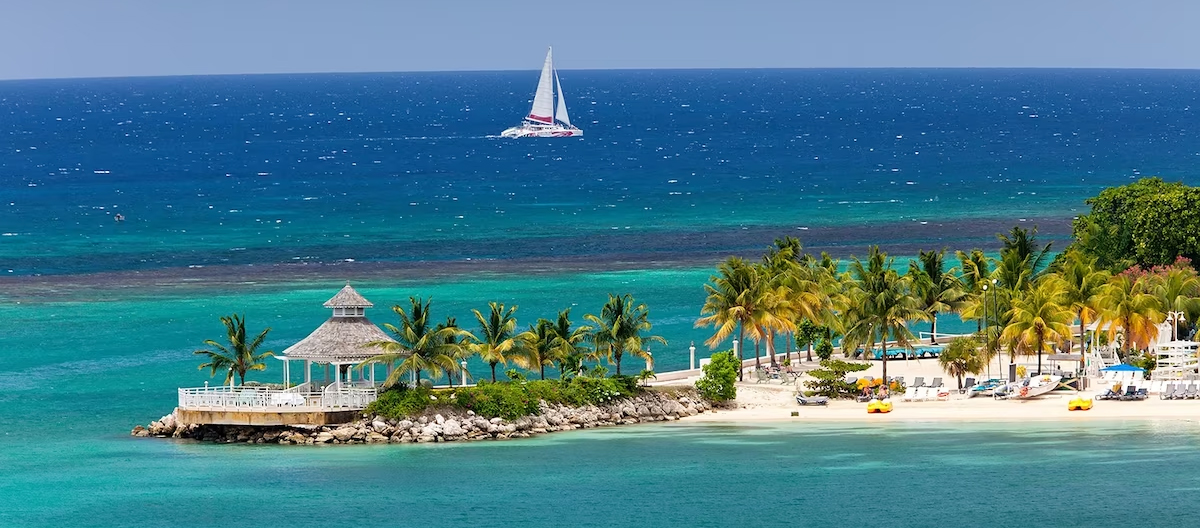 Benefits of life in Jamaica
Jamaica, the gem of the Caribbean, promises an alluring blend of natural beauty, rich cultural heritage, and an invitingly warm climate that has drawn travellers worldwide for decades. Living in Jamaica means embracing a lifestyle where the melody of reggae, the aroma of jerk spices, and the sight of breathtaking sunsets become a part of everyday life.
The island is renowned for its vibrant and diverse culture, which is deeply rooted in African traditions and influences from the Spanish, British, Indian, and Chinese settlers. This diversity is reflected in their cuisine, music, art, and festivals, making Jamaica an incredibly exciting place to live, with countless opportunities for new experiences.
Jamaica's economy is primarily based on tourism, agriculture, mining, and manufacturing, offering a variety of job opportunities for residents. The cost of living is relatively low compared to many western countries, which is ideal for those seeking a comfortable lifestyle without the high expenses. The real estate market is also diverse, with options ranging from beachfront villines to quaint cottages in the hills, catering to different preferences and budgets.
Moreover, the government has implemented policies that encourage foreign investment, making it an attractive place for entrepreneurs and businesses. Jamaica also boasts a robust healthcare system with modern facilities and highly trained medical professionals.
Living in Jamaica also means embracing an active, outdoor lifestyle. The island's diverse landscape, with its stunning beaches, lush mountains, and scenic waterfalls, provides countless opportunities for activities like hiking, snorkelling, and bird watching.
Vibrant & Diverse Culture
Affordable Living
Investment-Friendly Policies
The Island Offers a Robust Healthcare System
Tropical Climate with Warm Weather Year-round
Diverse Cuisine, Influenced by Various Cultures
Strong Education System with a High Literacy Rate
An Incredibly Beautiful Place to Live
Study, Work and Live in Jamaica
EDUCATIONAL SYSTEM
Choosing to study in Jamaica offers international students a unique blend of high-quality education, an enriching cultural experience, and a breathtaking natural environment that is hard to find elsewhere.
Jamaican institutions are known for their commitment to excellence in education. The University of the West Indies, for instance, is highly recognized for its programs in humanities, sciences, and business. The education system in Jamaica is structured to encourage critical thinking, problem-solving, and creativity, preparing students for global competitiveness. This focus on holistic development makes graduates from Jamaican institutions highly sought after by employers worldwide. One of the major benefits of studying in Jamaica is the opportunity to immerse oneself in a rich and diverse culture. Students can explore the island's history, traditions, music, and cuisine, which are deeply influenced by African, Spanish, British, Indian, and Chinese cultures. This cultural immersion can broaden perspectives and foster personal growth.
The cost of living and education in Jamaica is relatively lower compared to many western countries, making it an affordable destination for international students. Scholarships and financial aid are also available for deserving students, further reducing the financial burden. Moreover, studying in Jamaica offers the chance to learn or improve English language skills, as it is the official language of the country. This can be a significant advantage for non-native speakers seeking to enhance their career prospects in English-speaking countries.
EMPLOYMENT OPPORTUNITIES
Working in Jamaica presents a unique blend of professional growth opportunities and a lifestyle that is both vibrant and relaxing. The country's economy, primarily driven by sectors like tourism, agriculture, mining, and manufacturing, provides a variety of job opportunities that cater to a broad range of skills and experiences.
Jamaica is known for its supportive business environment, with the government implementing policies that encourage foreign investment and entrepreneurship. This makes it an attractive place for professionals looking to start their own business or seeking employment in a growing market.
Working in Jamaica also offers a chance to immerse oneself in the country's rich and diverse culture. The Jamaican workforce is renowned for its friendliness and camaraderie, often leading to a workplace environment that is both productive and enjoyable.
The cost of living in Jamaica is relatively low compared to many Western countries, allowing for a comfortable lifestyle without the high expenses. This, coupled with the island's natural beauty, warm climate, and outdoor recreational opportunities, makes it a great place to balance work and life. In addition, Jamaica's strategic location provides easy access to other Caribbean nations and major North American cities, offering excellent opportunities for both business and leisure travel.
ECONOMIC ADVANTAGES AND OPPORTUNITIES
Living in Jamaica offers numerous economic advantages, particularly for those looking to start a new business or work remotely as digital nomads. The Jamaican government actively promotes foreign investment with policies designed to streamline business start-up processes and offer tax incentives. The broad-based economy, with well-established sectors like tourism, agriculture, mining, and manufacturing, presents numerous opportunities for entrepreneurs.
For digital nomads, Jamaica's robust telecommunication infrastructure, including reliable high-speed internet, ensures seamless connectivity. The rise of co-working spaces across the island also facilitates a productive working environment. The lower cost of living, compared to many western countries, further enhances the appeal for remote workers, enabling a comfortable lifestyle without exorbitant expenses.
NATURAL BEAUTY AND CLIMATE
Jamaica is renowned worldwide for its spectacular natural beauty. From the pristine white sandy beaches and sparkling turquoise waters of Negril and Montego Bay, to the lush Blue Mountains and stunning Dunn's River Falls, the island offers a wealth of breathtaking landscapes. This natural beauty, combined with the country's tropical climate, ensures year-round warm temperatures, making it an outdoor enthusiast's dream. Whether it's swimming, hiking, bird-watching, or simply soaking up the sun, Jamaica offers a myriad of activities to enjoy.
QUALITY PUBLIC SERVICES
Jamaica's public services are designed to facilitate a high quality of life. These include a well-structured education system, efficient public transportation, and reliable utilities. The government's continual efforts to improve and expand these services further enhance the living conditions for residents.
HEALTHCARE SYSTEM
The healthcare system in Jamaica is robust, with an effective network of public and private hospitals and clinics throughout the island. These facilities are equipped with modern medical technology and staffed by skilled professionals, ensuring quality care. The public healthcare services are free for all residents, while private healthcare offers more immediate access to a broader range of services at a cost. This dual system ensures that everyone has access to the care they need.
ACCOMMODATION AND REAL ESTATE INVESTMENT
The real estate market in Jamaica is diverse, catering to a wide range of budgets and preferences. From luxurious villas with breathtaking sea views to quaint cottages in the hills, there's something for everyone. The process of buying property is straightforward, with no restrictions on foreign ownership.
Real estate investment in Jamaica can be particularly lucrative due to the thriving tourism industry. Demand for vacation rentals is high, providing property owners with a steady income stream. Additionally, property values have been steadily increasing, making real estate investment a potentially profitable long-term venture.
RETIREMENT AND LIVING IN JAMAICA FOR FOREIGNERS
Jamaica is an increasingly popular destination for retirees and other foreigners seeking a relaxed lifestyle in a beautiful, tropical environment. The warm, friendly nature of the Jamaican people, combined with the country's rich cultural heritage, creates a welcoming atmosphere for all who choose to call it home.
LUCRATIVENESS OF LIVING IN JAMAICA
The holistic benefits of living in Jamaica – from the wealth of business opportunities and the potential for property investment to the joy of immersing oneself in Jamaica's vibrant culture and stunning natural beauty – can translate into a lucrative lifestyle.
Entrepreneurs can tap into the growing market opportunities in tourism, agriculture, and digital services, while digital nomads can leverage the lower cost of living to increase their savings. For investors, the healthy demand in the real estate market promises good returns. Retirees, too, stand to gain by enjoying a high quality of life at a relatively lower cost.
The warmth and hospitality of the Jamaican people, combined with the country's rich cultural tapestry and the laid-back lifestyle, make living in Jamaica an enriching experience. The potential for financial growth, coupled with the opportunity to live amidst stunning natural beauty and vibrant culture, makes Jamaica not just an inviting place to live, but a location where life can truly be savored.
VISA REQUIREMENTS AND IMMIGRATION LAWS
Jamaica has a relatively straightforward and welcoming immigration policy. Visitors from many countries, including the US, Canada, and the UK, do not require a visa for stays of up to 90 days. For those looking to work, study, or reside long-term in Jamaica, specific for those looking to work, study, or reside long-term in Jamaica, specific visas and permits are required. Work permit applications must typically be submitted by a sponsoring Jamaican company or by individuals who intend to start a business in Jamaica. The process includes demonstrating that the skills being brought to the job market do not displace those of local Jamaicans.
For retirees or those wishing to live in Jamaica without seeking employment, there's the option to apply for permanent residency. This process can take some time, and applicants are usually required to demonstrate that they have sufficient means to support themselves without the need for employment. It's always advised to consult with a legal professional or contact the Jamaican embassy in your home country for the most accurate and current information.
Jamaica also offers a 'Jamaica Welcome Home' program, a long-stay visa for people of Jamaican heritage living in other countries. This program provides an opportunity for members of the Jamaican diaspora to return and contribute to their home country while enjoying extended stays.

At VIP Visa, we pride ourselves on our years of experience in helping clients navigate the complex process of obtaining visas, residencies, and second nationalities or passports. If you are considering a visit or moving to Jamaica, we are here to guide you through the process. Our team of experts will ensure that you have all the necessary information and support to make your dream come true. Please see below for more information about our visa categories and let us help you embark on your new journey!
Apply Now