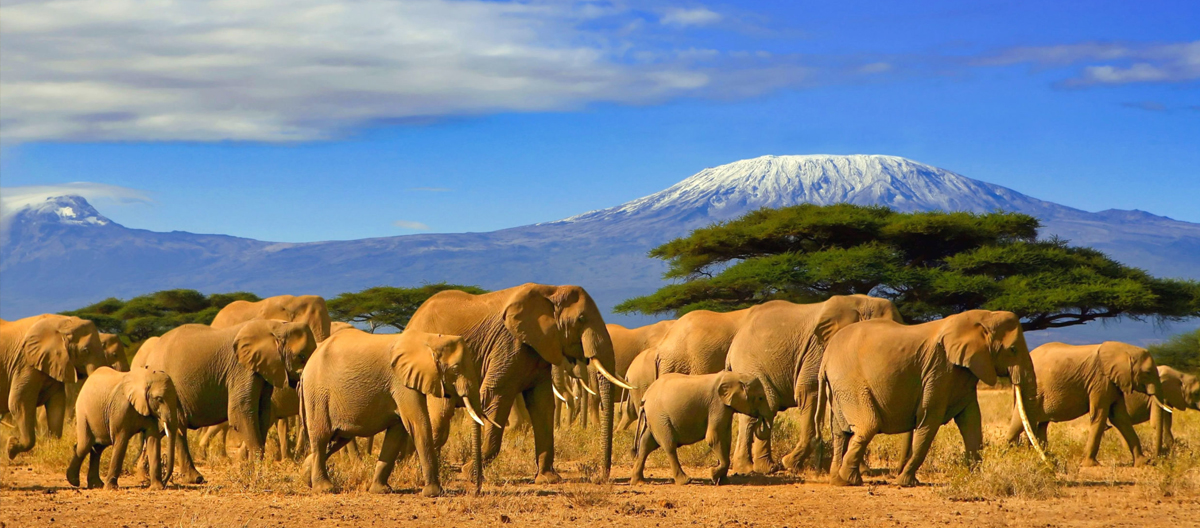 Benefits of life in Tanzania
Nestled on the eastern coast of Africa, Tanzania is a stunning spectacle of natural and cultural diversity that represents an attractive destination for potential travellers and residents. Blessed with a unique fusion of wildlife, serene landscapes, and welcoming communities, life in Tanzania is both tranquil and inspiring.
Tanzania provides a balanced life, filled with opportunities to explore its beautiful landscapes, from the iconic Mount Kilimanjaro to the idyllic beaches of Zanzibar. The country's climate is tropical, ensuring warm temperatures all year round, while the cooler periods provide a welcome respite for outdoor adventures. The cost of living is remarkably affordable, making it a feasible option for long-term stays or relocation.
A major allure of life in Tanzania is its culturally rich society. More than 120 ethnic groups co-exist harmoniously, each contributing to the vibrant tapestry of local customs, languages, and cuisines. English is widely spoken, particularly in urban areas, reducing language barriers for foreigners.
Business opportunities abound in Tanzania. The country boasts a steadily growing economy, with sectors such as tourism, agriculture, and mining showing particularly promising growth. Investing or working here could prove beneficial, given the government's supportive policies towards foreign investors and entrepreneurs.
Lastly, one cannot talk about Tanzania without mentioning its unrivalled wildlife. National parks and conservation areas cover almost a third of the country's surface, making it a paradise for wildlife enthusiasts. Living in Tanzania would provide an unforgettable, daily connection with nature.
Affordable Cost of Living
Warm, Tropical Climate All Year Round
Vibrant & Diverse Cultural Heritage
Business-Friendly with Numerous Opportunities
English is Widely Spoken, Easing Communication
Incredible Landscapes, from Kilimanjaro to Zanzibar
National Parks & Wildlife for Nature Lovers
Stable Political Environment & Safe Communities
Easy Access to Neighbouring African Countries
Study, Work and Live in Tanzania
EDUCATIONAL SYSTEM
Studying in Tanzania offers a wealth of benefits, stretching far beyond academics. Students in this dynamic East African nation have the opportunity to immerse themselves in a rich cultural tapestry, a biodiversity hotspot, and a vibrant local society.
A key advantage of studying in Tanzania is the language environment. With English widely spoken, international students find it easy to communicate both inside and outside the classroom. This ease of communication, coupled with exposure to Swahili - one of Africa's most spoken languages, provides a fantastic opportunity for linguistic development.
Tanzania is home to numerous world-renowned universities and institutions that offer a wide range of courses. Whether your interest lies in biology, tourism, business, or African studies, there are courses that will provide unique insights and unparalleled field experiences. The high-quality education system in Tanzania, with its emphasis on critical thinking and innovation, equips students with the skills necessary to excel in their chosen fields.
Studying in Tanzania also provides the unique opportunity to engage in hands-on learning about wildlife conservation, sustainable development, and biodiversity, given the country's diverse ecosystems and prominent environmental initiatives. Students gain a global perspective on these issues, which is increasingly important in today's interconnected world.
The personal growth students experience while studying in Tanzania is immeasurable. The friendly, community-oriented Tanzanian culture fosters a sense of belonging and understanding. Students learn first-hand about diversity and multicultural coexistence, attributes that contribute to both their personal and professional development. Studying in Tanzania is not just about earning a degree - it's about embracing a life-changing experience.
EMPLOYMENT OPPORTUNITIES
Working in Tanzania offers numerous benefits ranging from professional growth to personal fulfilment and the joy of experiencing a unique cultural environment.
Professionally, Tanzania presents significant opportunities for career development. As one of the fastest-growing economies in Africa, its dynamic sectors, including tourism, mining, agriculture, and information technology, offer wide-ranging prospects. With a positive investment climate and supportive government policies, entrepreneurs and business professionals can find fertile ground for their ambitions.
The cost of living in Tanzania is relatively low compared to many other countries. This allows employees to maintain a good standard of living and enjoy the country's amenities and leisure activities, enriching their work-life balance.
Working in Tanzania also gives individuals the chance to immerse themselves in a diverse cultural milieu. Tanzanians are known for their friendliness and hospitality, and the working environment is no different. This vibrant, multicultural workplace atmosphere can lead to rewarding personal interactions and the chance to learn from colleagues with different backgrounds.
Language is another notable advantage of working in Tanzania. While Swahili is the national language, English is widely spoken and is often the language of business, making it easier for expatriates to communicate and integrate.
Finally, being in Tanzania means living amidst some of the world's most spectacular landscapes and wildlife. Weekend trips can include safaris, hiking Mount Kilimanjaro, or relaxing on Zanzibar's pristine beaches. Working in Tanzania is more than a job—it's a lifestyle, an adventure, and a chance to contribute to a country with enormous potential.
ECONOMIC ADVANTAGES AND OPPORTUNITIES FOR BUSINESS
Tanzania offers a compelling economic landscape that is ripe with opportunities for both new businesses and digital nomads. The country boasts one of the fastest-growing economies in Africa, with a consistent growth rate of around 7% annually. This steady economic expansion has created a favourable climate for entrepreneurs looking to establish or expand their businesses.
Key sectors such as tourism, agriculture, mining, and information technology are burgeoning and present ample opportunities for investment and business development. For digital nomads, the thriving tech sector and the increasing availability of high-speed internet in urban areas make Tanzania a viable destination. The government is also actively encouraging foreign investment, offering attractive tax incentives, simplified business registration processes, and comprehensive support structures to help new businesses thrive.
NATURAL BEAUTY AND CLIMATE
Tanzania is blessed with an array of natural wonders that make it an incredible place to live. The stunning landscapes range from the breathtaking heights of Mount Kilimanjaro to the tranquil, white-sand beaches of Zanzibar. The country hosts an array of national parks and wildlife reserves, housing an impressive variety of flora and fauna. Living in Tanzania gives you the opportunity to experience these natural marvels first-hand, offering endless opportunities for exploration and adventure.
The country's climate adds to its allure, characterized by tropical warmth tempered by seasonal rains. Coastal regions enjoy a pleasant maritime climate, while the highlands are cooler and drier. This combination provides an ideal balance for those seeking warm weather without the oppressive heat.
PUBLIC SERVICES AND HEALTHCARE
Tanzania's public services are continually improving thanks to governmental efforts and foreign aid. Utilities like electricity and clean water are becoming increasingly available even in remote areas. The transportation infrastructure is also developing, with extensive road networks, airports, and ferry services facilitating travel and commerce.
Healthcare in Tanzania has seen significant progress in recent years. The government has invested in improving health facilities, training healthcare workers, and increasing accessibility to medical services. Several private hospitals and clinics provide high-quality healthcare, often at affordable prices. While challenges remain, the potential for improvement is vast and ongoing.
ACCOMMODATION AND REAL ESTATE INVESTMENT
The Tanzanian real estate market offers compelling opportunities for investment. Rapid urbanization, a growing middle class, and increased foreign investment are driving demand for both residential and commercial properties. Whether you're looking to buy, rent, or invest, there's a wide range of options available, from luxury villas on the coast to affordable apartments in bustling city centres.
Investing in Tanzanian real estate could yield significant returns as property values appreciate due to increasing demand. The government encourages foreign investment in real estate and offers a relatively straightforward process for property acquisition, making this a lucrative potential investment.
RETIREMENT AND LIVING IN TANZANIA FOR FOREIGNERS
Tanzania is increasingly gaining recognition as an attractive destination for retirees. The affordable cost of living allows retirees to enjoy a high standard of living, with the ability to afford domestic help, dine out regularly, and engage in leisure activities. The warm climate, natural beauty, and slow pace of life also contribute to its appeal for those seeking a relaxed lifestyle.
The warm-heartedness and hospitality of the Tanzanian people make integration into local communities a rewarding experience. English is widely spoken, particularly in urban areas, making communication easy for most foreigners. All these factors combined make Tanzania not just a place to retire, but a place to truly enjoy life.
LUCRATIVE POTENTIAL OF LIVING IN TANZANIA
The benefits of living in Tanzania extend beyond the tangible. Yes, the economic opportunities are vast, the cost of living is affordable, and the real estate market is burgeoning. But beyond that, Tanzania offers an incomparable lifestyle — one marked by cultural richness, natural beauty, and a sense of community. This lifestyle is not just personally enriching, but can also be financially rewarding.
For example, entrepreneurs can leverage the unique resources and opportunities present in Tanzania to create thriving businesses. Digital nomads can benefit from the low cost of living while working remotely for international clients. Real estate investors can tap into the growing demand for quality housing. Retirees can enjoy a high standard of living at a fraction of the cost in many Western countries.
VISA REQUIREMENTS AND IMMIGRATION LAWS
The Tanzanian government has a welcoming approach to foreigners looking to live, work, or study in the country. Various visa options are available, including business visas, student visas, and permits for long-term residents. While the exact requirements vary depending on the specific visa, generally, a valid passport, proof of sufficient funds, and documentation supporting the purpose of the visit are required.
For those looking to start a business, acquire property, or retire in Tanzania, it's possible to apply for residency permits. It's always recommended to consult with an immigration expert or legal advisor to understand the specific requirements and processes related to Tanzanian immigration laws. VIP Visa, with over 20 years of experience, can help navigate these processes, making your transition to life in Tanzania as smooth as possible.
At VIP Visa, we pride ourselves on our years of experience in helping clients navigate the complex process of obtaining visas, residencies, and second nationalities or passports. If you are considering a visit or moving to Tanzania, we are here to guide you through the process. Our team of experts will ensure that you have all the necessary information and support to make your dream come true. Please see below for more information about our visa categories and let us help you embark on your new journey!