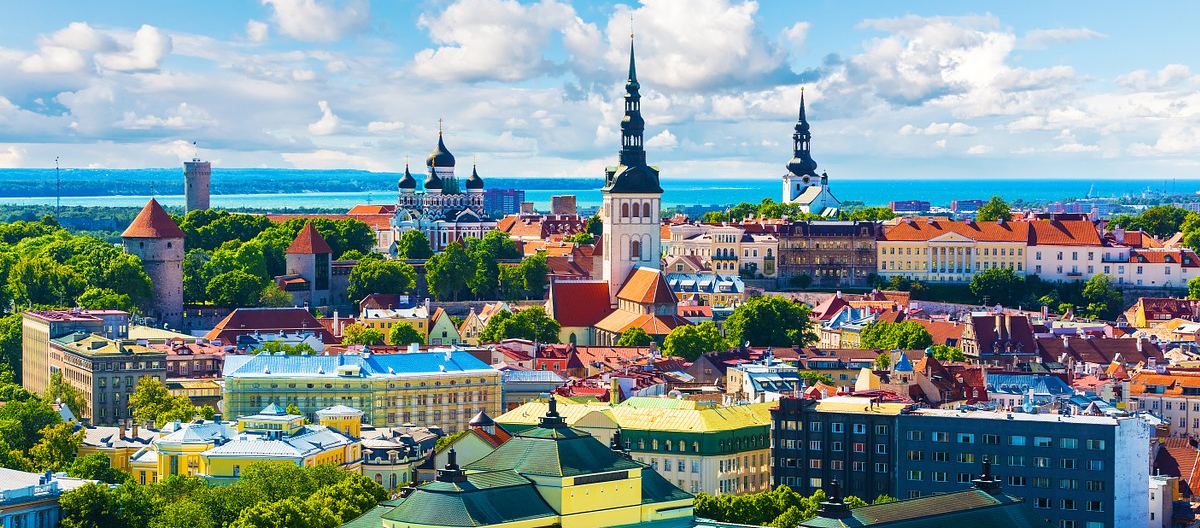 Benefits of life in Estonia
Nestled in Northern Europe, Estonia, a member of the European Union, is an enchanting blend of historical charm and modern innovation. Living in Estonia offers a unique mix of advantages that resonate with people of diverse interests and priorities.
Estonia, often hailed as the 'Silicon Valley of Europe,' is a digital powerhouse. With a highly developed e-government infrastructure, the nation offers e-residency programs that allow global citizens to start and manage businesses online. This digital advancement is accompanied by a robust education system with a strong emphasis on tech literacy, making Estonia an ideal place for those interested in tech-based careers and startups.
The quality of life in Estonia is exceptional. With one of the cleanest air in the world, and surrounded by abundant forests and lakes, Estonia offers a tranquil, nature-infused lifestyle. The low population density ensures minimal congestion and a peaceful living environment.
Estonia's geographical location is another plus, with easy access to other European destinations. Additionally, it has a low cost of living compared to other European countries, without compromising on the availability and quality of services.
Estonian society is safe, egalitarian, and inclusive, boasting a high level of gender equality and social security. The rich cultural heritage and the vibrant arts scene, coupled with a fascinating blend of Eastern and Western European influences, make Estonia an exciting place to live and explore.
In summary, whether it's for the digital advancements, the peaceful natural surroundings, the strategic location, or the high living standards, Estonia offers a captivating proposition for those seeking new horizons.
Digital Innovation, Attractive for Digital Nomads
Natural Beauty, Vast Forests & Stunning Coastlines
Strategic Location with Easy Access to Europe
High Quality of Life in Compare to Other EU Nations
Safe & Secure Environment for Residents & Travellers
Rich Culture with Unique History & Vibrant Arts
Strong Emphasis on Tech Literacy
Study, Work and Live in Estonia
EDUCATIONAL SYSTEM
Estonia, a burgeoning hub of education in Northern Europe, offers an array of benefits for students, making it an attractive destination for higher studies.
One of the greatest advantages of studying in Estonia is its world-class education system, which is highly regarded globally. Estonian universities offer a wide range of programs, many of which are taught in English. They are renowned for their research-intensive curriculum and focus on innovation, especially in the fields of digital technologies and environmental sciences.
The tuition fees in Estonia are reasonable compared to other European countries, and numerous scholarships are available for international students, making education accessible and affordable.
Estonia has a thriving student life with an active international student community. This ensures a rich cultural exchange and provides students with a global perspective.
The country's digital advancements extend to its education system as well, with e-learning facilities that provide a flexible study environment. The government also supports student-led start-ups, making it a perfect place for entrepreneurial minds.
Moreover, studying in Estonia opens up opportunities to travel across Europe, as it's part of the Schengen area.
Finally, Estonia has a unique approach to post-study work rights. International students can stay in the country for up to nine months after graduation to look for a job, and there is a growing demand for skilled professionals in the country's thriving tech sector.
In conclusion, studying in Estonia provides a high-quality, affordable education, opportunities for cultural exchange, entrepreneurial growth, and an open door to the job market after graduation, all of which contribute to a comprehensive and enriching study experience.
EMPLOYMENT OPPORTUNITIES
Estonia, often dubbed the 'Silicon Valley of Europe,' offers a dynamic and rewarding work environment that continues to draw professionals worldwide.
The country is a global leader in the tech industry, particularly known for its advancements in digital and internet technologies. For tech professionals, working in Estonia provides an opportunity to be at the forefront of technological innovation. With companies like Skype and TransferWise having roots in Estonia, the country has a thriving start-up ecosystem, making it a hotspot for entrepreneurs and innovators.
Estonia's work culture emphasizes a good work-life balance. With flexible working hours becoming more common and a high importance placed on personal time, employees can enjoy a balanced lifestyle. This approach, along with Estonia's relatively low cost of living and high living standards, contributes to a satisfying quality of life.
The country also offers competitive salaries that match the cost of living, and the tax system is simple and straightforward. Moreover, the unemployment rate is relatively low, and there's a high demand for skilled workers, particularly in IT, engineering, and finance sectors.
Being a part of the European Union, Estonia provides the opportunity for easy travel within the Schengen area. This opens the possibility for both business and leisure travel across Europe.
Additionally, Estonia's inclusive society ensures a welcoming atmosphere for international workers. English is widely spoken, which eases communication in the workplace and day-to-day life.
In conclusion, the benefits of working in Estonia range from being part of a digital powerhouse and a thriving start-up scene, enjoying a good work-life balance, competitive salaries, and the opportunity to travel and explore Europe.
ECONOMIC ADVANTAGES & BUSINESS OPPORTUNITIES
Estonia, often referred to as the 'Silicon Valley of Europe,' is a mecca for business and digital innovation. The country's robust e-government infrastructure, with virtually all public services available online, has created a welcoming ecosystem for entrepreneurs and digital nomads. Estonia's e-residency program enables global citizens to start and manage a business remotely. The business-friendly tax system, where corporate profits are not taxed until distribution, is another draw for businesses. Furthermore, the government's support for start-ups, coupled with the presence of several tech giants and a thriving start-up scene, provides a fertile ground for new business ideas to flourish.
NATURAL BEAUTY & CLIMATE
Estonia's natural beauty is remarkable, with over 50% of the country covered in forests. The nation boasts vast national parks, tranquil lakes, and a stunning Baltic coastline. Its climate features warm summers with long daylight hours, perfect for exploring the outdoors, and snowy winters that transform the landscape into a winter wonderland. This combination of natural beauty and a pleasant climate offers a serene living environment that fosters well-being and relaxation.
PUBLIC SERVICES
Estonia prides itself on its highly developed public services. The digitalization of public services ensures efficiency and accessibility, with everything from tax filing to voting available online. The country has a robust education system, with schools focusing on digital literacy and an emphasis on innovation. Estonia's public transport is reliable and efficient, and in many areas, completely free, making commuting hassle-free.
HEALTHCARE POTENTIAL
Estonia's healthcare system is comprehensive and modern, with both public and private sectors. The country ranks highly for its quality of healthcare among European nations. The public health insurance covers a significant portion of medical costs, providing residents with access to a wide range of health services. Estonia's digital approach extends to healthcare as well, with e-prescriptions and digital health records making healthcare management seamless and efficient.
ACCOMMODATION & REAL ESTATE INVESTMENT
The real estate market in Estonia offers excellent opportunities for investment. Property prices are reasonable compared to other EU countries, and the process for foreigners to buy property is straightforward. The rental market is also strong, providing potential for a steady income stream. As for accommodation, options range from modern city apartments to countryside homes, all at a relatively lower cost of living.
RETIREMENT IN ESTONIA
Retiring in Estonia offers several advantages. The peaceful, nature-infused lifestyle, coupled with a low cost of living, makes it an attractive choice for retirees. Estonia's safety, high living standards, and efficient public services contribute to a comfortable retirement life. The country's digital infrastructure ensures easy access to various services, making life simpler for older adults. Furthermore, Estonia's location provides the opportunity for easy travel within Europe, allowing retirees to explore new cultures and experiences.
LUCRATIVE BENEFITS OF LIVING IN ESTONIA
Living in Estonia presents a unique blend of opportunities that can be highly lucrative. The country's digital prowess provides a fertile ground for businesses and digital nomads. The natural beauty, pleasant climate, and high quality of life contribute to a serene and comfortable lifestyle. The strong public services, including the healthcare and education system, ensure a secure and enriching life. The real estate market provides promising investment opportunities, and the retirement benefits offer a peaceful and rewarding post-retirement life.
VISA REQUIREMENTS & IMMIGRATION LAWS
Estonia, being a part of the Schengen Area, follows the common visa policy of the European Union. Short-term visits require a Schengen visa, while longer stays or work-related moves may require a national visa or a residence permit. The process is streamlined and transparent, with clear guidelines provided by the government.
For non-EU entrepreneurs looking to start a business, Estonia offers a Start-up Visa that allows them to live and establish their venture in the country. Digital nomads, on the other hand, can take advantage of the Digital Nomad Visa, which allows internationals to live in Estonia while working for a foreign employer or as a freelancer.
For those looking to retire in Estonia or join a family member, different types of residence permits are available. Temporary Residence Permits can be obtained for settling with a close relative who is an Estonian resident, or for retiring, if the person has sufficient legal income.
Investors interested in Estonia's real estate can apply for a residence permit for investment. The main requirement is a significant financial investment in a company that operates in Estonia, or an investment in an investment fund, as specified by the Ministry of Interior.
Estonia's immigration laws are geared towards attracting skilled professionals and investors, while maintaining the security and societal balance of the country. They are constantly evolving to adapt to global trends and the needs of a digital society, making Estonia a welcoming destination for people from all walks of life.
In conclusion, the benefits of living in Estonia are manifold, combining economic, lifestyle, and societal advantages in a unique blend. Whether you're an entrepreneur, a digital nomad, a retiree, or someone seeking a high quality of life, Estonia offers an environment that is both enriching and rewarding.
At VIP Visa, we pride ourselves on our years of experience in helping clients navigate the complex process of obtaining visas, residencies, and second nationalities or passports. If you are considering a visit or moving to Estonia, we are here to guide you through the process. Our team of experts will ensure that you have all the necessary information and support to make your dream come true. Please see below for more information about our visa categories and let us help you embark on your new journey!