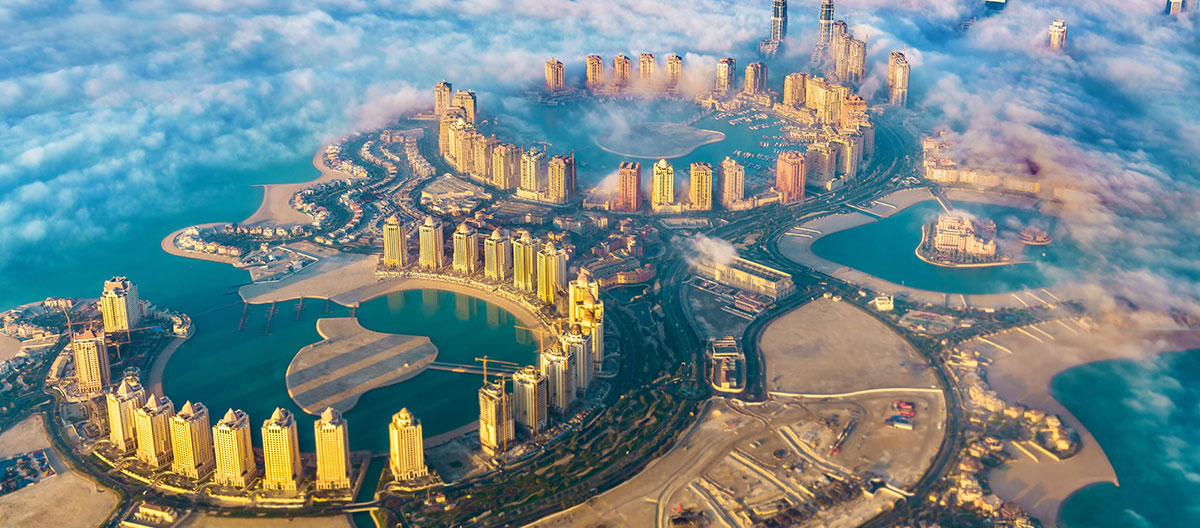 Benefits of life in Qatar
Life in Qatar offers a myriad of opportunities and privileges that cater to both residents and visitors. Located in the heart of the Arabian Peninsula, Qatar is a place where tradition and modernity blend seamlessly, creating an environment that is both progressive and deeply rooted in its cultural heritage.
One of the most significant benefits of life in Qatar is its economic stability. As one of the richest countries in the world per capita, Qatar offers vast opportunities for career advancement and business growth. The Qatari government encourages entrepreneurship and innovation, providing a stable and supportive platform for individuals and companies to thrive.
Qatar also prides itself on its outstanding safety and security. Its low crime rates and reliable law enforcement agencies contribute to a sense of safety and peace of mind, creating an environment that is conducive to raising families.
Moreover, Qatar's commitment to world-class education is evident in its numerous international schools and universities. Many of these institutions collaborate with prestigious universities worldwide, offering high-quality education that prepares students for a globalized world.
The healthcare system in Qatar is also noteworthy. With modern facilities, highly trained medical staff, and accessible healthcare services, residents can be assured of receiving excellent medical care.
Living in Qatar also means experiencing its rich cultural heritage, diverse population, and luxurious lifestyle. From visiting grand mosques and historical sites to enjoying shopping in high-end malls and dining in gourmet restaurants, life in Qatar is vibrant and exciting.
Finally, Qatar's central location makes it a convenient travel hub, with the award-winning Hamad International Airport connecting you to various global destinations.
Economic Stability & Business Opportunities
High Safety & Security Standards
Excellent Education System with Intl' Affiliations
World-Class Healthcare Facilities & Services
Rich Cultural Heritage & Diversity
Luxurious Lifestyle & Leisure Activities
Easy Access to Global Destinations
Progressive Yet Culturally Respectful Society
Friendly & Welcoming Local Community
Sustainable & Eco-Friendly Initiatives
Study, Work and Live in Qatar
EDUCATIONAL SYSTEM
Studying in Qatar offers numerous advantages that extend beyond acquiring knowledge. One of the principal benefits is the access to world-class education. Qatar houses several branch campuses of some of the most prestigious universities worldwide, like Georgetown University, Carnegie Mellon, and Northwestern. These institutions offer programs in medicine, engineering, international affairs, communication, and more, providing students with an education that meets international standards.
Another advantage is the multicultural environment. Qatar's diverse population brings together students from various nationalities, promoting cultural exchange and global awareness. This diversity enriches the learning experience, preparing students to thrive in an increasingly globalized world.
Qatar is also investing heavily in research and development, with initiatives like Qatar Foundation's Education City fostering innovation and critical thinking. The opportunity to contribute to ground-breaking research is an invaluable experience for students interested in these fields.
Moreover, studying in Qatar provides students with unique opportunities to understand and engage with the Middle East's history, culture, and socio-political dynamics. This regional perspective can be particularly beneficial for students interested in fields like international relations, history, and social sciences.
The Qatari government also offers generous scholarships to attract international students, making high-quality education accessible. Furthermore, the relatively low cost of living compared to other countries with similar living standards makes Qatar an attractive option for students.
In summary, the benefits of studying in Qatar include access to high-quality education, a multicultural environment, research opportunities, exposure to the Middle East's rich history and culture, and financial accessibility.
EMPLOYMENT OPPORTUNITIES
Working in Qatar comes with several distinctive advantages that make it an attractive destination for professionals worldwide. Firstly, Qatar boasts a strong and diversified economy. Powered by its extensive natural gas and oil reserves, Qatar has one of the highest GDP per capita globally, offering excellent job opportunities in various sectors, from energy to technology and finance.
Secondly, Qatar provides competitive remuneration packages for expatriate workers. Many companies offer comprehensive benefits, including tax-free salaries, housing allowances, healthcare, and education allowances for children, contributing to a high standard of living.
Thirdly, Qatar is a multicultural melting pot, where professionals can work alongside colleagues from diverse cultural backgrounds. This cultural diversity not only enriches the professional experience but also broadens personal horizons and fosters mutual understanding.
Moreover, Qatar is investing heavily in infrastructure and development projects, especially as it prepares for significant events like the FIFA World Cup. Such investments generate numerous job opportunities and allow professionals to contribute to the country's growth and development.
Also, Qatar's strategic location and excellent transportation facilities, including the state-of-the-art Hamad International Airport, make it a convenient hub for travel, both for business and leisure.
Finally, working in Qatar offers the chance to experience its rich culture, heritage, and traditions. From historic sites to world-class museums, and a broad range of recreational and leisure activities, life in Qatar can be as fulfilling personally as it is professionally.
In conclusion, the benefits of working in Qatar include a robust economy, competitive remuneration, a multicultural environment, vast development opportunities, excellent connectivity, and a rich cultural experience.
ECONOMIC ADVANTAGES AND BUSINESS OPPORTUNITIES
Living in Qatar offers a plethora of economic benefits. As one of the richest countries in the world per capita, it presents a fertile ground for entrepreneurs and business owners. The government actively encourages new ventures and provides a favourable business environment with a modern infrastructure, a stable economy, and accessible resources. For digital nomads, Qatar is increasingly becoming a hotspot thanks to its robust digital infrastructure, flexible work spaces, and a vibrant expatriate community.
Moreover, Qatar's strategic location at the crossroads of East and West makes it an ideal hub for businesses looking to expand their reach. With a liberal economic policy, free trade agreements with numerous countries, and a strong investment in sectors beyond oil and gas, the country has positioned itself as a global commerce centre.
BEAUTY AND CLIMATE
Beyond business opportunities, Qatar is a country of captivating beauty, boasting a blend of natural and man-made wonders. From the magnificent dunes of Khor Al Adaid to the architecturally striking skyline of Doha, there's a visual treat around every corner. The country's climate is typically Middle Eastern, with hot summers and mild winters. The cooler months between November and April are especially pleasant, making it perfect for outdoor activities and exploration.
PUBLIC SERVICES
Qatar's public services are designed to provide a high quality of life for its residents. The country has a comprehensive public transportation system, including a modern metro network, extensive bus routes, and a range of taxi services, making commuting hassle-free. It also has a strong focus on environmental sustainability, with numerous parks and green spaces for residents to enjoy.
HEALTHCARE BENEFITS
The healthcare system in Qatar is among the best globally, with a strong emphasis on accessibility and quality. The government invests heavily in healthcare, resulting in state-of-the-art medical facilities, highly skilled healthcare professionals, and advanced healthcare services. The country's health system is a mix of public and private providers, ensuring that residents have multiple options to suit their needs. In addition, the government's commitment to public health is evident in its handling of public health crises, ensuring the safety and wellbeing of its residents.
ACCOMMODATION AND REAL ESTATE INVESTMENT
Qatar offers a wide range of accommodation options, from luxury villas to modern apartments, catering to different lifestyle needs and budgets. The real estate market in Qatar is robust and dynamic, presenting lucrative investment opportunities. The government has introduced regulations allowing foreigners to own property in selected areas, making it a viable option for those looking to invest in property.
RETIREMENT IN QATAR
For those considering retirement, Qatar is an excellent choice. The country's high standard of living, coupled with its safety and security, make it an ideal place to spend one's golden years. Furthermore, the government has recently introduced a law allowing certain expatriates to apply for permanent residency, making it even more appealing to retirees.
LUCRATIVE POTENTIAL OF LIVING IN QATAR
All these factors combine to make living in Qatar a potentially lucrative proposition. The robust economy and business-friendly environment make it perfect for entrepreneurs and businesses. The excellent public services, world-class healthcare, and quality accommodation ensure a high standard of living. The potential for real estate investment, coupled with the prospect of a comfortable retirement, adds to the allure of life in Qatar.
VISA REQUIREMENTS AND IMMIGRATION LAWS
However, it's essential to be aware of the visa requirements and immigration laws when considering moving to Qatar. The country offers various types of visas, including work visas, family visas, and visitor visas. The process can be complex, so it's recommended to seek advice from experts or consult the official government website. The laws are designed to ensure a seamless integration of foreign nationals into the Qatari society while safeguarding the country's security and societal norms.
Work visas, for instance, usually require sponsorship from a Qatari company. The sponsor takes responsibility for the employee during their stay in the country. Family visas, on the other hand, can be obtained by residents who want to bring their family members to live with them in Qatar. The applicant must meet certain criteria, including a minimum salary.
Visitor visas are available for tourists, and citizens from a list of eligible countries can obtain a visa on arrival or apply for an e-visa before their travel. In 2018, Qatar introduced a visa-free entry scheme for citizens of more than 80 countries, making it more accessible for tourists and short-term visitors.
For those planning to stay longer, Qatar has also introduced a residency program for certain categories of foreign investors, providing them with benefits such as owning property and running certain businesses without a Qatari partner. It's the first such scheme in the Gulf region and opens up new opportunities for long-term investment in the country.
It's crucial to understand these regulations and to comply with them fully. Non-compliance can lead to serious penalties, including fines and deportation. Therefore, it's recommended to consult with immigration experts or legal professionals when planning to move to Qatar.
In conclusion, the advantages of living in Qatar are abundant, from the economic opportunities to the high standard of living, the cultural experiences, and the potential for long-term investment. Combined with a clear understanding of the immigration laws, these benefits make Qatar an attractive destination for individuals and families seeking a new place to call home.
At VIP Visa, we pride ourselves on our years of experience in helping clients navigate the complex process of obtaining visas, residencies, and second nationalities or passports. If you are considering a visit or moving to Qatar, we are here to guide you through the process. Our team of experts will ensure that you have all the necessary information and support to make your dream come true. Please see below for more information about our visa categories and let us help you embark on your new journey!