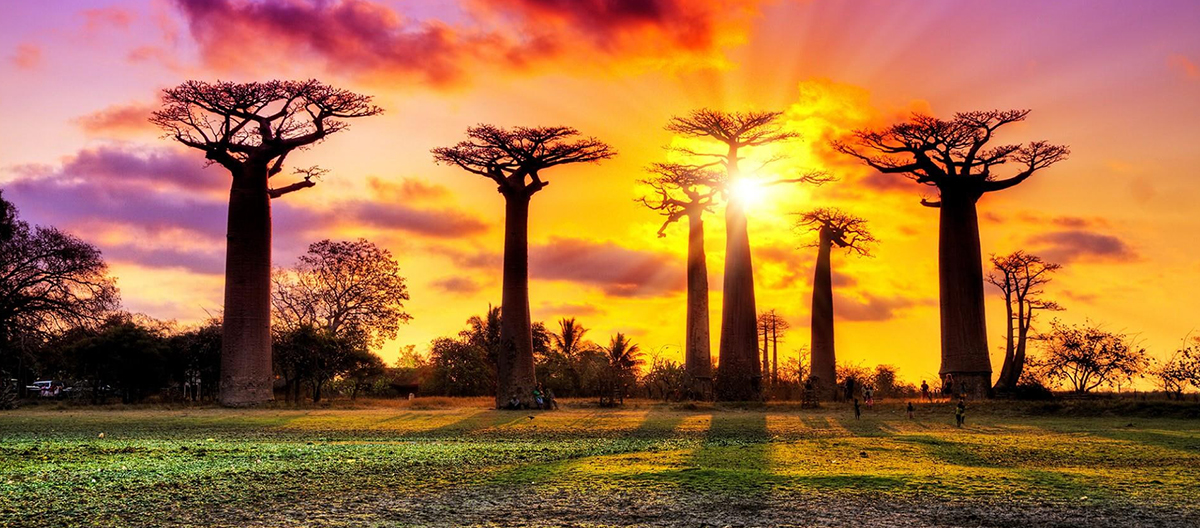 Benefits of life in Madagascar
Madagascar, a jewel in the Indian Ocean, offers a truly distinctive and enchanting lifestyle. Its diverse landscapes range from rainforests to deserts, offering a rich array of experiences that are unique to this part of the world. Life in Madagascar comes with a myriad of benefits, including an unparalleled closeness to nature, warm-hearted locals, and a low cost of living.
This island country, often referred to as the "eighth continent" due to its exceptional biodiversity, grants residents the opportunity to marvel at a vast array of flora and fauna found nowhere else on earth. This includes over a hundred species of lemurs, stunning orchids, and towering baobab trees.
Culturally, Madagascar is a mosaic of African, Asian, and European influences, providing a rich heritage that is reflected in the local cuisine, arts, and traditions. This multicultural backdrop paves the way for fascinating encounters and learnings every day.
Madagascar's cost of living is one of the lowest worldwide, allowing for a comfortable lifestyle that would be far more costly elsewhere. Fresh produce, seafood, and local goods are readily available at affordable prices, adding to the ease and pleasure of everyday life.
While Madagascar still develops in terms of infrastructure and amenities, residents appreciate the simpler pace of life, the close-knit communities, and the opportunity to contribute positively to the country's growth and development. As an expat in Madagascar, you can truly immerse yourself in a vibrant, resilient culture, and live life close to the most pristine and diverse natural environments.
Discover Wildlife & Plants Found Nowhere Else
Experience a Unique Blend of African Influences
Benefit from a Lower Cost of Living
Enjoy Diverse Environments, Deserts & Beaches
The Malagasy People are Known for Their Hospitality
Madagascar is an Adventurer's Paradise
Fresh Local Produce: Seafood, Fruits & Vegetables
Escape the Hustle & Bustle of Big Cities
Madagascar is Growing & Offers Many Opportunities
Study, Work and Live in Madagascar
EDUCATIONAL SYSTEM
Studying in Madagascar provides a unique, enriching experience that combines academic pursuit with cultural immersion and ecological discovery.
The education system in Madagascar, particularly at the university level, offers a range of programs in various disciplines, including environmental and biological sciences, which leverage the country's unique biodiversity. These programs attract students from around the world, keen to study unique flora and fauna in their natural habitats. This first-hand exposure to unique ecosystems and conservation efforts provides an unparalleled learning experience.
Additionally, studying in Madagascar allows students to learn and master French, the country's official language. This can provide a significant advantage in the global job market, particularly in careers related to international relations or global businesses.
Living and studying in Madagascar also helps students develop cross-cultural understanding and adaptability. Immersed in the rich Malagasy culture, influenced by African, Asian, and European traditions, students get the chance to broaden their worldviews, embrace new perspectives, and cultivate global citizenship.
The cost of living in Madagascar is relatively low compared to many countries, making it a financially viable option for many students. Moreover, opportunities for adventure and exploration abound in Madagascar, from hiking in national parks to spotting lemurs in the rainforest, ensuring an unforgettable student life experience.
In summary, studying in Madagascar offers not just a degree, but a holistic, life-enriching experience that blends academic growth, cultural immersion, and adventurous exploration.
EMPLOYMENT OPPORTUNITIES
Working in Madagascar presents numerous benefits, not only professionally but also personally. This beautiful island country, unique in its cultural diversity and biodiversity, provides countless opportunities for growth and enrichment.
Madagascar is known for its growing economy, with significant sectors including agriculture, mining, and tourism. Consequently, professionals working in these fields can find interesting opportunities for career advancement and valuable hands-on experience. Entrepreneurs and investors will also find untapped markets and potential for growth, as the country continues to develop and diversify its economy.
Beyond these career opportunities, working in Madagascar also offers the chance to improve language skills. French and Malagasy are the official languages, and English is increasingly spoken, especially in the business sector. Therefore, professionals can hone their language skills, broadening their international competencies and enhancing their future employability.
Moreover, the cost of living in Madagascar is lower than in many other countries. This makes it possible for professionals to enjoy a comfortable lifestyle, saving more of their income or investing it back into the local economy.
Working in Madagascar also provides an immersive cultural experience. With a unique blend of African, Asian, and European influences, the Malagasy culture is diverse and vibrant, offering an enriching personal journey alongside the professional one. Plus, the country's biodiversity and natural beauty provide a stunning backdrop for life outside of work.
In conclusion, Madagascar offers a unique combination of professional opportunities, cultural richness, and natural beauty, making it a compelling destination for those seeking to work abroad.
ECONOMIC ADVANTAGES FOR ENTREPRENEURS & DIGITAL NOMADS
Madagascar presents a multitude of economic advantages that make it an attractive destination for entrepreneurs, digital nomads, and investors. The country has a steadily growing economy with promising sectors such as agriculture, mining, and tourism. The government is also encouraging foreign direct investment and has liberalized key sectors to stimulate economic growth. This provides fertile ground for entrepreneurs seeking untapped markets and fresh opportunities.
Digital nomads, too, find Madagascar an appealing destination due to its lower cost of living compared to many other countries. This means a higher quality of life, enabling nomads to maintain a comfortable lifestyle while working remotely.
NATURAL BEAUTY, WEATHER AND CLIMATE
Known as the 'eighth continent' due to its unique biodiversity, Madagascar is teeming with natural beauty. The country offers diverse landscapes, from stunning beaches to majestic rainforests, and arid deserts to sprawling savannahs. This diverse environment is home to numerous endemic species, making it a paradise for nature enthusiasts.
Madagascar's climate varies across the country, but it is generally tropical along the coast, temperate inland, and arid in the south. This variety of microclimates allows for a diversity of lifestyles depending on personal preferences. The coastal areas provide a year-round summer environment, while the highlands offer cooler temperatures.
PUBLIC SERVICES
Public services in Madagascar are developing along with the nation's economy. While there are areas that require improvement, progress is being made in sectors like education and infrastructure. The government is increasingly focusing on public sector reforms to improve service delivery, presenting an optimistic outlook for the future.
HEALTHCARE POTENTIAL
The healthcare system in Madagascar is a mix of public and private providers. While challenges exist, particularly in rural areas, there is a clear commitment from both the government and international organizations to improve healthcare infrastructure and services. The potential for growth in this sector is substantial, making it a promising area for investment and development.
ACCOMMODATION AND REAL ESTATE INVESTMENT
The real estate market in Madagascar offers a wide range of options for both living and investment. From city apartments to coastal villas, and country houses, there's something to suit every lifestyle and budget. For investors, the growing tourism sector presents opportunities for rental and vacation properties. Additionally, the expanding economy and urban development are driving demand for commercial properties.
RETIREMENT IN MADAGASCAR
For retirees seeking a tranquil and affordable lifestyle, Madagascar is a compelling option. Its slower pace of life, combined with a low cost of living, makes it an ideal destination for those seeking to maximize their retirement income. Additionally, the warm and welcoming local community helps to create a sense of belonging, making it easier for foreigners to settle in and call Madagascar their home.
LUCRATIVE POTENTIAL OF LIVING IN MADAGASCAR
Each of the benefits described above combines to create a potentially lucrative living situation in Madagascar. The economic advantages and business opportunities can lead to prosperous entrepreneurial ventures and fruitful investments. The natural beauty and pleasant climate can boost the quality of life and overall happiness, leading to increased productivity and creativity for digital nomads and remote workers.
Investment in healthcare and real estate can deliver significant returns as these sectors continue to grow. The cost of living allows for a comfortable lifestyle without excessive spending, enabling both savings and investment. And for retirees, the financial advantages combined with the relaxed lifestyle can make their golden years truly enjoyable.
VISA REQUIREMENTS AND IMMIGRATION LAWS
As with any country, it is essential to comply with visa requirements and immigration laws when considering living in Madagascar. For most nationalities, a visa is required, and this can be obtained either prior to arrival or on arrival for some nationalities.
There are different types of visas depending on the purpose of your stay, including tourist, business, and long-stay visas. For those planning to work or invest in Madagascar, it's essential to obtain the appropriate visa. Long-term residency usually requires proof of financial stability, a return ticket, and in some cases, a formal letter of invitation or employment contract.
Foreigners looking to retire in Madagascar need to provide proof of retirement and sufficient funds to support themselves. It's always recommended to check the latest information with the nearest Malagasy embassy or consulate before making any decisions.
In conclusion, Madagascar offers an enticing mix of business opportunities, financial benefits, cultural experiences, and natural beauty. This, combined with its welcoming community, makes it an attractive destination for those seeking a unique and rewarding living experience abroad. It's a country where one can not only live comfortably but also contribute positively to a growing economy and a vibrant community.
At VIP Visa, we pride ourselves on our years of experience in helping clients navigate the complex process of obtaining visas, residencies, and second nationalities or passports. If you are considering a visit or moving to Madagascar, we are here to guide you through the process. Our team of experts will ensure that you have all the necessary information and support to make your dream come true. See below to find more about visa categories and let us help you embark on your new journey!