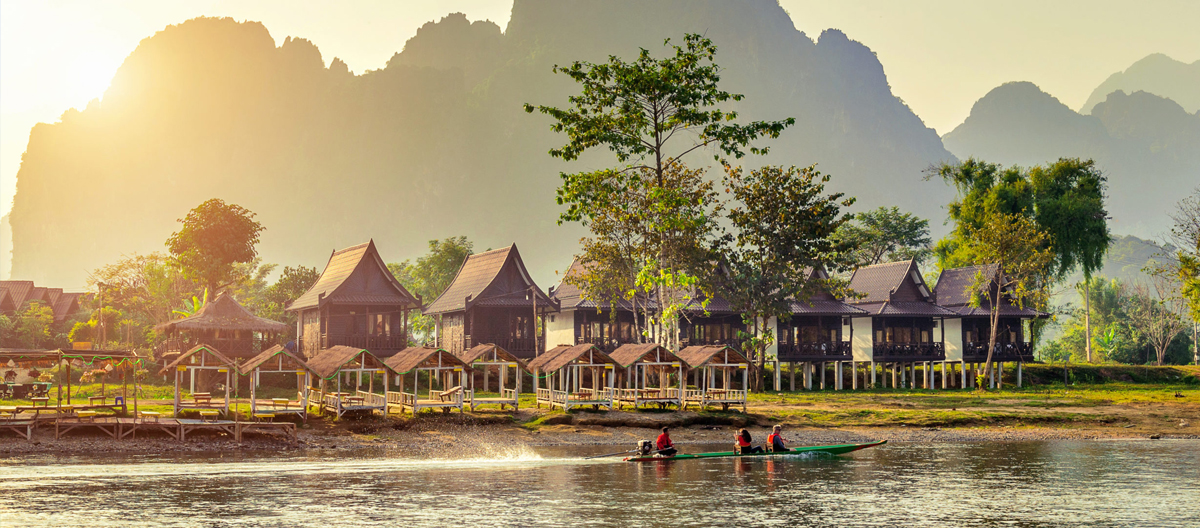 Benefits of life in Laos
Laos, a hidden gem nestled in Southeast Asia, presents a unique blend of untouched natural beauty, deep-rooted cultural heritage, and the warm hospitality of its people, making it an enticing destination for any traveler. Its allure is further enhanced for those considering residency, offering a tranquil lifestyle that is both economically viable and spiritually enriching.
Life in Laos is characterized by a slower, simpler pace, allowing one to savour the exquisite moments and reconnect with nature. The country is teeming with unspoiled landscapes, ranging from breathtaking waterfalls, lush jungles, to the mighty Mekong River. The serene surroundings and the tranquil ambiance provide a perfect antidote to the frenetic pace of modern life.
Laos boasts a rich cultural heritage that is intricately woven into everyday life. As a potential resident, you would be immersed in this vibrant culture, filled with color and festivities. Its Buddhist traditions offer a unique spiritual dimension, promoting peace and harmony.
Cost of living in Laos is significantly lower compared to Western countries, making it an attractive choice for those looking for an affordable yet comfortable lifestyle. Moreover, the local cuisine is a gastronomic delight, with an exciting array of dishes to explore at a fraction of the cost compared to other destinations.
Laos, while retaining its traditional charm, is also evolving, with improvements in infrastructure and accessibility, making it a promising destination for those looking to explore new opportunities.
Untouched Landscapes, Perfect for Nature Lovers
Rich Cultural Heritage with a Vibrant Culture
An Affordable Lifestyle with High Quality of Life
A Paradise for Food Enthusiasts
Tranquil Lifestyle, Away from Fast-Paced Modern Life
Known for Their Warmth & Hospitality
Continuous Development of Infrastructure
Thriving Expat Community
An Emerging Economy
Study, Work and Live in Laos
EDUCATIONAL SYSTEM
Studying in Laos presents a unique, enriching opportunity that goes beyond the classroom. As a country deeply rooted in its traditions, yet progressively evolving, it offers a distinctive cultural and educational experience.
Laos' educational system is continuously improving, with increased investment in schools and universities. The local institutions offer a range of programs, with an increasing number of courses taught in English. This improvement in educational quality combined with the low cost of living makes Laos an affordable choice for international students.
Studying in Laos also provides a deep immersion in the country's rich cultural heritage. Students have the opportunity to learn the Lao language, engage in traditional customs, and participate in vibrant local festivals. This cultural exposure contributes to a well-rounded educational experience that fosters global understanding and respect for diversity.
Additionally, Laos' geographical location in the heart of Southeast Asia makes it a perfect base for exploring neighbouring countries. This offers students a broader perspective and appreciation of different cultures and histories within the region.
Furthermore, the friendly, welcoming nature of the Lao people creates a supportive environment for international students. The chance to form meaningful connections with locals and fellow students from around the world greatly enriches the study abroad experience.
In summary, studying in Laos offers a unique blend of quality education, cultural immersion, regional exploration, and community engagement. It is an opportunity to expand one's horizons while enjoying a peaceful and affordable lifestyle.
EMPLOYMENT OPPORTUNITIES
Working in Laos offers a unique combination of professional growth, cultural immersion, and an exceptional quality of life. As Laos' economy continues to expand and diversify, it presents a variety of opportunities for both local and international professionals.
Laos' growing sectors such as tourism, education, and technology, provide a dynamic environment for career advancement. Working here allows professionals to contribute to and learn from these evolving industries, gaining valuable experience and skills.
The country's cost of living is relatively low compared to Western nations, enabling a comfortable lifestyle on a modest income. This financial advantage, coupled with the rich, vibrant culture, and the serene natural beauty of the country, makes Laos an appealing place to work and live.
Working in Laos also offers the chance to learn about the country's deep cultural heritage and the opportunity to pick up a new language. This cultural understanding and language proficiency can enhance one's professional profile, especially for roles involving cross-cultural communication or regional expertise.
Moreover, the Laotian work environment is often characterized by its community-oriented culture, promoting strong relationships among colleagues. The warm, hospitable nature of the Laotian people extends to the workplace, fostering a supportive and friendly work culture.
Finally, Laos' strategic location in Southeast Asia provides easy access to explore the region, offering a balance of work and leisure activities for an enriched living experience.
In essence, working in Laos provides a unique opportunity to develop professionally, immerse oneself in a rich cultural context, enjoy a high quality of life, and explore the beauty of Southeast Asia.
ECONOMIC ADVANTAGES AND BUSINESS OPPORTUNITIES
Living in Laos offers several economic advantages, particularly for entrepreneurs and digital nomads. The country is experiencing continuous growth and diversification in its economy, with thriving sectors such as tourism, technology, and education. This economic dynamism makes Laos a fertile ground for start-ups and established businesses alike, offering numerous opportunities to contribute to and benefit from its expanding markets. For digital nomads, the country's improving internet infrastructure and the low cost of living create an ideal environment for remote work.
BEAUTIFUL LANDSCAPES AND FAVORABLE CLIMATE
Laos is a land of untouched natural beauty. From the misty mountains of Luang Prabang to the vast waterways of the Mekong River, its landscapes offer a feast for the senses. These scenic locations provide an enchanting backdrop for day-to-day life, as well as a variety of recreational activities. The climate in Laos is tropical, with a warm, wet season and a cooler, dry season, making it a suitable destination for those who enjoy diverse weather patterns.
PUBLIC SERVICES
Laos is making significant strides in improving its public services. The government is investing in infrastructure, including transportation and utilities, to enhance the living standards and convenience for its residents. The country's public transport system is becoming more reliable and extensive, and the power supply is becoming more stable. Government initiatives are also focused on improving waste management and public sanitation, contributing to a healthier and cleaner environment.
HEALTHCARE IN LAOS
The healthcare system in Laos has seen notable improvements over the past decade. The government is investing in healthcare infrastructure, with new hospitals and clinics being established, especially in urban areas. While the standard of healthcare may not yet be on par with Western countries, the low cost of services is a significant advantage. Furthermore, several international hospitals offer high-quality healthcare services to locals and expatriates alike.
ACCOMMODATION AND REAL ESTATE INVESTMENTS
The real estate market in Laos presents a variety of options for accommodation and investment. From modern apartments in bustling cities to traditional houses in serene rural areas, there's something for every lifestyle and budget. The cost of housing is significantly lower compared to many Western countries, making it an attractive prospect for both living and investment. The country's economic growth and increasing foreign interest make real estate investment in Laos a potentially lucrative venture.
RETIREMENT IN LAOS
Laos is gaining popularity as a retirement destination for foreigners. The tranquil lifestyle, low cost of living, and friendly community make it an ideal place to enjoy one's golden years. The slower pace of life allows retirees to savour their days, while the country's cultural richness provides endless opportunities for exploration and learning. Moreover, the thriving expatriate community offers a sense of familiarity and support for those adjusting to life in a new country.
LUCRATIVE LIVING IN LAOS
The combination of Laos' economic potential, natural beauty, improving public services, evolving healthcare, affordable real estate, and retirement advantages creates a compelling case for its profitability as a place to live. Whether you are an entrepreneur seeking new business ventures, a digital nomad desiring an affordable base, or a retiree looking for a tranquil lifestyle, Laos offers a unique blend of opportunities that can be both personally fulfilling and financially rewarding.
VISA REQUIREMENTS AND IMMIGRATION LAWS
Laos has a relatively straightforward and welcoming approach towards visa requirements and immigration laws. Tourist visas are easily obtainable and can be extended in-country for longer stays. For those looking to work or start a business, the process involves securing a business visa and work permit. It's advisable to consult with local experts or an immigration service like VIP Visa to ensure all requirements are correctly met.
For those considering long-term residency or retirement in Laos, the government offers different types of long-term visas. The specific criteria for these visas can vary, but they typically require proof of financial stability and a local sponsor, which can be a Lao citizen or a registered company.
While navigating these procedures might seem daunting, the process is relatively smooth with proper guidance. Laos' welcoming attitude towards foreigners is reflected in its immigration policies, making it an appealing destination for those looking to relocate.
Beyond the tangible benefits, living in Laos offers a unique cultural experience. The country's rich heritage, steeped in Buddhist traditions and vibrant festivals, provides a captivating cultural immersion. It's a chance to learn a new language, participate in traditional customs, and form meaningful connections with the locals. This cultural understanding can enrich one's personal life and, for professionals, add an invaluable dimension to their global competence.
In summary, the benefits of living in Laos extend across various aspects of life. Economically, the country's growth and diversification offer a wealth of opportunities for business, work, and investment. The natural beauty and favourable climate make everyday living a pleasure, while the improving public services and healthcare contribute to a comfortable lifestyle.
The affordable real estate, supportive environment for retirement, and the potential for cultural immersion add to the country's appeal. Coupled with the straightforward visa and immigration processes, these factors make Laos an increasingly attractive destination for foreigners.
Whether you are seeking a new adventure, a serene retirement, or lucrative business opportunities, Laos presents a compelling option. As with any significant life decision, it is advisable to engage experts like VIP Visa to guide you through the process, ensuring a smooth transition to your new life in Laos.
At VIP Visa, we pride ourselves on our years of experience in helping clients navigate the complex process of obtaining visas, residencies, and second nationalities or passports. If you are considering a visit or moving to Laos, we are here to guide you through the process. Our team of experts will ensure that you have all the necessary information and support to make your dream come true. Please see below for more information about our visa categories and let us help you embark on your new journey!