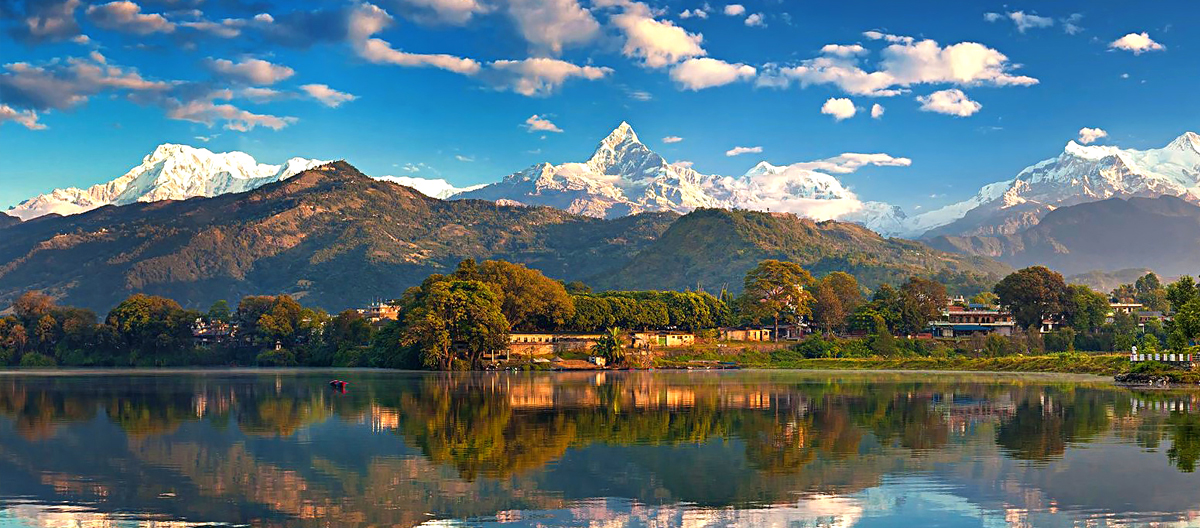 Benefits of life in Nepal
Embracing life in Nepal introduces one to a world that perfectly combines the vibrancy of cultural heritage with the serenity of nature. Nestled between the majestic Himalayan ranges, Nepal is a realm where ancient traditions harmoniously coexist with modernity. Each day in this diverse country is a celebration of life, filled with colour, spiritual enlightenment, and mouth-watering cuisine, making it an ideal destination for those seeking a unique, enriching lifestyle.
Surrounded by eight of the world's ten highest peaks, the country is a paradise for nature lovers and adventure enthusiasts alike. Trekking through the lush trails or scaling the heights of the mighty Everest, one can truly experience the grandeur of nature. Nepal's diverse terrain, from its high mountains to its verdant valleys and rushing rivers, offers an array of adventure sports, like white-water rafting, paragliding, and mountain biking.
Beyond its natural beauty, Nepal is the birthplace of Gautama Buddha and a significant pilgrimage site for Buddhists worldwide. The fusion of major religions - Buddhism and Hinduism - creates a unique spiritual atmosphere that reverberates throughout the country. The temples and monasteries that dot the landscape offer a tranquil retreat for spiritual seekers.
The vibrant cities of Kathmandu, Patan, and Bhaktapur are rich in history and culture, boasting well-preserved ancient architecture and several UNESCO World Heritage Sites. Walking through their narrow alleyways feels like stepping back in time, offering a glimpse into the country's past.
Living in Nepal also presents an opportunity to contribute to the local community. With various non-profit organizations and social initiatives, one can engage in meaningful volunteer work.
Last but not least, the warm hospitality of the Nepalese people is an aspect that truly sets Nepal apart. Renowned for their kindness and welcoming nature, the locals ensure that everyone feels at home in this diverse country.
Surrounded by Breathtaking Landscapes
Rich in Cultural Heritage & Spirituality
Affordably Cost-Effective
A Chance to Savour Delicious Cuisine
Filled with Opportunities
Enriched by the Warm Hospitality of Locals
A Journey Through Time with Historical Sites
Study, Work and Live in Nepal
EDUCATIONAL SYSTEM
Choosing to study in Nepal is choosing a life-changing experience that extends far beyond academia. This culturally rich and diverse country offers unique study programs in fields such as Buddhism and Himalayan Studies, Environmental Science, and Social Work. The education system in Nepal is known for its emphasis on practical knowledge and experiential learning, preparing students for real-world challenges.
Financially, studying in Nepal has its advantages. The cost of education is considerably more affordable than in many Western countries, making it an appealing choice for international students seeking quality education without the hefty price tag.
However, the benefits of studying in Nepal reach far beyond cost and unique study programs. It's an opportunity to immerse oneself in a rich tapestry of cultures, traditions, and languages. Students gain invaluable global awareness and intercultural competence, preparing them for a diverse and interconnected world.
Moreover, Nepal's unique geographical position and biodiversity offer an unparalleled learning environment for students of environmental and earth sciences. As the home of the Himalayas and an incredibly varied ecosystem, it is a living, breathing laboratory for studying climate change, conservation, and sustainable development.
In essence, studying in Nepal provides a holistic educational experience that combines academics, cultural immersion, and real-world experiences. It's more than just earning a degree; it's about growing as an individual, gaining a broader perspective on life, and forming connections that transcend borders.
EMPLOYMENT OPPORTUNITIES
Choosing to work in Nepal offers a unique opportunity to grow both personally and professionally. The country's diverse economy, thriving sectors such as tourism, IT, and agribusiness, and the increasing presence of international companies and NGOs, provide a multitude of job opportunities for locals and foreigners alike.
One of the significant advantages of working in Nepal is the exposure to a different work culture. With an emphasis on collaboration and a deep-rooted sense of community, working in Nepal can enhance your teamwork and interpersonal skills. Additionally, many employers value and promote a healthy work-life balance, offering flexible work schedules and encouraging time off for personal growth and relaxation.
Financially, the cost of living in Nepal is relatively low compared to many western countries. This means that even with a modest salary, one can enjoy a comfortable lifestyle, including housing, food, transportation, and entertainment.
Moreover, the chance to immerse oneself in Nepal's rich culture and breathtaking natural environment adds a unique dimension to the work experience. The opportunity to explore the country's heritage sites, trek in the Himalayas, or participate in local festivals can make the work-life experience in Nepal truly enriching.
Working in Nepal also provides an opportunity to make a difference. Especially in roles within development sectors and NGOs, one can contribute to meaningful projects, helping to improve local communities' lives.
In essence, working in Nepal is not just about earning a living; it's about personal growth, cultural immersion, and making a positive impact. It's an experience that can broaden your horizons, challenge your perceptions, and enrich your life in ways you never anticipated.
ECONOMIC ADVANTAGES AND OPPORTUNITIES
Nepal, a country known for its diverse culture and stunning natural beauty, also presents an array of economic advantages. Its growing economy, coupled with government incentives for foreign investments, offers a welcoming environment for entrepreneurs and businesses. The country has seen significant growth in sectors such as tourism, agriculture, IT, and energy, making it a fertile ground for start-ups and established businesses alike.
For digital nomads, the affordable cost of living is a significant advantage. With the proliferation of co-working spaces and the improvement in digital infrastructure, Nepal is becoming an attractive destination for remote workers. Additionally, the scenic landscapes and peaceful environment provide the perfect backdrop for creativity and productivity.
THE CHARM OF NATURAL BEAUTY AND CLIMATE
Nepal's natural beauty is nothing short of enchanting. From the towering peaks of the Himalayas to the lush Terai plains, the country's diverse landscapes are a feast for the eyes. There's no shortage of beautiful places to explore, including the serene Phewa Lake in Pokhara, the wildlife-rich Chitwan National Park, or the ancient city of Bhaktapur with its intricate wood carvings and stunning architecture.
The country's climate is equally diverse, ranging from cool alpine conditions in the mountains to warmer, subtropical weather in the lowlands. This variation allows for a wide array of outdoor activities throughout the year, from trekking and mountaineering to rafting and wildlife safaris.
PUBLIC SERVICES AND HEALTHCARE POTENTIAL
While Nepal is still developing in terms of public services, the government is making significant strides in improving infrastructure and accessibility. Public transportation is widely available and affordable, and efforts are being made to improve road conditions and connectivity.
Healthcare in Nepal is a blend of public and private providers. The country has made remarkable progress in healthcare over the past few decades, improving life expectancy and reducing mortality rates. For expats, several private hospitals in major cities offer high-quality medical care. There's also a growing interest in traditional healing practices, such as Ayurveda and Tibetan medicine, providing holistic health options.
ACCOMMODATION AND REAL ESTATE INVESTMENT
The real estate market in Nepal offers promising potential for investors. Property prices in cities like Kathmandu and Pokhara have been on a steady rise, indicating a healthy demand. For expats planning to live in Nepal, there's a wide variety of accommodation options, ranging from modern apartments in urban areas to traditional houses in quieter neighbourhoods.
Investing in real estate can be a lucrative venture, given the growth in tourism and the increasing demand for vacation rentals. Also, the government's favourable policies towards foreign investment in certain sectors can make property investment a worthwhile consideration.
RETIREMENT AND LIVING IN NEPAL FOR FOREIGNERS
Nepal's peaceful lifestyle, affordable living, and friendly locals make it a compelling destination for retirement. The slower pace of life allows for relaxation and the pursuit of hobbies, while the country's rich culture and history provide endless opportunities for exploration and learning.
Foreign retirees in Nepal often find the cost of living to be significantly lower than in their home countries, without compromising on the quality of life. Regular social events, clubs, and volunteer opportunities also make it easy to integrate into local communities and lead an active, fulfilling life.
LUCRATIVE OPPORTUNITIES AND BENEFITS
Living in Nepal can be a rewarding and enriching experience, offering a blend of cultural immersion, adventure, and economic opportunities. From starting a business or investing in real estate, to enjoying a comfortable retirement, the country's diverse offerings cater to various needs and aspirations.
The low cost of living allows for a high quality of life, whether you're a digital nomad working from a vibrant city like Kathmandu, an entrepreneur launching a start-up, or a retiree enjoying the tranquil landscapes. Coupled with the warmth and hospitality of the Nepalese people, this makes for a fulfilling and balanced lifestyle.
VISA REQUIREMENTS AND IMMIGRATION LAWS
Foreign nationals wishing to live, work, or study in Nepal must comply with the country's visa requirements and immigration laws. Tourist visas are readily available on arrival for many nationalities and can be extended for a total stay of up to 150 days per year.
For longer stays, non-tourist visas are required. These include business visas for those looking to start a business or invest in Nepal, study visas for students, and residential visas for retirees or those of Nepalese origin. Work permits are required for foreign nationals seeking employment in Nepal, and these are typically organized by the hiring company.
It's important to note that visa requirements can change, and it's recommended to check the latest information from the Department of Immigration of Nepal or your local Nepalese embassy or consulate.
In conclusion, Nepal offers a unique blend of economic opportunity, cultural richness, and natural beauty. Its welcoming environment, coupled with its diverse benefits, makes it a compelling choice for anyone looking to start a new chapter of their life. From business prospects to investment potential, and from cultural immersion to retirement benefits, the opportunities in Nepal are as vast as its stunning Himalayan ranges. Living in Nepal is not just about residing in a different country, it's about experiencing a lifestyle that's profoundly enriching, and embracing a community that feels like home.
At VIP Visa, we pride ourselves on our years of experience in helping clients navigate the complex process of obtaining visas, residencies, and second nationalities or passports. If you are considering a visit or moving to Nepal, we are here to guide you through the process. Our team of experts will ensure that you have all the necessary information and support to make your dream come true. Please see below for more information about our visa categories and let us help you embark on your new journey!