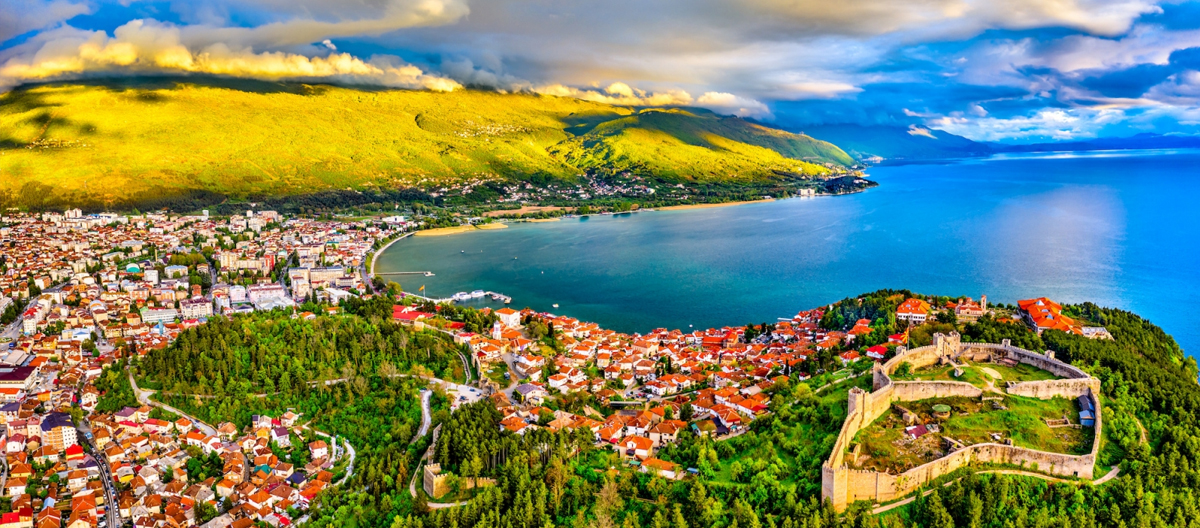 Benefits of life in North Macedonia
North Macedonia, a hidden gem nestled in the heart of the Balkan Peninsula, offers a unique blend of natural beauty, rich history, and vibrant culture. The benefits of living in North Macedonia are as diverse as its landscape, which ranges from the high peaks of the Šar Mountains to the serene beaches of Lake Ohrid.
Life in North Macedonia promises an engaging cultural experience. As a historical melting pot, the country has a rich tapestry of traditions, languages, and cuisines, providing residents with a unique cultural immersion. Additionally, the cost of living in North Macedonia is notably lower compared to Western European countries, with affordable housing, food, and healthcare services. Despite its lower cost, the quality of life is not compromised. The healthcare system is growing steadily, and the education system is inclusive and comprehensive.
North Macedonia's economy is on the rise, presenting numerous business and employment opportunities. Its strategic location makes it a gateway to European markets, and the government's proactive initiatives to attract foreign investment make it an attractive choice for entrepreneurs and businesses.
The country also boasts an outstanding natural environment, with clean air, stunning landscapes, and a moderate climate. Living in North Macedonia means having access to outdoor activities year-round, from skiing in the winter to hiking and boating in the summer.
In short, North Macedonia offers a lifestyle that successfully combines cultural richness, affordability, economic opportunity, and natural beauty.
Unparalleled Natural Beauty
Home to Historical Sites & Diverse Traditions
Affordable Housing, Food & Healthcare Services
Rising Business & Employment Opportunities
Strategic Location with Access to European Markets
North Macedonia is Generally Safe & Welcoming
High-Quality & Comprehensive Education System
Favourable Climate with Moderate Temperatures
A Steadily Improving Healthcare System
Favourable for Obtaining Residency or Citizenship
Study, Work and Live in North Macedonia
EDUCATIONAL SYSTEM
Studying in North Macedonia comes with a host of benefits that extend beyond academia. Firstly, North Macedonia is home to a number of respected universities and institutions that offer a wide range of courses, both in English and in other languages. This gives international students the opportunity to pursue their chosen field of study in a globally recognized institution.
The cost of education in North Macedonia is quite affordable compared to other European countries. Tuition fees are reasonable, and the cost of living is considerably lower, allowing students to manage their finances more effectively. Scholarships are also available for international students, which can further alleviate financial stress.
Cultural immersion is another significant advantage. North Macedonia is a vibrant multicultural nation, and international students can engage with different cultures and languages, enhancing their global perspective and interpersonal skills.
In addition, North Macedonia's location in the heart of the Balkans provides students with easy access to other European countries, offering a chance for travel and exploration. This geographical advantage can enrich students' study abroad experience, giving them a wider understanding of European history, culture, and society.
Moreover, the country is known for its warm hospitality. The friendly and welcoming nature of the Macedonian people ensures that international students quickly feel at home, providing a supportive environment for their studies.
In conclusion, studying in North Macedonia offers an affordable, enriching, and culturally diverse educational experience, making it an appealing destination for international students.
EMPLOYMENT OPPORTUNITIES
Working in North Macedonia presents numerous benefits, especially for those seeking unique professional experiences in a dynamic and growing economy. As North Macedonia continues its progression towards EU integration, a wealth of opportunities are arising across various sectors, including IT, agriculture, manufacturing, and services.
North Macedonia is known for its affordable cost of living, which allows for a comfortable lifestyle even on a modest salary. Coupled with competitive compensation packages in many industries, this makes the country an appealing choice for work.
Work-life balance is another major advantage of working in North Macedonia. The country's stunning landscapes, historical sites, and vibrant cities offer numerous leisure activities, contributing to a healthy balance between work and personal life.
The country also provides a multicultural work environment. Working in North Macedonia gives individuals the chance to interact with a diverse range of cultures, traditions, and languages, which can enrich their professional and personal growth. This multiculturalism also extends to business practices, making the work environment in North Macedonia a fascinating blend of local and international influences.
Furthermore, the government's commitment to improving business conditions is leading to an increasingly stable and transparent economic climate. This includes investment in infrastructure, incentives for foreign businesses, and initiatives to promote entrepreneurship.
In conclusion, working in North Macedonia offers a unique combination of professional growth, affordable living, work-life balance, and cultural immersion, making it an attractive choice for both local and international job seekers.
ECONOMIC ADVANTAGES
North Macedonia is an increasingly attractive destination for entrepreneurs, investors, and digital nomads, owing to its strong economic advantages. The country is strategically located at the crossroads of Central and Southeast Europe, providing easy access to major markets. Over recent years, North Macedonia's economy has been transitioning towards a more open and market-driven model, with the government implementing various reforms to stimulate economic growth and encourage foreign investment.
For individuals looking to start a new business, North Macedonia presents a favourable environment. The country boasts a skilled and cost-effective labour force, low taxes, and streamlined business registration processes. Moreover, sectors such as IT, agriculture, and manufacturing are flourishing, offering ample opportunities for start-ups.
Digital nomads, too, can benefit from the country's robust digital infrastructure and affordable living costs. With a good internet connection and numerous co-working spaces available, North Macedonia is gradually becoming a hub for remote workers.
BEAUTIFUL PLACES AND CLIMATE
North Macedonia's geographical diversity contributes significantly to its appeal. The country's landscape varies from the tranquil beaches of Lake Ohrid, a UNESCO World Heritage site, to the rugged peaks of the Šar Mountains. The nation's cities and towns, such as the capital Skopje, are bustling with historical landmarks, museums, and vibrant local markets.
The country experiences a moderate continental climate, with warm summers and mild winters, making it suitable for various outdoor activities year-round. The pleasant climate, coupled with the country's stunning landscapes, provides residents with a fulfilling and enjoyable lifestyle.
PUBLIC SERVICES
North Macedonia's public services are continually developing and improving. The country's education system, for instance, is inclusive and comprehensive. There are numerous public and private schools, and the government has been investing in educational reform to ensure high-quality teaching.
The public transportation system in North Macedonia is reliable and affordable, with a network of buses, trains, and taxis that connect even the remote areas of the country. The government has been investing in infrastructure development, which has led to improvements in road quality and public utilities.
HEALTHCARE
The healthcare system in North Macedonia is steadily improving. The country has a mix of public and private healthcare services, and the government is investing in modernizing hospitals and training medical staff. The cost of healthcare services is generally lower than in Western European countries, yet the quality of care is high.
For retirees and individuals with specific healthcare needs, North Macedonia offers a range of specialized medical services, including rehabilitation centres and wellness clinics.
ACCOMMODATION AND REAL ESTATE INVESTMENT
Accommodation in North Macedonia is affordable and varied, ranging from modern apartments in the city to traditional houses in rural areas. The cost of living is significantly lower than in most European countries, making it possible to enjoy a high standard of living at a fraction of the cost.
For investors, the real estate market in North Macedonia holds great potential. The country's growing economy, increasing tourism, and rising demand for housing are driving a boom in the real estate sector. Property prices are still relatively low, providing an excellent opportunity for high returns on investment.
RETIREMENT AND LIVING FOR FOREIGNERS
North Macedonia is becoming an increasingly popular destination for retirees and expats. Its affordable cost of living, friendly locals, and beautiful landscapes make it an attractive place to settle down. The country's slow pace of life, cultural richness, and safety levels contribute to a high quality of life.
The government also offers several incentives for retirees and foreign residents, such as tax benefits and easy access to residency permits. As a result, the expat community in North Macedonia is growing, and there are many resources available to help newcomers adapt to their new surroundings.
VISA REQUIREMENTS AND IMMIGRATION LAWS
North Macedonia has a straightforward and welcoming immigration policy. For many nationalities, a visa is not required for stays of up to 90 days. For longer stays, different types of visas and residence permits are available, depending on the purpose of the stay: work, study, business, or family reunification.
The country has a favourable policy towards foreign investors and entrepreneurs. The government offers several programs aimed at attracting foreign investment, providing incentives such as tax breaks and fast-track procedures for obtaining a residence permit.
For retirees and individuals who can demonstrate a stable income, obtaining a residence permit is also a straightforward process. The government of North Macedonia recognizes the value that foreign residents bring to the country and has implemented policies to make the immigration process as smooth as possible.
Living in North Macedonia presents a unique blend of economic opportunity, natural beauty, cultural richness, and affordable lifestyle. Whether you're an entrepreneur looking to start a business, a digital nomad seeking a new base, or a retiree in search of a peaceful and affordable place to live, North Macedonia offers numerous advantages that can be both personally fulfilling and financially lucrative.
The country's welcoming immigration laws, along with its strategic location, diverse landscapes, and growing economy, make it an increasingly attractive destination for foreigners. By choosing North Macedonia as your new home, you're investing in a future filled with potential and opportunity.
At VIP Visa, we pride ourselves on our years of experience in helping clients navigate the complex process of obtaining visas, residencies, and second nationalities or passports. If you are considering a visit or moving to North Macedonia, we are here to guide you through the process. Our team of experts will ensure that you have all the necessary information and support to make your dream come true. Please see below for more information about our visa categories and let us help you embark on your new journey!