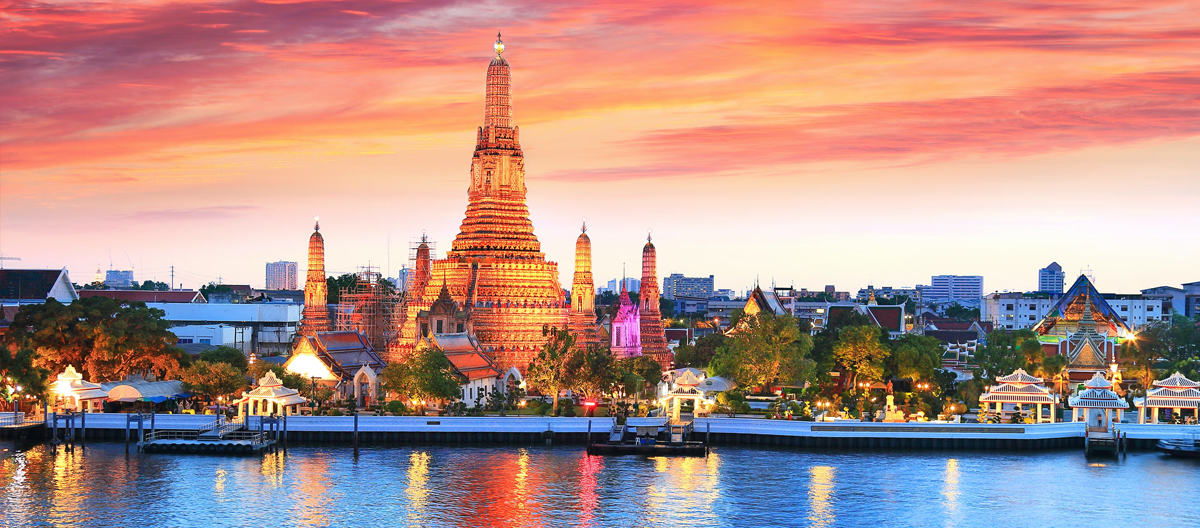 Benefits of life in Thailand
Located in the heart of Southeast Asia, Thailand offers a unique blend of exotic cuisine, rich cultural heritage, and stunning landscapes, making it a wonderful destination for travel and living. A life in Thailand brings countless benefits, harmonizing the promise of a vibrant city life with the tranquillity of rural landscapes.
Foremost, the cost of living in Thailand is significantly lower compared to many Western countries. From housing to healthcare, from food to entertainment, affordability is a major allure, especially for those planning their retirement or desiring a high standard of living on a modest budget.
Thailand's geographical location adds to its charm, offering access to some of the world's most renowned beaches and natural reserves. It's an ecological paradise, an abode for anyone who cherishes outdoor activities and nature's serenity.
Moreover, Thailand offers excellent healthcare facilities with many hospitals boasting internationally trained staff and modern equipment. The country's medical tourism industry is flourishing, suggesting an unparalleled level of trust in its healthcare system.
Thai culture, known for its warmth and hospitality, is another significant factor. The local population is friendly and welcoming, making assimilation easier for newcomers. The rich cultural experiences, from the grandeur of Buddhist temples to the excitement of Thai festivals, only add to the country's allure.
Lastly, Thai cuisine is globally celebrated, and living in Thailand gives you the opportunity to enjoy a diverse array of fresh and authentic dishes, a tantalizing journey for any food lover.
Affordable Cost of Living with High Standard of Life
Access to Beautiful Beaches & Natural Landscapes
Excellent Healthcare & Thriving Medical Tourism
A Safe & Secure Environment to Live
Rich Cultural Heritage & Friendly Local Population
Globally Celebrated Cuisine with Diverse Options
Convenient for Traveling to Other Asian Countries
Recreational Activities & Wildlife Exploration
Reliable Infrastructure with Modern Amenities
A Warm & Welcoming Expat Community
Study, Work and Live in Thailand
EDUCATIONAL SYSTEM
Studying in Thailand offers an enriching academic and cultural experience that can provide distinct advantages for students. With an education system that is continually evolving to meet global standards, Thailand is emerging as an attractive study destination.
Academically, Thai universities offer a wide range of courses, from arts and humanities to science and technology, in both Thai and English mediums. Many universities in Thailand have partnerships with institutions around the world, offering exchange programs that can enhance your global perspective and employability.
Financially, studying in Thailand can be more economical compared to many Western countries. Coupled with a lower cost of living, this affordability makes quality education accessible to a wider range of students.
Culturally, studying in Thailand immerses students in a rich tapestry of customs and traditions. This exposure not only broadens one's worldview but also instills values like respect and humility, hallmarks of Thai culture.
The strategic location of Thailand in Southeast Asia also presents opportunities for travel and exploration, enriching the student life experience. Besides, the country's thriving tourism industry offers excellent opportunities for part-time jobs and internships, providing practical work experience.
Furthermore, Thai people are renowned for their friendliness and hospitality. Living and studying in such an environment can ease the transition for international students, offering a supportive community away from home.
In essence, studying in Thailand offers a unique blend of quality education, cultural immersion, and life experiences that can shape one's character and career path.
EMPLOYMENT OPPORTUNITIES
Working in Thailand offers a multitude of benefits, extending beyond just monetary gains to incorporate cultural enrichment, professional growth, and lifestyle advantages.
Thailand's economy is diverse and vibrant, creating a plethora of opportunities across various sectors such as tourism, manufacturing, and technology. The country's commitment to economic growth and innovation means that employees often have the chance to work on exciting and challenging projects.
Financially, the cost of living in Thailand is relatively low compared to many Western countries, which allows employees to enjoy a comfortable lifestyle on a moderate income. In addition, Thailand's tax structure is quite friendly, and this can mean more take-home pay.
Thailand's work culture values respect, cooperation, and harmony, attributes that can create a positive and productive work environment. Working in Thailand also offers the chance to learn the Thai language and culture, which can be an enriching personal and professional experience.
Moreover, Thailand's strategic location in Southeast Asia makes it a key player in the ASEAN Economic Community. This offers a fantastic platform for building a global career, with opportunities for networking and business travels.
Furthermore, Thailand boasts an excellent quality of life, with modern infrastructure, renowned healthcare, and access to beautiful landscapes. The work-life balance is generally valued, and employees can enjoy their leisure time exploring the country's rich cultural heritage, stunning beaches, and diverse culinary delights.
In short, working in Thailand can present an enriching professional journey coupled with an unparalleled lifestyle, making it an attractive destination for global professionals.
ECONOMIC ADVANTAGES FOR ENTREPRENEURS AND DIGITAL NOMADS
Thailand presents numerous economic advantages for those looking to start a new business or work remotely as digital nomads. The country's growing economy, which is one of the largest in Southeast Asia, offers a conducive environment for business development and innovation. It provides a diverse market with a robust middle class and rising consumerism, making it an attractive place for new enterprises.
For digital nomads, the availability of modern infrastructure including high-speed internet, coworking spaces, and affordable living cost make Thailand an appealing choice. Cities like Bangkok and Chiang Mai are already home to a large community of digital nomads. The country's strategic location also facilitates easy travel within the region, making it an ideal base for professionals working with clients across different time zones.
THE ALLURE OF NATURAL BEAUTY AND FAVORABLE CLIMATE
Thailand is blessed with a wealth of natural beauty. From the stunning beaches of Phuket and Krabi to the lush mountains of Chiang Mai and the vibrant cityscape of Bangkok, there's a location to suit every taste. The tropical climate, with its warm weather year-round, only adds to the country's appeal. Thailand also boasts several UNESCO World Heritage sites, national parks, and wildlife reserves, offering endless exploration opportunities for residents.
PUBLIC SERVICES AND INFRASTRUCTURE
Thailand offers reliable public services and infrastructure. The country's transportation network, consisting of sky trains, metros, buses, and affordable taxis, ensures easy commute within cities. Thailand is also investing in large-scale infrastructure projects to enhance its rail and road networks, promising a more comfortable and efficient travel experience in the future.
The educational system in Thailand is also noteworthy. There are numerous international schools that follow American, British, and other curriculums, ensuring high-quality education for expatriate children. Universities in Thailand are globally recognized and offer a wide range of programs.
HEALTHCARE BENEFITS
Thailand's healthcare system is internationally recognized for its high standards. Its hospitals and clinics provide top-tier medical services at significantly lower costs compared to Western countries. Many Thai doctors and medical professionals have been trained abroad, ensuring international healthcare standards. Additionally, the country is a leading destination for medical tourism, further attesting to the quality of its healthcare services.
ACCOMMODATION AND REAL ESTATE INVESTMENT OPPORTUNITIES
Thailand offers a wide range of accommodation options, from affordable apartments to luxury condos and villas, catering to different budgets and lifestyle preferences. The cost of living is considerably lower compared to many Western countries, making it possible to enjoy a high standard of living at a fraction of the cost.
The Thai real estate market presents lucrative investment opportunities. Despite its growth, property prices are still lower compared to many other Asian cities. With the steady influx of tourists and expatriates, there's a constant demand for rental properties, ensuring a good return on investment.
RETIREMENT IN THAILAND: A DREAM COME TRUE
Thailand has become a popular retirement destination for foreigners due to its affordable living cost, high quality of life, and the warm, welcoming nature of its people. The country offers a retirement visa for those aged 50 and above, making the transition smoother.
THE LUCRATIVE PROSPECT OF LIVING IN THAILAND
The benefits of living in Thailand are multifaceted. For business-minded individuals, the thriving economy and supportive environment present a fertile ground for launching new ventures or working remotely. Nature lovers and adventure seekers find endless opportunities in the country's diverse landscapes and favourable climate. The availability of high-quality public services, education, and healthcare ensures a comfortable and secure lifestyle. Moreover, the cost-effective real estate market and low living cost make Thailand an attractive destination for investment and retirement.
VISA REQUIREMENTS AND IMMIGRATION LAWS
Thailand has a fairly straightforward visa policy. Tourist visas are easy to obtain, and longer-term visas are available for those intending to work, study, or retire in the country. The country also provides a visa for investors who meet certain criteria. However, Thai immigration laws are strictly enforced, and it's essential to comply with the rules and regulations. It's highly recommended to seek advice from professional services like VIP Visa to ensure a smooth and hassle-free immigration process.
In conclusion, the benefits of living in Thailand extend beyond its natural beauty and warm climate to include substantial economic, lifestyle, and investment advantages. Whether you're an entrepreneur, a retiree, a digital nomad, or someone seeking a high quality of life, Thailand presents a compelling case for your consideration.
At VIP Visa, we pride ourselves on our years of experience in helping clients navigate the complex process of obtaining visas, residencies, and second nationalities or passports. If you are considering a visit or moving to Thailand, we are here to guide you through the process. Our team of experts will ensure that you have all the necessary information and support to make your dream come true. Please see below for more information about our visa categories and let us help you embark on your new journey!