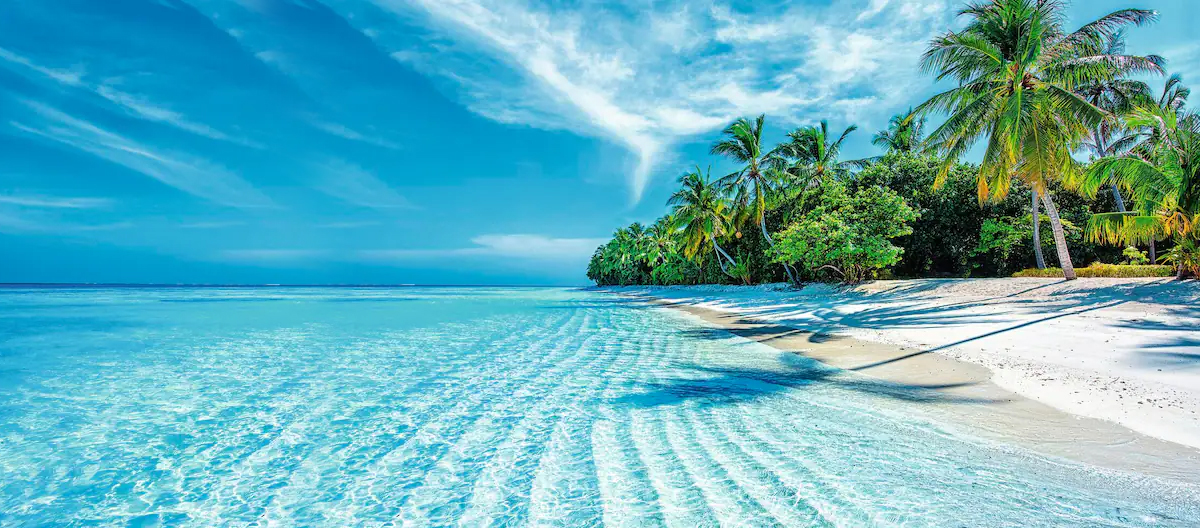 Benefits of life in Maldives
Nestled amidst the vast Indian Ocean, the Maldives presents a picturesque paradise that offers far more than its pristine beaches and crystal-clear waters. The island nation is a unique blend of serene natural beauty, cultural richness, and progressive lifestyle, making it an ideal destination for travel and residency.
The Maldives is known for its warm, tropical climate throughout the year, perfect for those seeking an escape from harsh winters. It's an ideal location for outdoor enthusiasts with diverse wildlife, world-class diving spots, and exciting water sports. But the benefits of life in the Maldives extend beyond its natural allure.
It's a politically stable country with a high standard of living, reliable healthcare, and educational systems. The friendly locals and expatriate communities contribute to its vibrant multicultural society, offering an easy integration for newcomers. Additionally, the country's economy is steadily growing, offering numerous business and employment opportunities, especially in tourism, marine, and service sectors.
The Maldives also boasts a low crime rate, ensuring a safe and secure environment for its residents. The country's strategic location in the Indian Ocean makes it a key trading hub, providing easy access to major markets in Asia, Africa, and the Middle East.
In a world where work-life balance can be hard to achieve, the Maldives offers a unique lifestyle where you can blend work with relaxation, all while basking in the splendour of its breathtaking landscapes.
Tropical Climate Year-Round
Rich in Natural Beauty with Beaches & Wildlife
A Stable Political Environment
High Standard of Living & Reliable Healthcare
Vibrant Multicultural Society
Growing Economy with Business Opportunities
Low Crime Rate, Ensuring Safety & Security
Easy Access to Global Markets
Excellent Education System for Children
Unique Work-Life Balance in a Relaxing Environment
Study, Work and Live in Maldives
EDUCATIONAL SYSTEM
Studying in the Maldives offers a unique educational experience characterized by high-quality learning and a vibrant cultural immersion. The country's educational institutions are increasingly recognized for their commitment to fostering innovation, critical thinking, and intellectual curiosity.
One of the most significant benefits is the exposure to a multicultural environment. The Maldives attracts students from around the world, fostering a diverse academic community that enhances cultural understanding and global perspectives. This diversity not only enriches the learning experience but also helps students develop valuable intercultural skills.
Furthermore, the Maldives boasts a range of study fields, particularly excelling in marine biology and environmental sciences, given its unique geographical location and rich biodiversity. Students interested in these fields can gain hands-on experience and contribute to impactful research.
The country also values the importance of work-study balance. Students here can enjoy a relaxed lifestyle with ample opportunities for leisure activities like water sports, beach outings, and exploring the stunning natural environment. The country's safety and political stability also provide a secure setting for international students.
Lastly, studying in the Maldives offers a unique opportunity to learn and live in one of the world's most beautiful locations. It's an adventure that extends beyond the classroom, providing life experiences that are as enriching as they are unforgettable. Therefore, the benefits of studying in the Maldives go far beyond academic growth, contributing to personal development and lifetime memories.
EMPLOYMENT OPPORTUNITIES
Working in the Maldives presents a unique blend of professional growth and an unparalleled lifestyle. Known for its thriving tourism industry, the country offers a wealth of job opportunities, particularly in hospitality, marine conservation, and services sector.
The Maldives is recognized for its commitment to employee welfare, ensuring fair wages and favourable working conditions. There's a healthy work-life balance, allowing you to enjoy the country's natural beauty and recreational activities in your downtime, thereby reducing stress and enhancing overall job satisfaction.
The business environment in the Maldives is progressive and dynamic, providing plenty of opportunities for career advancement. With its diverse workforce, you'll have the chance to work with people from various cultures, enhancing your global perspective and interpersonal skills.
The country's strategic location in the Indian Ocean also provides an advantageous platform for business growth, facilitating easy access to significant markets in Asia, Africa, and the Middle East. This can result in excellent networking opportunities and potential for long-term professional development.
Moreover, the Maldives' government is committed to developing a sustainable economy, investing in areas like renewable energy, technology, and infrastructure. Working in such an environment can offer a sense of purpose and fulfilment, knowing you're contributing to a sustainable future.
In conclusion, the benefits of working in the Maldives extend beyond just a pay check. It's about growing your career in a dynamic, progressive environment while enjoying a lifestyle that blends work with relaxation in one of the most stunning places on Earth.
ECONOMIC ADVANTAGES
The Maldives boasts a dynamic and growing economy, largely fuelled by tourism, fishing, construction, shipping, and boat building. The country's strategic location in the Indian Ocean offers a significant advantage for businesses, providing easy access to major markets in Asia, Africa, and the Middle East. As a result, the country is an attractive destination for entrepreneurs and investors alike. For digital nomads, the growing IT infrastructure, coupled with the country's beautiful surroundings and relaxed lifestyle, makes it an ideal place for remote work. The government also encourages foreign direct investment and offers incentives such as tax exemptions and lease extensions, making it a favourable environment for starting a new business.
NATURAL BEAUTY AND CLIMATE
Known for its stunning natural beauty, the Maldives is synonymous with paradise. The country's tropical climate, with warm temperatures year-round, is perfect for those who enjoy the outdoors. The islands are famous for their pristine beaches, clear blue waters, and vibrant coral reefs, offering an idyllic setting for both living and working. The Maldives is also home to numerous World Biosphere Reserves and UNESCO Marine Protected Areas, emphasizing its commitment to environmental sustainability.
PUBLIC SERVICES
The Maldives offers reliable public services, including a robust education system and efficient public transportation. Education, which is compulsory and free for children between the ages of 6 and 16, follows the British system of education. There are also several international schools for expatriate families. For transportation, the Maldives offers a unique blend of sea and air transport services, including speedboats, seaplanes, and domestic flights, making inter-island travel convenient.
HEALTHCARE
Healthcare in the Maldives has seen significant improvements in recent years. The government provides universal health insurance, known as Aasandha, covering all citizens and residents. The country has several modern hospitals and clinics, equipped with the latest technology and staffed by skilled medical professionals. Efforts are underway to develop tertiary healthcare facilities and to decentralize healthcare services to reach even the most remote islands.
ACCOMMODATION AND REAL ESTATE INVESTMENT
The real estate market in the Maldives is thriving, with a range of options from luxury villas to affordable apartments. The government has taken measures to make property ownership easier for foreigners, which has significantly boosted the real estate sector. Investing in Maldivian property not only promises good returns due to the booming tourism industry but also provides an opportunity to enjoy the island's lifestyle.
RETIREMENT AND EXPATRIATE LIFE
The Maldives is an attractive destination for retirees and expatriates. The relaxed pace of life, natural beauty, and friendly locals make it an ideal place for a peaceful retirement. The country is safe and politically stable, providing a secure environment for foreigners. There is also a vibrant expat community, offering a sense of belonging and making integration easier for newcomers.
LUCRATIVE BENEFITS
All these advantages make living in the Maldives a lucrative prospect. The economic benefits provide numerous opportunities for business growth and career advancement. The natural beauty and favourable climate make everyday life feel like a holiday. The reliable public services, improved healthcare, and a range of accommodation options ensure a comfortable lifestyle. The potential for real estate investment is high, promising good returns. Lastly, the peaceful and friendly environment is perfect for those looking to retire or live as expatriates.
VISA REQUIREMENTS AND IMMIGRATION LAWS
Visa and immigration procedures in the Maldives are straightforward. Tourists from all countries get a 30-day visa on arrival, provided they have a valid travel document, a confirmed hotel reservation, and proof of funds. For those looking to work or invest in the Maldives, a work visa or an investment visa is required, which can be obtained upon presenting the relevant documents and fulfilling the necessary criteria.
The country's immigration laws are expat-friendly, and the government has made concerted efforts to simplify the processes associated with obtaining work permits and business visas. The Maldivian government encourages foreign investment and offers various incentives to attract overseas businesses and professionals.
For digital nomads, freelancers, and remote workers, obtaining a long-term visa can provide an opportunity to enjoy the Maldivian lifestyle while continuing their global careers. However, it's important to consult with immigration experts or agencies like VIP Visa to understand the specific requirements and processes associated with securing a long-term visa or residency.
The Maldives also offers a Retirement Visa for those aged 50 and above who wish to retire in the country. This is a long-term, renewable visa that allows retirees to enjoy their golden years in this tropical paradise. To qualify, applicants must have health insurance, a clear criminal record, and sufficient financial resources to support themselves.
In essence, the Maldives provides a unique blend of economic, lifestyle, and cultural benefits that make it an attractive destination for living, working, and retirement. Its strong economy, exceptional natural beauty, reliable public services, and thriving real estate market create an environment conducive to both personal and professional growth. The ease of visa and immigration processes further enhances its appeal for foreigners. Whether you're an entrepreneur, digital nomad, expatriate, or retiree, the Maldives offers a rewarding and enriching experience that few other countries can match. With expert guidance from VIP Visa, navigating the immigration process can be smooth and straightforward, bringing you one step closer to living your dream life in the Maldives.
At VIP Visa, we pride ourselves on our years of experience in helping clients navigate the complex process of obtaining visas, residencies, and second nationalities or passports. If you are considering a visit or moving to Maldives, we are here to guide you through the process. Our team of experts will ensure that you have all the necessary information and support to make your dream come true. Please see below for more information about our visa categories and let us help you embark on your new journey!