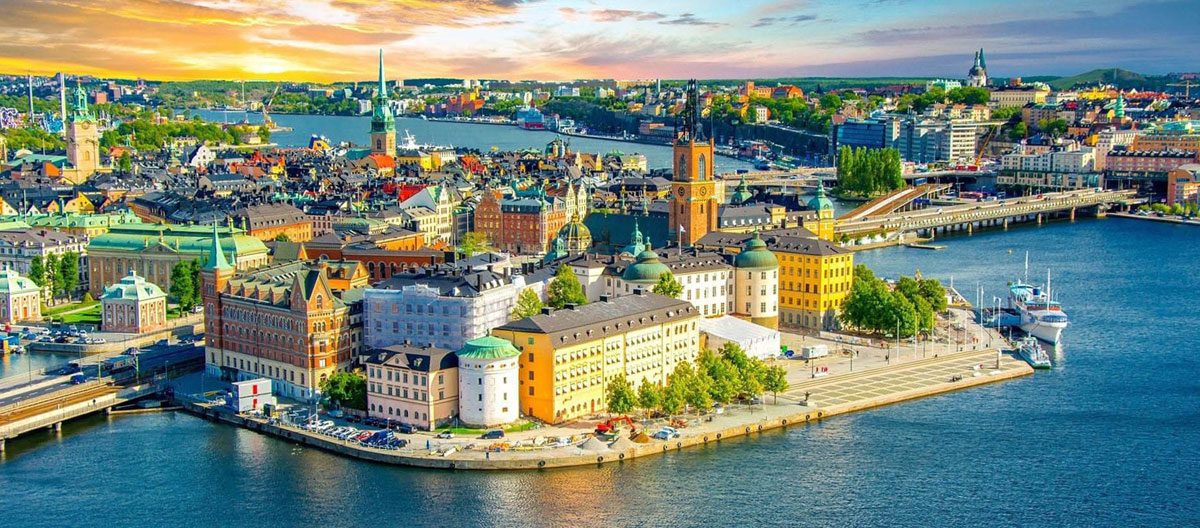 Benefits of life in Sweden
Sweden is an enchanting country in the heart of Scandinavia that seamlessly combines an unspoiled natural landscape with a dynamic, technologically advanced society. It is a shining example of the perfect blend between history and modernity, tradition and innovation.
The quality of life in Sweden is indisputably high, with excellent social services supporting its residents. The education and healthcare systems are world-class, often ranking among the top globally, and are largely funded by the state, making them accessible to all residents.
Sweden is a paragon of sustainability, with an environmentally conscious populace and government policies aimed at promoting green initiatives. Living in Sweden means being surrounded by stunning landscapes, from tranquil forests to sparkling lakes and beautiful archipelagos. These abundant natural resources are easily accessible, making Sweden a paradise for outdoor enthusiasts.
The Swedes are known for their balanced approach to life – a concept known as "lagom". This essentially means "just the right amount" and is reflected in everything from work-life balance to environmental consciousness.
Culturally, Sweden is rich with centuries-old traditions, a thriving art scene, and world-renowned design aesthetics. Furthermore, it's a hub for innovation and entrepreneurship, with numerous globally successful companies having their roots in Sweden.
Ranks Highly on Global Quality of Life Indices
Excellent Education & Healthcare
Natural Beauty with Diverse Landscapes
Its "Lagom" Concept Promotes Fulfilling Lifestyle
One of the Safest Countries in the World
Leader in Environmental Consciousness & Initiatives
Deep History, Vibrant Art Scene & Iconic Traditions
Robust Economy with Career Growth
Known for Their Hospitality & Respect for Diversity
English is Widely Spoken, Making Integration Easier
Study, Work and Live in Sweden
EDUCATIONAL SYSTEM
Studying in Sweden offers a multitude of benefits, fostering both personal and academic growth. The Swedish education system emphasizes critical thinking, creativity, and independent reasoning, all of which are essential skills in today's globalized world. The universities are renowned for their world-class research facilities, with a focus on innovation and sustainability that permeates all areas of study.
Sweden's commitment to sustainability and equality extends to its education system, providing a holistic learning environment that takes into account the well-being of the individual and society as a whole. Students are encouraged to question, explore, and contribute their ideas, creating an interactive and stimulating educational experience.
Learning doesn't end in the classroom. Sweden's rich culture, stunning landscapes, and vibrant cities offer plenty of opportunities for exploration and personal development. The country is known for its high proficiency in English, making it an accessible and welcoming place for international students.
Moreover, Sweden is home to several multinational corporations and start-ups, providing numerous opportunities for internships and post-graduation employment. Studying in Sweden means being part of an environment that values innovation, creativity, and the spirit of entrepreneurship, providing a solid foundation for future career prospects.
In summary, studying in Sweden not only ensures a high-quality education but also offers a unique cultural immersion, abundant career opportunities, and a chance to be part of a society that values balance, sustainability, and progressive thinking.
EMPLOYMENT OPPORTUNITIES
Working in Sweden offers an array of benefits that range from a balanced lifestyle to numerous opportunities for professional development.
One of the greatest assets of working in Sweden is the work-life balance it promotes. Thanks to laws supporting generous leave policies, shorter working hours, and the right to disconnect, Sweden actively encourages a lifestyle that balances work with personal interests and family life.
Sweden is also renowned for its progressive work culture that values teamwork, equality, and respect. Hierarchies are typically flat, allowing for open communication and collaboration at all levels of the organization. Furthermore, Sweden has strong protections in place for workers, ensuring fair wages, safe work environments, and equal opportunities.
The country boasts a thriving economy, particularly strong in sectors such as technology, automotive, design, and sustainability. This economic stability offers promising career prospects and opportunities for growth. The Swedish culture of innovation and entrepreneurship also makes it an exciting place to work, particularly for those interested in the start-up scene.
Moreover, the country is one of the best in the world for English speakers to work, with many businesses using English as their working language.
Lastly, working in Sweden provides an opportunity to live in a place that values the environment, promotes social equality, and offers a high standard of living.
In essence, the benefits of working in Sweden extend beyond professional growth, encouraging a balanced, fulfilled lifestyle in a dynamic and progressive environment.
ECONOMIC ADVANTAGES AND ENTREPRENEURSHIP
Sweden offers immense economic advantages that make it an attractive location for starting a new business or for digital nomads. The country is known for its entrepreneurial spirit, technological innovation, and strong support for start-ups. Sweden boasts an incredibly robust and diverse economy, with sectors ranging from technology, telecommunications, and automotive to healthcare, pharmaceuticals, and green energy, presenting a wide array of business opportunities.
For digital nomads, the high-speed internet and digital infrastructure, combined with excellent co-working spaces and a thriving tech industry, provide an ideal work environment. In addition, the country has several start-up hubs like Stockholm, often referred to as the "Silicon Valley of Europe", which is home to numerous globally successful start-ups.
SWEDEN'S BEAUTIFUL PLACES AND CLIMATE
From the vibrant, cosmopolitan cities to the pristine natural landscapes, Sweden has something for everyone. Whether it's the charming cobblestone streets of Gamla Stan in Stockholm, the beautiful archipelago in Gothenburg, or the stunning natural wonders of Lapland, there is no shortage of beautiful places to explore.
The climate in Sweden is quite varied, with long, warm summers that are perfect for outdoor activities and cozy, snowy winters that transform the country into a winter wonderland. The long daylight hours in the summer are known as the Midnight Sun, while the spectacular Northern Lights often light up the winter skies, adding to the country's natural allure.
PUBLIC SERVICES AND HEALTHCARE
Sweden takes great pride in its public services, particularly in areas like education and healthcare. The country's healthcare system is universally accessible and largely funded by taxes. It's known for its high-quality services and has consistently been ranked among the best globally.
Sweden's healthcare system is not just focused on treatment but also emphasizes preventive care and public health initiatives. The emphasis on healthcare and wellbeing extends to mental health, with resources and support available for all residents.
ACCOMMODATION AND REAL ESTATE INVESTMENT
The housing market in Sweden is diverse, with options ranging from modern apartments in bustling city centres to charming houses in peaceful countryside settings. Renting is common in Sweden, with strong tenant rights ensuring a fair deal for renters. For those looking to invest, the Swedish real estate market has shown a steady growth trend over the years.
Foreigners are allowed to own property in Sweden without any restrictions, making it an attractive investment destination. The strong economy, high standard of living, and the demand for housing, particularly in cities like Stockholm, Gothenburg, and Malmö, contribute to the potential for a good return on investment.
RETIREMENT IN SWEDEN
Sweden is an appealing destination for retirees due to its high quality of life, excellent healthcare, and numerous recreational opportunities. The country's focus on sustainability and green living contributes to a clean, healthy environment, ideal for those looking to enjoy their retirement years.
Sweden also has a strong sense of community, and retirees can enjoy a vibrant social life with various activities and clubs. The Swedish government provides substantial support for seniors, including pensions, healthcare services, and community programs.
LUCRATIVENESS OF LIVING IN SWEDEN
All of these factors combine to make Sweden a highly lucrative option for living, working, and investing. The robust economy, innovative business environment, and high standard of living create a strong foundation for both professional growth and a balanced, fulfilling lifestyle.
The beautiful landscapes, rich culture, and excellent public services add to the country's allure. Moreover, the potential returns from real estate investment and the benefits of the country's healthcare system make it an attractive destination for both young professionals and retirees.
VISA REQUIREMENTS AND IMMIGRATION LAWS
For those considering a move to Sweden, it's important to understand the visa requirements and immigration laws. The requirements vary depending on your country of origin and the purpose of your stay.
For EU citizens, living and working in Sweden is straightforward with the right of free movement. Non-EU citizens may need to obtain a visa or a residence permit. For work, a job offer is typically required before you apply for a work permit.
Sweden offers various types of visas and permits, including work permits, student visas, and permits for entrepreneurs. For retirees, a self-sufficiency residence permit can be obtained.
It's advisable to check the most current information from official sources like the Swedish Migration Agency as immigration laws can change. Professional services like VIP Visa can guide you through the process, ensuring a smooth transition to your life in Sweden.
In conclusion, the benefits of living in Sweden are manifold, making it an ideal destination for those seeking to enrich their lives personally, professionally, and financially. Its welcoming nature, combined with its economic stability and high standard of living, ensures that everyone - be it an entrepreneur, digital nomad, student, or retiree - can find a fulfilling and rewarding life in Sweden.
At VIP Visa, we pride ourselves on our years of experience in helping clients navigate the complex process of obtaining visas, residencies, and second nationalities or passports. If you are considering a visit or moving to Sweden, we are here to guide you through the process. Our team of experts will ensure that you have all the necessary information and support to make your dream come true. Please see below for more information about our visa categories and let us help you embark on your new journey!