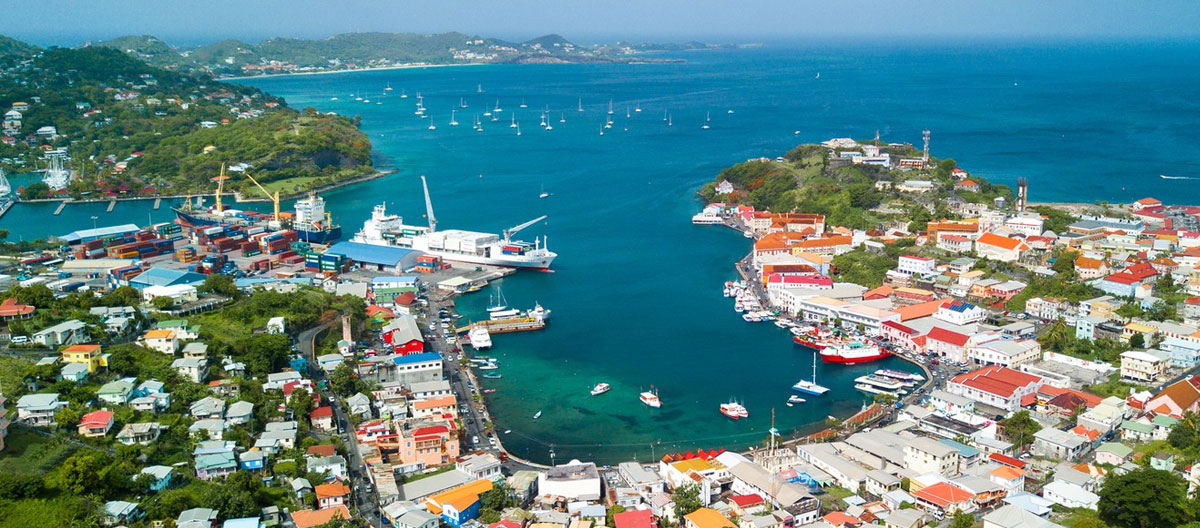 Benefits of life in Grenada
Grenada, affectionately referred to as the "Isle of Spice," is a country that offers a myriad of advantages for both travelers and those seeking residency. Nestled in the heart of the Caribbean, Grenada's warm tropical climate and rich cultural heritage make it an idyllic destination for individuals from all walks of life.
Life in Grenada is characterized by an unhurried pace, allowing residents and visitors to fully embrace the island's natural beauty and tranquility. The island is known for its stunning beaches and pristine natural landscapes, from lush rainforests to enchanting waterfalls and breathtaking coral reefs. Such natural diversity provides ample opportunities for outdoor activities like hiking, diving, and sailing.
The country's economic stability, backed by a robust tourism industry and growing sectors like agriculture and education, provides a conducive environment for business and investment. With its friendly tax laws and the potential for economic citizenship, Grenada offers attractive incentives for entrepreneurs and investors.
Grenada's people are warm and welcoming, embodying the true spirit of Caribbean hospitality. With a rich blend of African, French, and British influences, the island's vibrant culture is seen in its music, cuisine, and festivals. English is the official language, easing communication and integration for newcomers.
Quality healthcare facilities and a well-established education system, including the presence of St. George's University, one of the world's leading medical schools, are other significant draws. Overall, life in Grenada represents a unique blend of leisure, opportunity, and quality of life.
Natural Beauty with Diverse Marine Life
Tropical Climate Year-Round
Authentic & Welcoming Caribbean Hospitality
Immerse Yourself in a Vibrant Blend of Cultures
Economic Stability with Growing Opportunities
English Makes Communication & Integration Easy
Quality Healthcare Facilities
Friendly Tax Laws, Beneficial for Investors
The Potential for Obtaining Economic Citizenship
Study, Work and Live in Grenada
EDUCATIONAL SYSTEM
Studying in Grenada offers students a unique educational experience that transcends the traditional confines of a classroom. Known for its premier educational institutions, notably St. George's University, Grenada is a popular destination for students from around the world, especially those pursuing studies in medicine, veterinary sciences, and other health-related fields.
St. George's University, one of the leading medical schools globally, boasts an educational model that combines medical education with practical skills, preparing students for a future in global healthcare. The university's diverse student body also fosters a multicultural learning environment, promoting global perspectives and mutual respect among students.
In addition to its academic advantages, studying in Grenada offers a balanced lifestyle. Its stunning natural landscapes provide a serene backdrop for studying and recreational activities, promoting overall well-being. Students can explore the island's rich biodiversity, pristine beaches, and historical landmarks, making their study years not just about gaining academic knowledge but also life-enriching experiences.
Moreover, the friendly local community and the country's safety make it an ideal environment for foreign students. The Caribbean hospitality and the opportunity to immerse oneself in the vibrant Grenadian culture further enhance the student life experience.
Finally, studying in Grenada can lead to broader career opportunities. The university's strong emphasis on international health and medicine, coupled with its extensive alumni network, opens doors for career opportunities globally, making a Grenadian education a worthwhile investment for a successful future.
EMPLOYMENT OPPORTUNITIES
Working in Grenada offers a myriad of benefits that span professional growth, lifestyle enhancements, and a favourable economic climate. As a rapidly growing economy, Grenada provides opportunities across various sectors, including tourism, agriculture, education, and healthcare, making it an attractive destination for international professionals.
One of the most significant advantages of working in Grenada is the work-life balance it offers. The island's relaxed pace of life, combined with its natural beauty and warm climate, makes it a perfect location for those seeking to balance their professional obligations with recreational activities. After a day's work, you can unwind on a serene beach, hike in lush rainforests, or enjoy a local cultural event.
The country's tax system is another attractive feature for professionals. Grenada offers competitive tax incentives for businesses and individuals alike, which can lead to greater financial freedom and growth. Moreover, the possibility of gaining economic citizenship provides long-term benefits, including ease of international travel and access to business opportunities.
Professionals will also find the Grenadian workplace to be diverse and inclusive, with a workforce that values collaboration and mutual respect. English as the official language facilitates easy communication and integration into the professional environment.
Furthermore, working in Grenada allows you to immerse yourself in the local culture, enhancing your global perspective and intercultural skills. This cultural exposure coupled with professional experience in a growing economy can significantly enrich your career profile, making you more attractive to future employers worldwide. In essence, working in Grenada is not just a job opportunity, but an experience that contributes to both professional and personal growth.
ECONOMIC ADVANTAGES
Grenada, known for its robust economy, provides an attractive environment for individuals looking to start a new business or work remotely. The country's stable economy is anchored by thriving sectors such as tourism, agriculture, and education. The government encourages foreign investments and entrepreneurship, offering incentives like tax holidays, duty-free concessions, and repatriation of profits and dividends. For digital nomads, Grenada's reliable internet infrastructure and the availability of co-working spaces make it an ideal location. Furthermore, the island's status as a member of the Eastern Caribbean Currency Union ensures a stable currency, facilitating smooth business operations.
NATURAL BEAUTY AND CLIMATE
Grenada's beauty is unparalleled, often referred to as the "Isle of Spice" due to its abundant nutmeg plantations. The country boasts a variety of landscapes from pristine beaches like Grand Anse, Morne Rouge, and Levera Beach, to lush rainforests and scenic waterfalls such as Concord Falls and Annandale Falls. The tropical climate is warm and inviting year-round, making it perfect for outdoor activities like hiking, diving, and sailing.
PUBLIC SERVICES
Grenada's public services are well-established and responsive to the needs of its residents. The country offers a reliable public transportation system, making commuting easy and affordable. The education system is robust, with institutions offering high-quality learning from primary education to tertiary level. English is the official language, making integration easier for foreigners.
HEALTHCARE BENEFITS
Healthcare in Grenada is accessible and affordable, with several public hospitals and health centers across the island. St. George's University, with its globally recognized School of Medicine, ensures the presence of highly trained medical professionals on the island. The country also has a growing health tourism sector, providing high-quality healthcare services at competitive prices.
ACCOMMODATION AND REAL ESTATE INVESTMENT
The real estate market in Grenada offers diverse options, from luxury villas to affordable apartments, catering to different budget needs. The government encourages foreign investments in real estate, offering citizenship by investment program. Investing in property can thus not only provide a residence but also an opportunity to acquire Grenadian citizenship, subject to the fulfilment of certain criteria.
RETIREMENT IN GRENADA
Grenada is an excellent choice for retirement, offering a relaxed pace of life amidst natural beauty. The low cost of living, coupled with high-quality healthcare and safety, makes it an ideal retirement destination. The friendly and welcoming local community further enhances the quality of life for retirees. Grenada's Retirement Incentive Program offers additional benefits to retirees such as duty-free concessions on personal effects and vehicles.
LUCRATIVE BENEFITS OF LIVING IN GRENADA
Living in Grenada can be a lucrative prospect in many ways. The country's stable economy and business-friendly policies offer opportunities for financial growth. Its natural beauty, combined with a warm climate, offers a quality of life that is both enjoyable and conducive to productivity. The potential for real estate investment provides an avenue for capital appreciation, while the healthcare system ensures good health and well-being. Finally, the possibility of acquiring economic citizenship by investment can provide long-term benefits, including ease of international travel and global business opportunities.
VISA REQUIREMENTS AND IMMIGRATION LAWS
Grenada's welcoming and inclusive approach is clearly evident in its visa policies and immigration laws. Individuals from numerous countries, including the U.S., Canada, the U.K., and EU member states, can enter and stay in Grenada for up to 90 days without the need for a visa. This facilitates easy travel for both tourism and initial business explorations.
For longer stays, or for those intending to work or establish a business, a work permit or a business visa is necessary. The application procedures are clear and straightforward, with comprehensive guidelines provided by the Grenada Immigration Department. This transparency simplifies the process for foreigners and reassures them of the country's commitment to encouraging global talent and investment.
Particularly noteworthy is Grenada's Citizenship by Investment Program. This innovative initiative allows individuals, along with their families, to acquire Grenadian citizenship through significant investment in the country's economy. The investment can either take the form of a contribution to the National Transformation Fund or the purchase of real estate from government-approved projects.
The Citizenship by Investment Program not only accelerates the path to citizenship but also allows individuals to enjoy the full benefits of being Grenadian citizens. These benefits include visa-free or visa-on-arrival travel to over 140 countries, including the UK and the Schengen Area. Moreover, Grenada is the only country with a citizenship-by-investment program that holds an E-2 Investor Visa Treaty with the US, allowing citizens to own and operate a substantial business in the U.S.
Thus, Grenada's visa requirements and immigration laws create a supportive and conducive environment for foreigners to live, work, invest, and ultimately, become part of the Grenadian community.
At VIP Visa, we pride ourselves on our years of experience in helping clients navigate the complex process of obtaining visas, residencies, and second nationalities or passports. If you are considering a visit or moving to Grenada, we are here to guide you through the process. Our team of experts will ensure that you have all the necessary information and support to make your dream come true. Please see below for more information about our visa categories and let us help you embark on your new journey!