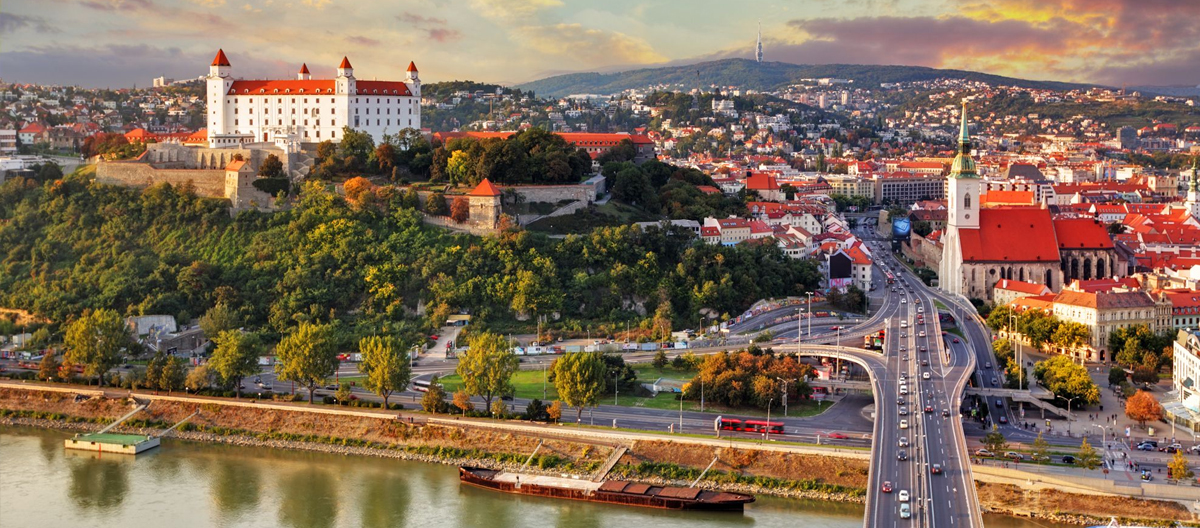 Benefits of life in Slovakia
Living in Slovakia offers a plethora of benefits that are highly sought after in today's world. Nestled in the heart of Europe, Slovakia boasts a high quality of life, rich cultural heritage, stunning natural beauty, and an economy on a positive trajectory.
The Slovak lifestyle is a perfect blend of tradition and modernity. The country's rich history is evident in its well-preserved medieval towns, castles, and monuments. However, Slovakia is not stuck in the past; its cities are vibrant hubs of contemporary European culture, offering an array of museums, galleries, festivals, and nightlife.
The cost of living in Slovakia is relatively low compared to other European countries, making it an attractive option for many. From housing to food, services, and entertainment, you can enjoy a European lifestyle at a fraction of the cost.
Slovakia's strategic location in the centre of Europe means you're never too far from the rest of the continent. With efficient public transportation and infrastructure, travel across Europe is not only possible but easy and accessible.
Lastly, the Slovak people are known for their warmth and hospitality, making expats feel welcome. The country's international community is steadily growing, and English is widely spoken, particularly in urban areas, easing the transition for newcomers.
Affordable Cost of Living
Offers a High Standard of Medical Care
Rich Cultural Heritage & Vibrant Traditions
Serves as a Gateway to Explore the Continent
Scenic Landscapes: Mountains, Forests & Caves
An Opportunity for Investment & Entrepreneurship
One of the Safest Countries in Europe
Offering Quality Education in both Slovak & English
Warm Hospitality & Easy for Foreigners to Integrate
They Speak Slovak but English is Widely Spoken
Study, Work and Live in Slovakia
EDUCATIONAL SYSTEM
Studying in Slovakia has significant advantages that can enrich personal and professional aspects of a student's life. One of the greatest advantages is the high-quality education offered at a relatively affordable cost. Slovak universities and colleges provide a wide range of study programs, including many taught in English. This diversity allows international students to find a program that suits their academic and career goals.
Slovakia's education system emphasizes critical thinking and creativity, equipping students with skills that are sought after in the global job market. The country's universities are known for their research and innovation, particularly in fields like engineering, natural sciences, and medicine.
Moreover, studying in Slovakia offers the chance to immerse oneself in a new culture and language. While English is commonly spoken, international students have the opportunity to learn Slovak, which could be an added advantage in a globalized world.
In addition, Slovakia's location in the heart of Europe allows students to travel easily to other European countries. This proximity provides an excellent opportunity to broaden one's horizons and gain a more nuanced understanding of European culture and history.
The country also boasts a vibrant student life, with numerous cultural, social, and sports activities that cater to different interests. From music festivals to hiking clubs, students in Slovakia can engage in a wide range of extracurricular activities, making their study experience more enriching and memorable.
In summary, studying in Slovakia offers a comprehensive package of quality education, cultural immersion, affordable living, and unique travel experiences, preparing students for a successful future.
EMPLOYMENT OPPORTUNITIES
Working in Slovakia presents a myriad of benefits. The country's strategic location in the heart of Europe and its steady economic growth make it a great place for career opportunities. Slovakia has a strong industrial base, especially in automotive and electronics, and is rapidly developing in sectors like IT, finance, and services, creating diverse job opportunities.
Slovakia has an attractive work-life balance. Work hours are typically reasonable, allowing individuals to maintain a healthy balance between their professional and personal lives. Additionally, the country's robust labour laws ensure fair working conditions, and employee rights are well-protected.
The cost of living in Slovakia is relatively low compared to Western European countries, which means a competitive salary can go a long way. This makes for a comfortable lifestyle, including housing, transportation, dining, and entertainment, at a fraction of the cost one might expect in other European nations.
Working in Slovakia also provides an excellent opportunity to explore the rest of Europe. Its central location, combined with excellent transportation links, makes weekend trips to other European cities very feasible.
Learning and using the Slovak language in the workplace is a plus, but English is widely accepted in the business world, making it easier for international professionals to adapt.
Finally, the country offers a welcoming and inclusive society. Expats often speak of the hospitality and warmth of the Slovak people, making it easier to settle in and feel at home.
In summary, working in Slovakia offers an attractive combination of professional growth, reasonable living costs, travel opportunities, and a welcoming environment.
ECONOMIC ADVANTAGES AND BUSINESS OPPORTUNITIES IN SLOVAKIA
Slovakia boasts a stable and high-income advanced economy that provides a conducive environment for both established businesses and start-ups. Its strategic location at the heart of Europe and excellent infrastructure make it a great logistics hub with easy access to markets in Western Europe, Eastern Europe, and the Balkans. The country has a highly educated workforce and competitive labour costs, contributing to an attractive business climate.
For digital nomads, Slovakia offers a high-speed internet connection and coworking spaces in major cities. The cost of living is considerably lower than in Western Europe, which allows for a comfortable lifestyle without the hefty price tag. The government supports innovation and entrepreneurship, providing various incentives and grants for start-ups and small businesses.
BEAUTIFUL PLACES AND FAVORABLE CLIMATE
Slovakia is a country of stunning natural beauty. From the majestic High Tatras mountains to the charming Danube River, from verdant national parks to picturesque medieval towns, Slovakia offers a feast for the eyes. The country experiences a temperate and continental climate with four distinct seasons. Summers are warm but not overly hot, while winters provide perfect conditions for skiing and other winter sports.
QUALITY PUBLIC SERVICES
Slovakia offers a range of quality public services. The country's public transportation system is efficient and well-connected, covering even remote areas. Slovakia has a high standard of education, with a well-developed network of public schools and universities. Moreover, the government invests significantly in public utilities and infrastructure, ensuring a high standard of living for its residents.
ADVANTAGES OF THE HEALTHCARE SYSTEM
The healthcare system in Slovakia is universal and offers high-quality medical services. Public healthcare is funded through health insurance, which covers most medical procedures and prescriptions. Slovakia's healthcare facilities are modern, and the country is known for its highly skilled healthcare professionals. Medical tourism is a growing sector in Slovakia due to the excellent healthcare services at competitive prices.
ACCOMMODATION AND REAL ESTATE INVESTMENT OPPORTUNITIES
Housing in Slovakia is diverse and relatively affordable, ranging from modern apartments in cities to charming houses in rural areas. The cost of utilities and maintenance is also low, contributing to a lower cost of living. Real estate in Slovakia has seen steady appreciation over the years, making it a good investment. The process of buying property in Slovakia is straightforward, even for foreigners, and the government offers incentives for property investments.
RETIREMENT IN SLOVAKIA FOR FOREIGNERS
Slovakia is an increasingly popular choice for retirement among foreigners. The country's affordable cost of living, high quality of life, and excellent healthcare make it an ideal retirement destination. Slovakia's pension system is stable and ensures a decent standard of living for retirees. The country also offers various social and recreational activities for seniors, fostering an active and engaged retirement life.
LUCRATIVE POTENTIAL OF LIVING IN SLOVAKIA
All these factors make living in Slovakia a lucrative choice. The economic advantages offer opportunities for financial growth, while the natural beauty and cultural richness contribute to a high quality of life. The public services, healthcare, and real estate offer value for money, and the welcoming society makes integration easy for foreigners. Whether you're a business person, a digital nomad, a retiree, or a student, Slovakia has something to offer you.
VISA REQUIREMENTS AND IMMIGRATION LAWS
Slovakia, as a member of the European Union, follows the Schengen Agreement. For short-term stays up to 90 days, citizens from many countries can enter Slovakia without a visa. For longer stays or for work, study, or business purposes, a long-term visa or residence permit is required.
The process of obtaining a visa or residence permit involves providing necessary documents such as proof of accommodation, financial stability, health insurance, and a clean criminal record. Slovakia also offers a variety of programs for investors and entrepreneurs, making it easier for them to establish residency and start businesses in the country.
In conclusion, Slovakia is a country that welcomes foreigners with open arms. Its diverse advantages make it an attractive place to visit, live, work, study, and invest in. Its immigration laws are clear and straightforward, making the transition to Slovakia a smooth experience for those looking to make this beautiful country their new home.
At VIP Visa, we pride ourselves on our years of experience in helping clients navigate the complex process of obtaining visas, residencies, and second nationalities or passports. If you are considering a visit or moving to Slovakia, we are here to guide you through the process. Our team of experts will ensure that you have all the necessary information and support to make your dream come true. Please see below for more information about our visa categories and let us help you embark on your new journey!