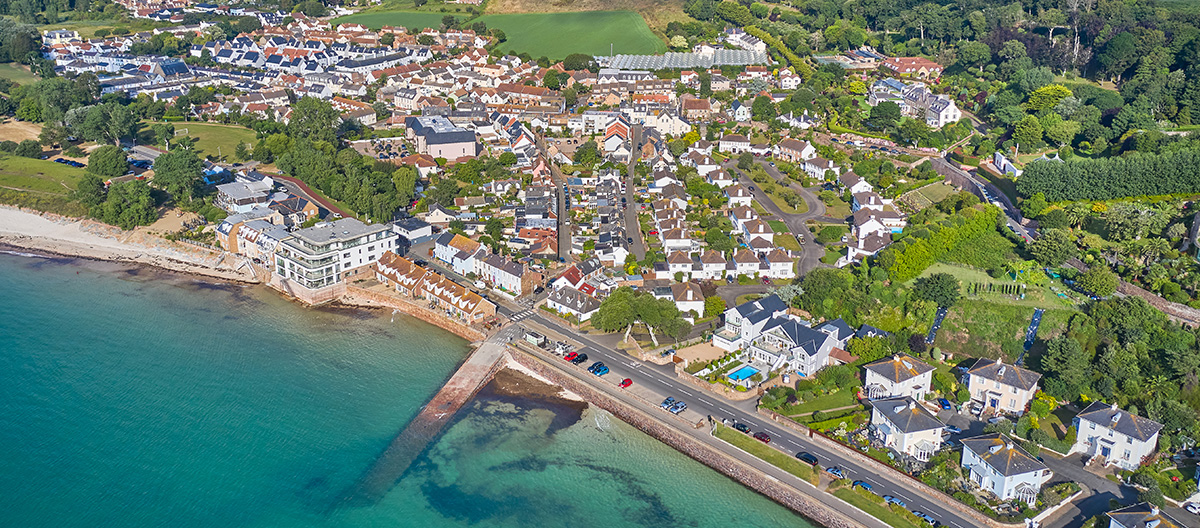 Benefits of life in Jersey
Jersey, a gem nestled in the Channel Islands, offers a unique blend of British and French influences, creating a distinctive lifestyle that appeals to many. Known for its stunning natural beauty, the island is dotted with picturesque landscapes, from tranquil beaches to lush green valleys. As a crown dependency, Jersey combines the stability and security of British governance with a significant degree of autonomy, providing an excellent balance for those seeking a secure yet independent lifestyle.
Jersey has a robust economy, with a strong emphasis on finance, digital, and tourism sectors. The business-friendly environment, coupled with the island's strategic location between the UK and France, makes it an attractive destination for global entrepreneurs and investors.
On the social front, Jersey boasts of a high standard of living, with excellent healthcare and education systems. It offers a safe, community-focused environment that is perfect for families, with plenty of outdoor activities to enjoy. The island's rich history and culture, reflected in its heritage sites and vibrant festivals, provide a fascinating backdrop for life in Jersey.
Residents of Jersey also enjoy a favourable tax system, with low personal and corporate tax rates. This tax efficiency, along with the island's strong legal framework, offers potential residents significant financial advantages.
Finally, the island's size allows for a slower, more relaxed pace of life, without compromising on the amenities of modern living. With its blend of natural beauty, economic opportunity, and quality of life, Jersey is indeed a compelling choice for those seeking a new home abroad.
Stability & Security as Benefits of British Governance
Opportunities in Fiinance, Digital & Tourism Sectors
High Standard of Living, Healthcare & Education
Community-Focused Environment
Rich History & Culture with Numerous Heritage Sites
Low Personal & Corporate Tax Tates
Picturesque Landscapes from Beaches to Valleys
Travel Convenience Between the UK & France
Business-Friendly Environment, Ideal for Investors
Experience a Slower & More Relaxed Pace of Life
Study, Work and Live in Jersey
EDUCATIONAL SYSTEM
Studying in Jersey opens doors to a world of exceptional educational opportunities. The island boasts a high-performing education system, with a strong emphasis on personalized learning and student achievement. Schools in Jersey follow the British curriculum, which is globally recognized for its rigorous standards and commitment to academic excellence.
Higher education in Jersey is equally impressive, with a broad range of vocational and degree programs offered by Highlands College and the University of Jersey. These institutions have links with renowned UK universities, enabling students to gain qualifications from prestigious establishments while studying on the island.
Jersey's multicultural society offers a rich learning environment. Students have the chance to immerse themselves in a unique blend of British and French cultures, enhancing their global awareness and cultural competency. Furthermore, the small size of the island promotes a close-knit academic community where students can receive personalized attention and support.
Studying in Jersey is not just about academics. The island's stunning landscapes provide a wealth of outdoor learning and recreational opportunities. From marine biology studies on its pristine beaches to geological research in its rugged cliffs, Jersey's natural environment is a living laboratory for students.
Lastly, Jersey's proximity to the UK and mainland Europe offers fantastic opportunities for travel and international exposure. This geographic advantage enhances students' educational experience, providing them with a broader perspective and a greater understanding of the world.
In summary, studying in Jersey offers a high-quality education, a unique cultural experience, ample outdoor learning opportunities, and easy access to international travel, making it an attractive destination for students worldwide.
EMPLOYMENT OPPORTUNITIES
Working in Jersey presents an array of appealing benefits. The island's robust economy, driven by the finance, digital, and tourism sectors, offers a diverse range of job opportunities. Its strategic location between the UK and France provides a distinct advantage for businesses operating on a global scale.
Jersey's business-friendly environment, combined with a highly skilled workforce, creates a conducive atmosphere for career growth and development. For entrepreneurs, the island's supportive start-up ecosystem and advantageous tax system pave the way for innovative business ideas to flourish.
The quality of life in Jersey is another significant factor. With a high standard of living, the island provides a safe and comfortable lifestyle, well-suited for individuals and families alike. Excellent healthcare services, top-tier educational institutions, and community-focused environments further enhance this appeal.
Work-life balance is not just a concept but a reality in Jersey. The island's compact size reduces commute times significantly, freeing up more personal time. The abundance of natural beauty and outdoor activities, from exploring sandy beaches to hiking lush trails, offer fantastic ways to unwind and recharge.
Jersey's strong employment laws ensure fair working conditions, protect workers' rights, and promote equality in the workplace. These progressive policies make the island an attractive destination for professionals seeking a rewarding and balanced work life.
In conclusion, working in Jersey offers a unique blend of professional opportunities, high living standards, excellent work-life balance, and strong employee rights, making it an attractive prospect for individuals seeking to advance their careers while enjoying an enviable lifestyle.
ECONOMIC ADVANTAGES AND BUSINESS OPPORTUNITIES
One of the significant advantages of living in Jersey is the robust and diverse economy. The finance sector is the primary driver, but other areas such as digital industries and tourism also make significant contributions. Jersey's strategic location between the UK and France, coupled with its advanced digital infrastructure, makes it an attractive hub for global businesses. The island is particularly welcoming to entrepreneurs and digital nomads, providing a business-friendly environment that encourages innovation and growth. Tax advantages, including low personal and corporate tax rates, further enhance Jersey's appeal for business-minded individuals.
NATURAL BEAUTY AND CLIMATE
Jersey is renowned for its stunning natural beauty, with a variety of landscapes that cater to every taste. The island is home to pristine beaches, lush green valleys, and rugged cliffs, each providing a unique backdrop for outdoor activities. Jersey's climate is another drawcard, with mild winters and warm, sunny summers that are perfect for enjoying the outdoors. The island's compact size ensures that all its natural beauty is readily accessible, providing a welcome escape from the stresses of modern living.
PUBLIC SERVICES
Jersey's public services are top-tier, ensuring a high standard of living for residents. The island's education system is highly regarded, with schools following the rigorous British curriculum. Public transport is efficient and reliable, and the island's compact size makes commuting a breeze. Other essential public services such as waste management and utilities are also well-managed, contributing to the island's clean and pleasant living environment.
HEALTHCARE BENEFITS
Healthcare in Jersey is of an excellent standard, with a comprehensive range of services available. The island's healthcare system combines public and private services, ensuring all residents have access to the care they need. The system is well-funded and efficiently run, with a strong emphasis on preventative care and health promotion. Furthermore, Jersey's healthcare sector is continuously innovating, investing in state-of-the-art facilities and technologies to improve patient outcomes.
ACCOMMODATION AND REAL ESTATE INVESTMENT
Accommodation options in Jersey are diverse, ranging from modern apartments in the capital of St Helier to charming country houses in the island's rural parishes. The real estate market in Jersey is stable and well-regulated, offering attractive opportunities for investment. Property values have consistently appreciated over time, and rental yields are competitive. For those looking to make a home in Jersey, the island's high-quality construction and stringent building standards ensure comfortable and secure living arrangements.
RETIREMENT IN JERSEY
Retirement in Jersey presents a unique proposition. The island's peaceful lifestyle, beautiful environment, and high standard of public services make it an ideal location for individuals looking to enjoy their golden years. Jersey's strong community focus provides ample opportunities for social engagement, while its excellent healthcare system ensures that seniors' health needs are well catered for. For foreigners, the process of retiring to Jersey is relatively straightforward, providing they have the necessary financial means.
LUCRATIVE LIFESTYLE
All these benefits combine to create a lifestyle in Jersey that is not only enjoyable but also potentially lucrative. The business and investment opportunities, high standard of living, and the stability of the real estate market all contribute to an environment that promotes financial wellbeing. At the same time, the island's natural beauty, pleasant climate, and community focus enhance personal wellbeing, providing a balanced and fulfilling lifestyle.
VISA REQUIREMENTS AND IMMIGRATION LAWS
Jersey has a clear and straightforward immigration process. As a Crown dependency, it follows UK immigration laws, with some additional requirements specific to the island. For those looking to work or start a business in Jersey, a work permit or business license may be required. Investing or retiring in Jersey typically requires demonstration of sufficient financial means to support oneself without needing public funds.
While the process is straightforward, it's essential to understand the specific requirements related to your circumstances. Therefore, consulting with a professional immigration advisor is advisable to navigate the process efficiently.
In conclusion, Jersey offers a unique combination of economic, lifestyle, and environmental benefits that make it an attractive destination for individuals from various walks of life. Whether you're an entrepreneur seeking new business opportunities, a retiree looking for a peaceful lifestyle, or a professional aiming for a balanced work-life dynamic, Jersey has much to offer.
Its robust economy, favourable business environment, and attractive tax system create a conducive atmosphere for financial growth and success. The island's natural beauty, pleasant climate, and outdoor recreational activities offer countless opportunities for relaxation and enjoyment.
Quality public services, including a top-notch education system and excellent healthcare, ensure a high standard of living. The real estate market offers stability and potential for profitable investment, while the island's retirement benefits make it a desirable location for those looking to enjoy their golden years in a serene, beautiful environment.
Moreover, Jersey's clear and manageable immigration process makes the transition to island life as smooth as possible. With all these benefits, living in Jersey is not only enjoyable but also potentially lucrative, providing a well-rounded lifestyle that caters to both personal and financial wellbeing.
At VIP Visa, we pride ourselves on our years of experience in helping clients navigate the complex process of obtaining visas, residencies, and second nationalities or passports. We can guide you through Jersey's immigration requirements and help you take the first steps towards your new life on this beautiful island. Please see below to find visa categories or contact us today to learn more about the opportunities awaiting you in Jersey.