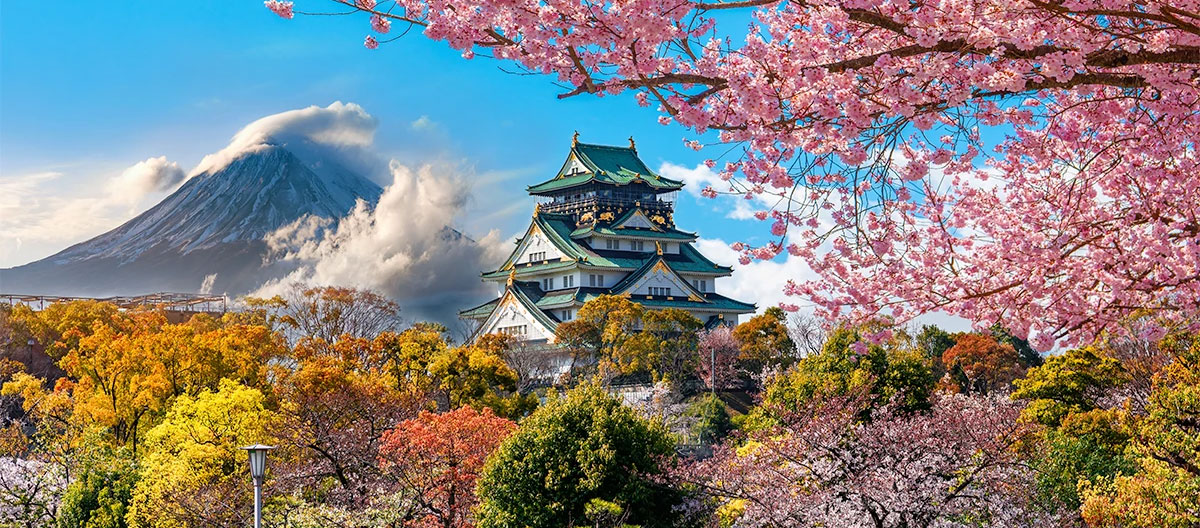 Benefits of life in Japan
Japan, known as "The Land of the Rising Sun", is an archipelago that offers its residents an exquisite blend of traditional charm and modern convenience. Its cultural richness, safe and clean environment, advanced infrastructure, and exciting opportunities for growth make it an attractive destination for individuals seeking to travel, reside, or obtain a second nationality.
Japanese culture is a fascinating amalgamation of ancient traditions and cutting-edge technology. As a resident, you get to experience beautiful seasonal festivals, partake in traditional tea ceremonies, and admire the timeless beauty of Japanese architecture. At the same time, Japan boasts of world-class technology, convenience stores at every corner, and an excellent public transportation system. Whether you're a fan of history, art, technology, or gastronomy, Japan has something for everyone.
The education system in Japan is known for its high standards, and the country is home to several globally recognized universities. The healthcare system is comprehensive and efficient, providing excellent medical facilities to all residents. Moreover, Japan's low crime rate makes it one of the safest countries in the world, fostering a sense of security and peace of mind.
Japan's economy is the third-largest in the world, making it a land of opportunities for businesses and professionals alike. The work environment fosters discipline, punctuality, and respect, contributing to personal and professional growth. In addition, the Japanese government is actively encouraging immigration, making it easier for people to move and establish their lives in this wonderful country.
In short, life in Japan is a harmonious blend of tradition and modernity, providing an enriching living experience that respects the past while embracing the future.
Experience a Blend of Traditional & Modern Culture
Japan is One of the World's Safest Countries
Efficient & Extensive Rail Network
Home to Several Top-Ranked Universities
Comprehensive & Efficient Healthcare System
Third-Largest Economy in the World
Experience the World-Renowned Japanese Cuisine
Beautiful Landscapes from Blossoms to Mountains
Discipline & Respect as Japanese Values
Study, Work and Live in Japan
EDUCATIONAL SYSTEM
Studying in Japan offers a wealth of opportunities and benefits, both academically and culturally. The country's education system is well-regarded internationally, and many of its universities are ranked among the top in the world, making a degree from Japan a valuable credential.
Academically, Japanese universities and research institutions are known for their strengths in areas such as technology, engineering, and natural sciences. They provide rigorous, high-quality education, coupled with the opportunity to participate in ground-breaking research. Many universities also offer courses in English, making it easier for international students to pursue their academic goals.
Japan is a country where tradition meets innovation, making it an exciting place for cultural immersion and personal growth. Studying in Japan allows students to experience its rich heritage, language, and customs first-hand. This cultural experience, combined with the discipline and respect inherent in Japanese society, fosters personal development and cross-cultural understanding.
Moreover, the Japanese government and universities offer various scholarships to support international students financially. There are also ample part-time job opportunities for students wishing to gain work experience while studying.
In addition, living and studying in Japan can open doors to future employment opportunities. The country's strong economy, particularly its technological and engineering sectors, offers vast career prospects. With the government's initiatives to retain international talent, students often find attractive work opportunities post-graduation.
In essence, studying in Japan provides a holistic educational experience that goes beyond academia, cultivating global citizens ready to thrive in today's interconnected world.
EMPLOYMENT OPPORTUNITIES
Working in Japan comes with a host of benefits that span personal and professional development. As the third-largest economy in the world, Japan boasts a robust job market, especially in sectors such as technology, engineering, and finance. The country's reputation for quality, precision, and innovation makes it an excellent place for professionals to broaden their skills and experience.
Japanese work culture is characterized by discipline, respect, and a strong sense of community. Although the work hours can be long, the environment fosters teamwork, commitment, and personal growth. This ethos, coupled with the opportunity to work with some of the world's leading companies, can greatly enhance one's career trajectory.
Japan's work culture also encourages lifelong learning and professional development. Many companies invest in their employees through regular training and upskilling programs. In addition, the government has launched various initiatives to attract and retain global talent, resulting in an increasingly international and inclusive work culture.
Living and working in Japan also means experiencing its rich cultural heritage and advanced lifestyle. The country offers a high standard of living, world-class public transportation, exceptional food, and a host of recreational activities. From exploring ancient temples and festivals to enjoying modern shopping and entertainment facilities, there's always something to do.
Lastly, Japan's healthcare system is one of the most efficient in the world, and employees can expect comprehensive coverage as part of their employment benefits.
In essence, working in Japan offers a unique blend of professional growth and cultural immersion, making it an attractive destination for global talent.
ECONOMIC ADVANTAGES AND OPPORTUNITIES FOR ENTREPRENEURSHIP
Living in Japan comes with significant economic advantages, making it an attractive destination for entrepreneurs and digital nomads. Japan's economy, the third-largest in the world, is highly developed and diversified. The country is a global leader in industries such as automobiles, electronics, robotics, and more. For entrepreneurs, this robust economy provides a vast consumer market and ample opportunities to collaborate with some of the world's leading companies.
Digital nomads will also find Japan a welcoming environment. The country's advanced technology infrastructure, including its ultra-fast internet and highly efficient public transportation, makes it easy to work from virtually anywhere. There is also a growing trend of coworking spaces throughout the country, especially in major cities like Tokyo, Osaka, and Kyoto.
BEAUTY AND CLIMATE OF JAPAN
Japan's diverse and stunning natural beauty is yet another reason that makes living here so appealing. From snow-capped mountains in Hokkaido to the beautiful cherry blossoms of Kyoto, and the tropical beaches of Okinawa, there's a landscape for every taste. Japan's climate is equally varied, with four distinct seasons that each bring their unique beauty and celebrations.
Whether you're a nature lover looking for outdoor adventures or someone who enjoys city life, Japan offers a harmonious blend of urban development and natural beauty. The well-preserved cultural sites, modern architectural marvels, and beautiful parks and gardens provide endless opportunities for exploration and enjoyment.
PUBLIC SERVICES
Japan's public services are world-class, providing a high standard of living for its residents. The public transportation system, especially the trains and subways, are efficient, punctual, and extensive, covering even the remote parts of the country. This convenience and reliability make commuting and traveling easy and comfortable.
Japan is also recognized for its exceptional cleanliness and safety. Public areas are well-maintained, and the crime rate is notably low. This sense of safety and orderliness contributes significantly to the quality of life in Japan.
HEALTHCARE IN JAPAN
The healthcare system in Japan is one of the most efficient and comprehensive in the world. All residents, including foreigners, are required to be enrolled in the national health insurance system, ensuring access to affordable healthcare services. Japan's healthcare is known for its high-quality medical technology, well-trained healthcare professionals, and excellent patient care. The country's commitment to public health and longevity is evident in its residents' high life expectancy, one of the highest globally.
ACCOMMODATION AND REAL ESTATE INVESTMENT
The real estate market in Japan offers attractive opportunities for investment. While the property in major cities like Tokyo and Osaka can be expensive, there are many affordable options in smaller cities and rural areas. In recent years, the government has also promoted schemes for selling vacant houses at low prices, providing opportunities for affordable homeownership.
For those interested in investment, the real estate market in Japan is stable and can yield lucrative returns. The country's strong economy, high standard of living, and the increasing demand for rental properties, especially in urban areas, contribute to the potential for real estate investment.
RETIREMENT IN JAPAN
Japan's high standard of living, excellent healthcare, and safe and clean environment make it an attractive place for retirement. The respect and care for the elderly are deeply rooted in Japanese culture, reflected in many senior-friendly amenities and services.
Foreign retirees can enjoy a peaceful and fulfilling life in Japan. They can immerse themselves in the rich culture, enjoy the beautiful landscapes, and partake in local community activities. There are also many language schools and community centres offering Japanese language classes, making it easier for foreigners to integrate into the local community.
LUCRATIVE LIVING IN JAPAN
Given all these benefits, living in Japan can be quite lucrative. The strong economy and innovative culture provide a fertile ground for businesses and start-ups. The advanced infrastructure and public services make daily life convenient and efficient. The high standard of healthcare ensures that you and your family's health needs are well taken care of. The beautiful landscapes and rich cultural experiences enrich your life beyond measure.
Investing in real estate can provide a steady income and potential capital gains in the long term. For retirees, the peaceful and respectful society, coupled with excellent healthcare, ensures a comfortable and fulfilling life.
VISA REQUIREMENTS AND IMMIGRATION LAWS
Finally, moving to Japan is more feasible than ever due to its open and supportive immigration laws. The Japanese government has introduced various visa categories to attract skilled professionals, entrepreneurs, students, and even retirees from around the world.
For those interested in starting a business or working in Japan, there are several options such as the Business Manager Visa and Highly Skilled Professional Visa. There are also various types of visas for students, trainees, and technical interns. For retirees, the Long Stay Visa for the elderly is an option.
The Japanese government also provides support in the form of language classes and cultural assimilation programs to help new residents adjust to life in Japan. However, it's important to note that the immigration process requires careful planning and adherence to regulations. Professional support from immigration experts, such as VIP Visa, can make the process smoother and ensure compliance with all requirements.
In conclusion, Japan offers a myriad of opportunities and benefits for anyone considering making this beautiful country their home. Whether you're a digital nomad, an entrepreneur, a retiree, or someone simply seeking a higher quality of life, Japan could very well be the perfect place for you.
At VIP Visa, we pride ourselves on our years of experience in helping clients navigate the complex process of obtaining visas, residencies, and second nationalities or passports. If you are considering a visit or moving to Japan, we are here to guide you through the process. Our team of experts will ensure that you have all the necessary information and support to make your dream come true. Please see below for more information about our visa categories and let us help you embark on your new journey!