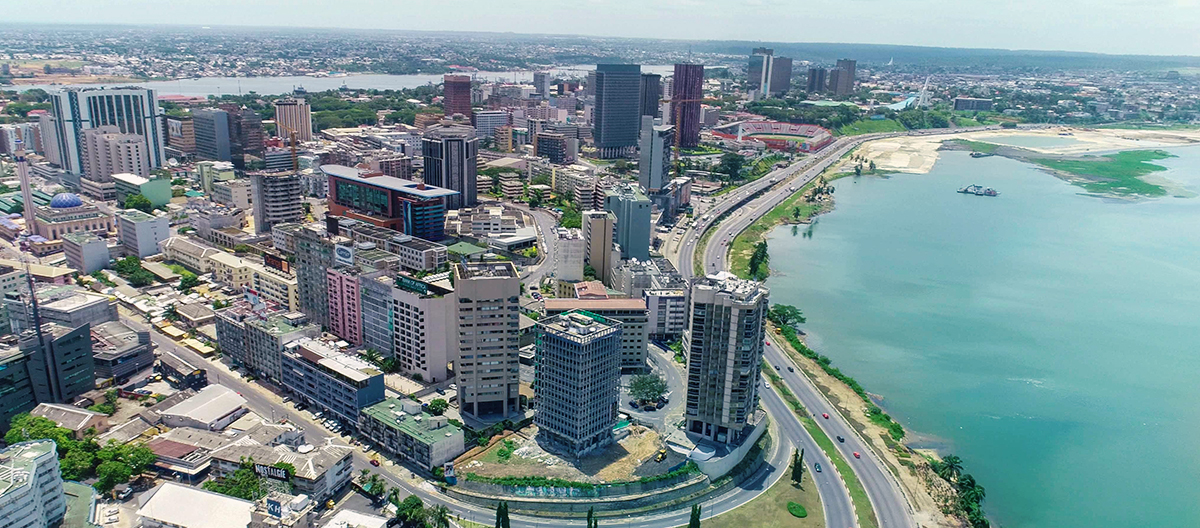 Benefits of life in Ivory Coast (Côte d'Ivoire)
Living in the Ivory Coast, also known as Côte d'Ivoire, presents a multitude of compelling advantages, promising an enriched lifestyle steeped in diverse culture, thriving economy, and remarkable natural beauty. With more than 20 years of experience, we at VIP Visa are dedicated to helping you unlock these benefits.
Located in West Africa, Ivory Coast's economy is one of the fastest-growing globally. Opportunities abound, particularly in sectors such as agriculture, mining, and services. In terms of standard of living, Ivory Coast's relatively low cost of living allows for a comfortable lifestyle, with high-quality services in education, healthcare, and real estate within reach for many.
Ivory Coast is a haven for nature lovers. The country's vibrant flora and fauna, beautiful beaches, national parks, and diverse wildlife are captivating. The Tai National Park, a UNESCO World Heritage site, is a testament to the nation's commitment to environmental preservation.
The Ivorian culture is a rich tapestry of more than 60 ethnic groups, each with unique traditions, languages, and cuisines. Ivorians are renowned for their warm hospitality, fostering a welcoming and friendly environment for expatriates and tourists. Moreover, the country is a significant player in the international art scene, particularly known for its contribution to African music and contemporary art.
To conclude, the Ivory Coast's economic potential, natural beauty, rich cultural diversity, and welcoming environment make it a compelling destination for travel, residency, and citizenship.
Fast-Growing Economy with Plentiful Opportunities
Low Cost of Living with High-Quality Services
Natural Beauty with Pristine Beaches & Parks
Cultural Diversity with Over 60 Unique Ethnic Groups
A Welcoming Environment Due to their Hospitality
Strong Commitment to Environmental Preservation
An Iinfluential Player in the African Art & Music Scene
Study, Work and Live in Ivory Coast (Côte d'Ivoire)
EDUCATIONAL SYSTEM
Studying in Ivory Coast offers numerous benefits for students seeking both quality education and a rich cultural experience. As an educational destination, it presents a unique blend of academic excellence, cultural diversity, and extraordinary opportunities for personal growth and development.
Ivory Coast's education system, particularly at the tertiary level, is increasingly recognized for its quality and diversity of programs. The country is home to several prestigious universities, such as Felix Houphouët-Boigny University, offering a broad spectrum of courses in sciences, arts, and social sciences. The country's focus on research and innovation also opens doors for students interested in these fields.
The country provides an excellent environment for language learning. Given that French is the official language, international students have the opportunity to become fluent in this widely spoken global language. Moreover, exposure to over 60 ethnic languages adds to the linguistic richness.
The Ivorian culture is deeply interwoven into the academic experience. Students are exposed to this vibrant culture through festivals, music, arts, and culinary experiences, fostering a profound understanding and appreciation for the diversity that exists.
Furthermore, studying in Ivory Coast is also an opportunity to enjoy the country's beautiful landscapes, wildlife, and outdoor activities. From exploring national parks to enjoying the golden beaches, students have access to an array of activities for relaxation and inspiration.
In summary, studying in Ivory Coast provides not just a solid educational foundation, but also an enriching cultural experience, language proficiency, and a deep appreciation for the country's natural beauty.
EMPLOYMENT OPPORTUNITIES
Working in Ivory Coast presents a range of rewarding opportunities, as the country offers a rapidly growing economy, diverse industries, and an enriching cultural experience.
One of the most significant benefits is the economic growth the country is experiencing. As one of the fastest-growing economies in the world, Ivory Coast provides a fertile ground for career development and entrepreneurial ventures. Key sectors include agriculture, where the country is the world's largest exporter of cocoa, as well as mining, manufacturing, and services.
Additionally, Ivory Coast has a favourable business environment, with policies in place that encourage foreign investment and ease of doing business. This has led to an increase in multinational companies setting up operations in the country, offering opportunities for both locals and expatriates.
The cost of living in Ivory Coast is relatively low compared to many countries, allowing for a comfortable lifestyle. Furthermore, employees can benefit from the country's robust social security system, which includes healthcare, family benefits, and pensions.
Working in Ivory Coast also provides an opportunity to immerse oneself in a culturally rich and diverse environment. Ivorians are known for their warmth and hospitality, making it a welcoming place for foreigners.
Lastly, the country's natural beauty and leisure activities make for excellent work-life balance. From exploring national parks to enjoying beach life, there's a wide variety of recreational activities.
In conclusion, working in Ivory Coast offers a unique combination of professional growth, economic potential, and cultural richness, making it an excellent destination for pursuing career opportunities.
ECONOMIC ADVANTAGES
Ivory Coast, known as Côte d'Ivoire, boasts one of the fastest-growing economies globally, making it an ideal destination for those seeking to start a new business or digital nomads seeking a vibrant economy to work within. The nation's economic resilience is attributed to its robust and diverse sectors including agriculture, mining, manufacturing, and services, with particular strength in cocoa production, where it is the world's top exporter. For digital nomads and start-ups, the country's expanding tech industry and supportive entrepreneurial ecosystem offer lucrative opportunities. The government's progressive policies, including tax incentives for start-ups, contribute to a favorable business environment, encouraging both domestic and foreign investment.
NATURAL BEAUTY AND CLIMATE
In terms of natural beauty, Ivory Coast is a paradise. Its diverse landscape includes pristine beaches, lush rainforests, and magnificent national parks such as Tai National Park and Comoé National Park, both UNESCO World Heritage Sites. This rich ecological diversity is complemented by a pleasant tropical climate, with a warm and humid coastal region and a cooler, drier interior. The year-round sunshine provides ample opportunity for outdoor activities, making Ivory Coast an ideal locale for nature lovers and adventure seekers.
PUBLIC SERVICES
Public services in Ivory Coast are improving as the country focuses on enhancing the quality of life for its residents. Efforts are being made to improve the nation's infrastructure, including roads, water supply, and electricity, with many projects funded by international donors. Internet access is expanding rapidly, with competitive broadband services available, particularly in urban areas—an advantage for digital nomads and businesses reliant on digital platforms.
HEALTHCARE
Healthcare in Ivory Coast has seen significant progress in recent years. The country is investing in its healthcare infrastructure, improving medical facilities, and training healthcare professionals to offer better services. While private healthcare facilities tend to offer higher quality care, the public healthcare system is continually evolving to provide affordable care for all residents. In addition, the country's national social security system covers healthcare costs, providing financial protection in case of illness or injury.
ACCOMMODATION AND REAL ESTATE INVESTMENT
The real estate market in Ivory Coast offers promising potential for investors. Rapid urbanization, particularly in cities like Abidjan, is driving demand for residential and commercial properties. The government is encouraging investment in this sector, providing opportunities for lucrative returns. In terms of accommodation, options are varied, ranging from affordable apartments to luxury villas, suitable for different budgets and lifestyle preferences.
RETIREMENT IN IVORY COAST
For retirees, Ivory Coast offers a peaceful and affordable lifestyle with a low cost of living compared to many Western countries. The welcoming nature of Ivorians, the nation's pleasant climate, and its beautiful landscapes add to the country's appeal as a retirement destination. The growing expat community offers a support network for foreigners, fostering a sense of community and belonging.
LUCRATIVE POTENTIAL
The diverse benefits of living in Ivory Coast—its booming economy, natural beauty, improving public services, and investment opportunities—combine to create a highly lucrative environment. For entrepreneurs and businesses, the strong economic growth and supportive business policies provide a platform for success. For digital nomads, the expanding tech industry, improving internet infrastructure, and the appealing lifestyle offer unique advantages. For retirees and investors, the affordable cost of living, the vibrant real estate market, and the high quality of life make Ivory Coast an attractive option.
VISA REQUIREMENTS AND IMMIGRATION LAWS
Entering and residing in Ivory Coast involves meeting specific visa requirements and complying with immigration laws. For short stays, most foreign nationals need a visa, which can be obtained online or from an Ivorian embassy or consulate. For long-term stays involving work or investment, a long-stay visa or a residency permit is required, typically involving a more comprehensive application process. Immigration laws are enforced by the Ivorian authorities, and it's crucial to ensure compliance to enjoy all the benefits that living in Ivory Coast has to offer. It's recommended to consult with professionals like us at VIP Visa for personalized advice and assistance throughout the process.
In conclusion, the Ivory Coast offers a unique blend of benefits that cater to a wide range of people—entrepreneurs, digital nomads, investors, retirees, and anyone seeking a vibrant, culturally rich lifestyle. With more than 20 years of experience, VIP Visa is here to help you navigate the path towards making Ivory Coast your new home.
At VIP Visa, we pride ourselves on our years of experience in helping clients navigate the complex process of obtaining visas, residencies, and second nationalities or passports. If you are considering a visit or moving to Ivory Coast, we are here to guide you through the process. Our team of experts will ensure that you have all the necessary information and support to make your dream come true. Please see below for more information about our visa categories and let us help you embark on your new journey!